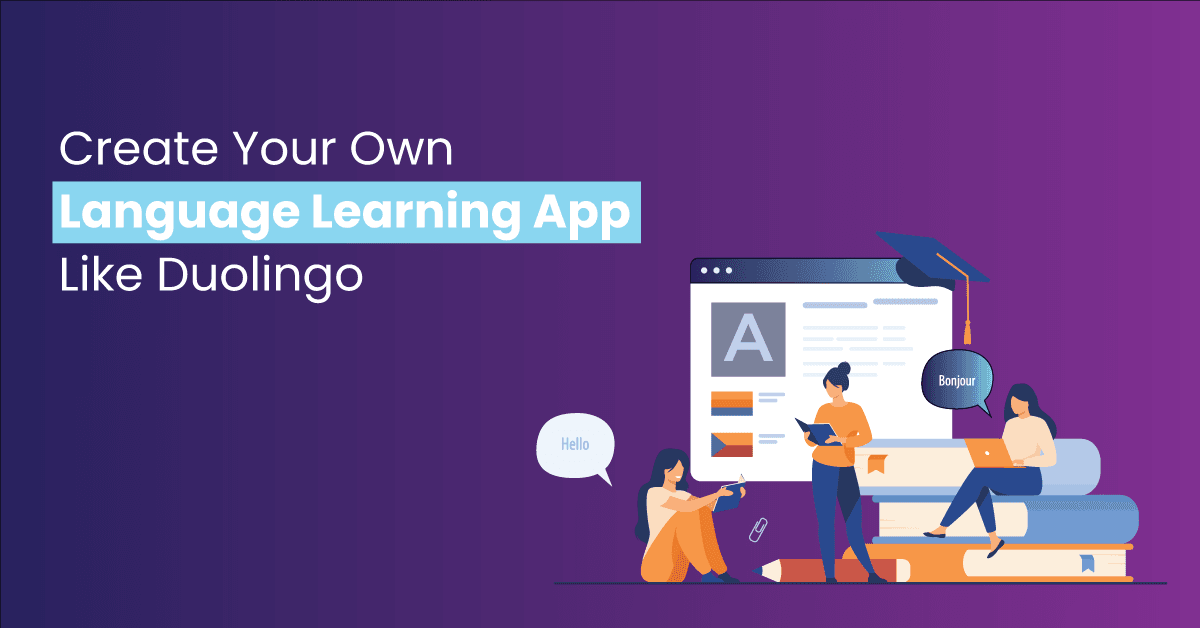 Introduction of Language Learning App
Learning foreign languages ​​has many advantages. Exercise is beneficial for the brain and memory, the opportunity to meet new people and to open up to the world, the practice of new dialects also improves career prospects. Today, more and more schools and companies require the use of several languages ​​in order to interact with foreign interlocutors. Start-ups are thus riding the learning wave with language learning app development to develop the know-how of their users.
There are many mobile apps for learning languages. What's more tempting is that instead of playing on your phone, you can use your time to do something productive!
The most used free language learning applications are Duolingo (which has around 20,000,000 active users) and Memrise, which helps to memorize the lexicon. Equally popular is the paid MosaLingua app.
Based on the principle that learning should be fun, all of these learning apps reward the users for knowing the vocabulary by heart and understanding the grammar.
The Scope of Language Learning App Development like Duolingo
According to Globe Newswire, A CAGR of over 22.8% is predicted between 2022 and 2029 for the global language learning app market size & share revenue, which was valued at USD 18.2 billion in 2022 and is expected to surpass USD 32.5 billion by 2029.
Here are the Most Popular Language Learning Apps Worldwide:
| | | | | |
| --- | --- | --- | --- | --- |
| | Year of Creation | Number of Languages | Number of Users | Business Mode |
| Duolingo | 2012 | 36 | 300 million | Freemium, Ads |
| Rosetta Stone | 1992 | 30 | Not-Disclosed | Subscription |
| Babbel | 2007 | 14 | 100+ million | Subscription |
| Memrise | 2010 | 25 | 35 million | Freemium |
| Busuu | 2008 | 12 | 60+ million | Subscription |
| FluentU | 2015 | 9 | 50 million | Subscription |
| Mondly | 2014 | 33 | 20 million | Subscription |

What should a Language Learning App Contain?
Listening comprehension

Written comprehension

Talking and conversation

Writing

Vocabulary

Grammar
You won't find a language eLearning app or program that covers all of this well enough. Hence, there is a scope for growth and scalability in developing a learning language app. The growth can be tremendous if you can add two or more of the above features in your language learning app development.
How to Create a Language Learning App like Duolingo?
Here's the Process of Language Learning App Development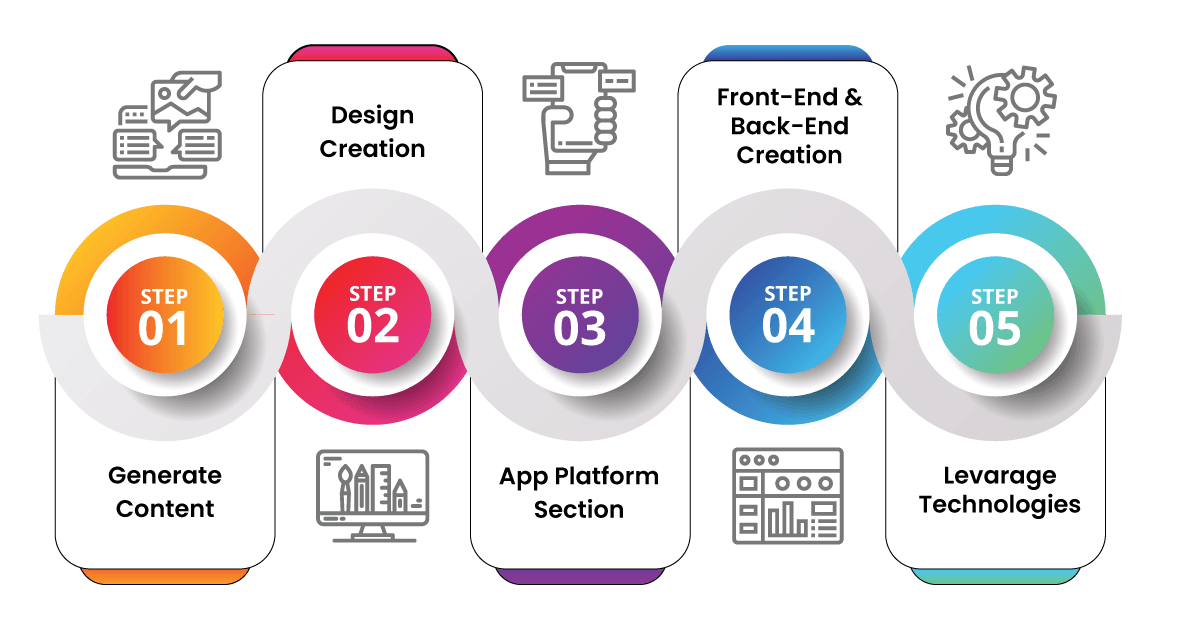 Generate Content
From grammar illustrations, exercises, and language data, to sounds – you need the best data to offer users maximum value.
Design Creation
This stage involves determining the user journey on the platform or app. Once you know the purpose of your language learning app and the features you will offer, you can create an appealing UI/UX. This may involve additional elements like flashcards, graphics, and images for exercises.
App platform selection
We all know that 80% of traffic on any education software comes from mobile. Hence, it is essential to develop your language learning app for all platforms and operating systems.
Front-End and Back-End Creation
Buttons, text boxes, and anything that the user uses for interaction is part of front-end development. Technologies such as HTML+CSS and JavaScript are used for front-end language learning app development. The backend is where all the actual action happens. All the inputs and data processing is done in the backend where algorithms trigger the actions and output that users see. The tech stack for the backend is huge and choosing the right technology here depends on your budget for a language learning app development project.
Leveraging Latest Technologies
Voice recognition, AR/VR, Chatbots, Machine Learning, and NLP are a part of the most popular language-learning apps. Since these have been used for a long time, it is simpler for developers to integrate these latest technologies to your platform through the API.
Features of Learning Language App Development like Duolingo
Very Easy to Use
You choose the language you want to learn, then take a level test or start directly from the beginning with the exercises offered.
Integrated Support for Corrections
Corrections are a core feature and one of the main ways to improve the use of any education app. You can edit the other person's text, which will show you the old and new versions side by side.
Speech to Tex
This feature in your language learning app allows you to record your voice in any language and translate it to text in another language. This is very useful if you are new to a language with a completely different writing system, such as Chinese or Arabic. As long as you know how to say your message, you can get it across to the other person.
Chatbots
This is one of the most important language learning app development features. The chatbot asks questions and interacts with the user to not only make learning easier but also to resolve real-time questions. Chatbot development not only enhances the UI/UX experience but supports pronunciation and speech-to-text conversion too. This may influence the cost to develop a language learning app but it is worth the investment.
Various Tasks to Learn the Language
Translating a text from/to the target language, written transcription of an audio file generated by the computer, identification of the different possible translations of the same sentence, reading aloud in your phone, which will then be analyzed by voice recognition software, etc.
The exercises are classified by lexical themes (animals, food, etc.) or according to the nature of the words (verbs, adjectives, etc.). You can get the translation of each question by running your finger over the words in the statement. However, this is an advanced feature and might increase the language learning app development cost.
Personalized Lessons
An algorithm personalizes lessons based on your performance, which is why the content is constantly evolving. Once you have covered a subject, you can take a test to validate your skills and move on to new challenges. The app also regularly reviews content already acquired in order to consolidate it and keep it fresh in your mind.
New Goals
Each day, the eLearning app gives you a new goal, and you are rewarded for successfully completing the exercises and using the app regularly – and more generally, if you are motivated and diligent.
Downloading and using language learning apps like Duolingo is free because the answers of the more advanced students are used to translate other websites.
However, with all of this personalization and power comes complexity. And hence these features also influence the cost to develop language learning apps.
The Advantages of Language Learning App Development
Fun and entertaining, they make language learning a game.

If you don't use them for a while, the push notifications are there to motivate you to continue learning and practicing every day, which is important when learning a language.

Leader boards inspire you to compete with your friends

They are a good introduction to vocabulary and grammar; ideal for gaining confidence.

What do the Best Language Learning App have in Common?
The top language learning apps share a few things. For starters, the best language teaching apps have a full amount of content, not only teaching vocabulary but also verb conjugation, grammar, etc.
Second, they work well. Learning a language is frustrating, but the app you are using shouldn't be. Language apps that are the real cream of the crop are sticky, which means they have a UI/UX that forces you to go back there day after day. Learning a language takes dedication, and your motivation might wane if you don't like your app very much.
There are so many great programs that can teach languages, whatever your needs and budget.
To Conclude
The education app industry is huge and growing. When it comes to language learning apps, the market is building apps. It is now the right time to penetrate the market as it will offer businesses a competitive edge. If you have a language online learning app development idea, we can help you build a strategy, provide technical consultation, and build your product from the scratch.
Our expertise in this segment has made us one of the top education app development company in the USA. Contact us for a demo or no-obligation quote to build your next app.