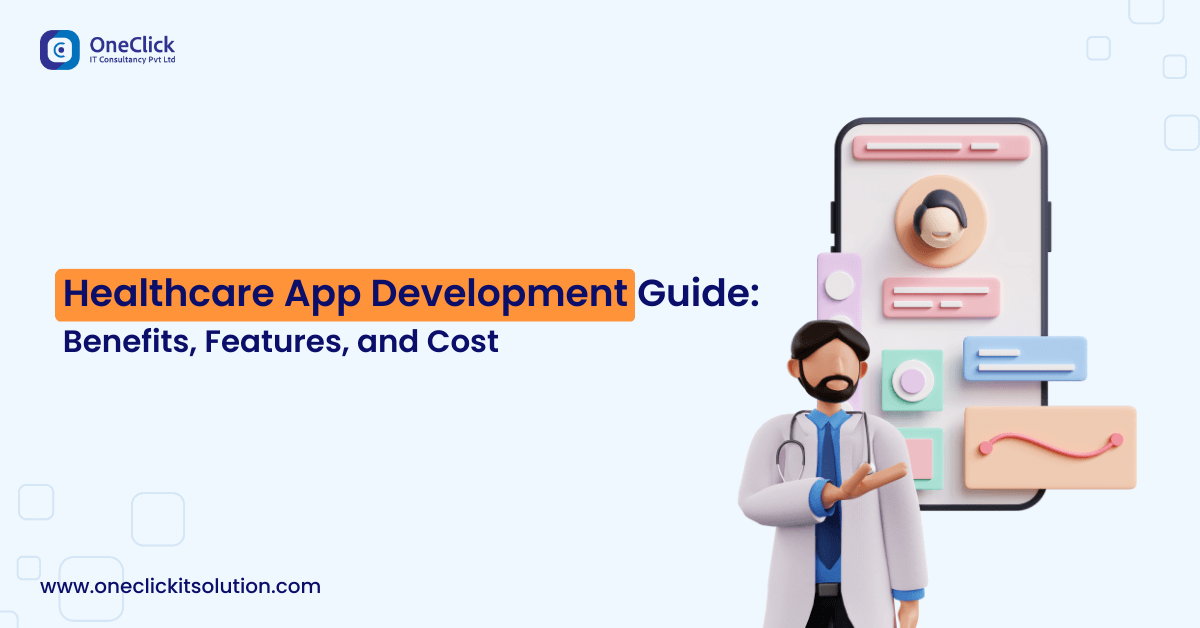 Introduction of Healthcare App Development
There was a time when people used to search for a local doctor or call any relatives for help. Correct?
But now the scenario has completely changed. People are looking for the Digital Healthcare App as COVID-19 has increased the awareness of health issues.
In the last year, the map of healthcare apps has completely changed. Not only medical professionals but end-users are also looking to install or use healthcare mobile apps.
Statistics of Healthcare App Development
As per the research of marketsandmarkets.com in 2022, the healthcare mobile app market size was $70 Billion, and by the end of 2025, the market size will increase by $213.6 Billion.
Without waiting let us dive into healthcare mobile app trends and more…
Trends in Healthcare App Development
Artificial Intelligence (AI):
Artificial Intelligence is changing the perspective of technology in the healthcare sector.
The role of AI has increased from 2020 due to the demand for personalized healthcare products and services.
AI represents a bunch of numerous technologies that enable machines to sense, to learn and to act like a human.
According to MarketsandMarkets, the AI in Healthcare Market is projected to grow from USD 14.6 Billion in 2023 to USD 102.7 Billion by 2028; it is expected to grow at a CAGR of 47.6% during the forecast period.
Fitness Solutions:
The demanding trend in digital healthcare centers is fitness apps. People are looking for live and recorded classes by expert fitness trainers.
Fitness trainers are providing online sessions on Yoga, Aerobics, Zumba which builds stamina and a lot more.
Not only physical but the app also focuses on mental health fitness and other meditation classes.
SmartWatch:
Smartwatches are also known as wearable gadgets. These gadgets are useful in tracking patient's health.
Gadgets can also track heartbeat, oxygen level, blood pressure, and even stress level all in one solution.
These gadgets also show various workout modes to track your fitness.
The demand for these devices is huge as people are becoming more conscious about their health.

Clinical Solutions:
According to doctors and patients, a clinical solution is the best app.
Patients can easily schedule appointments through this app and get answers through common queries and can also exchange information with their doctors.
This app has the feature which gives a reminder to users for their appointments, to pay their bills and also to connect with the medical staff in case of any emergencies.
Benefits of Healthcare App Development
Before we move further, it is important to know the benefits of the healthcare mobile app. It is a universal fact that the healthcare consultation app applies to doctors and patients.
There is no one best thing about the healthcare mobile app, but there are various things. So let's dive into it:
Cost-Effective
Healthcare app development is the best solution for reducing fees for the patient as there are various tasks to perform on the healthcare apps such as they get the final bill through the app so they can plan their budget accordingly.
Most importantly, a patient can know exactly the availability of the doctors.
Payment process via Bank
Security of patients and security of payment are equally important for patients and their families.
The traditional payment system was time-consuming.
As we are in the digital world, with a healthcare app, you can do the same process in a fraction of seconds.
Most importantly, the healthcare mobile app gives you an option to choose the most appropriate payment method.
Long-distance is not an issue
Usage of healthcare mobile apps can be done from rural to urban areas.
Whether you are in a rural area or in an urban area, you will get all the facilities and services you get in clinics and hospitals.
Not only, users get services from doctor's but also users can purchase medicines through the app without stepping out from their homes.
Patients can track their Health
Almost every app gives the facility to track health.
Patients can get to know about their reports, their HB count ratio, etc., through the healthcare app.
There is not a single thing missed out on in the app.
Easily Acceptable
The Healthcare industry has completely changed the mindset of people by launching healthcare mobile apps.
Now people have accepted the change and realize that going to the hospital is not the only solution if they get the same solution at their doorstep.
Cutting-Edge Features of Healthcare App Development
Before you move further in the process of developing, you need to know the healthcare mobile app features.
Healthcare mobile apps are in demand concerning some functionality we have put together to make you understand.
Here are the 6 Advanced Features for Healthcare App Development: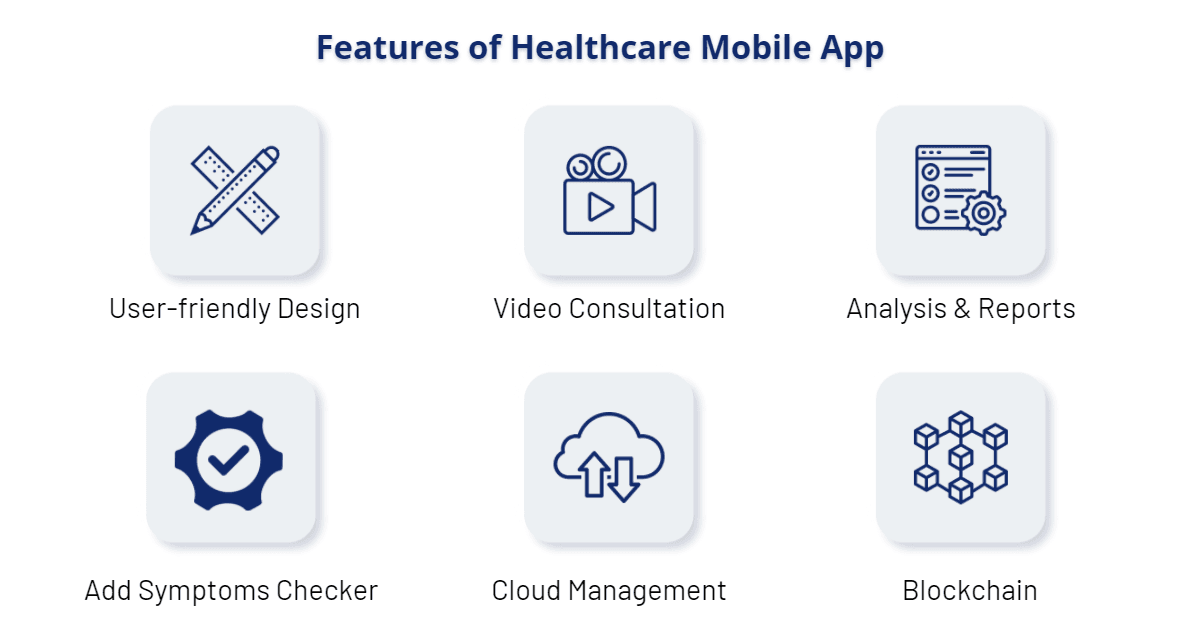 User-friendly Design:
Designing is the first thing a user will look for.
Make sure it should be attractive and more importantly, it should speak about your business, goals, and what you offer to users. The design should be user-friendly.
Video Consultation:
"Health is Wealth," nobody is ready to take a chance with their health and with the health of their family members.
Not all users are comfortable visiting a doctor while developing a healthcare mobile app, you should keep in mind to improve from chat system to video consulting.
Video consultancy is a one-to-one consultancy. Doctors can also consult their patients over long distances.
That is useful even if the doctor lives in a different country or a city and the patient under discussion has unusual symptoms.
Analysis & Reports:
Technology is upgrading with the healthcare mobile apps that should have up-gradation.
Before you step into the developing process, prepare a chart for the data analysis.
During the verification process of analytical data, if possible use the new technology for analysis i.e. artificial intelligence.
Add Symptoms Checker:
Symptoms checker is the digital calculator for calculating the user's gender, age, place, and the signs of their illness.
Also, one can add the feature that can inform users according to their symptoms which specialist they need to visit.
Cloud Management:
While adding features in cloud management make sure that users can use the healthcare mobile app in their native language, to increase the use of the healthcare mobile app.
The cloud-based system is the most recommendable as it gives solutions and easy to track the stored data in the cloud.
Block-chain:
The term 'Blockchain' is not only used for digital currency.
This term is also used for healthcare app development.
Blockchain helps the user to secure their applications & also provides a well-synchronized healthcare system.
How does Healthcare App Work?
Here comes the important part. The Healthcare industry has not exactly mentioned the structure of the healthcare app development.
Let's have a look at the step-by-step process mentioned by our experts.
Decide the Type of Healthcare App:
This is very basic before you start to decide which type of app you want to develop.
There are various types of healthcare apps like healthcare apps for medical professionals, healthcare apps for patients, medical institutions, etc.
The type of your healthcare mobile app is based on which healthcare service you will give to your users.

Market Research:
Before you dive into app development it is important to know about the market.
Do market research for any business it is important to know what their customers are looking for, who their competitors are at which cost the product is in demand, and the future of the product.
This is a powerful way to beat the competition and sustain in the market.
Start with MVP – (Minimum Viable Product):
According to the experts, it is important to begin developing a user interface design containing basic elements.
Every developer has their challenges, but the motive is the same to develop a user-friendly app.
The first trial of the app development will be limited to Android & iOS, but it can also reach the web.
Test before Launch:
It's time to show, but before that, make sure that your healthcare app development company conducts various app testing, including A/B testing.
Improvement:
The game is not over. Every day new challenges are in front of you to add some codes, features, etc. it is necessary to analyze your app and improve with market trends.
Developers can also look for the widespread use of the health application if they get an amazing response.
How much does it Cost to Develop Healthcare App?
The entry-level healthcare mobile app range from $15,000-$30,000, the cost to develop a healthcare mobile app with advanced features and functionality could go as high as $40,000-$70,000.
Let us see the healthcare app development cost country wise:
We have selected the top most three countries for the healthcare app development cost.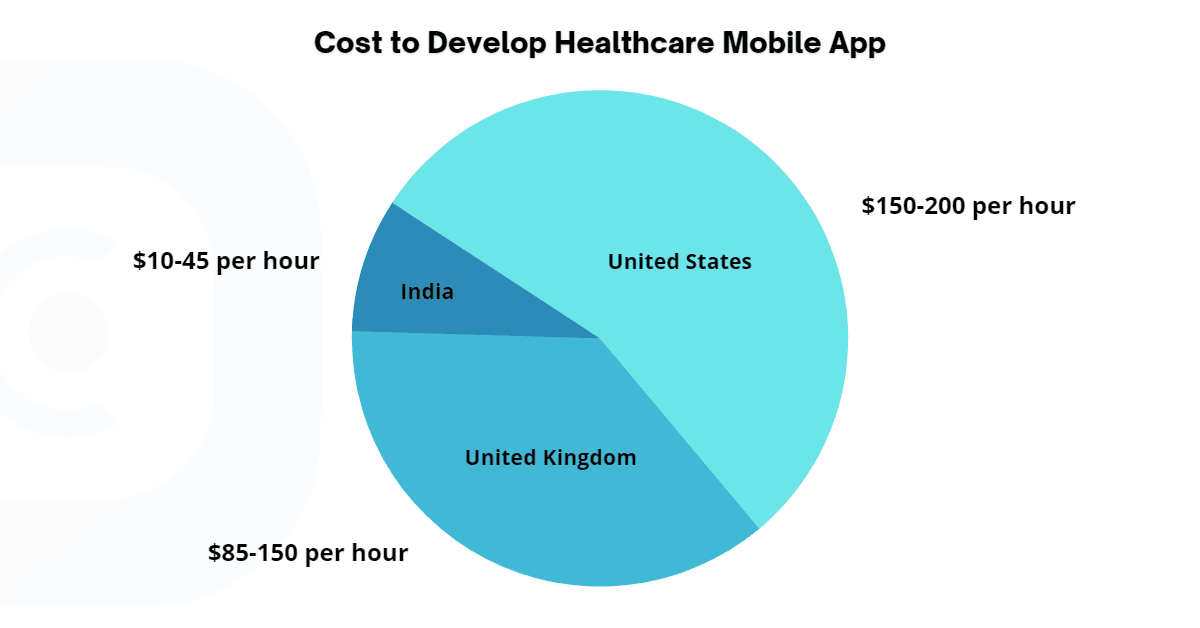 Wrapping Up
Ok, what do you think about these estimated figures about the app features? Isn't it at a boiling point to meltdown? And look for trusted healthcare app development.
It is for sure that mobile healthcare app development are in demand. This is why we are working with an expert developer who can develop your app and help you hit the market.
For any queries or questions, feel free to contact us, and we will get back to you with the best solution for healthcare mobile app development.
Transform your business with our cutting-edge software solutions. We are a leading software development company, delivering innovative and tailored products to meet your unique needs