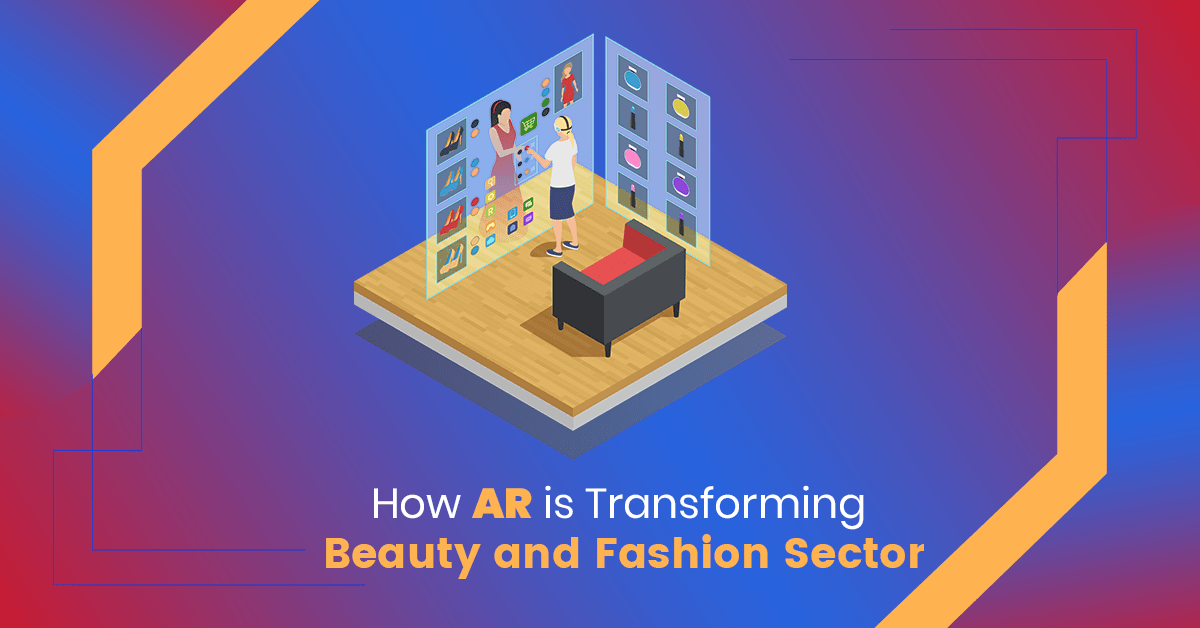 Augmented Reality in Fashion and Beauty Business
The giants of the fashion industry are already starting to test the application of this technology in some of their stores or virtual 3d store – virtual dressing rooms allowing to locate clothes of a certain size or virtual commerce, empty windows which fill up when you point at the camera of a smartphone or the possibility of personalizing a garment using a tablet.
Augmented Reality (AR) helps online shoppers understand what they are buying and precisely determine how items ranging from home decor products to cosmetics will suit them.
Augmented Reality is not a new concept. Brands like Converse were already experimenting with this immersive technology as early as 2012, allowing athletic shoe aficionados to try on various pairs and see what they would look like on their feet.
But it wasn't until 2016 that AR received the boost to establish itself as it should when Niantic launched Pokémon GO, a mobile video game using AR. And when marketers saw just how engaged and near-obsessed people were with gaming (American daily users reached 28.5 million at its peak), the opportunity to harness AR for marketing was needed.
Today, a host of brands are trying out the format. From Lowe's to Wayfair to Benjamin Moore, AR has become a medium that not only allows users to contextually visualize what an item looks like but also confirms its size and shape. And while the housing industry is at the forefront of AR use, there are opportunities for many other industries. Let's go through some examples!
Augmented Reality in the Footwear Sector
While Converse has rapidly advanced in the footwear industry with its Sample It app that allows consumers to view the shoes on their feet, Nike has truly taken this concept to a whole new level by ensuring that the shoes consumers choose, fit perfectly.
Nike Fit, a scanning app, uses a combination of computer vision, data science, machine learning, artificial intelligence, and recommendation algorithms to measure the complete shape of the user's feet and infer the fit perfect for every style of Nike shoe.
Within seconds, the app collects data on 13 points on a person's foot. This data can then be stored in a user's NikePlus account for subsequent purchases, online and in-store.

Augmented Reality in the Clothing Industry to Gain Customer Trust
At the 2018 Las Vegas Consumer Electronics Show, Gap unveiled its DressingRoom by Gap app, created to help customers try on their clothes virtually. Buyers can choose an outfit they like and select one of five body types to visualize what the outfit will look like on them.
"The fashion industry hasn't always been very much about helping people understand how clothes will fit on them," the company wrote in its press release.
Another great example of the use of AR in fashion occurred during New York Fashion Week 2018. Guests at the Moschino show and H&M show were able to use an AR app to scan the outfits showcased by mannequins on the catwalk and buy them on the spot.
Augmented Reality in the Jewellery and Accessories Sector
Another area where the benefits of AR are seen is Jewellery, which has long been showcased behind a window. One of the hottest brands today is online Jewellery retailer Collection. The app that the merchant launched earlier this year has an AR feature called "Xperience Mode," which allows customers to virtually try on Jewellery.
Eyewear maker Warby Parker is also playing in the AR space, allowing people to see what a pair of eyeglasses look like on their faces before making a purchase. The app, launched last February, is unique in that it doesn't just allow users to snap photos of themselves to put on glasses. The glasses are rendered in a 3D preview directly on a person's face, which means that users can turn their heads to see what a pair of glasses looks like from different angles.
Augmented Reality in the Cosmetics and Beauty Products Sector
Makeup junkies who watch YouTube can now experience AR while watching their Favourite tutorials. The interactive ad format works like this: You watch your Favourite blogger apply foundation. Suddenly a virtual try-on option appears on the screen and you can see what you look like with the same product. MAC Cosmetics was one of the first brands to try out this new format.
AR is also proving useful in the physical retail environment, as a more hygienic option for trying on makeup. Sephora is among the early adopters, both with its mobile app and in-store built-in mirror, which allow users to see how different products look on their faces.
Augmented Reality in the Furniture and Interior Design Sector
DecorMatters is redefining the experience of interior design and furniture shopping. Users can completely transform any room in their home, from painting the walls to the furniture and accessories of their choice.
The difference between DecorMatters and other similar apps is that it allows users to view furniture from Amazon, Wayfair, Crate & Barrel, West Elm, IKEA, Ashley, Target, Living Spaces, etc. In addition, the app's augmented reality feature helps users measure the size of their room, providing a more accurate rendering in terms of the appearance and integration of different elements into their spaces.
Augmented Reality in Fashion Stores
How can we apply augmented reality in shop equipment in the retail sector? There are plenty of possibilities for applying this type of technology in all industries. For example, in a fashion store, it would suffice to scan the space with the camera of our laptop to view the latest offers, or even quickly find in the store an item spotted in the window or the type of clothing we are looking for.
Virtual dressing rooms are probably the first thing that comes to mind when thinking about augmented reality. Prototypes have already emerged thanks to brands like Nike, Vans, and Converse, allowing users to virtually try different models of shoes. Other brands like L'Oréal integrate this technology into their makeup simulator so that the user can test different beauty products on their own face.
Mobile devices and technology also provide customers with other useful features: see if a size is in stock, locate other items of the same type, and preview the garment on a mannequin without having to go through the fitting room. virtual, discover photos of similar looks, save the items in a wishlist, share them on social networks, or send them to someone else for their opinion. And even buy online by scanning the products in the window when the store is closed.
At the current stage, still not very advanced, the most innovative businesses which adhere to this trend have devices equipped with the software necessary to offer customers all these new functionalities without having to download or learn to use any application. The devices are located at the point of sale itself, available to all customers wishing to learn about this virtual experience.

The Bright Future of Augmented Reality
As Technology evolves and gives users increasingly precise renderings of the appearance of digital objects in physical spaces, it is to be expected that more brands and industries will embrace augmented reality. Whether it's fashion, accessories, footwear, home decor, or more, AR has the potential to completely transform and rethink the customer experience. These innovations will help businesses connect better with consumers and allow shoppers to make more informed and accurate purchasing decisions, reducing shopping anxiety.
What is perhaps even more appealing to brands and online merchants, beyond the conversion opportunity, is AR's ability to reduce the big drawback of merchandise returns. The promise of AR is that it provides consumers with a technological means to accurately and confidently confirm the size, figure, and shape of a product, whether it's a new pair of sneakers or a sofa that will integrate the living room. Lower return rates, especially for heavy or bulky items and custom-made products that cannot be easily resold, will be the panacea for increasing margins and profitability online.
Have you considered investing in AR-based apps to take your existing business to the next level? With nearly a decade of experience in developing cutting-edge mobile apps and websites, OneClick IT Consultancy has helped organizations across USA and Europe to integrate AR successfully. Contact our team of experts for a demo and no-obligation quote for your next app development project.