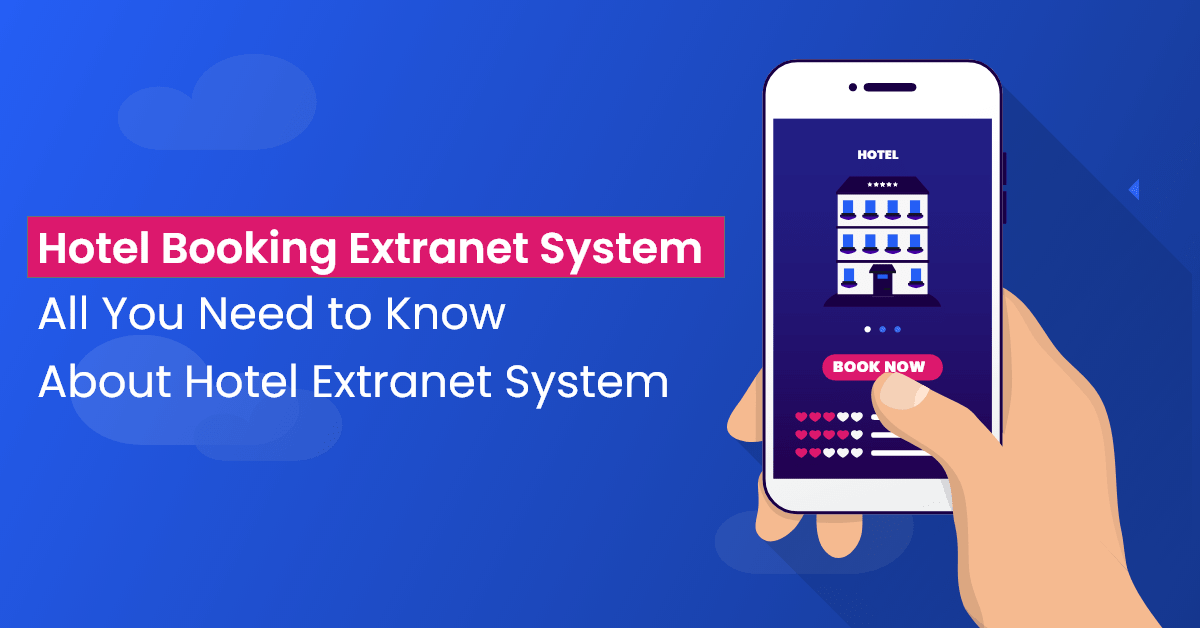 Introduction of Hotel Booking Extranet
The Hotel Booking Extranet is a sophisticated platform for uploading and selling properties directly to consumers and businesses via B2C, B2B, mobile apps, and XML Out channels. The system has a multichannel content exchange function that allows inventories to be sent instantaneously to existing clients that are utilizing the same platform.
It is a single application enabling travel agencies to upload and access their own contract hotels (suppliers), to enter their data on their own hotel systems (description, allotments, rates, special offers, restrictions).
Also, It's referred to as Hotel CRS and the main reservation system of the city and hotel industry. It is a computerized reservation system that saves and delivers data for resorts, hotels, and hosts.
it is utilized as an internet distribution system access tool or the Global Distribution System (GDS) with a single point system. This tool is used by hotel management to manage online sales and marketing. They also design their pricing and supplies in a way that the distribution channel can easily perceive.
Features of Hotel Booking Extranet
Solutions that are completely adaptable and scalable

Real-time pricing and availability management

Manage the availability of rooms, number of rooms, and booking dates

Change Rates – Increase or decrease rates day by day or over a period of time.

Management of markups and discounts

Design that is mobile-friendly and user-friendly

See all confirmed reservations, List modified and canceled

Instant and On-Demand Reservations

Payments, cancellation policies, tax policy, terms and conditions & policies of property management Manage policies

Easy reservation and cancellation

Access to extranet reservation

Sales Channels for B2B and B2C

Tour operators can use the domain/URL of their own branded interface for hotels and providers.

Room Defined: Rooms are defined by categories, such as deluxe/standard/suite, as well as room amenities, features, photos, and occupancy. Policies for children, including age ranges, extra guests allowed (yes/no), and inclusions.

Invoices and Vouchers can be printed or emailed.

Emails and email alerts auto-confirmation

Invoicing and Accounting

Global Distribution System Integration
How Does the Hotel Booking Extranet Work?
Hotel Booking Extranet is an application that permits travel agencies to upload their partner hotels or suppliers to provide their hotel descriptions and room availability information, rates, special offers, and restraints to them. it is a technique for integrating many distribution systems into a single system. OneClick offers a global hotel booking extranet for travel companies worldwide, the hotel booking extranet system, the extranet reservation system, and the global hotel booking extranet.
By providing an opportunity to reserve more available rooms at the last minute, you can secure more reservations and increase the occupancy rate. A seamless online booking experience is provided with our hotel booking extranet. Inventory management is easy for Central Reservation Systems (CRS) or Travel agents and hoteliers. You can create a solid relationship with your potential clients with an extranet reservation system.

Benefits of Hotel Booking Extranet System
Enhanced productivity

Information that is both timely and accurate

Inventory reduction

Search Engine Optimized

The smaller error margin

Integration of social media

Flexibility

Feedback and Live Chat

Compared to previous manual systems, the work is completed quickly

Extremely good management of reservations.
Cost to Develop a Hotel Booking Extranet System
This is entirely dependent on the channel manager you desire for your hotel. There are numerous CMs available on the market (at least 100). Depending on the variety of alternatives (services and products) you wish to choose from, the cost ranges from $100 to $1500 each year or as per room numbers. For a hotel owner, these channel managers benefit because they save a lot of time by charging prices and stock in one go for several connected OTAs. This can also become a nightmare if things are not correctly mapped.
Simple reason: the technology we see in one enterprise is in conversation with another. If you are even faced with small mapping (sync) problems/errors, things can get strange. At the end of the day, it may be possible for you to take a lower booking or a lower-priced reservation generated on sold-out dates (revenue loss or bad guest experience).
Why Choose Us for Developing Hotel Booking Extranet System?
OneClick's Hotel Booking Extranet supports the production of new daily reservation reports, the report on reservation details, detailed copies of cancellations, inventory availability, and separate nationality rate reports.
You can increase productivity easily and increase customer loyalty with Hotel Booking Engine. When you book last minute as a lodging provider, many customers are stress-free. In addition, customers who have enjoyed OneClick's services have been successful in all their company profiles.