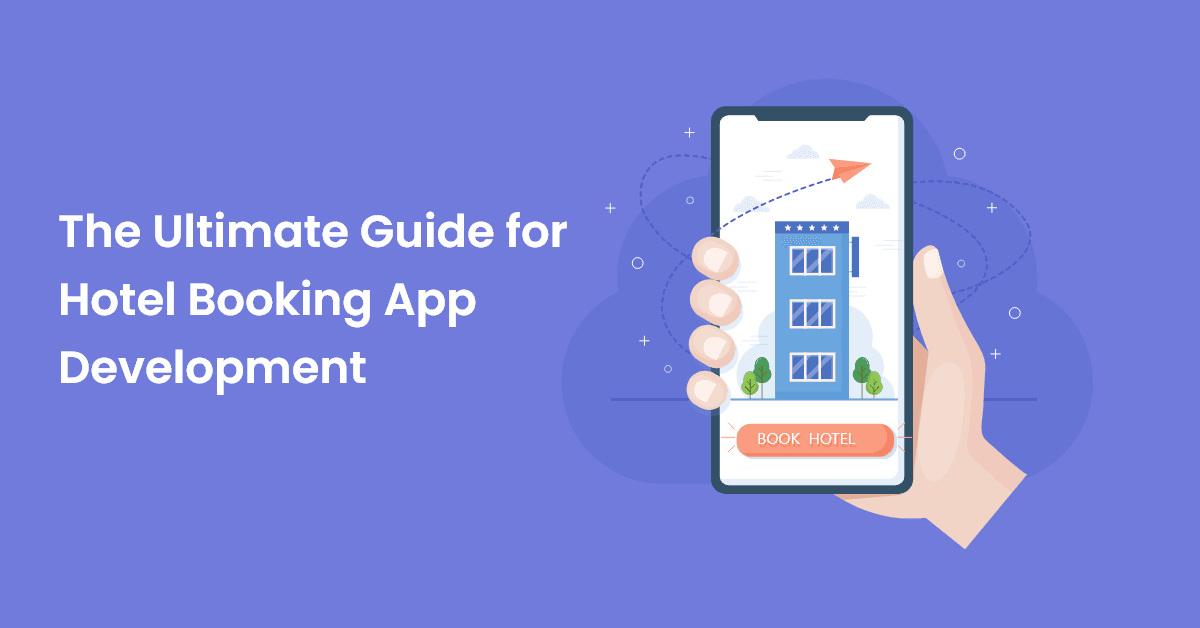 What is Hotel Booking App Development?
Hotel booking app is one of the services offered online and on apps by hotels. There are many apps that are expanding their business these days by providing online booking services. The travel industry is currently saturated. Attracting a customer is challenging. The challenging and crucial part is converting them into a long-term customer. You should be aware of the benefits of Hotel Booking App Development you provide these clients in order to persuade them to use your services and solution and become a long-term customer.
The easiest job is to book hotels for a world where travelling is much quicker! It used to be terrifying when you had to book your hotel after you arrived at your destination. It was a crazy time. With the advancement of technology and new apps, travellers like you can easily find nearby hotels if they are new to the area and looking for a place to stay.
Hotel App Development is a trend of the technical market every other hotel wants to build a market standing and growth app for its hotel business.
The app can help the hotel owner to make more business online than for a single day offline.
Let us examine some interesting facts found in Criteo research before discussing the key characteristics.
80% of last-minute hotel reservations are made using mobile devices.

45% of your bookings are made via mobile via the online travel agencies.
These statistics show that mobile apps dominate the hotel reservation sector.

Top Features of Hotel Booking App Development
1. Search Bar
When your user begins to search for the hotel, they include: destination (town or address), date (check-in & check-out dates), Number of persons (adults, children (if any), and pets (if any), rooms or type of accommodation information.
2. GDS Integration
This is one of the application's main features. Global Distribution Scheme (GDS) is a computerized network of travel agencies, online booking sites and large enterprises used as a unique point of access for hotel rooms and car rentals, and other travel related items.
3. Recommendation Engine
The app providers adapt the hotel recommendations according to the last searches of the user. The hotel suggestion can be shown as "Recommended for you." This allows users to feel personalized and helps to engage in the application
4. Booking & Cancelation Alternatives
After selecting a hotel, the user is directed to a simple and secure payment gateway where they can make their payment using a variety of payment methods such as credit/debit card, PayPal, Braintree, and Stripe. If a customer wishes to cancel a reservation, most hotel booking app services provide a free cancellation policy until the last 24 hours.
As a result, while it is convenient for users, it can cause complications for hotel owners or OTAs because most cancellations are made a day or two before the due date.
5. User Account
The user details, such as booking history, wish list, selected language & currency and more, are saved here. Hence, the data application owners collected by their profile receive discounts and personalized offers.
6. Push Notifications
Users receive numerous alerts on their reservations, including check-in/check-out times, new offers, and discounts.
7. Room Cost-Forecast
The hotel rates continue to fluctuate. Users can obtain a rough cost estimate and plan accordingly. The best deal can be easily handled with a prior analysis.
8. Hotel Account
Available rooms, pricing, information about offers, promotions, and discounts, basic information, and other hotel-related information are all maintained here.
9. Hotel Information
All hotel information, such as number of rooms, prices, discounts, amenities and anything else, can be found in the app.
10. Payment Gateway
When the app users are certain about the accommodations, they may make in-app payments utilizing the app's different payment options, which include Braintree, Stripe, PayPal, and Debit/Credit Cards.
11. Virtual Reality Experience
By exploring the 360° photos or still photos available on the application, the users can get a complete dynamic view of the hotel and rooms.
12. Metasearch Integration
A metasearch engine is an online tool for information collection that utilises a web search engine's data to obtain its own results. Meta-search engines help visitors compare rates from several websites. A metasearch engine compiles room rates on a single platform from several online channels (OTA).
13. Instant Messenger
In case of any query, exclusive deals, reservation confirmations, personalized advice and tips, reviews & ratings, the user is provided with an instant messaging device within the app that allows them to convey their needs during the stay, so it is a more personalized experience.
14. Marketing Tools
Chatbots, sponsored social networking advertising, email marketing, push notifications, and a variety of other marketing techniques are all available to help you reach out to your audience and win them over.
15. Language & Currency Converter
Based on the customer's location, the app easily adjusts the language and currency. It is also a component of a personalized strategy.
16. Analytics Dashboard
Admin allows you to view the customer dashboard, hotel dashboard and the flight dashboard, and this makes decisions easier in real time.
For example, when reservations are lower in some cities during a specific season, a low booking price can be offered.
17. CRM Integration
This CRM connectivity is vital if you have a hotel reservation app with customer experience and this feature is quite helpful in order to ensure that your customers feel at home.
18. Loyalty Programs
Customers are encouraged to share and use the application more and more to earn further reward points that can be converted into attractive offers to discount.
It is a very useful element of the hotel booking app for increasing the number of potential consumers.
The program includes Google and Apple maps, so users won't have any trouble finding their way around while on the road.
How Does a Hotel Booking App Work?
Hotel booking Apps (also known as Online Travel Agents or Aggregators (in short OTAs)) primarily approach a hotel, create a login on their website, and negotiate a commission for each booking provided by the OTA.
The Hotel may fill in all hotel details, such as room type, rates for each day, amenities and photos, if the terms and conditions of the commissions are agreed upon by its login.
The hotel should also regularly connect to the OTA (often called extranet) online portal and keep data on rates and availability constantly updated.
It is worth noting that a hotel that wishes to be listed in more than one OTA can update its availability and rate for several extranets (corresponding to each OTA).
Or else the hotel can use Custom software providers known as 'Channel Managers' where the rate and inventory of hotel updates on only one portal are used, and the revised rate/display is simultaneously transferred to several OTA's.
Customers are expected to browse the list of hotels and book if rooms are available. The OTA has received the payment.
The OTA in turn provides the Hotel with the reservation information (or channel manager as the case may be).
It makes the payment to the hotel after deducting the commission every week/fortnight, depending on the arrangement with the hotel.
Aggregators like Hotels.com, or even typical OTAs can sometimes deal bulk with the hotel (inventory buyout) and then offer hotel rooms at their own cost.
It is more like trading than working on the model of a commission.
Benefits of Hotel Booking App Development
1. It's Never been Easier to Make a Reservation:
The modern traveller will prefer to book their hotel via smartphone because they can get all of the information about the location and scroll through different hotels on their phone.
As a result, developing hotel booking apps allows your clients to confirm their reservations with one or two clicks.
2. Easier Access to Information for Your Visitor:
A mobile app for your hospitality business can provide your guests with quick and accurate information about your hotel.
Furthermore, mobile apps for the hotel industry eliminate the need for customers to contact the hotel's front desk.
3. Hotel Apps Provide a more Personalized Booking Experience:
If a traveller downloads your app, they will have instant access to your hotel information and will be able to book with a couple of thumb-touches if they so desire. This saves time at both ends and offers a more positive experience for your guest.
4. Increase in Regular Business

:
One of the main benefits of room booking applications is that they help you regularly find guests. Smaller hotels, which typically do well during peak seasons, can now attract customers all year, increasing staff efficiency.
5. You can Even Collect Information About Your User:
You can offer various services and display their prices, as well as indicate whether they are free or chargeable to customers. Also, you may ask customers for comments on your service, which will help you gain a deeper knowledge of your customers.
6. Your Relationship with Your Customer has Never been Stronger:
A hotel app provides a plethora of features that are beneficial to customers. For example, use notification functionality to remind guests 15 minutes before room cleaning service staff arrives. You can also leave the room or refuse to use your hotel app right on the spot to clean the room.
You can also notify your guests about the swimming pool's availability so that they can plan their visit accordingly.
7. You can keep your Hotel's Brand Awareness Up:
If your app has been downloaded, the user is likely to view it every day and have the latest in mind when they decide to seek housing. The apps are one of the most commonly used commodities on a personal smartphone.
8. Facilities for Easy Payment:
Users have a variety of payment alternatives when using a hotel booking software with the essential functionality, including credit cards, debit cards, app payments, net banking, and even pay at check-in.
9. Translate into any Language:
Travelers can set the app to the language they most conveniently use and all communication between guest and hotel is translated back and forth automatically so that both sides can have no misinterpretation, which leads to a more delightful experience.
10. Increasing Brand Loyalty:
With a dedicated hotel app, customer loyalty and brand loyalty can be strengthened. A guest loyalty program can be integrated into a mobile app, allowing hotel visitors to earn points and benefits for their bookings and stays.
In addition, for future hotel bookings, you may also offer them an additional discount. It's also the easiest way to create a hotel brand.
Cost to Develop Online Hotel Booking App
The cost of a hotel booking app is determined by the platforms you want your apps to be available on, such as iPhone and Android. Both have separate platforms: iOS and Android. The app's functionalities remain the same, but some elements vary, affecting the cost of development for both. Furthermore, the cost of development varies by region, which means that getting your app developed is heavily influenced by this factor.
The entire cost of hotel booking apps might range from $10000 to $15000 for a basic app. However, the cost of feature-rich apps could range from $20000 to $35000.
If you want to develop travel applications for both platforms, including the platform Web portal, the costs can increase considerably.

Why Choose OneClick for Hotel Booking App Development?
1. Stability
Working in test environments allows us to ensure that constructions are efficient and safe during development.
When an app is released, our integrated analyses are used to closely monitor the application to maintain and develop the product during subsequent phases.
2. Experts in All Aspects of Mobile Technology
We have a team of developers specializing in the complete spectrum of engine solutions for hotel booking app. We cover everything from native solutions to cross-platform solutions and web technologies, including server-side growth.
3. Agile Methodology
We will develop ongoing versions to ensure full visibility on the progress of your hotel reservation engine project. Because of our collaborative approach, you will be able to provide feedback at the end of each sprint.
4. Industry Wide Experience
We have extensive experience working with agencies, SMEs and brands all over the world. We have extensive experience of partnerships. We've worked with a number of industry leaders in the mobile, internet, enterprise, charity, and agency sectors, and we're well-versed in the full mobile ecosystem.
Conclusion
The hotel booking app development process is a long and involved one. There are many aspects that need to be taken into consideration, from the user experience to the technology used for the app. We hope this guide has been helpful in providing you with everything you need to know about hotel booking app development.