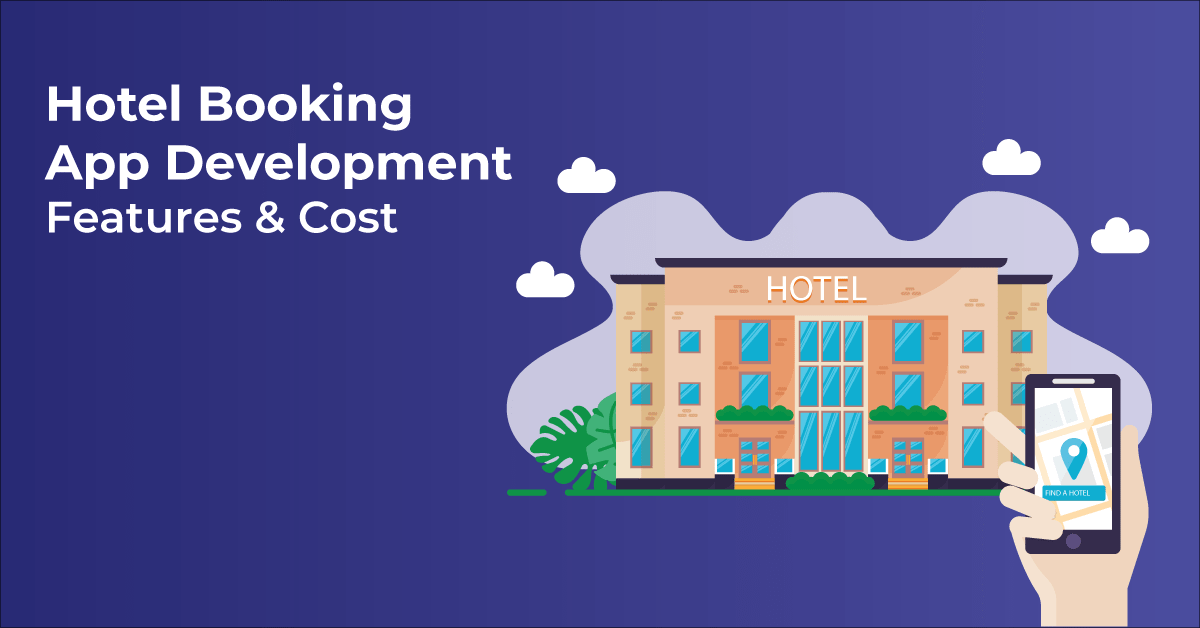 Statistics of Hotel Booking App
Travel, as they claim, "opens your heart, broadens your mind, and fills your life with stories to share." In today's hectic world, it is essential to take a break, relax which enables them to re-energize and perform at their best. Planning and booking are the only two phases – or micro-moments – according to Google analytics. And a booking app makes this fantasy a reality in no time! The creation of hotel booking apps is gaining traction.
Since the staying element of a trip is so important, the travel and hospitality industry has grown at a rapid rate in recent years. Hotel booking app development has grown in popularity because of its ability to reduce the number of steps involved in booking a hotel for a stay. This sudden shift in norms surrounding hotel booking apps has enticed a slew of entrepreneurs into the market to create a dazzling hotel booking mobile app, and if you're one of them, you'll pick up a lot of information about the topic.

In addition, customer behavior has shifted toward online booking. In the United States alone, 88 percent of people choose to book a hotel via an online channel.
Booking a stay through a hotel mobile app is easy, fast, and fun. It's never been more affordable or satisfying to create a hotel booking app. According to PR Newswire, The global capsule hotel market is expected to grow at a CAGR of around 8.2% during 2023-2030.
What is a Hotel Booking App Development?
It is a web or smartphone application that allows users to book hotels, resorts, hostels, BnBs, and other similar booking services online.
You can book a hotel and service using such an app at any time, on any day, and from any place. These apps have reorganized the booking process but have yet to realize their full potential.
These apps help you book anything from door to door, with more and more technological advances. The hotel's reservation app is all you need from the taxi, flight, train, the restaurant.
1. Customer Friendly
Travelers may use these apps to book not only hotels, but also car rentals, taxis, and flights. These apps are primarily concerned with travel packages sold by travel agencies. As a result, these are all-in-one tourist apps.
2. Accumulation
These applications are specifically designed to help people find hotels. These apps compare a variety of hotels based on factors such as location, price range, and room type, to name a few. These booking aggregator apps allow users to find the best price for their stay and are also suitable for non-tourists.
3. Hotel Owners and Operators
These applications are for hotel chain websites. Users can book rooms in a particular hotel chain using these applications. These are usually reserved for the most prestigious hotel chains.

Essential Features of a Hotel Booking App Development
Delegate the entire app development process to a software development company (research and ideation, market analysis and UI/UX, design, and prototyping, development, and software testing). Understand the fundamentals of the method so you can make better decisions at different stages of app growth.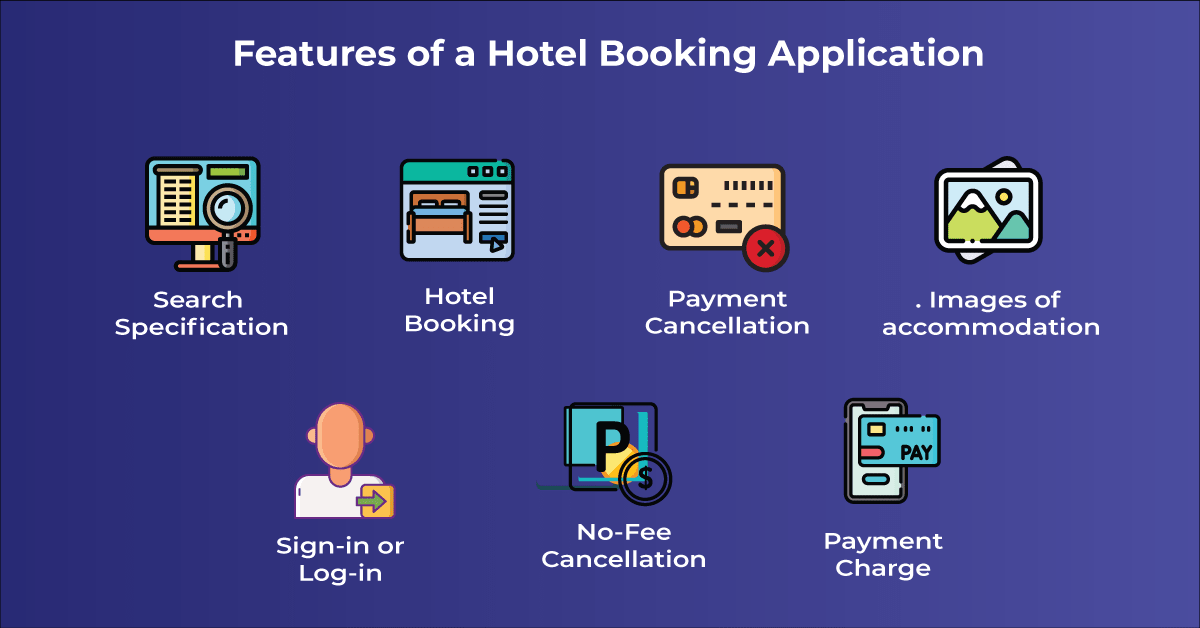 A hotel booking app's features are the blueprint on which it runs. As a result, getting all the correct ones on hand while developing a hotel booking app is critical.
1. Search Specification
When the user starts looking for accommodation, the app will turn his focus onto a particular number of parameters which includes the city or place he is visiting, Dates of checking in and checking out, other members along with him, if he is carrying a pet and lastly, the number of rooms he will be requiring to stay in.
2. Booking
Another essential aspect of any hotel reservation app is booking. As a result, along with the hotel information screen, booking integration is a must-have for your hotel mobile app. Users can book rooms 24 hours a day, seven days a week without having to contact you or visit any of your physical offices.
You can make it even easier for yourself and your app users by accepting a variety of payment types, such as credit cards, payment apps, and a pay-at-checkout option. Allow users to pay with a single click to enable them to make a reservation. You may also provide room reservation features to ensure that users are genuine.
3. Cancellation
Many times, a customer would like to cancel a booking from their booking history, and you can make it as easy as possible for them to do so without making any phone calls by including a cancellation policy. Providing the ability for the user to cancel the booking at any time builds confidence in the admin panel and boosts customer loyalty.
4. Images of Accommodation
Providing a 360-degree view of the accommodation will help you build a strong rapport with the users because this is just what they want. The app should look for an overview, room status, gallery, maps, social media buttons, views of the pool, proposals, and certain other views.
5. Sign-in/Log-in
A sign-in/log-in functionality should be included in every hotel mobile app. Customers may use this feature to build a user profile with user-specific details. Customers may also ease the process by logging in with their social media accounts, such as Facebook, Google, or Twitter. You can easily implement the Social Login feature with the help of APIs. The user profile assists you in maintaining a client relationship with guests as well as and customer and brand loyalty.
6. Cancellation
The majority of hotel booking sites have a no-fee cancellation policy that lasts until the last day. This policy is appealing to consumers, and it is basically a deal-breaker for them. It's nice to know that you can change your mind (for free) and rebook up until the last 24 hours. However, since most cancellations are made a day or two before the due date, it may trigger issues for OTAs and hotel owners. As a result, the occupancy data is greatly exaggerated. Fortunately, most hotels have a cancellation policy in place.
7. Payment
Once users have chosen the best accommodation for them, they will be prompted to make in-app purchases using a variety of options like Debit and Credit cards, etc.
Comfortable/Suitable Features other features aren't inherently belling and whistles, even though core functionality is needed. Even though booking a flight or a hotel is just one step in a user's journey, make it a memorable and memorable one. After all, today's travel is all about building one-of-a-kind user experiences along the way. After the bookings are full, how can you keep your users engaged?
Deloitte emphasizes the importance of examining the influence of neighboring spaces. Many travelers would prefer a single app for planning, booking, and navigation in their destination. Pre- and post-booking customer satisfaction are the focus of nice-to-have functionality.
Top Benefits of Hotel Booking App Development
Benefits for Hotel Owners
One of the most significant advantages of room reservation apps is that they assist in locating guests on a daily basis. Smaller hotels, which are typically busier during peak seasons, will attract customers throughout the year, increasing staff productivity.
The hotel reservation software calculates the cost of lodging and any extra room service that is offered automatically. There is no room for error in this situation. Aside from that, it offers consumers a sense of all resort brands' openness.
As it helps provide consumers with a satisfying experience, a hotel reservation app allows you to explore new markets, customer engagement, user knowledge, and brand recognition. It streamlines the check-in and check-out process for the customer's convenience, encouraging them to return more often. They'll even tell their friends about your hotel.
Benefits for Customers
The hotel reservation app brings together all of the hotel options in one location. They can choose the ideal hotel based on a variety of factors such as location, price range, amenities, and check-in and check-out times.
A hotel reservation software allows the user to check out the hotel by viewing detailed details and photos of the hotel rooms. They don't have to spend time going to each hotel and personally inspecting the rooms. It's possible to plan ahead of time.
Users have a variety of payment options when using a hotel booking app with the requisite features, including credit cards, debit cards, app transfers, net banking, and even pay at check-in.
What APIs to Integrate with a Hotel Booking App?
The application simply cannot run without the appropriate APIs. APIs allow the app to collect all of the information and data from the internet and ensure that it functions properly. Furthermore, encrypting algorithmic code as well as APIs is often the best technique.
Meta Search:

The Skyscanner Affiliate API and the Hotels Combined Data Feeds include price comparison and more.

Search engine & booking: API for Expedia Affiliate Network. It provides a list of related hotels as well as room status. It can also be used to fill out accommodation deals and to use the hotel app's photo gallery for room pictures.
Feedbacks:

Olery Hotel Review Data API and TripAdvisor Content API provide dynamic access to reviews and ratings.

Tourists Attractions:

A hand guide is appreciated by guests. This API gives your app access to all of the destination's published material. As a result, users can learn about the location's legends and tales.

Maps:

When it comes to mapping integration, nothing beats Google Maps API. Those will undoubtedly come in handy. Data on over 65 million local businesses and points of interest are available via the Factual Data API. For maps, address validation, routing, and geocoding, use the ViaMichelin REST API or the SmartyStreets Address API, also include OpenWeatherMap API.

Payments:

A payment framework can be integrated into the app using the Stripe or Braintree SDK.

Marketing Tools:

Google Adwords, This API allows you to search and display ad campaigns efficiently on a large scale.
Cost to Develop a Hotel Booking Mobile App?
The size and complexity of the Hotel Booking App depend on development. In addition, the location of the developers and the number of hours spent in-app development are critical in determining the costs of app development. We outlined the costs of developing a featured hotel booking application based on different zones.
US-based Developers:

$100-$250 for an hour.

Eastern Europe-based Developers:

$80-$180 for an hour.

India-based Developers:

$25-$50 for an hour.
A fully functional Hotel Booking App designed for a single platform would cost between $9000-$10000, and if you need it to be compatible with multiple platforms, you will have to pay even more.

Conclusion
Internet and mobile are, without a doubt, the latest standards in the travel and hospitality industry. And a slew of technological advancements is reshaping the sector. It is important that you commit the project in trusted hands whether you are planning to build a hotel mobile booking app. Allow yourself to make a wise and well-considered decision.
At OneClick, we have nearly a decade of experience in customized Online Hotel Booking Mobile App Development & Travel Portal Development. We also offer white label travel technology solutions to reduce custom booking engine costs. Contact us today for a demo of your project.