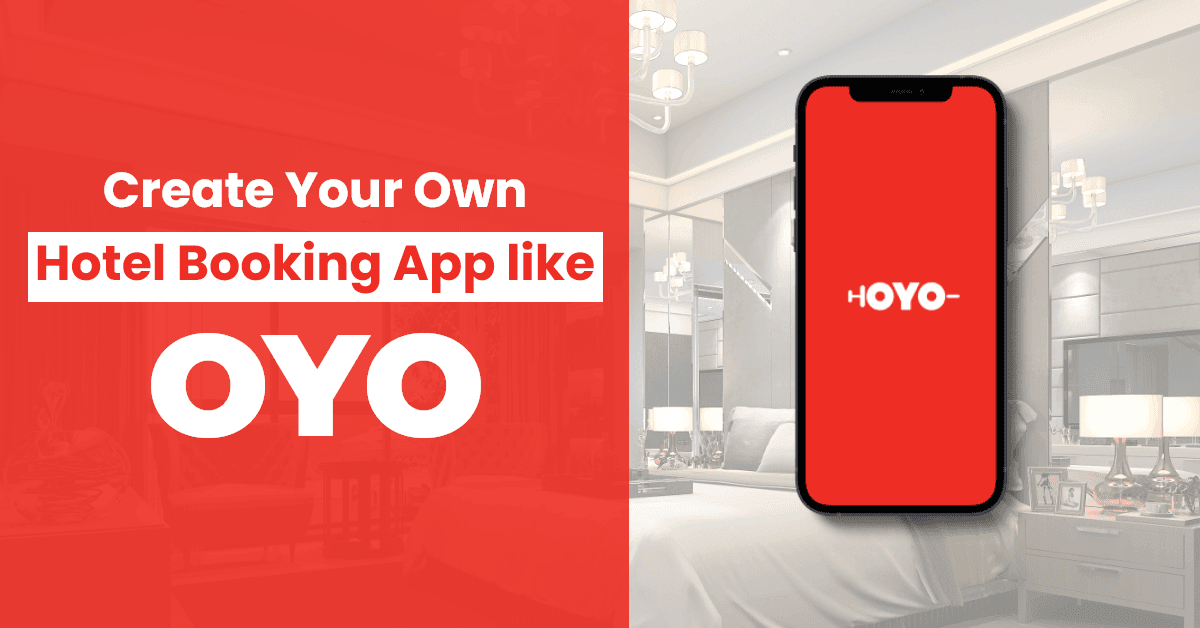 Overview of Hotel Booking App like OYO
Almost a decade ago, people were having difficulty in finding the best room to stay for a night in any new city. Whether with family, students who have migrated for studies, internship, jobs and so on have gone through this tired process millions of times, due to lack of resources and budget.
Nowadays, the scenario has completely changed. Today we can easily book a rented apartment, a well-furnished room, etc. thanks to applications like OYO and Trivago. They have made it possible & easy for people like us to book a five-star, three-star hotel at a pocket-friendly price for any destination by just sitting at your home.
Before we jump directly into app development like OYO rooms. We'll look for the facts and figures. Statista report shows that in 2019, the online travel booking segment amount to US$ 434,030 million. It is expected that online travel booking will show an annual growth rate of 6.2%, resulting in a market volume of US$ 551,762 million in 2023. From the stats, it's clear that the future of app development like OYO has a bright future.
Why Should You Develop a Hotel Booking App like OYO?
There are various reasons to follow the footprints of the OYO business model. The most important one is that it is highly successful.
Not only in India but has also covered their business in UAE, Malaysia, China, Japan, Sri Lanka and the USA. When you consider such points it becomes clear that the OYO business model has more potential than any other startup company. If you're a start-up company in the hospitality business then the OYO clone app is the right hotel booking engine for a successful business.  
Top 5 Key Steps in Building a Hotel Booking App like OYO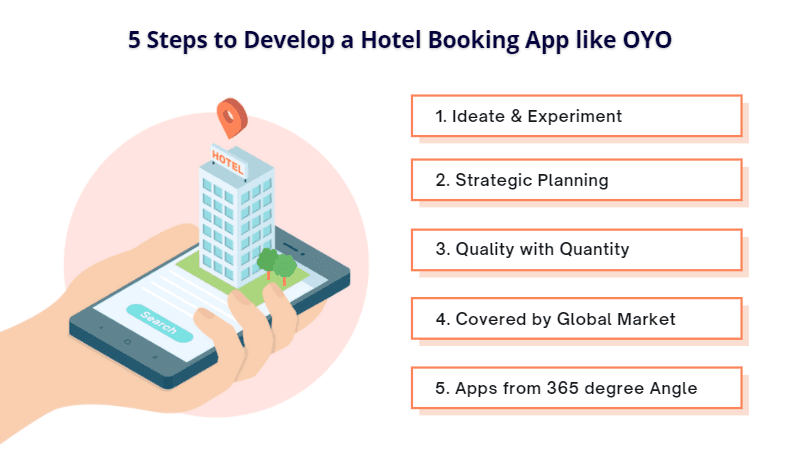 1. Ideate & Experiment
Having a creative idea is the best way to start with business. Your idea is the backbone of your success. OYO first started its business chain from the affordable lodging later they included other resorts and hotels.
They prepared the perfect strategy for their business that led their business in profit in such a short time. Likewise if you're coming up with an idea of app development like OYO then you've to come up with new fresh ideas that drive you to profit from the current competitive market.
2. Strategic Planning
Without strategic planning it is not possible to develop apps like OYO. Creating such a plan will help the team to decide on how to proceed with the project. This is the most crucial stage of any startup business, it is where they form a budget and can vote on their important factors. Strategic Planning will ensure that the product you're launching will give advantage to the market.
3. Research the Market
You're ready with your idea and planning. Now it's time to know the market. For the next step, you must research about your targeted audience whom you think will use your hotel booking app.
In the market research you'll need thorough research of the exact needs of your targeted audience by asking them directly. Once you get the important information from the audience, it's time for the product manager and app development team to study the given information and decide the features of the application.
4. Show your Creativity
Before you go to development, design your app, design its features and create a unique theme. This is the phase where some apps like the control process, interface, workload, limitation of the system, and so on, can be designed.
All these features can be easily organized with the help of flow chart, diagram, structure, or with any such figures.
5. Execute the Plan
Time for app development like OYO, the project has received the green signal to be transformed into an app. For the development, process organization needs to hire a database developer or a network engineer to begin the development process.
Developers carry the major part of the project. Developers must consider a few things while developing the application like the Android platform, iOS users and cross-platform development.

Unique Features on the OYO Applications
The OYO rooms have brought a unique business concept with unique features which help the platform to be more strong and robust. OYO gives a competitive edge over its industry rivals.
Let's have a look.
1. OYO Money and Rupee
It gives you the facility of virtual currencies that can be earned by ongoing customers. Your family and friends can book their hotels using the given referral code.
2. OYO Captain
Customers can hire the local captain representative from the application who is assigned with the responsibility of looking after every needs of travellers.
3. OYO Assistant
This is a self-service feature added in the OYO. Here customers can use the application to check policies of their hotel bookings, any refund claims are there or not, is modification or cancellation is available.
4. Deals for Users
OYO gives the dedicated deal feature that gives exclusive offers and discounts from OYO partners which include eWallets, bank transactions and other digital service providers. These benefits are passed to the end-users through the whole section.
How Much Does it Cost to Develop an App like OYO?
When you've already planned for app development like OYO, that is the time you are planning to benefit your business by applying well-organized and advanced bookings strategies. For the development process you need an expert and huge team who invest their time to achieve your goal.
The cost of development for an app like OYO depends on various factors like its features, development platforms, hourly rates, the number of hours required to develop an app and most important which technology you're using.
There is no fixed cost, apps are always customized so it varies from project to project also from one region to another. So upon estimating the overall development cost of an app like OYO, now it's clear that it comes with your requirements.
How to Create a Hotel Booking App like OYO?
This is the biggest question, how to create an app like OYO. Every startup is willing to develop the same platform to make the app successful.
If you're looking for the app development team then let me add that OneClick has the most experienced and proficient team that has vast knowledge. We offer our client end-to-end solution to develop the hotel booking application for Website, Android and iOS. You need to give transparent details that you've in your mind for mobile app development. 

Below the Checklist
In the blog, you've gone through the stats regarding hotel booking app development like OYO. We hope that you get an idea about the future of having an app like OYO. This is the right time to dive into application development which gives you the profit at the end of the day. 
Choose the app development company wisely. We have been in the travel app development industry for 10+ years. We provide you with a user-friendly application for online hotel booking apps that transform your business from every angle and lead it towards success. You can directly reach our experts by connecting them here.