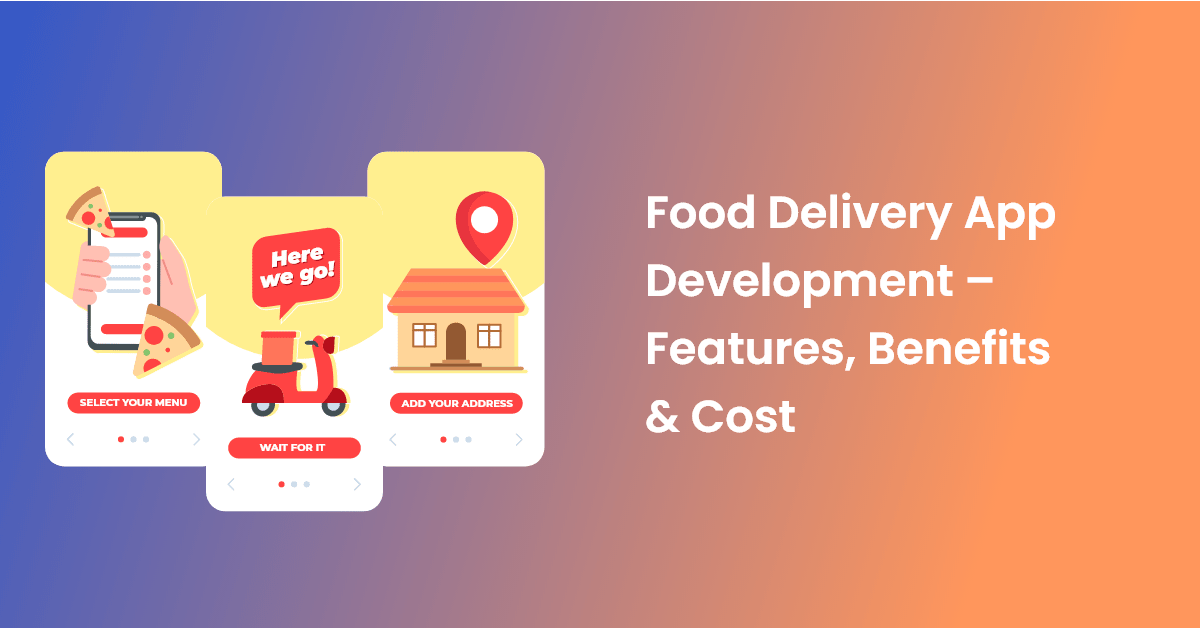 Introduction of Food Delivery App
One of the world's fastest-growing industries is food delivery. According to Statista, revenue in the Online Food Delivery market is projected to reach US$0.91tn in 2023. It's expected to show an annual growth rate (CAGR 2023-2027) of 12.33%, resulting in a projected market volume of US$1.45tn by 2027. here we are discussing food delivery app development in statistics.
This rapid expansion is primarily driven by an ever-increasing customer base for delivered foodstuffs.
It supports what many entrepreneurs believe: there are numerous reasons to join the meal delivery bandwagon.
The customer base is massive and rapidly expanding, and revenues and even profitability are very appealing.
Mobile food delivery applications nowadays are the economical and efficient approach to acquiring new customers, while developing loyalty and obtaining feedback in real-time.
This is a direct means of increasing sales and profits for cafes, restaurants, and other catering companies.
OneClick is prepared to assist you in developing a food delivery app that is sophisticated enough to increase your profit margins while also effectively and optimally increasing brand awareness.

Top 21 Features of Food Delivery App
1. Increase Your Food Sales: On-demand food delivery apps provide your customers with easy access to your delectable food. Apps generate the sales of mobile websites three times, and online sales are currently critical.
2. App Analytics That is Extremely Powerful: Online food deliveries companies will not give you access to data insights that will increase loyalty. Combine app analytics with push notices to ensure that the proper message is sent at the correct moment.
3. Create a Following of Food Enthusiasts: Create a restaurant app, and you'll be sitting on your customer's phone (there's hardly a more personal place to be). App analytics can help you keep them coming back for more.
4. Get a Price Guarantee: Before you begin, you will be provided with precise app development costs and timelines. And this price will never rise. Studio Store is a monthly subscription service that includes everything you need.
5. Transparent From Start to Finish: Our dashboard allows you to track the progress of your food delivery app in real-time. With a few clicks, you can pause your project, add features, or switch mobile platforms.
6. Cart: Add your favorites to the shopping cart for simple and quick checkout.
7. Login Quickly: Simple login using a social media account or a secure OTP
8. Dashboard That is Simple to Use: A simple dashboard that can be used to help in any situation.
9. Location-Based Search: This tool helps you to find local restaurants.
10. An Easy-to-Use Interface: Customers will discover features in places where they expect to find them.
11. Order of Precedence: Plan your orders in advance to ensure delivery on time.
12. History of Orders: Order history is saved for future reference and consideration.
13. Options for Payment: There are numerous payment options available. UPI, credit/debit cards, and internet banking are all options.
14. Place Your Order: Place your order as soon as you've decided on your favorite dish.
15. Reorder: This feature allows the user to reorder an item if necessary.
16. Favourite Dishes: Add your favorite foods to your favorites list by tagging them.
17. Coupons and Special Offers: New offers and a coupon zone to help you get tasty food at a lower cost.
18. Advertisements: View advertisements to learn more about the foods and food types you want to eat.
19. Call/Chat: For quick and easy communication, use an in-app call or chat.
20. Refer a Friend: By referring a friend, you can earn rewards or discounts on your next order.
21. Ratings and Feedback: Post your ratings or reviews for a dish you've tried or a restaurant you've visited.
How Does a Food Delivery App Work?
Online food ordering and delivery services alleviate the stress of people who want to eat at a restaurant but do not want to go there.
Ordering food online is a convenient option. Online food ordering and delivery services alleviate the stress of people who want to eat at a restaurant but do not want to go there.
Here's an example of how the online food ordering process works:
Customers use the website or app to look for food and listed restaurants.
The customer chooses their favorite restaurant and adds it to their food cart.
Customers place their order after selecting a payment method such as net banking, COD, or debit card.
Following that, the customer receives an order status notification.
When the customer's order preparation is finished, the delivery person is notified.
With the help of delivery tracking, the delivery boy now picks up the order and delivers the food to the customer's location.
If you want to get into the food industry, starting an online food ordering and delivery business is a good place to start.
Top 11 Benefits of Food Delivery App Development
1. White Label Solution: You will receive a white label solution that will enhance official corporate logos and topics for your target audience.
2. Simple to Use: Everything from the food ordering app to the administration panel has been designed to be simple to use.
3. One-Time Cost: This is a unique investment with a long-term investment return. For higher profits successful platforms can be monetized in the future.
4. Time & Cost Efficient: We already have a foundational food ordering app solution, which means a shorter time to market and lower development costs.
5. Take Charge of Your Code: Once the project is completed and payment is received, you will be able to purchase the complete source code. When it comes to source code ownership, we adhere to strict NDA guidelines.
6. Technical Assistance is Provided at No Cost: Free technical support with bug fixes and any necessary basic updates will be provided for the next six months.
7. Customizable and Expandable: Our top Food delivery app platform is completely customizable and adaptable to any changes or integrations.
8. On-Demand Expertise: We gained some critical insights while developing on-demand apps, allowing us to provide robust solutions.
9. Third Parties Integrations: Utilize your own delivery network or collaborate with a well-known logistics service provider in your area.
10. The Global Solution: Launch your Uber eats like app in multiple regions, with support for multiple currencies and languages.
11. Accept Payments Almost Anywhere: We add our preferred payment gateways, with built-in support for the most popular ones.
How Much Cost to Develop a Food Delivery App?
There's a host of factors, such as type of app, type and number of features and functionality, labor and more, that are responsible for the exact cost of developing a food delivery app.
In general, somewhere around $10,000 to $18,000 is costly for developing a basic food supply app.
A high-end app with cutting-edge functionality, on the other hand, could cost you up to $40,000.
One of the key factors regulating development costs in large part is labor costs. Working costs vary from country to country.
For example, developers from the United States/United Kingdom charge $70 to $250. The rates vary from $50 to $170 an hour for developers based in East Europe.
But in India, this hourly rate is very affordable, where experienced mobile app developers can easily be found working between $20 and $70 an hour.
Therefore, India is unquestionably the most workable alternative in terms of labor charges.
The costs of development depend also on the type of mobile app developer that you choose.
A good agency can give you the overall estimate breakdown to thoroughly study the viability of the project.

Why Choose Us for Food Delivery App Development?
The planet has increased dramatically in demand for service applications. The on-demand food service is one of those areas.
With COVID-19 in place, the whole world meets their restaurant cravings at home using an online food service or online ordering system.
The market continues to expand. If you're thinking about creating a food delivery app, a food delivery app development company like OneClick can assist you in breaking into this ever-growing market.
You won't have to break the bank with OneClick IT Consultancy, and you can start for as little as $30 per month. So, seize this opportunity right now and get your online food delivery app up and running.
Our experience developing IT solutions for businesses gives us a competitive advantage when developing modern applications of all types.
Allow us to assist you in planning and developing the Best On-Demand food delivery app for your company – and entering the market with a bang!