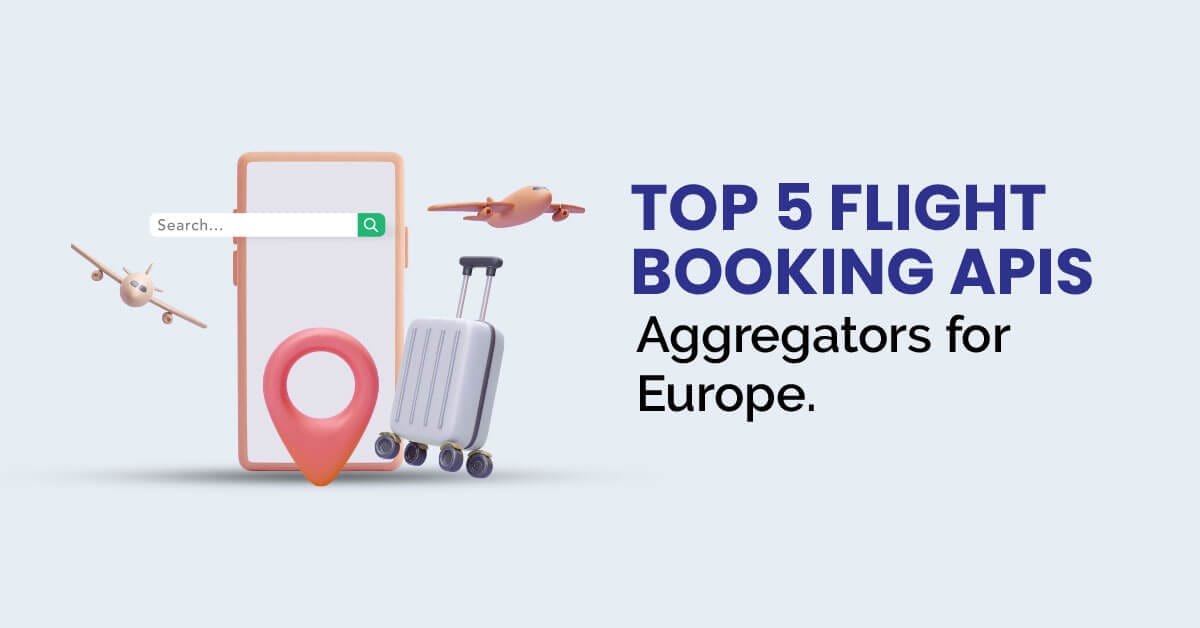 Gone are those intimidating days, when you had to sit down to manually build a flight booking portal from scratch, and then mechanically update the data on your server from other authorized sources on a regular basis. With the advent of APIs, all this unreasonable effort has moved to the backseat. If you are planning to build a travel website or mobile app that allows customers to browse airlines and buy tickets directly from the app, you should certainly familiarize yourself with the Flight Booking APIs for Europe. Using flight APIs, it is possible to show up-to-the-minute information regarding tickets, including prices, schedules, and routes, on your website.
In this article, we'll be discussing the top 5 APIs for Flight Booking APIs for Europe you can incorporate into your business to receive travel-related data and other complementary statistics. If implemented tactfully, they will certainly help you win over your customers.
Flight APIs from Skyscanner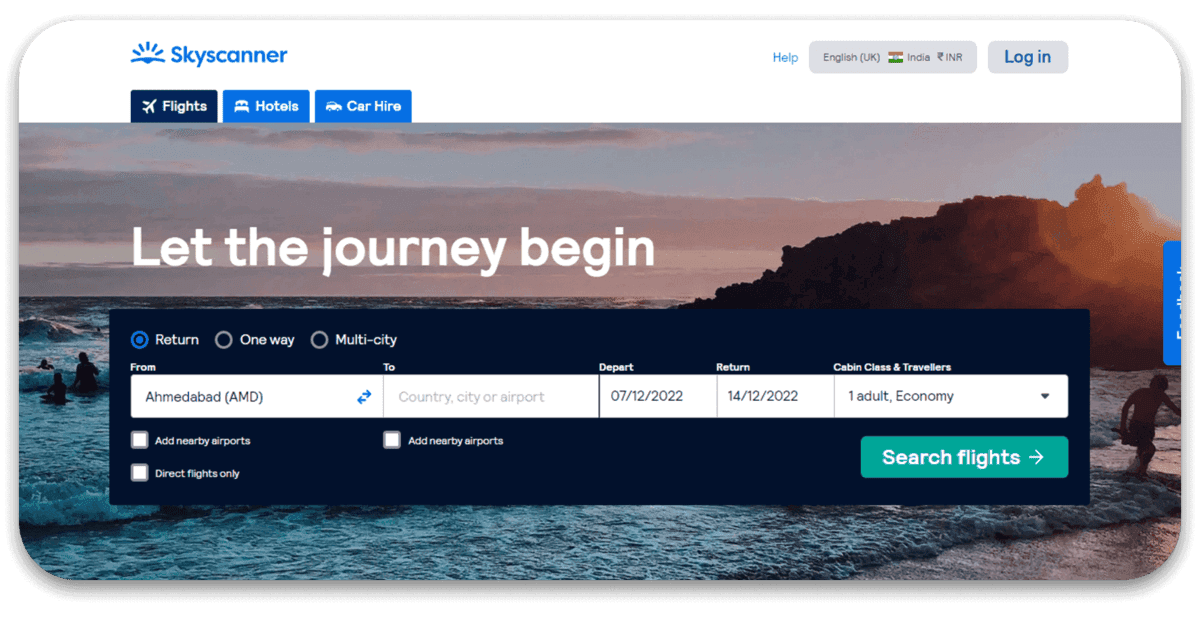 Skyscanner is a sizable metasearch engine that can let you access a variety of information APIs for free of cost. This implies you can use their information to conduct research, but you can't take reservations through your site. You must refer visitors to Skyscanner or a provider directly.
There are 2 versions of Skyscanner API:
Browse Flight Prices API
This API enables users to search for the most affordable price offers from their cache of available tickets. This allows you to configure a flexible search. The downside, however, is that less well-known places don't have their pricing updated as frequently. Therefore, it's likely that if the price fluctuates, your visitors won't get to know it.
Live Flight Prices API
It displays the current flight rates in real-time. However, in order to receive pricing, the user must specify the precise time and route. When comparing pricing for certain dates, routes, or both, this feature can prove to be really helpful.
The Skyscanner API is a RESTful, single-use API that requires authentication using an API key. In order to begin utilizing the API, you will need to complete a contact form that can be accessed from their website.
TripAdvisor's Content API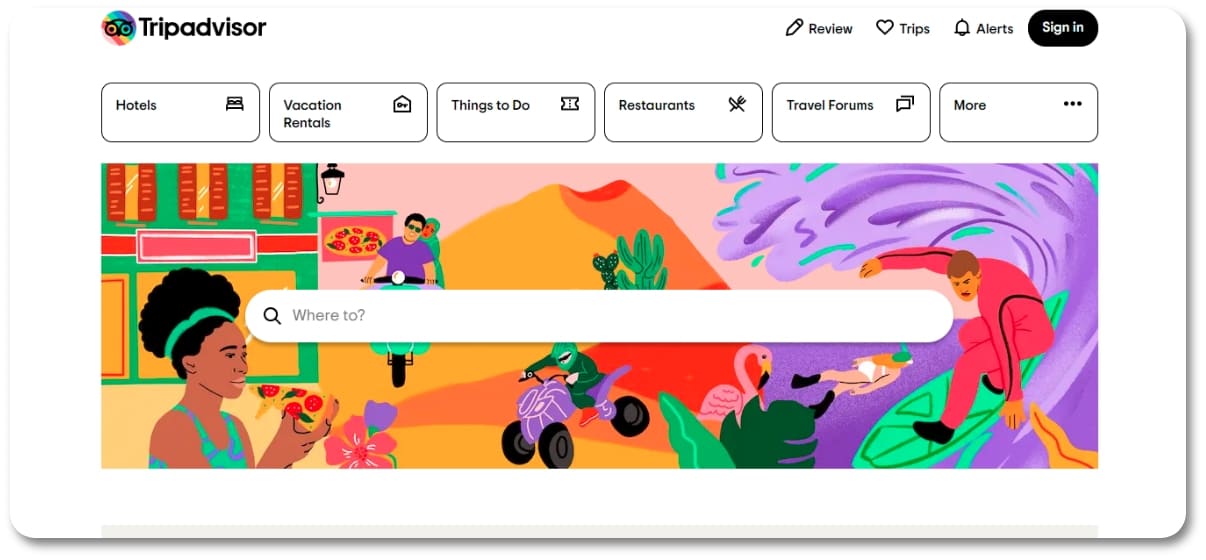 Tripadvisor, one of the leading travel websites, offers an API key that you can use to acquire bookings through the system, and integrate the service material into your web-based interface. This will provide you easy accessibility to Tripadvisor content, allowing you to improve the user experience while simultaneously boosting your traffic and conversion rates.
Mentioned below are a few highlights of Tripadvisor's API and why you should consider giving it a shot:
1. TripAdvisor's API can be smoothly integrated into your services and works like a charm with your web-based outlets, providing a smooth and pleasant experience to your users.
2. Once enabled properly, Content API can provide you with moment-to-moment steady insights of 24*7 fluctuating price data, in addition to other crucial specifics such as photos, ranking, reviews, and much more.
3. The process to acquire TripAdvisor's API key is extremely easy, and once retrieved, it allows you to unrestrictedly access their large database.
Expedia's API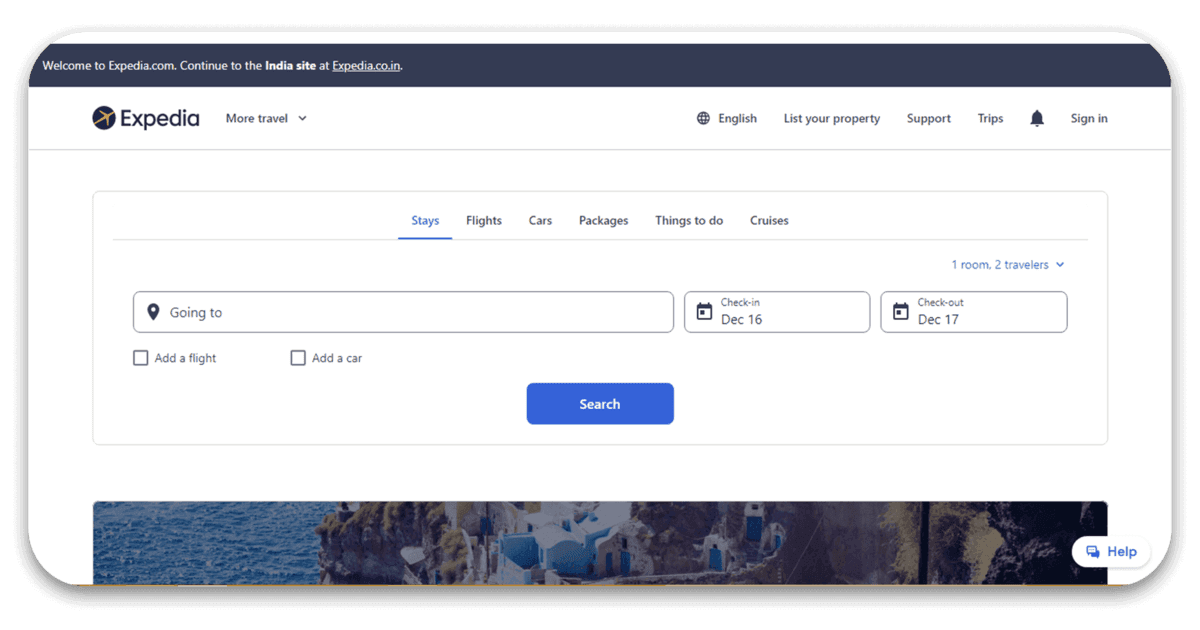 The Expedia Group is a U.S.-based online travel agency that caters to both vacationers as well as business travelers. It brings together travel pricing providers and metasearch engines like Expedia, Vrbo, Trivago, Orbitz, and Hotwire. By integrating Expedia API service into your business, not only will you be able to enhance your services, but you'll also concurrently get to earn the confidence of your target audience.
Expedia provides some of the best features for aggregators to choose from. Take a look at some of the aspects that make it stand out when it comes to flight searches.
1. It is able to supply you with affordable rates as well as the availability of tickets for a variety of travel choices all over the world.
2. A wide range of cutting-edge technologies, such as a customizable travel API and pre-built hotel reservation templates.
3. You may use it to look for one-way or return flight prices on a real-time basis and see which airlines provide top-quality deals. Product keys are valid for around 20 minutes before they expire.
Sabre API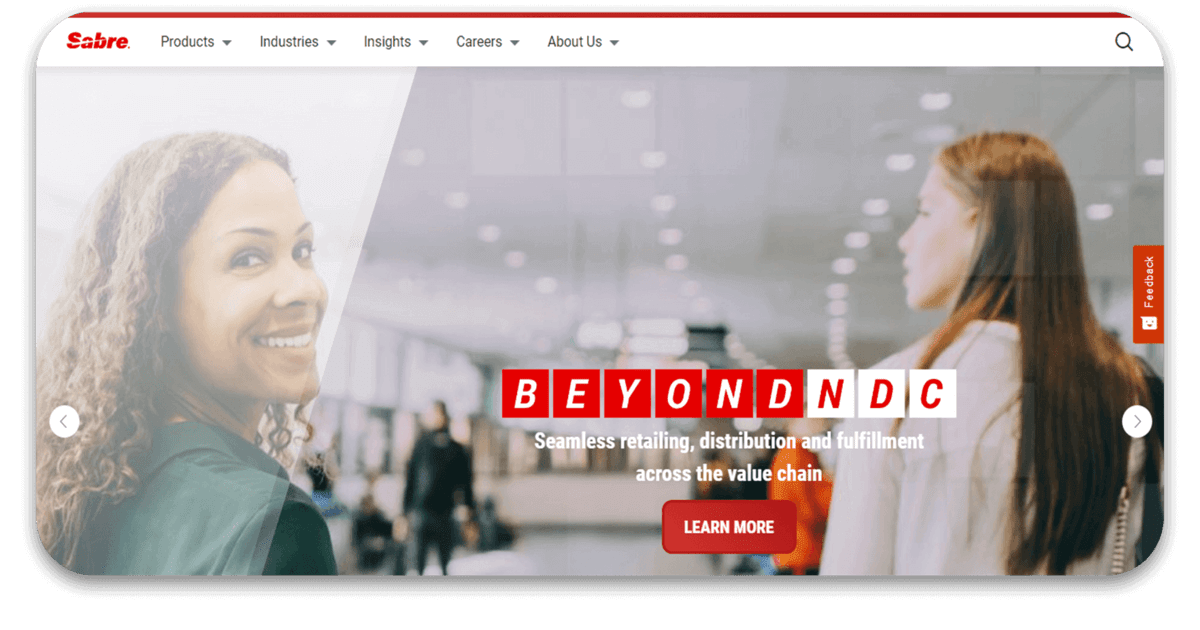 Sabre Corporation, located in Southlake, Texas, is an industry-leading provider of travel-related technologies. Sabre enjoys a solid track record in the industry as the leading North American provider of Global Distribution Systems (GDS) for air travel.
Sabre has recently invested gigantic efforts in the evolution of the API landscape. Their commitment to serving you with the best Flight Booking APIs in Europe technology has made them a notable presence among all the emerging and prospective travel aggregators out there.
Here are a few compelling reasons why incorporating Sabre APIs into your business can prove to be a game-changer:
1. Sabre APIs are a true lifesaver for developers & businesses since they make it simple to incorporate comprehensive travel information from Sabre into their systems.
2. At the same time, Sabre APIs can significantly cut down on effort redundancy, reduce the design cycle, and minimize development expenses. This will not only drastically cut the time it will take to get your product to market, but it will also amplify your income streams if you're intending to design specialized, comprehensive travel websites and apps.
3. Sabre APIs, in contrast to other APIs, provide developers with the most freedom possible to engineer unique features, making it essentially straightforward to construct, evaluate, and release their products.
Amadeus Air API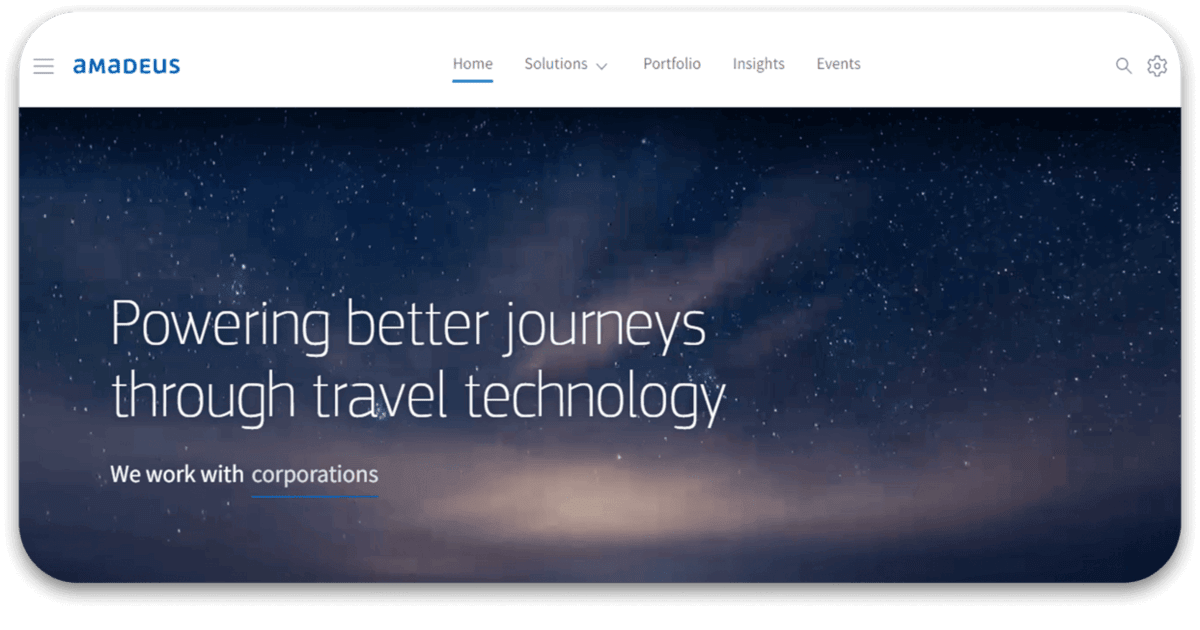 Amadeus, just like Sabre, is a renowned global distribution system (GDS), which is essentially a computer-based network that lets numerous service providers within the travel industry interact and transact among themselves. The Amadeus API provides access to all of the features and data that you will need to create innovative travel solutions. 
1. You will get to access a wealth of travel information to assist your customers all the way through their trip. Moreover, you can utilize search, and booking tools and other assisting features to expand your business.
2. It allows you to access the extensive global travel material that drives the industry's top brands. You can effortlessly update all travel-related data of flights, lodging, transportation, and destination on your website or app.
3. Through the Amadeus API, you can look at prices from more than 400 airlines across the globe, as well as use other useful tools like a calendar view, multi-city searches, and trip suggestions.
Based on the inputs you receive from Amadeus API, you can craft a well-thought strategy to assist your consumers in every possible way, from initial trip planning to final hotel and airline reservations.
The best way to get data of European flights is with an API. The API will give you all the information you need about European flights. You can use this information to create your own website or app.

Final Thoughts
Figuring out the right Flight Booking APIs in Europe for your business can be a challenging task, especially in light of the growing competition in this arena and how every contender promises to provide you with the best of all.
Take the leap forward, embrace NDC, and unlock a world of possibilities for your business. Contact us today to explore how NDC can drive your growth, foster customer delight, and shape a sustainable future for your company in the ever-evolving travel landscape.
However, as you might have noticed through our entire article, many of the rivals in the field of API seem to offer similar features, and hence it ultimately comes down to your business-specific requirements. Your budget can be a crucial factor in determining which API provider will suit you most. If you're intending to target certain markets, not all API providers need to be considered. We hope this article addressed any concern, whatsoever, you had pertaining to the best flight API providers.