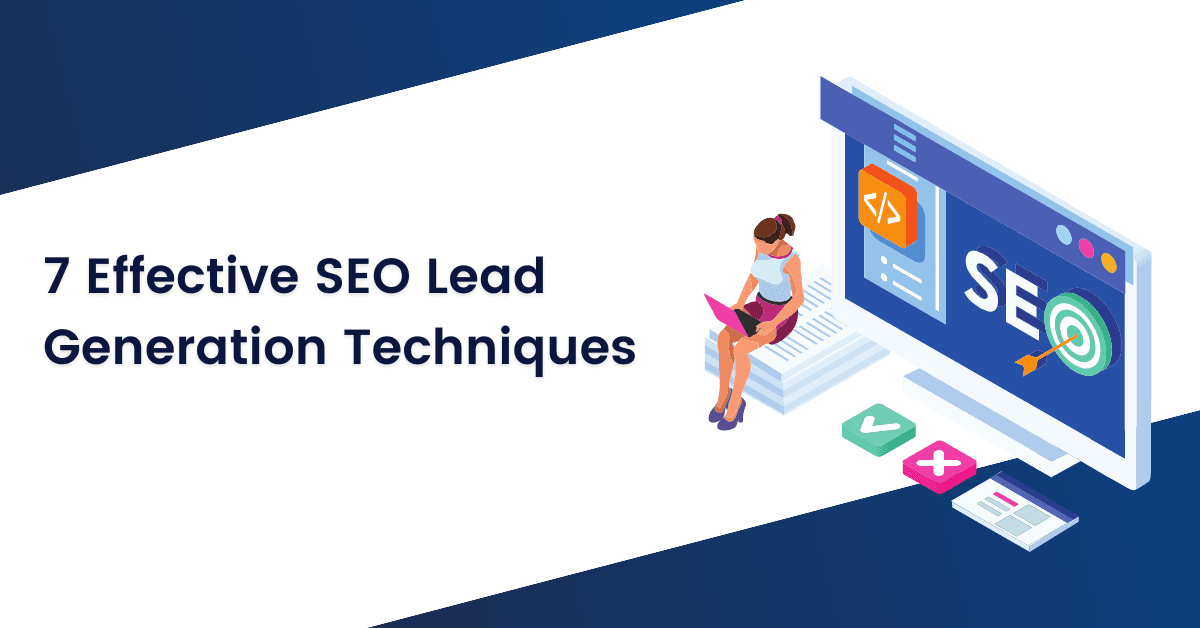 SEO Lead Generation Techniques – both in quantity and quality is one of the most important objectives of your marketing department. The digitalization of the economy has revolutionized lead generation. Cold-calling, cold-emailing, and other intrusive prospecting techniques have lost their magic.
A successful lead generator is what keeps the sales funnel afloat. Surprisingly, only 1 in 10 marketers believe that their campaigns to generate leads are effective. Today, a consumer looking to buy a product or procure a service, first researches on the internet. S/He looks for existing solutions on the market and relies more on consumer opinions than on a sales pitch. After careful review and research, consumers get in touch with a business or brand to make a purchase.
So what is a top-notch lead generation machine made of? It's a mix of many things but primarily SEO. If your website does not rank on Google or does not reach the right audience, you will never be able to generate quality leads. Initially, design and develop your website with SEO optimization in mind to achieve higher rankings.

This blog highlights how SEO marketing service providers craft the marketing strategy to help businesses generate quality leads.
1. Improve the Visitor Experience to Generate Qualified Leads
Your website should grab attention and convince the consumer to engage with you. Your website must be the central element of your lead generation strategy. If your website is not optimized, it will cost you high on advertisements to get traffic and generate leads.
Having a showcase site is no longer enough. If your website doesn't bring you the results you expect, if your website has cost you an arm and you don't see the return on investment, there are opportunities to change the game. Begin with hiring one of the top SEO companies to do the job.
2. The Relationship Between Keywords and Search Intentions
If we consider search engines as a new gateway to your site, we must analyze the expressions formulated by Internet users and their relevance to your objective. SEO experts use tools to determine search volumes and competition on these queries.
By adapting each entry page (called landing or landing page) on the site, to the types of requests from its prospects (informative or transactional), a company maximizes the chances of converting an Internet user into a lead or even a customer. Thanks to SEO this precision is possible.
3. Refer the Visitor to an Optimized Landing Page
A Call-to-Action on your ad campaigns guides the consumer or visitor to a landing page. This is the time you must convert it to a lead. For this, you must put the odds on your side so that the visitor fills out your lead generation form.
It is essential here to highlight your Call-to-Action and therefore to refer your visitor to a landing page dedicated to your offer. An effective landing page is the one which:
Limits distractions;
Clearly present the added value of your offer;
Incorporates an optimized lead generation form;
Which naturally takes us to the next step.
4. Propose an Adapted Form
The form is the crucial element of your B2C or B2B lead generation strategy. Without a form, you simply cannot generate leads. Also, a majority of companies use the same form for their contact page as for their targeted landing pages.
It is a major error. Why?
Your form must be perfectly adapted to the nature of your content in the ad campaign and the position of the visitor in the purchase journey.
The more a visitor is advanced in their buying process, the more mature s/he is and ready to engage with you. You cannot ask for the same information from a first-time visitor and someone who has studied your product and service thoroughly.
For your lead generation strategy to be successful, you need to design your forms according to the nature of your premium content offering.
5. Configure a Conversion Tunnel
The well-thought-out content stimulates the number of qualified visits. However, just up-to-date, relevant information on your website is not going to help you generate any leads.
Your visitor's journey must be signposted if you want to convert your visitors into leads. Within your different pages, you must introduce Call-to-Action buttons to encourage your visitor to take action. This action must bring the consumer to a landing page in which a SEO lead generation form is found. And if your visitor completes the form, bingo: you have generated a lead!
6. Multiply Conversion Points
To make your website a lead machine, you must explore all the opportunities available to you. Your visitor, no matter which page they are on, should be able to easily get in touch with you.
For this, you have different options. You can offer an appointment with one of your experts, a Free Audit, a demo request, or a chatbot for real-time discussion. In fact, 44% of Internet users think that getting a real-time answer to their questions is essential and 63% of visitors to a website equipped with a chat room say they are ready to visit it again.
7. Optimize Your Site for Mobile Sevices
Differences in screen size and load times for the variety of devices people now use to access the Internet can be problematic. If the design, structure, and speed of your website do not take this into account, your visitors will abandon your website. The good news, however, if your site is already well optimized for search engines, optimization for mobile devices requires only a few adjustments. A good SEO digital marketing service provider company can help you with it.
Generating qualified leads, via digital, has the power to transform your marketing. Start with using advantageous offers, CTAs, landing pages, and forms. Promoting them in multi-channel environments can reduce your cost per contact while offering quality prospects. These leads can then be converted to customers by your sales team.

These practices, on all aspects of lead generation, will easily allow you to increase your conversion rates. But these tips are only the tip of the iceberg and they really only take their meaning when inserted in well-strategized Inbound Marketing. If you want to boost your sales or generate quality leads, Contact us as we, OneClick IT Consultancy is your one-stop location. From being a local SEO service provider in India and USA to being the most preferred software development company, we offer solutions for all business types.