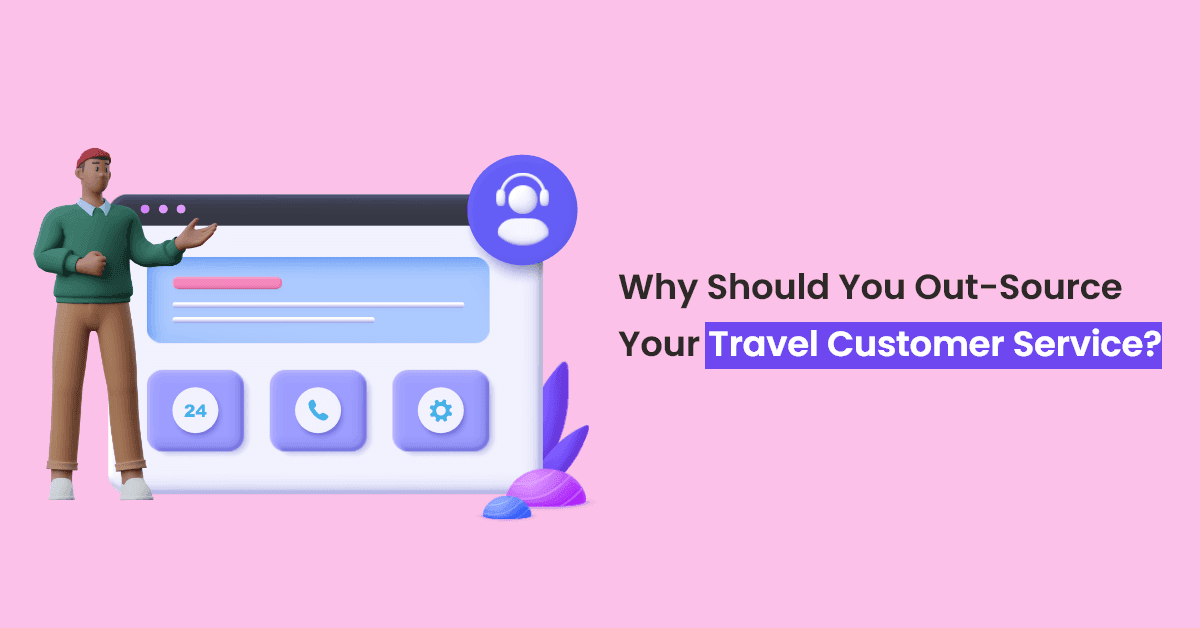 Introduction of Travel Customer Service
Because of rising expendable incomes, improved connectivity, smartphone penetration, and the approach of tech-savvy millennials, the travel, and tourism industry has grown exponentially in recent years.
New business models have emerged in this fast-paced industry as the industry evolves and competes more aggressively.tra
The business process management (BPM) industry has new opportunities because of travel and tourism.
Based on the sharing economy and digital business models, online transportation and new businesses are providing new revenue streams in this area.
More excitingly, companies use multiple channels to communicate with customers.
In their preferred communication channels, they explore different, disruptive avenues to offer customer services. IT support services involve providing technical assistance to businesses, organizations, and individuals to ensure smooth operation of their IT systems, software, and hardware.
Whether you work for an airline or a travel website, you are inundated with calls, emails, and chats from customers who are experiencing a range of issues.
You can either concentrate your time and money on this or focus on your core skill and allow your customers to be handled on multiple channels by a skilled, experienced outsourcing company.
The keyword here is "multiple channels." Naturally, you will receive a lot of calls from customers or future customers, but that's not the only interaction.
Customers will also like to send emails to travel companies with diverse booking requests, bookings, cancellations, reimbursements and so much more.
Let's not forget live chat on your site. If you care about your visitors, you most likely have a chat room on your website.
Visitors to your site may have a bunch of questions, be having difficulty navigating your site, or simply require assistance from a human being.
As a result, you'll need a dedicated workforce that can handle consumers efficiently and effectively across all channels.
Why Customer Service is Required for Travel?
Customer evaluations, feedback, and positive word of mouth are vital to all types of travel firms (online and offline).
A travel company can only succeed if it can meet the expectations of its clients and provide hassle-free travel experiences.
Furthermore, maintaining healthy customer ties is equally important, and this is possible only when your services meet your customer's requirements.
Consumer service allows businesses to plan ahead of time how they will acquire customer loyalty.
Customer Service Influences 70% of All Purchase Decisions
Many elements determine whether or not a customer will buy a hospitality company's products or services.
Customer service, on the other hand, is one of the most crucial. According to a McKinsey study, customer service influences 70% of all purchasing decisions.
Customer Service Differentiates Travel & Tourism Businesses from their Competitors
It's not without competition in the hospitality industry.
There are tens of thousands of enterprises across the country and abroad. However, hostel firms can distinguish themselves by providing exceptional, positive customer service from their competitors.
If a customer has an excellent business experience, he or she will remember this business and thus increase the likelihood of future purchases.
Customer service is also important in the Travel industry because it influences business reviews.
People are twice as likely to share negative feedback with an organization as they are to share positive feedback, according to an American Express Survey.
What is the significance of this? It is significant because people look for online reviews before purchasing a company's products or services, particularly in the hospitality industry.
If an entertainment business gets dozens of negative reviews, other prospective customers will not be permitted to visit and purchase products or services from their establishments.

Responding to Travelers' Questions
People are staying indoors due to the Covid 19 epidemic. New travel protocols are unknown to most tourists.
They've got a lot of questions about the lodging, transportation, and medical services available at the destination.
For appropriate post-pandemic promotions, travel companies/agencies can hire travel call centers or web chat support. They also provide information about the available facilities.
Travel Companies Lose more than $1.6 Trillion due to Poor Customer Service
Poor customer service will result in fewer sales from both new and existing customers in the Travel industry but the full cost of poor customer service may surprise you.
Poor customer service costs businesses $1.6 trillion per year, according to a study done by Accenture.
Why should you outsource your Travel Customer Support Service?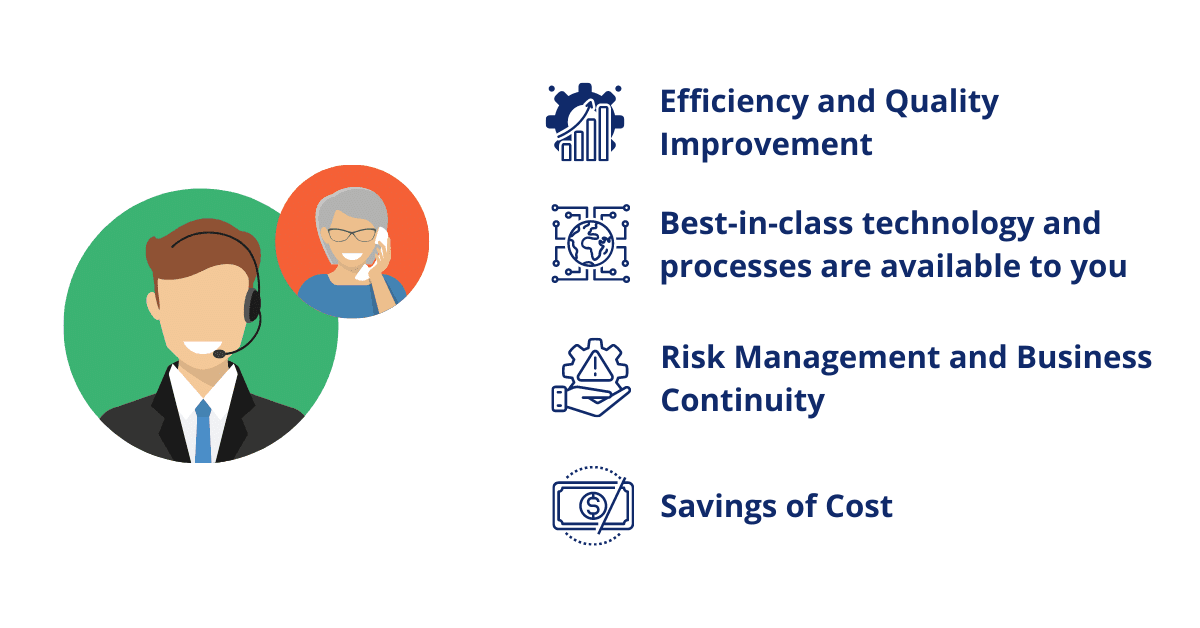 Efficiency and Quality Improvement
Staff employees or departments with various duties and priorities are commonly assigned back-office work.
When back office teams balance competing duties and priorities within a tight schedule, it's understandable that inefficiencies can enter into the process.
By establishing and documenting a process and designating committed employees to do the activities, an outsourcing engagement can promote efficiency and quality while lowering administrative strain on a corporation.
Data from our travel industry clients suggests that outsourcing can increase efficiency by 20% or more for tasks like data maintenance.
Aside from cost savings, the right outsourcing solution can provide efficiency and higher quality along with cost-effective results.
Best-in-Class Technology and Processes are Available to Your Travel Customer Support Service.
Renowned customer service providers understand the importance of satisfying customers' expectations (and even exceeding them).
Studies have demonstrated, for instance, the willingness to wait longer than a minute for nearly 60 percent of clients to call support centers.
As a result, a worldwide customer service provider guarantees that mechanisms are in place to reduce average wait time (AWT), such as the presence of dedicated QA auditors who train agents on how to minimize "dead time" between calls.
In addition, the vendor will employ best-in-class technology to boost operational efficiency, such as straightforward data capture tools to capture essential information from each conversation.
Vendors who combine impressive travel technology and efficient processes in these and other ways can offer their customers unrivaled customer service.
Savings of Cost
It saves money when outsourcing works. Besides saving on labor costs from outsourced staff in lower-cost geographies, further savings can be achieved by reducing office, infrastructure, and recruitment, training, and materials requirements.
Our experience in the travel industry has shown that a well-structured outsourcing agreement can save a client up to 45% on a like-for-like basis.
Although cost reductions are obviously not the only reason to outsource, they are certainly convincing. Each company should at least assess whether it is an option at this level of saving.
Risk Management and Business Continuity
By sharing process and system knowledge with a trusted partner and ensuring that there is no "single point of failure," outsourcing can help a company diversify risk.
If an unplanned business interruption occurs, an outsourcing team can provide geographical diversity and critical flexibility. The travel industry faced unprecedented uncertainty during the global pandemic.
Our outsourced teams have been able to offer flexibility to their customers by taking on new tasks such as refunds and cancellations.
An outsourcing team can form part of an extensive business continuity plan to provide support for important business processes for larger companies.
It is necessary in today's world to have a flexible workforce that can be expanded.
Services We offer in Travel Customer Service
Email, chat, social media, and phone are all part of our multichannel engagement strategy.
It's easier to create connections when you know more about your customers. These communication activities that are incoming and outgoing help you glean all you need to know.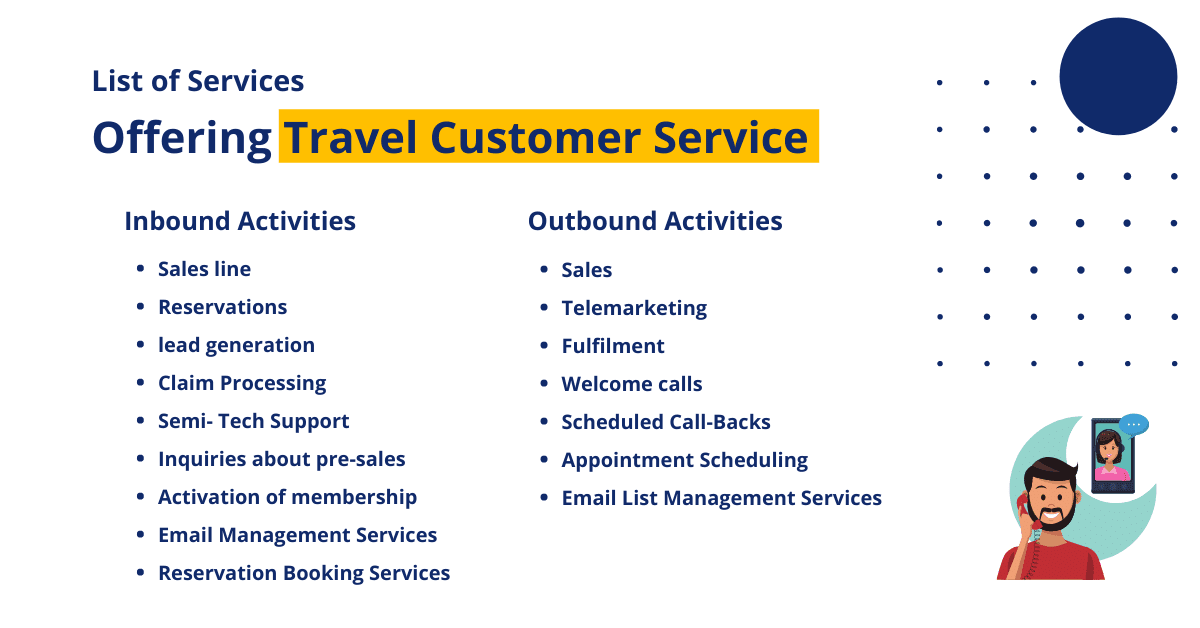 Query Resolution Services for Multiple Channels
Nobody enjoys calling customer service.
However, when your customers are in need of assistance and have exhausted all other options, they will contact you.
This is your chance to quickly handle problems and turn your clients' frustrations into pleasant ones.
We can assist you to figure out what your customers actually want with our superior data analytics and contact center support.
We automate service inquiries, billing difficulties, and other tasks so that your call center can build great customer relationships, solve problems, and ease frustrations.
The Conduent Case Management System, for example, employs software automation to assist callers in swiftly resolving difficulties so they may get on with their day.
A structured flow directs agents down the most efficient path to speed up transactions.
Agents and, by extension, consumers – will be happier as a result of this. Customer satisfaction leads to positive ratings, greater revenue throughout the length of the partnership, and a positive social media and word-of-mouth reputation.
Various Types of Travel Customer Service
Each of these alternatives is a terrific customer service solution, but they cater to distinct customer service needs.

Support via Live Chat
Customers may require a quick resolution to their problems at times. In such a case, contacting an expert who can provide a comprehensive solution and advise them on what to do is the best option.
Implementing live chat on your company's website is one way to provide such direct customer service.
Email Support
This one may feel a little dated, but it is still a viable method of providing customer service.
As with the previous two types of customer service, you'll need someone or a team to answer your customers' and leads' questions.
To allow people to contact you about your business, simply display your email address in a prominent location on your website.
Most businesses include all contact information on the dedicated Contact page as well as in the website's footer.
Email assistance allows customers to contact your customer service team without having to speak with another person.
Support over the Phone
It's the most prevalent method of giving customers feedback, and it's ideal for anyone doing business online.
Furthermore, the phone is perhaps the most versatile solution – everyone has one, everyone knows how to use one, and everyone will enjoy the possibility to call for help.
It's a lot easier to deploy a phone support solution in your company these days, thanks to web-based options.
You may take use of the potential of foreign phone numbers by allowing your clients and leads to call your company using their local phone numbers.
Benefits of Travel Customer Service
An outsource customer service can manage your internet reputation, change unfavorable reviews to positive ones, execute back-office operations, conduct market surveys, and provide multichannel, multilingual customer service 24 hours a day, seven days a week.
While this industry has been a pioneer in terms of technology adoption, it has also aided in providing more personalized service to clients.
Below are the Benefits of Travel Customer Service
Support for Multiple Channels
Travel and tourism organizations use digital and voice platforms to market their products and communicate with their customers.
Previously, the telephone and toll-free numbers with IVR menus were the primary means of contact.
Customers who are digitally literate prefer to communicate via chat, messaging applications, and social media.
You won't be able to respond to all of the inquiries unless you have a solid backup of expert chat and social media agents.
Customers will turn to another travel agent if you make them wait for a response or if you mistakenly neglect their question.
You can effectively manage your clients across different platforms by outsourcing travel call center services.
Assist Customers in Receiving Timely Updates
The tourism industry is highly volatile, especially in the aftermath of the COVID-19 disaster.
Virtually every day the regulations for travel change and flight schedules are not fixed.
Having an experienced outsourcing partner on your side can help you demonstrate to customers that you are proactive.
On your behalf, call center agents tell your clients of any flight delays, changes in travel guidelines, document requirements at airport check-in, and check-out.
They can also serve as a virtual guide for overseas travel, which is something that many clients seek during a pandemic.

Varied Services for Different Customers
Customers who are on vacation may be swayed by exclusive discounts from various brands. On the other hand, business travelers are more dedicated to travel loyalty programs.
They prefer to travel on the same airlines and stay in the same hotels in order to receive perks and earn loyalty points. Call center companies combine such personalization to create a pleasant travel experience.
Enhances Customer Satisfaction
Customers choose travel agencies because they want immediate assistance with reservations without having to go through the inconveniences of sifting options, comparing rates, and exploring different websites.
They require the assistance of a travel agency in order to arrange the most convenient package or ticket at the most affordable price.
A travel and hospitality company can benefit from call center outsourcing by gaining access to all of the required equipment and abilities to assist clients in real-time and even build bespoke itineraries for travelers.
Assists in the Decision-Making Process for Data-Driven Business Decisions
A travel and hospitality company should research current industry trends.
The process of data analysis can be used to investigate travel behaviors.
Everything, including what clients are looking for and buying, their preferences for hotels, flights, transportation, and itineraries, must be monitored and analyzed in order to give sellable offers and services.
A travel customer service center can help you collect information and make data-driven decisions.
Why Choose OneClick as a Top Travel Customer Support Service?
OneClick is one of the market's leading providers of customer support outsourcing. Companies from a variety of industries entrust us with their travel customer service and client questions.
We mostly work with little and medium-sized businesses that wish to cut expenditure.
Our outsourced customer service costs are ideal for these needs, allowing our clients to save money and invest it in their business.
In addition to cost-effective solutions, OneClick IT Consultancy provides assistance from highly-trained customer service specialists.
Our agents formulate strategic goals targeted at reinforcing your brand's loyalty, in addition to developing a knowledge foundation and operating plan.
OneClick understands how critical it is for businesses to have someone available at all hours of the day and night to take care of their customers without making them wait too long.
As a result, we provide omnichannel assistance 24 hours a day, 7 days a week to help shorten response time and achieve quick outcomes.
You can improve customer satisfaction and strengthen your brand by utilizing our outsourced assistance.
FAQs About Travel Customer Support Service
1. What is the distinction between inbound and outbound phone calls?
An inbound call is initiated when a customer calls into the contact centre, whereas an outbound call is initiated by a call centre agent.
2. How can I improve my travel company's customer service?
Customer experience can be improved by using an omnichannel approach. Additional features like Live Chat, Knowledge Bases, and 24-hour phone support can all help to improve the customer/e-commerce business interaction.
3. How can my customer service be outsourced?
It is simple to outsource your customer service. Begin by contacting us, and one of our knowledgeable representatives will contact you to assist you with the rest! Contact us today to learn more about how OneClick can improve your customer experience.