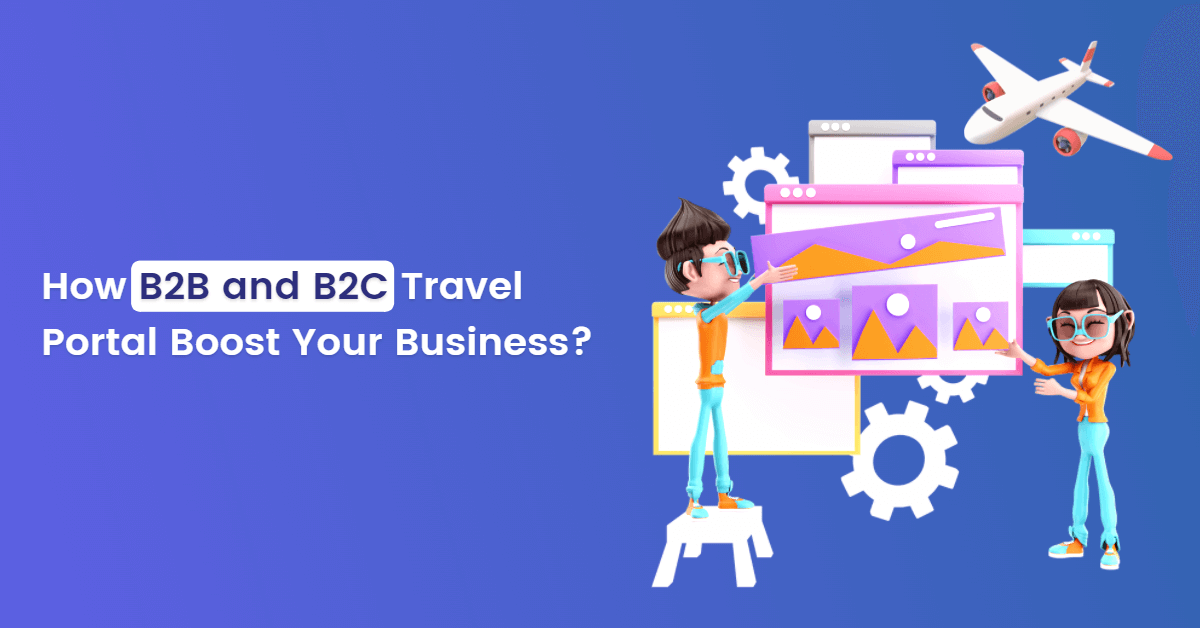 Introduction of Travel Portal
If you run a travel agency in 2020, you can't be successful without a high-performing website. Online travel sales will hit a whopping $817 billion in 2020. Not being able to leverage this demand, only because you do not have a travel portal will be a big loss.
In this hyper-connected world, consumers are used to getting instant answers. Travel agencies must adapt and become more reactive in order to be in line with the expectations of their clientele. They have the means and it would be a shame that with current travel technologies, they do not use their competitive advantages. B2B and B2C travel portals increase profits for travel providers by reaching global customers.
However, the growth of technologies in the travel sector is not limited to planning a trip. Digitization is making a big difference in making travel more affordable, more accessible, and more convenient than ever. With the advent of recent technologies, the entire landscape of the travel industry is changing.

Let's take a look at How B2B and B2C Travel Portals Give a Boost to Your Business:
1. Improved Communication
If you think your 9-7 pm call center is adept at answering the queries of your customers, you are wrong. Customers today demand support and information round the clock. If you have a global audience, it is available as per their time zone needs to be considered. And, what if you had to cater to a global audience? According to statistics, 148.3 million travel bookings are completed online every year. Today, customers do not understand why agencies could not answer their questions almost instantly. The Internet is an integral part of their daily lives.
Thus, agencies have to put an end to waiting on the phone to change a room category or departure dates. Agencies must be able to respond immediately to their customers. With an online travel portal, you can offer chatbots or virtual assistance each time a customer visits the website. It also offers an attractive ROI by reducing the operational costs of a call center.
2. Interactivity
A B2B or B2C travel portal allows you to take advantage of the habits that are ingrained in the culture today. Travelers are in the habit of sharing their impressions and opinions on the internet. Think interactivity. Your customers express themselves on the web and you can easily support this trend for the benefit of your business.
If you have a website, you can integrate a simple contact form, a testimonial space, and a forum to capture the views of your customers. 80% of all travelers spend up to 4 weeks on TripAdvisor reading other traveler reviews and researching a destination. What if your online booking engine offered them the reviews or a discussion forum?
3. Keeps You Informed About Your Customers
An informed man is worth two. It is applicable to the travel industry. Knowing your customers brings better chances of closing sales. Your B2B or B2C travel portal can help you analyze customer data. You get access to multiple levels of information; who visits the site, when, what products are sought and how they are bought, what discourages the prospect from making a purchase, etc. This information is a goldmine. You can add services and plan your promotions based on this data to convert prospects into customers and build loyalty among previous customers.
4. Multiple Services
Price is not the only factor that customers consider before booking. Service comes a close second. A travel portal offers an enriched and personalized customer experience. It can support the customer throughout the journey, not just between booking and departure but also during the stay.
Put as succinctly as possible, in order to get people to your website, you have to give them what they need and desire. And that is why you should turn your website into a useful travel resource.
5. Stay Ahead of the Competition
Travel technology is reaching new heights. Traditional agencies will soon be a thing of the past. In fact, just a run-of-the-mill website will not suffice too. The tourism sector has already started making use of advanced technology like Big Data, AI, IoT, AR/VR and biometrics to offer customers a secure and seamless experience.

Conclusion
Travel businesses need to align with certain practices and above all reposition themselves. It is up to them to enhance their added value and B2B travel portals are an ideal answer. Also, today having a site is no longer a heavy financial commitment, especially if you compare it to the ROI. On the contrary, there are very affordable open source solutions and all networks offer solutions.
What is required is to find the best travel portal development company to get a robust and comprehensive B2B or B2C portal. We, at OneClick, are experts in developing travel portals for SMEs as well as big businesses. Whether it is a customized travel portal solution or a B2B & B2C white label travel portal, our team can help you with services that match your requirements.
We are also specialized in travel website development, creating user-friendly platforms that showcase destinations, offer seamless booking experiences, and provide essential travel information.
Our team combines design expertise and technical proficiency to deliver high-quality websites tailored to meet the unique needs of the travel industry.