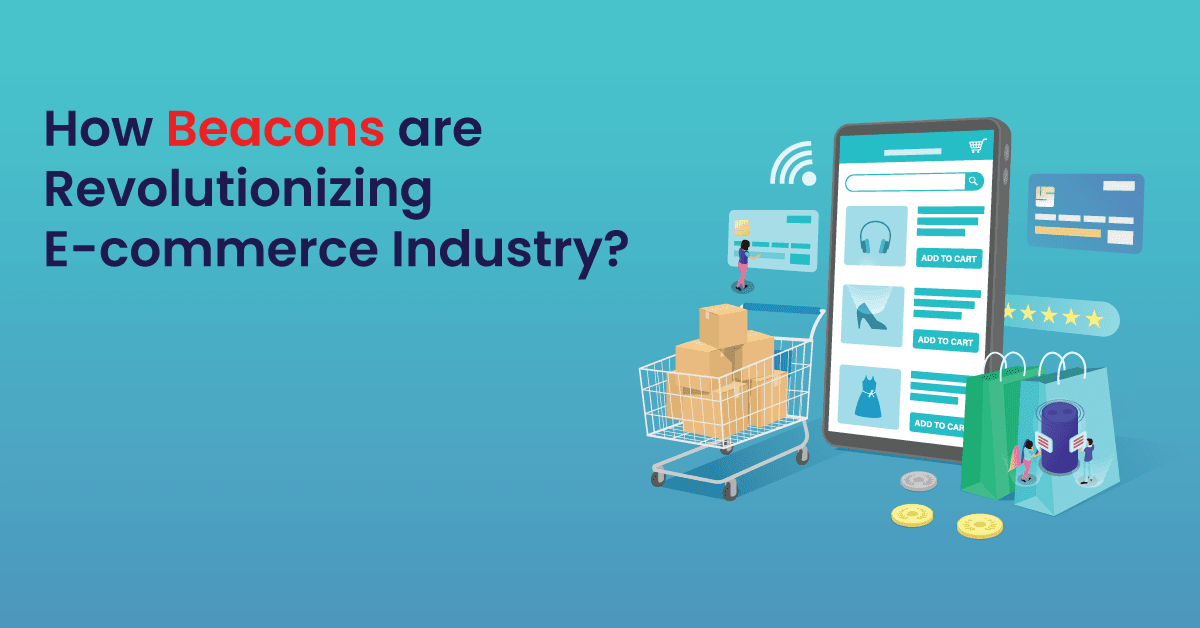 Introduction of Beacon Technology
For all players in the eCommerce market, the development of new technologies is a chance to identify, as early as possible, all new opportunities. In fact, with the development of new terminals, devices, and new uses (online merchant apps, changes in consumer habits, etc.), e-merchants must ensure that their practices are adapted accordingly.
The latest trend is that of a retail solution with beacon technology. These small connected sensors use Bluetooth technology which is developing at high speed in the USA and rapidly gaining popularity in the European continent. What are the possible uses of Bluetooth Low Energy (BLE) in eCommerce app development? What are the advantages and the new opportunities of such a technology?

Beacons: What Exactly are These Small Connected Sensors?
Before presenting all the advantages of a retail solution with beacon technology, let's take advantage of this first part to present these small connected sensors. The beacons are advantageous to both the new technologies sector and e-merchants wishing to modernize their activity.
The beacons are, as is the classic definition, sensors integrated into a small box and which allow "dialogue" with nearby terminals (smartphones, tablets) and this using Bluetooth technology, and more specifically the Beacon technology in retail (an improved and more energy-efficient version). These sensors can, therefore, be placed in points of sale for example, but also in many other places such as stadiums, public places, and many others.
Objectives of BLE Beacon for Retail and eCommerce
The objective is to be able to send a message, information to all geographically close people or those present within the scope of activity of connected sensors. These messages are thus easily contextualized, depending on their location (shopping center, cinema, etc.).
The consumer can, therefore, be immediately notified of a promotion, a specific offer, or a particular event near where he is. Another important note – the sensors can be adjusted so that their field of activity is specific. For example, they can send promotional information related to the department of a point of sale where the customer is located, so as to inform him directly about his position in the store.
Today, these connected sensors are used in Bluetooth low energy (BLE) app development significantly in the United States and increasingly in Europe. Many players have already taken an interest in this new technology and all the opportunities offered. In fact, it is mainly independent specialist players (bakery, press point, petrol pump, etc.) and large commercial chains that are interested in sensors connected via Bluetooth, as well as specialists in billboards and street furniture.
Advantages of BLE Beacon for Retail and eCommerce
As said before, these connected sensors allow all businesses with a physical point of sale to send information to all customers who are nearby. Fast, easy to use, these sensors nonetheless remain solid commercial arguments to convince the customer to make a specific purchase or to take advantage of an ongoing promotion at the point of sale.
Another major advantage is the cost. In fact, these connected sensors can be purchased for an affordable price which allows, both, for small businesses to take advantage of all the opportunities offered and for larger businesses to equip all of their points of sale at a lower cost.
The last strong point of these connected sensors is the possibility of collecting data on customers and all people passing near the brand's points of sale. In terms of traffic and statistical analysis, the possibility is very interesting. Here again, the cost of such a maneuver is largely limited and the company can entirely use this data wisely to adapt its offer and its strategy.
Establish a Strategy Related to These Connected Sensors
As Apple has been able to do for a year by marketing sensors connected by Bluetooth specially dedicated to the brand's devices, the integration of these sensors into your commercial strategy can be quite beneficial.
The advantages are many, diverse and varied, and all companies, whatever their size, can have a great interest in taking advantage of this retail solution with beacon technology. Here are some:
Acquisition of Information on your Customers
Possibility of Increasing point-of-sale Traffic
Increase in Your Potential Customer Base
Direct Relationship with the customer without going through channels that do not allow the transmission of information so quickly

Conclusion
Whatever the main activity of your company, whatever its objectives in terms of commercial strategy, whatever the specific strategy implemented by your company, the use of this Beacon technology in retail has many advantages.
So don't wait any longer. This is for your business to gain a competitive advantage many businesses have not seized all the advantages of the BLE technology. It is up to you, as a business manager or senior executive, to orient your company's commercial strategy towards the use of these easy-to-use and yet so beneficial sensors. If you have a BLE beacon mobile app development project in mind, connect with us.
As a leading eCommerce mobile app development company, we have nearly a decade of experience leveraging the latest technologies to build unparalleled apps.