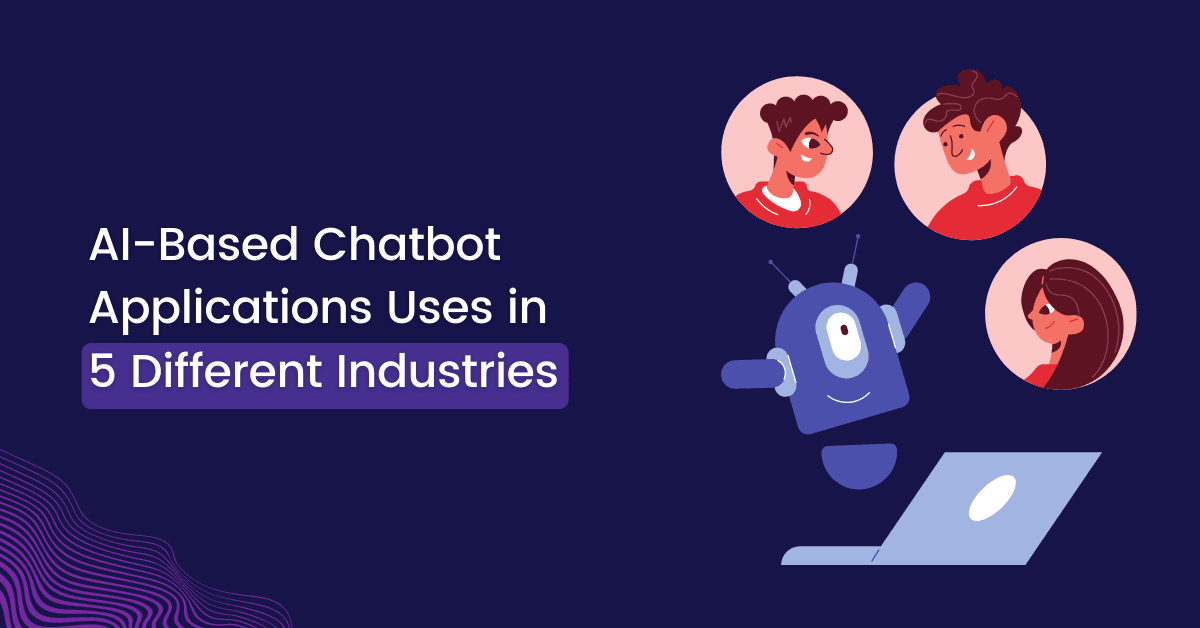 Gartner predicts that chatbots will replace 25% of customer service interactions by 2020 and these customers will manage 85% of their business relationships without interacting with people. With technological advances and the rise of Artificial Intelligence (AI) and conversational interfaces, consumers in all industries are more likely to interact with a bot than before.
Available in a variety of forms such as mobile apps, website-based apps, Facebook Messenger, and voice protocols, chatbots are redefining the way companies interact and engage with their customers. Their ability to imitate human conversations through text and audio can be beneficial to numerous industries. Add to it Artificial Intelligence, and your customers can experience communication at par with human interaction.
Have you heard about experiential chatbots that can also become real-life coaches? Woebot, designed by psychologists at Stanford University, even offers a psychotherapy service. Its artificial intelligence (AI) is based on cognitive behavior therapy to tackle the depression and anxiety of its users through regular exchanges.

By offering customers another way to interact with brands, chatbots complement social networks and applications. Active 24/7, and can be programmed to interact in any language, chatbots are a profound change in the way customers get information and communicate with businesses, their products, and their services. It is no coincidence that they are hailed as the next big revolution in the way consumers engage with brands online.
Why a Chatbot Applications for Business?
If you own a business, you cannot afford to ignore chatbots as they are becoming an increasingly effective marketing tool.
Indeed, chatbots allow millions of people to interact with your brand without there being a human on the other side. Two of the biggest bot platforms are Facebook Messenger, which now has 1.3 billion monthly active users, and KIK, which has exceeded 300 million. Your own chatbot applications could, therefore, potentially reach more than a million users!
Unsurprisingly, more and more companies are starting to use chatbots to engage with their customers and improve their brand communication.
A Whole Ecosystem of Chatbots Serving a Variety of Uses
Ecommerce chatbots are probably the best known. Their reason for being? Facilitate and carry out transactions. This includes helping the client to select the offer that best suits their needs.
The service chatbots, on the other hand, take care of a single element or a stage of the customer journey where access to information takes precedence. As in the case of technical support or administrative procedures. In another context, experiential chatbots offer to support the user in a new experience through repeated interaction.
Finally, entertainment chatbots aim to add a playful element to customer relations and/or to offer games or quizzes to their users.
1. Chatbots for the Insurance World
Navigating the insurance world can be confusing for many customers, but chatbots alleviate this confusion and provide information and recommendations in a more accessible and user-friendly format. A handful of insurance companies are turning to chatbots today to automate their processes for improved customer experience. Chatbots have also entered the world of small business insurance to facilitate the process by replacing physical insurance agents with chatbots using Facebook Messenger.
2. Chatbots for Banks
The growth of chatbots in the banking industry is great. A recent study found that in the near future, people will be receiving their pay slips via chatbot. The chatbot applications goes beyond the basic functions of mobile banking to maintain personalized discussions about the finances of each client. Chatbots can use predictive analytics and cognitive messages to perform tasks ranging from making payments to repaying loans, and even advising customers of personalized savings opportunities.
3. Chatbots in the Retail World
From clothing stores to restaurants, chatbots are a revolution in the retail world. Using messaging apps like Kik, Facebook Messenger, Snapchat, WhatsApp, which reveal great customer experiences. In fact, the biggest advantage of chatbots is not the mobile aspect, but the personalization. Chatbots can store huge amounts of customer data and generate interactions, the chatbot is able to tailor its responses and recommendations to provide an improved customer experience. In a world of hyper-personalization, being able to create a personal relationship with customers is a great strength for companies.
4. Chatbots in Tourism
Gone are the days when we spent days looking for recommendations on travel guides! Travel websites are seeing lower usage these days as more and more travelers go mobile to plan their trips. Chatbots can answer questions and provide advice and recommendations in real-time. Instead of booking a hotel, weeks in advance, users can now text a chatbot for hotel information and book a stay the day before they leave. Travelers are getting younger and more comfortable with technology, which means there is a huge demand for chatbots in the tourism industry.
5. Chatbots in Education
Nowadays, young people are permanently connected to their smartphones, which is why we are witnessing a growth in the use of chatbots in higher education, where they are very adapted to this demography. As teens and students turn away from social media for mobile messages because of their more private and controlled nature, these young people are looking for ways to incorporate ubiquitous technology into their learning. While chatbots are not widely used in education at the moment, there are multiple robots for teaching, and those that exist have been incredibly successful in reaching students in a learning method that they understand and appreciate.

These are just 5 industries where chatbots have shown tremendous potential. At OneClick, we have expertise in developing chatbots for different verticals across industries. As one of the popular chatbot applications development companies in India, we offer user-friendly, AI-enabled solutions to give you a competitive edge. Connect with our team to learn how chatbots can make a difference to your business.