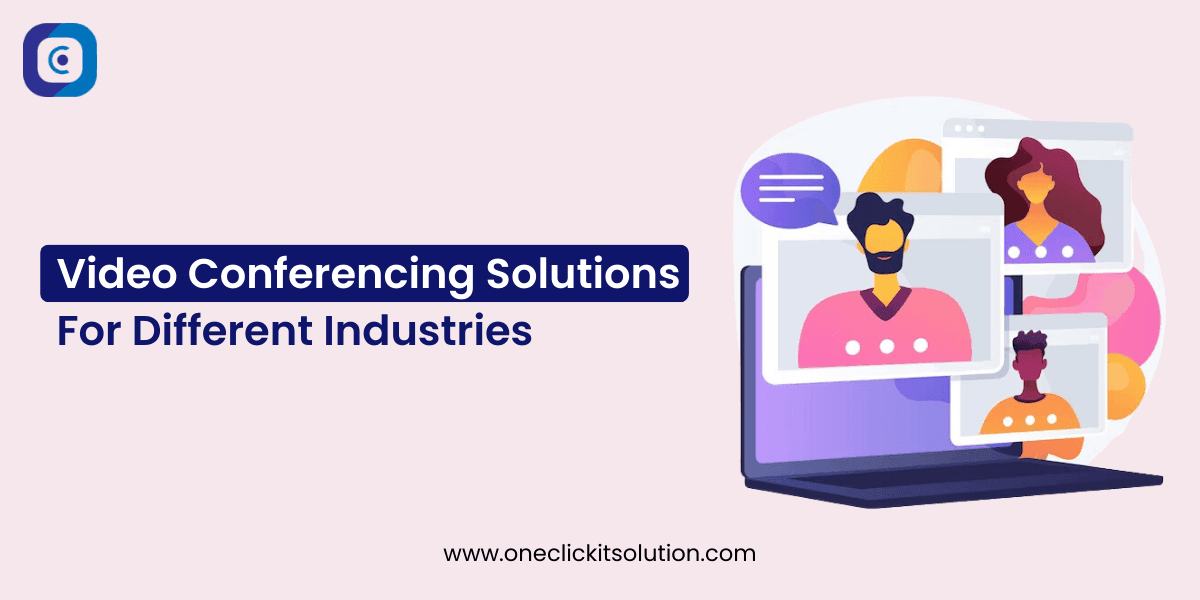 Its technological prowess, combined with the imperatives of cost reduction in businesses, brought videoconferencing out of the executive rooms. The needs of multiple sectors are different and evolve at the same time as the professional environment.
Video conferencing is now easily accessible and adapts to all types of sectors, whatever their needs, to meet each business problem. Video conferencing solutions have turned a corner in recent years and now allows any organization to find solutions adapted to their needs and budget.
Collaboration in Video Conferencing by Business Function
Although it may seem obvious, not all businesses have the same needs for collaboration. Finding the most suitable video conferencing tool is a great way to increase employee productivity. Here are some examples of business functions requiring video conferencing tools:
CEO

Engineering

Facilities

Finance

Human resources

IT

Marketing

Sale

Different Industries That Benefit From Video Conferencing Solutions
Education
Thanks to video conferencing solutions, teachers and students can easily share their expertise. Distance education programs can be improved by providing more interactive learning. This technology also allows exchanges between schools.
Video calls are also very useful for students who are unable to physically go to an examination centre. Thus, students can now take their exams remotely and this helps to limit costs.
Video conferencing can also help bridge the distance between teachers and learners by putting them face-to-face virtually. This possibility obviously offers many applications in distance education such as conferences and debates with experts, exchanges between foreign correspondents, collaborative projects and various other activities.
What are the top Benefits of Video Conferencing in the Education Industry
Health
In this sector, video exchanges allow health professionals to connect in order to discuss a patient. This facilitates decision-making and provides additional support, especially during pandemics or curfew situations. In addition, they offer the possibility of assisting a professional from a distance during the performance of a medical procedure.
Video conferencing also makes up for a lack of staff in a hospital center. It also offers expert consultation to remote areas where medical facilities are still developing. It also helps doctors manage their appointments and time better.
Healthcare app development revolves around the concept of the video conference call. All teleconsultation apps use chatbots and video communication to connect doctors and patients.
Legal
Heavy workloads, changing laws and lack of space on the premises make it increasingly difficult to work effectively in the courts. In 1998, the laws were amended, and the use of video conferencing for court proceedings in unavoidable cases got a go-ahead.
Ease of use and reduced travel costs, video conferencing has many advantages in the legal field. It makes it possible to deliver justice more efficiently and more quickly while respecting the rights of the defence. However, the policies vary according to countries.
Human Resources
For 98% of HR managers questioned, videoconferencing allows companies to eliminate distances and remove cultural barriers in order to improve productivity. According to surveys, HR teams are increasingly using video around the world.
When asked about their preferred means of communication, respondents placed videoconferencing in the top three, in third position (46%) behind electronic messaging (88%), teleconferencing and voice calls (62%).
More and more recruiters are systematically interviewing from a distance. Indeed, video conferencing acts as a recruitment assistance tool that aims to be flexible and easy to use.
In addition to the time and travel costs saved, videoconferencing provides better preselection and more qualitative profiles.
A well-designed video conferencing app also allows video quality as if the candidate was facing the recruiter. It is, thus, a new way for HR to communicate and shape corporate culture. The app also benefits in terms of skills management, recruitment, training, productivity and flexibility of the work environment.
Customer Relations
The implementation of a video conferencing solution allows you to quickly manage customer requests. It is an innovative means of communication which gives a more modern image.
For the customer, this saves considerable time. From his living room, he goes directly into a call with a company, with a simple click.
Responding to real demand, video teleconference meeting strengthens the human dimension of customer contact and makes it possible to speed up the purchasing decision process.
Accessible to a large number of people and inexpensive, video conferencing is entering a new era and should soon become the most used collaborative work tool in business.
SMEs
As SMEs seek to enable real-time collaboration without the constraints of office meetings, video conferencing software offers rich functionality at an affordable cost that is easy to use.
SMEs can use this type of platform to perform many tasks, from organizing internal online meetings with screen sharing to an HD video meeting with prospects. SMEs' budgets are often tight, leaving little room for unforeseen expenses.
Online meeting platforms help you optimize your costs by reducing the need for costly travel, whether between company offices or on business trips to meet prospects or attend conferences.
IT Companies
Just like most other businesses, video conferencing solutions are becoming an integral part of IT companies too. With these, you can organize meetings with the whole company to provide updates to employees. It also helps organize a webinar to present a new product or present a promising partner on a project.
You can offer high-quality technical support in real-time to customers and users around the world. Additionally, with video conference call you can facilitate collaboration internally, and with prospects and customers for the sales teams.
Which Technologies to Adopt for Video Conferencing Solutions?
With so many diverse solutions available, companies are faced with the choice of technology. Should I opt for a conference room or equip my employees with tablets, smartphones or computers connected to a video teleconference meeting?

Before any technological choice, the company must define its strategy. To do this, they must study the way in which employees exercise their professions. Do they have many meetings? Do they have regular trips? How are they connected? What kind of collaborations do they have?
For this inventory, the company must rely on a service provider who will support it in the choice and implementation of technologies and in the interoperability of different solutions. The cost of developing an online meeting platform app also needs to be considered.
How to Take Advantage of Video Conferencing Solutions Now?
The needs of the sectors are different and evolve at the same time as the professional environment. OneClick manages to offer each of them the solution that will adapt to workflows while offering a competitive advantage. Among the main sectors that need a video teleconference meeting solution are:
Teaching

Health

Industrial manufacturing

Administration, financial services and insurance

The entertainment industry

Commercial services

Architecture

Oil, gas and energy

Pharmaceutical industry

Retail and wholesale

Professional services

And many others
OneClick IT Solutions puts its experts at your disposal to tackle all aspects related to collaboration, but also to answer all your questions for a successful transition. In this area, experience makes all the difference and ours allows us to provide concrete answers to real and specific needs. It's time to take the plunge! Connect with us to develop your own video conferencing solution.