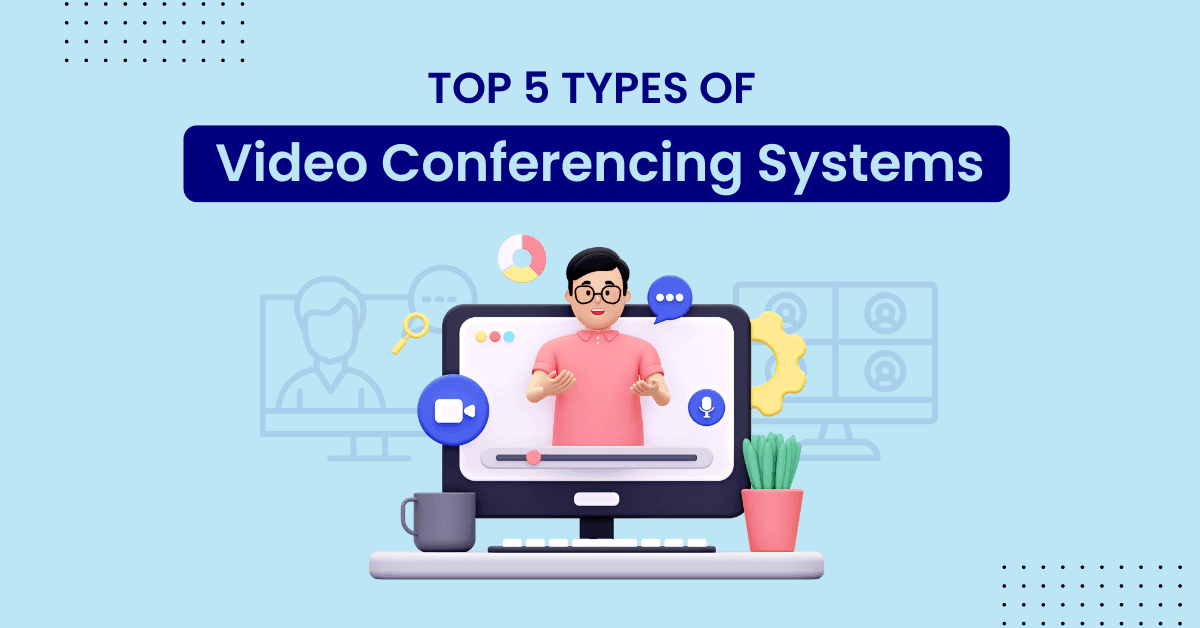 Introduction of Video Conferencing
Video conferencing system has become an essential mode of communication and collaboration in the professional environment. Whether it's managing remote employees or teams, simplifying meeting scheduling, or sharing project information quickly and clearly, video conferencing solutions help increase efficiency and productivity.
However, very few companies and organizations really exploit the full potential of this powerful mode of communication. In this blog, we highlight the different types of video conferencing systems that organizations can leverage.
What is video conferencing?
Video conferencing is a mode of professional communication that relies on the exchange of information through audio and video. It is accessible from any device supporting both audio and video such as smartphones, tablets or computers.
Most video conferencing solutions for companies come with end-to-end encryption and high level of security to guarantee the discretion of conversations in online meetings.
Statistics of Video Conferencing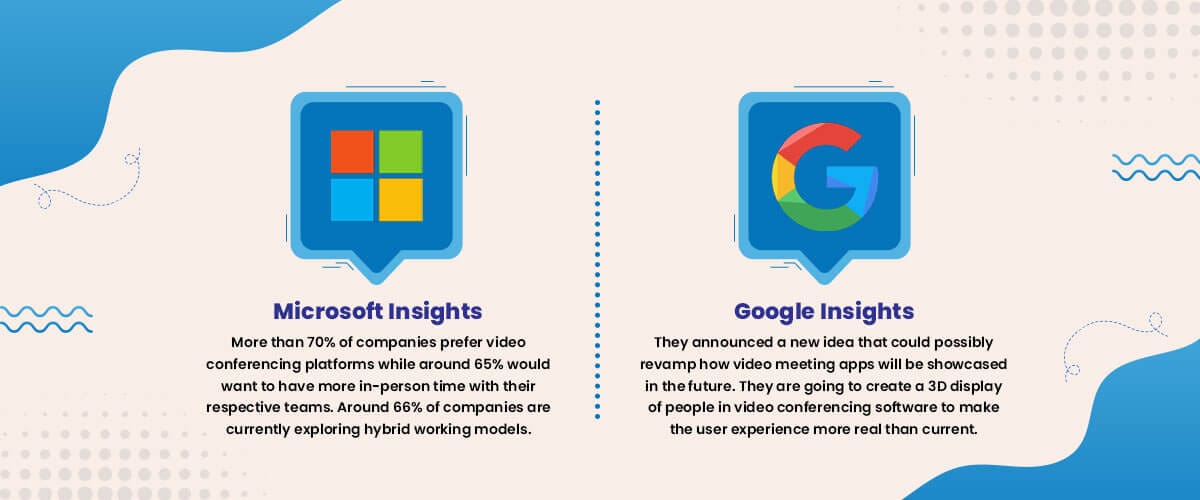 94% of businesses claim that they have seen greater productivity with video conferencing. Due to this, 83% of large companies are ready to invest in purchasing video conferencing software to ease regular operations and ensure security of data. With the types of video conferencing software and systems available, organizations have observed effective communication, reduced travel costs and more efficiency.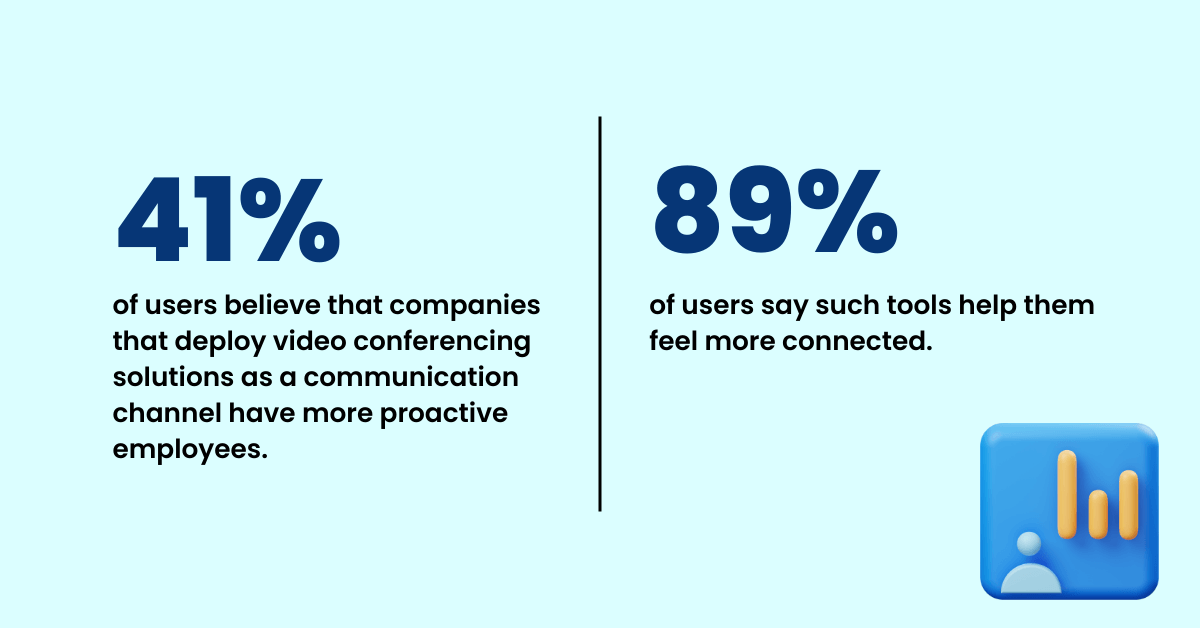 Types of Video Conferencing Systems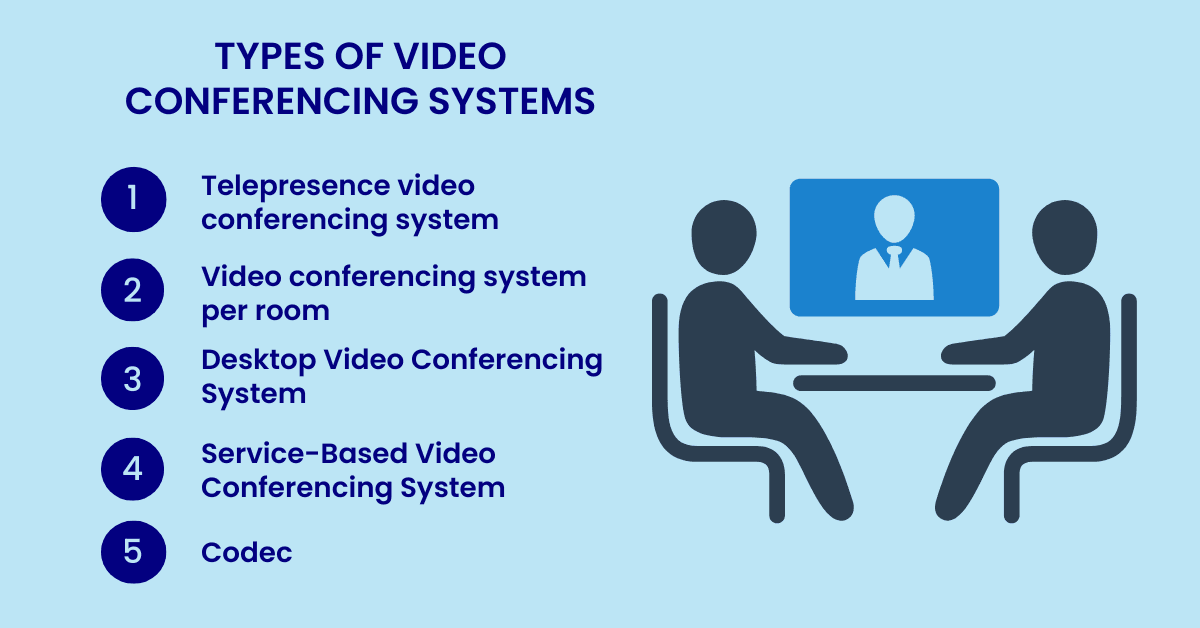 1. Telepresence video conferencing system
One of the main video conferencing technology systems is telepresence. This technique uses telephone and network connections to simulate a live communication or meeting between people in different locations. Television screens, large monitors can be placed on a table or wall-mounted with cameras positioned at eye level. To make meetings more realistic, 3D or holographic images can be used too. As compared to the other video conferencing technology systems, Telepresence is expensive. However, the high quality offers an immersive experience to the end user.
2. Video conferencing system per room
Another common video conferencing technology would be in-room video conferencing. As the name suggests, here you need an MCU (multiple control unit), video conferencing endpoints and a stable internet connection. The set-up is fairly dependent on a pre-setup. Once the room is deployed with the necessary equipment and software, a virtual video meeting can be hosted with all stakeholders anytime. The quality of calls in this video conferencing technology system is at par with all its other counterparts and easy to use.
3. Desktop Video Conferencing System
Super easy to use, desktop video conferencing technology has become popular among smaller organizations. Hosting an online meeting or conference requires a desktop – laptop, smartphone, iPad or any other mobile device installed with the video conferencing software. All these devices are equipped with good quality cameras and audio settings. This plug and play kind of video conferencing technology is thus the most affordable and convenient system for all users.
4. Service-Based Video Conferencing System
For service-based video conferencing technology systems, the provider holds most of the control. Being a telecommunication carrier, they plan and support the network configuration. This saves organizations time and bandwidth of resources. Organizations can choose for the type of video conferencing technology plan based on users and pay only for usage.
5. Codec
This video conferencing technology options is similar to a room-based framework and uses an exterior display, camera and microphone. This type is preferred by users who move around on calls or may require to shift locations during the video call. Codec costs are usually based on licensing fees (annual) and its maintenance.

Future of Video Conferencing for Saas Industry
According to the Global Newswire, Video conferencing for the SaaS industry will reach $7.6 Billion by 2027. Business video conferencing systems will see a massive adoption across all levels of organizations, big and small. Among the various industries, the healthcare segment across USA, Canada, Japan, China and Europe will drive the 9.9% CAGR from the entire share. Integration of technologies such as Internet of Thing (IoT), Artificial Intelligence (AI) and cloud technology will be the key drivers for market growth along with business video conferencing systems.
Conclusion
Its extensive use in training, learning, collaboration between teams within the premise or at different locations, is why video conferencing has become the need of the hour. The above are just 5 common types of video conferencing technology for businesses and in fact there must be much more beyond these. All these systems come with pros and cons. Based on the requirements, organizations can choose one or more type, or a hybrid set-up. You can also invest in video conference technology development that is customized to your need.
What are the best free video conferencing tools?
Video conferencing tools such as Zoom or Google Meet have an interesting free version to allow you to initiate audio or video calls for free. There are also free and open-source solutions such as Jitsi Meet.
What are the best video conferencing solutions?
Zoom, Google Meet and Microsoft Teams are some of the most popular video conferencing solutions on the market.