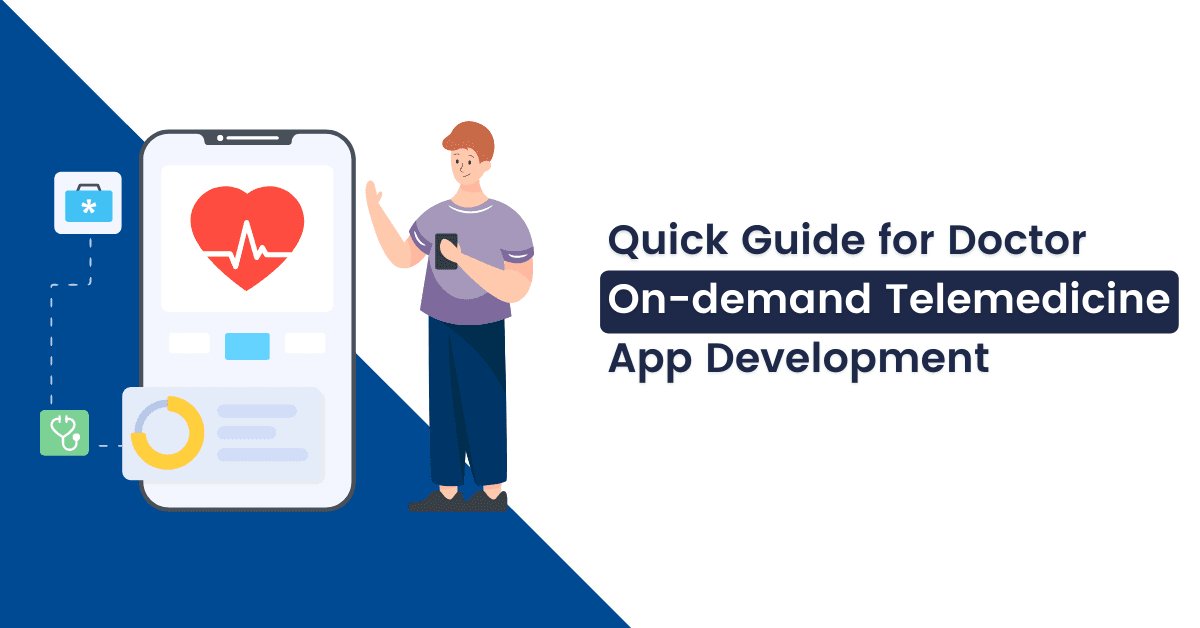 Introduction
Here we shared about a doctor's on-demand telemedicine app development with advanced features, processes, cost, and much more.
The COVID-19 pandemic has changed the way healthcare is provided in the USA and around the world. According to Markets and Markets, the global telehealth & telemedicine market in terms of revenue was estimated to be worth $87.2 billion in 2022 and is poised to reach $285.7 billion by 2027, growing at a CAGR of 26.6% from 2022 to 2027.
Surveys conducted in the USA also suggested that 77% of patients prefer to contact their physician through messages. About 82% of patients agreed that access to healthcare through technology just like taxi rental or food delivery apps would be an advantage. It may also come as a revelation that 69% of patients would opt for teleconsultation over offline or in-person appointments.
Faced with this reality, medical services must be modernized using virtual communication tools capable of guaranteeing the health of patients, preventing the spread of diseases, and effectively managing this health crisis. These telehealth apps like Doctor On-demand offer ease and convenience to both doctors and patients and can be a boon.
Benefits of Doctor On-Demand Telemedicine App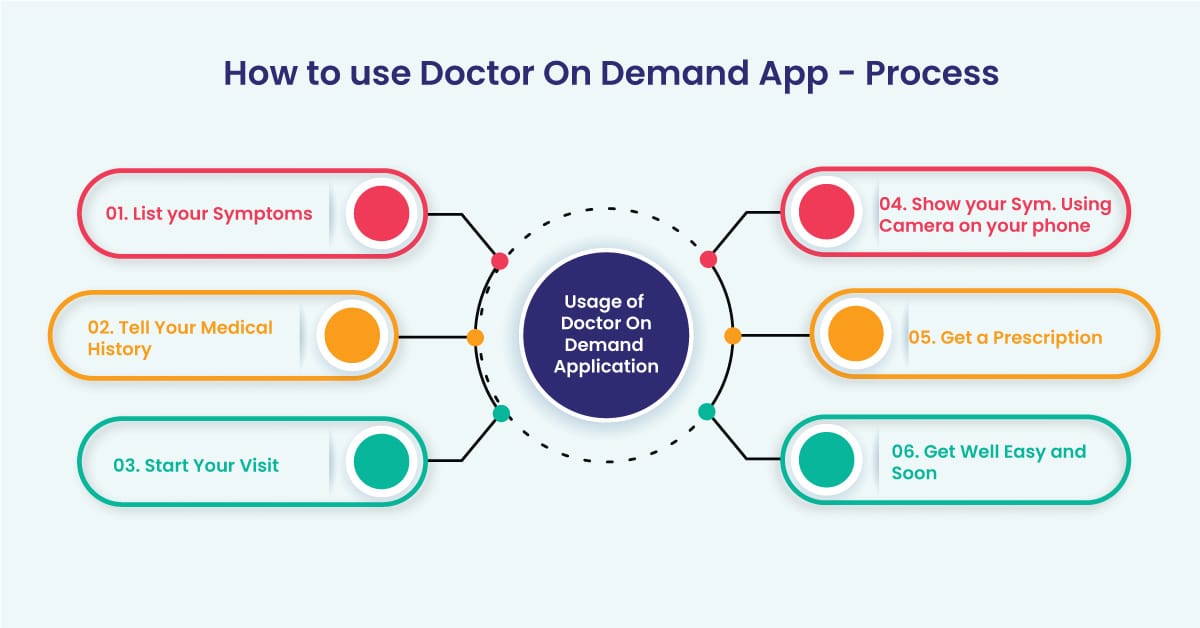 Providing telehealth services can get beneficial for hospitals and clinics in many ways
A decline in the in-person visits paid to the doctors because the vast population is approaching remote ways to treat their health problems.
Less spread of contagious diseases in hospitals and clinics.
Doctors can deliver their services remotely and there remains no such need to pay a visit to the hospitals for treating their patients.
Such apps will appeal to the patients at large as they don't have to wait to seek medical advice from the doctor.
Now top Doctor on-demand apps are the new source of income for several hospitals and clinics.
Types of Telemedicine Apps in Healthcare
If in case you have made up your mind about doctor on-demand app development, you need to decide the kind of services that can be delivered remotely.
Framing out the type of healthcare websites and apps that matches your clinical work domain and the permissions that you are provided with decides the telehealth services that you can provide.
1. Interactive Telemedicine Apps
The service just needs phone and video calls for its consultation. Such services serve at its best when they are used in some kind of situations where there is no requirement of making close contact on an immediate basis such as:
Follow check-ups after the patients get discharged from major diseases.
Mental health treatments and neuropsychology
Pharmaceutical Advice
Remote Nursing Consultations
Post-Injury rehabilitation treatments.
A medical specialist can be called to visit a patient at home and can also use this feature in resolving his healthcare problem over video conferencing calls.
2. IoT- Based Telemedicine Apps
IoT is the most preferable technology whether it is for designing a modern home or monitoring a patient remotely. Obviously, the cost to develop such Doctor On-demand Apps will be higher than the regular telehealth apps.
There are new gadgets that monitor and assist in measuring heart rate, blood pressure, levels of sugar, and several other clinical parameters. The information which gets procured can be synchronized with the apps and can automatically be a part of the medical records of the patients manually.
Doctors can keep a track of patients along with their medical data.
3. Store and Forward Telemedicine Apps
In dermatology and other fields, it is quite possible to use telehealth services without video conferencing tools.
The patients are required to record a video or an image and send it to the doctor. It becomes possible for the doctor to properly analyze it without making any physical visit to the patient. This helps in making the services easier and more convenient for the doctors and on the other hand, this service appears cheaper to the patients. This is slightly different than developing a doctor on-demand app but is preferred by many healthcare facilities in developing countries.

Cost to Develop Telemedicine App
Doctor On-demand app development is a combination of a patient app and a doctor app. It will need an admin panel for both users and hence the features and functionalities differ too. The Doctor On Demand App development cost is based on the individual features for the users.
While entry-level telemedicine or doctor appointment booking apps range from $15,000-$30,000, the cost to develop Doctor On-demand apps with advanced features and functionality could go as high as $40,000-$70,000.
Factors that Can Affect the Cost to Develop Telemedicine App
The cost for developing a telemedicine app is based on the number of hours and resources invested in the various development and strategy activities. Major activities that influence the charges of an app development company are:
Design (UI/UX)
Features used in the app
Web development and Mobile development
Type of Apps – Cross-Platform, Native, Android or iOS
Project Management
Maintenance – QC and support post development
Features Required for Telemedicine App Development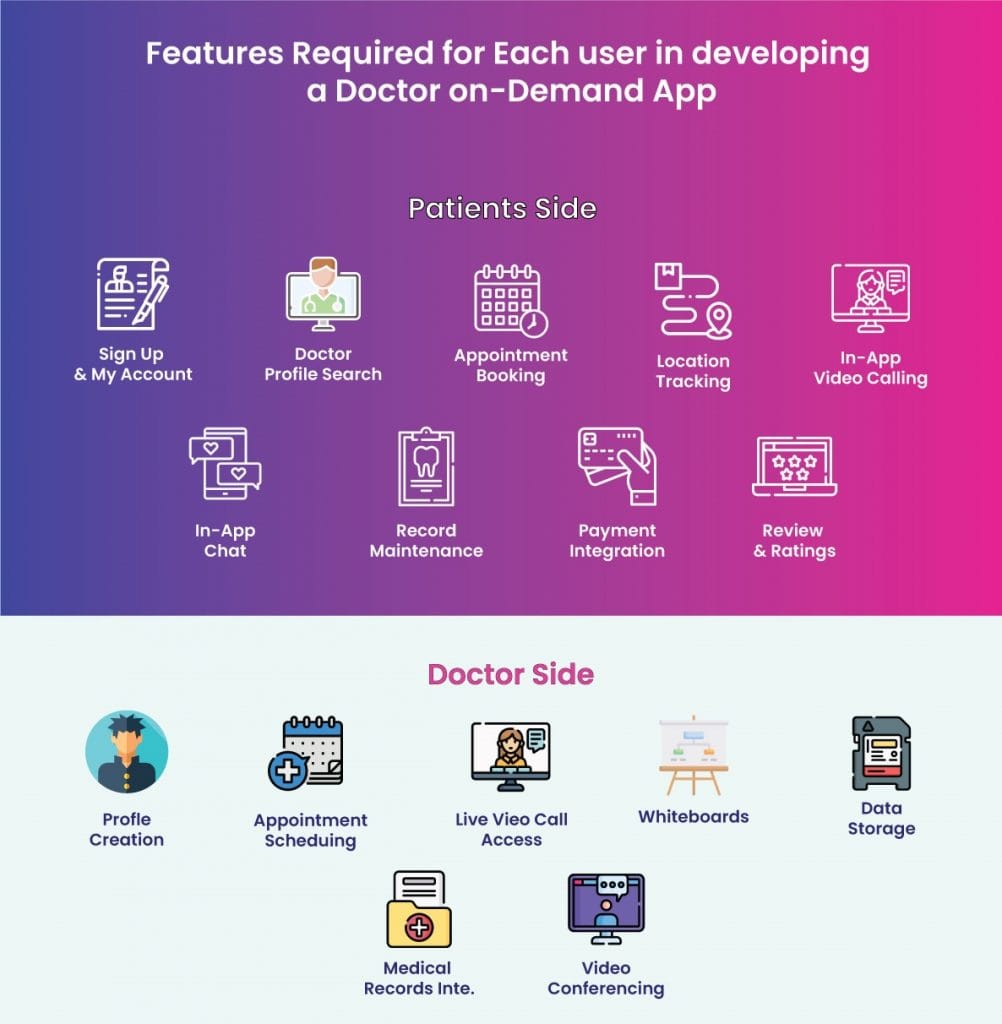 This feature in Doctor On-demand Telemedicine app development helps doctors connect with their peers or other specialists to discuss patient cases and history.

It is evident that the more functionalities you add to your app development, the higher will be the cost. It also depends on the organization you hire for your project. A Telehealth App Development Company in USA would provide a higher quote as compared to outsourcing in countries like India.
Conclusion
With 10+ years of experience in mobile app development and expertise in the healthcare industry, our team can help you select the right design and features for your telehealth apps. Contact our team for a no-obligation quote or demo for your doctor's on-demand app.