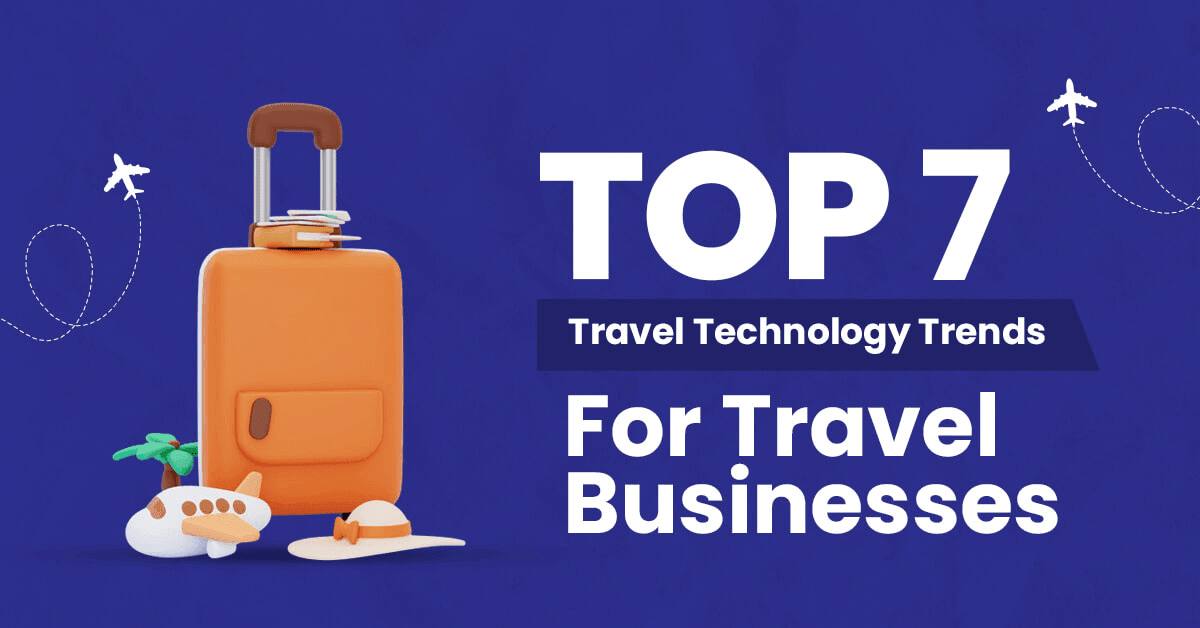 Travel Industry was among the worst sufferers of the COVID-19 pandemic. It was severely impacted by the wrath of the outbreak, which disrupted the industry's long-established, customary workflow and led to an upheaval in its standard practices. Worldwide, the travel industry incurred huge losses in the billions of dollars, which jeopardized the future of countless professionals. Following the COVID-19 pandemic, the travel industry witnessed a significant shift towards numerous emerging travel technology trends, such as contactless travel that includes self-check-ins and digital payments.
Several operations in the hotel and tourism industries are also being automated thanks to travel innovations and the rise of travel technologies like artificial intelligence (AI) and the Internet of Things (IoT). These shifts in consumer behavior are beneficial to the travel industry as a whole, as they are resulting in increased profits and the adoption of safer, but more environmentally friendly practices.
How has tech impacted the travel booking business?
The advent of modern tourism technology has enabled firms to optimize their operations and streamline certain formerly labor-intensive tasks. This has been a huge boon to organizations, allowing them to minimize staffing needs while cutting expenses and pumping up revenue. When translated from the consumer's perspective, this adds up to a variety of new and exciting vacation options at significantly discounted rates.
Moreover, advancements in tech for travel industry have made formal processes more efficient and less prone to human mistakes. As a travel firm, if you want to effectively compete in the travel industry, it is absolutely imperative that you stay abreast of the latest technological advancements in the industry.
Top Travel Technology Trends in The Travel Industry
We have compiled a list of top travel technology trends for travel businesses for the year 2023: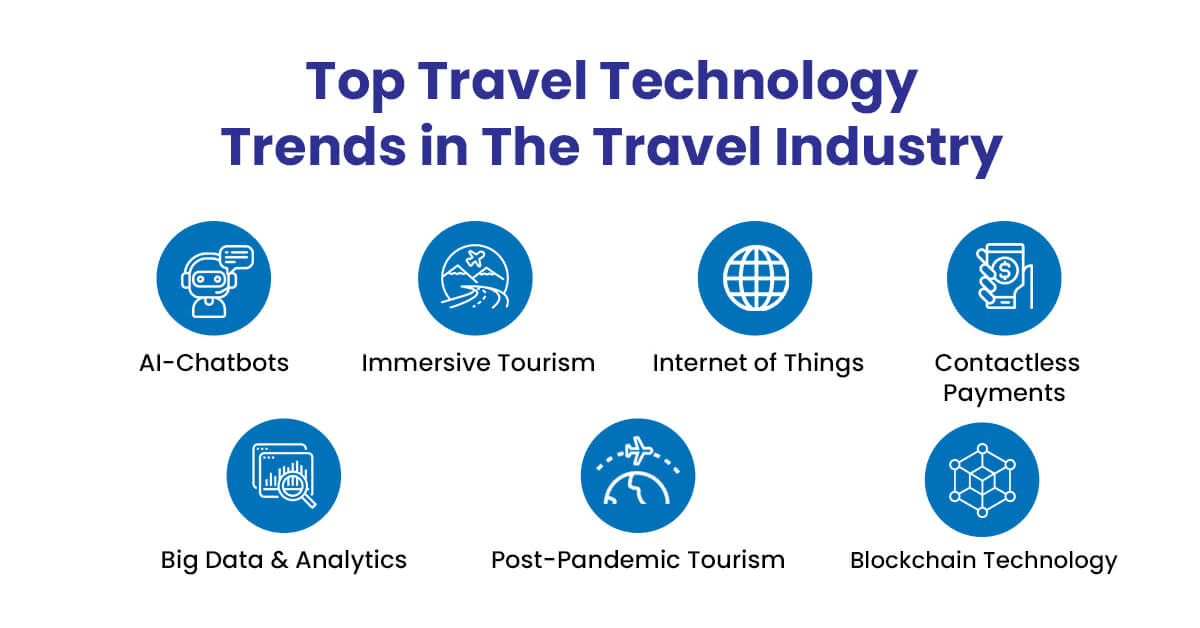 1. AI-Chatbots
The ability of AI-powered chatbots to respond quickly to client inquiries round-the-clock and independent of human availability makes them a potentially excellent asset in travel industry technology. These chatbots specialize in addressing frequently asked queries that have predetermined responses.
Travel firms are progressively turning to AI-driven chatbots to provide speedy and individualized responses to customer queries. Travel chatbots can streamline the process of reserving a room and compile feedback from previous guests to assist forthcoming guests in making smarter selections. AI-powered face recognition equipment at airports can quickly and accurately verify a passenger's credentials, making air journeys safer and more efficient overall. If you want to provide a level of service that is on par with modern standards, AI chatbots are a must.
2. Immersive Tourism
Travelers nowadays have a higher preference than ever to enjoy experiences that are both significant and memorable, and immersive tourism strives to address this longing. It makes use of augmented reality (AR), virtual reality (VR), and mixed reality (MR) to improve trips and even deliver simulated vacations. Virtual reality (VR) uses a computer-generated ambiance to simulate the original scene, letting potential visitors "see" a place before actually going there. It also provides visitors with a panoramic view of the site. Conversely, augmented reality (AR) enriches trips by adding useful interactivity, such as infographics and promotional content. Travel firms have also begun using augmented and virtual reality-based gaming to create a buzz among travelers these days.
3. Internet of Things
Another cutting-edge trend technology that the travel sector has begun to gradually embrace is the Internet of Things (IoT). The term "Internet of Things" (IoT) describes a network of physical devices that are embedded with a variety of sensors and designed to communicate and share information with other gadgets and systems in the ecosystem through the internet.
IoT produces voluminous data that travel organizations can use to customize services for frequent travelers. Sensors connected to the Internet of Things (IoT) allow hotels to provide guest rooms with automated lighting, temperature, and ambient controls, improving overall guests' experiences. In addition, IoT is being used by emerging businesses to provide customers with location-based services. This gives hotels the ability to keep tabs on a person's luggage and send out an alarm if they're lost or stolen. Moreover, airlines are beginning to implement IoT-based technologies into seats to monitor passengers' temperature and heart rate for preventative health care.
4. Contactless Payments
Contactless transactions had already begun to provide a seamless experience to visitors, however, the recent pandemic has made it pretty much a mandatory practice. It's no surprise that contactless payment methods like GooglePay and Apple Pay have taken off in recent years, given that people have been avoiding traditional currencies since the outbreak. Passports and other forms of travel documentation have gone obsolete with the growing prevalence of contactless recognition technology such as retina scanning. Tourists can now use QR codes provided by travel operators to quickly and easily obtain relevant information about their destinations right from their smartphones.
For the sake of convenience and security, many hotels and restaurants accept contactless forms of payment from guests. In addition, guests can even prearrange for services by using the hotel's contactless self-check-in feature.
5. Big Data & Analytics
In today's economy, data is the bedrock of any organization. This is among the primary motivations why businesses in the tourism and hospitality sectors are pumping millions into this key technology of Big Data solutions.
Big data provides travel technology company with insights into consumer patterns for tactical marketing. It monitors user actions to provide tailored suggestions for scheduling transportation, lodging, and entertainment. With the integration of big data and analytics, hotels and airlines can detect peak travel times and boost revenues by predicting future traffic. Big data can also be used to uncover cybercrimes by performing rigorous analysis on large datasets. By doing this, travel businesses can protect sensitive consumer information and assure a stress-free trip experience for their customers.
6. Blockchain
How can any industrial sector remain untouched by this ubiquitous technology in 2023? Blockchain has mushroomed its influence all over the IT world and is slowly establishing itself in the travel industry as well. The incorporation of Blockchain technology is assisting businesses in maintaining operational transparency and stricter security protocols. One of the most important uses of blockchain technology is to guarantee the traceability of payments, particularly in the context of foreign travel. This strengthens the degree of trust between parties involved in a transaction.
Nowadays, travel companies are increasingly providing loyalty programs to their customers, and many of these customers use cryptocurrencies as a means of redemption. Data stored on the blockchain is also more secure, thereby reducing the likelihood of data theft.
7. Post-Pandemic Tourism
As restrictions on travel have eased, businesses are taking steps to ensure the health and cleanliness of their customers on the road. Hotels, for instance, have their staff sanitize guest rooms, require guests to wear masks, and implement other preventative measures. Digital health passports are increasingly being used by travel agencies to confirm their customers' health status. Also, with the spread of COVID-19, most individuals were forced to stay home from work. As a result, after the pandemic, there has been a growth in vacations that combine working from home with sightseeing. Many startups also now provide amenities like high-speed internet and quiet spaces to help employees focus on their job.
Future of Travel Technology
Since the pandemic, there has been a notable shift in travelers who are now prioritizing personal cleanliness and travel security more than ever. Disruptive travel technologies like artificial intelligence, augmented reality, the internet of things, and blockchain are gaining traction in the business world.
The travel sector will almost certainly continue to progress as a result of technological advancements across a variety of fields, including airport security, hotel sanitation, and virtual experiences. It's possible that new technologies won't ever completely replace the types of travel that people enjoy, but it's fascinating to think about how they will improve safety, speed up travel, spark curiosity, or even transport individuals outside of the Earth's atmosphere.
How OneClick can help implement up-to-date technology in your Travel Business
OneClick is among the leading travel technology companies in USA and worldwide with over a decade of experience in providing state-of-the-art travel technology solutions. Our expert team specializes in creating innovative travel software solutions that utilize modern travel industry trends like AI chatbots, AR, VR, the Internet of Things (IoT), Digital transactions, Big Data, and Blockchain. We offer a complete range of tourism technology services and travel innovations, including travel portal development, booking engine development, travel CRM, and custom software development for tour operators, travel agencies, and destination management companies. Our solutions are fully customizable, scalable, and designed to meet the unique needs of your business. Take your travel business to the next level with OneClick's cutting-edge travel technology solutions.