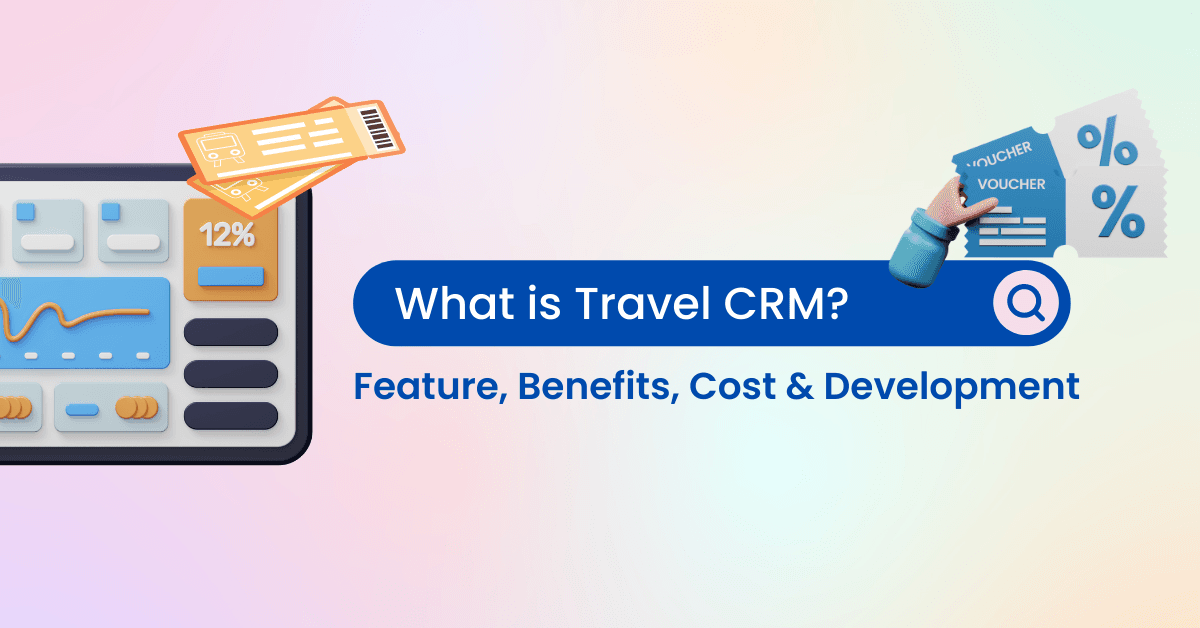 Introduction
Unlike other CRMs which only focus on one aspect of your business, Travel CRM offers a complete package that covers all aspects of the travel industry from booking to admitting patients at hospitals or serving food in restaurants.
It also comes with features such as booking forms which allow you to collect information from customers before they make a booking decision. This is great because then you can ensure that all of your customers are happy with their travel plans before they commit!
What is Travel CRM?
Travel CRM is a system designed to help you organise and manage your travel processes. It's not just about keeping track of people and places, but also about making sure you get the information you need to make informed decisions about where to go and how to get there.
It can help you organise your itineraries, find places that meet your needs, collect information about your clients' preferences and travel history, and even create itineraries for other people on a team or in an organisation.
Key Features You Should Know in a Travel CRM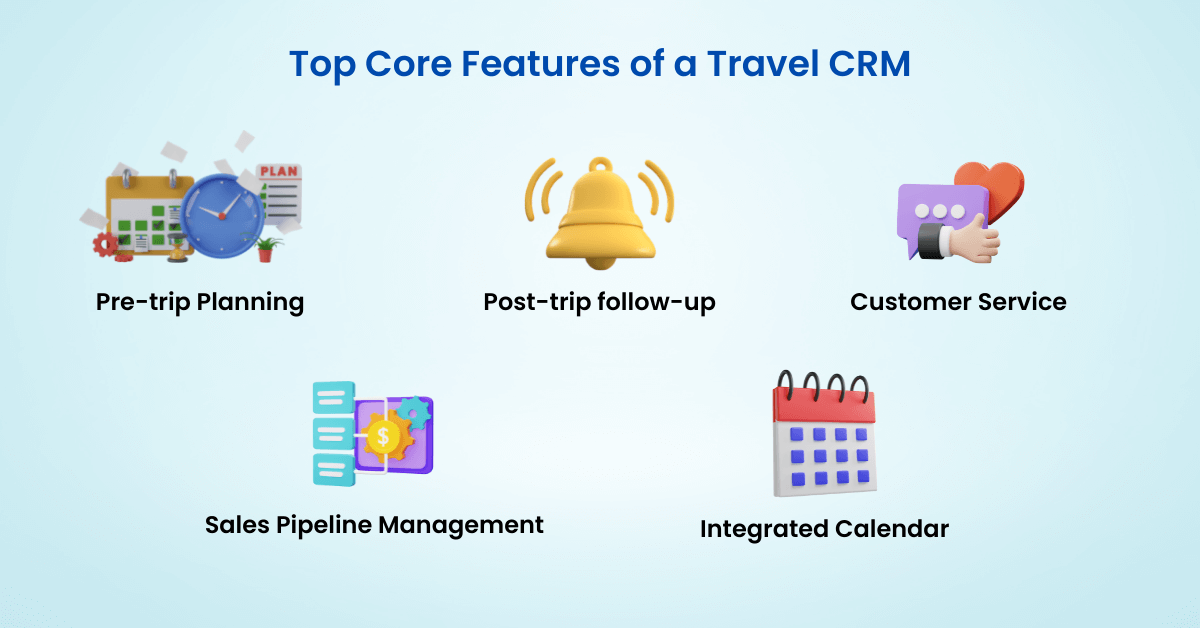 1. Pre-trip Planning
A travel CRM can help you create a plan for your trip, from booking flights and hotels to setting up meetings and events.
A travel CRM can help with this by allowing you to keep track of all your reservations and itineraries in one place.
2. Post-trip Follow-up
A travel CRM can help you manage your contacts after the trip is over so that you can follow up with them on what they learned and if they're interested in doing business again.
A post-trip follow-up email or text message can be sent to remind them of their experience, and offer them a special deal on their next trip. Or you could use it as a way to ask for feedback on the trip they just took, so that you can continue improving your services.
3. Customer Service
A Travel CRM enables you to provide better customer service by keeping track of customer information all in one place, rather than having it spread across multiple platforms. This also helps you be proactive in addressing any issues with customers before they become problems.
4. Sales Pipeline Management
This feature allows you to track your sales pipeline by tracking leads and opportunities through their lifecycle stages. It also allows you to monitor the progress of prospects who are interested in purchasing from your company.
5. Integrated Calendar
Travel CRM integrates with Google Calendar, which makes it easy for you to keep track of all your events at once whether that's appointments with clients or work events with employees!
Benefits of a Travel CRM to Boost your Travel Business
Travel CRM is one of the most important parts of a business, especially when it comes to managing customer loyalty.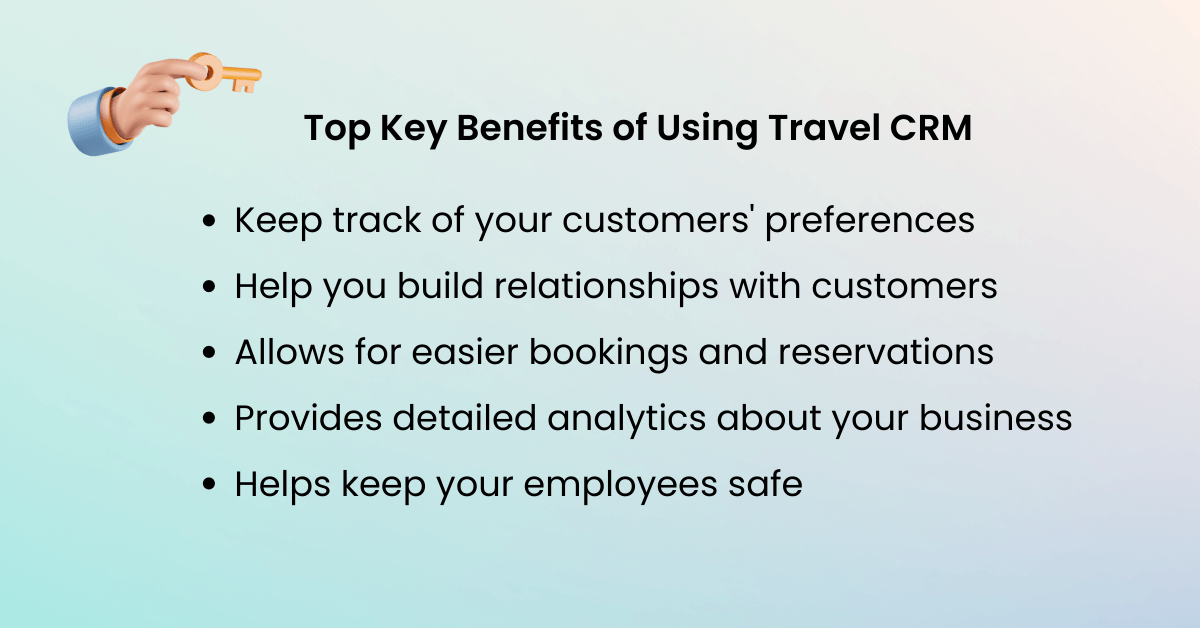 1. Keep track of your customers' preferences
If you want to be able to offer your customers their favourite perks and services, you need a way to keep track of their preferences. That's where travel CRM comes in!
2. Help you build relationships with customers
Travel CRMs help you collect information about your customers so that you can build a relationship with them based on how they like their trips to go. This makes them more likely to come back again!
3. Allows for easier bookings and reservations
Travel CRMs allow you to make bookings for your customers without having to manually enter all the information yourself it does all the work for you!
4. Provides detailed analytics about your business
Travel CRMs give you detailed analytics about everything from your sales numbers to what kind of people are booking with you so that you can see where improvements can be made or what areas are doing well so far!
5. Helps keep your employees safe
While they are aboard, it can help you monitor their whereabouts, and it can also provide information about the local area, including any hazards or emergencies that may be occurring in the region they're visiting.
How Does Travel CRM Software Work?
Travel CRM software is designed to help you manage your travel clients' needs, from booking flights and hotels to managing their loyalty programs. Here's how it works:
1. You create a profile for each traveller. In this profile, you can add details like their name, email address, contact number, passport number, etc.
2. When you receive an inquiry or book a reservation on behalf of your client, you can add them to the relevant profile on the system so that it becomes part of their record. Over time, you'll have a detailed history of each client's travels where they've gone and with whom they've travelled which will be useful when they're ready to book again! It can also help identify any patterns in their behaviour that might indicate future needs (like needing some kind of special accommodation).
3. When it comes time for booking or inquiring about a new trip for one of your clients, the system makes it easy for you to quickly pull up their information and make sure everything is correct before making any final decisions about what should happen next (e.g., "Yes! They're going on vacation next week; let's make sure we have someone available.
Travel CRM for Travel and Tourism Businesses
No matter the size of your business, we can help you manage your traveller's needs.
Whether you're a small start-up or a globally recognized brand, Travel CRM will give you the tools to keep track of all of your travellers' information and preferences. This way, when they come back to you for another trip with their family or friends, they'll know exactly what they're getting into and so will you! With our system in place, you'll have access to:
A profile for each traveller that includes all of their preferences and past travel experiences.
A calendar that shows upcoming trips and when travellers are available to travel.
A messaging system so that you can communicate with travelers directly.

Cost of Travel CRM Software
When it comes to choosing CRM software for your travel business, you want to be sure you're making the right decision.
You don't want to waste time or money on an inefficient program that doesn't serve your needs. And you certainly don't want to spend money on something that isn't worth it.
That's why it's important to do some research before signing up for a new CRM software. You need to know exactly what the cost of travel CRM software is going to be both in terms of initial investment and ongoing maintenance fees so that you can make sure it's worth it for your company!
The cost of travel CRM software will vary depending on the type of software you need, how much information you want to store, and who you're using it for.
But other costs need to be considered when choosing travel CRM Software Development:
The cost of data migration (if necessary)
The cost of training your team on how to use the platform
The cost of maintaining and updating the platform as needed
Future of Travel CRM for Travel Agency
The travel industry is constantly changing, and with that comes new technologies that can help you stay on top of things and keep your agency running smoothly. But with so many new products coming out all the time, it can be hard to know which will be most useful for your business—and which ones are just getting hype for their marketing value.
That's why we're here to help! We've done some research about what travel agencies should be looking for in a travel CRM solution, along with some key factors that will make or break your decision. Read on to find out what we found!
Know more about Travel CRM
Travel CRM is a type of customer relationship management software that allows you to manage your travellers, travel agents, and vendors. The software provides you with information about the client's travel plans, preferences, and other details. Travel CRM can be used by travel companies to,
Identify your potential customers to develop relationships with them through personalised marketing campaigns.
Keep track of all information regarding the clients' trip in one place so that you don't have to waste time searching for it elsewhere or asking different people for it.
Help customers find what they need quickly without having to spend time on multiple websites or calling each other up individually (which is especially helpful if they don't speak English).
Conclusion
If you are looking for a Travel CRM system to manage your travel business, then you have come to the right place. We at OneClick offer a wide range of solutions that will help you in every step of your journey as a traveller. Our Travel CRM Solution is designed using tried and tested techniques, which ensures that it meets all your requirements and provides maximum benefits while keeping costs low.
FAQs:
What is Travel CRM?
Travel CRM is a system that helps you manage and organize your travel-related activities. It's typically used by travel agents, tour operators, airlines, and other businesses in the travel industry.
What are the features of Travel CRM?
The features of a travel CRM include a user-friendly interface, easy integration with other systems and tools, customizable features, and dashboards. The software also offers features like tracking all data in one place and allowing users to manage multiple users from a single platform.
What are the benefits of using Travel CRM?
The benefits of using travel CRM include improved communication between customers and employees, optimised customer experience due to personalized services offered by the software, faster completion of tasks related to booking travel and better reporting capabilities.
How much does it cost?
The cost will depend on the size of your business and how many features you need.
Why do I need a Travel CRM?
If you're a travel agency or tour operator, you probably have a lot of different systems in place to manage your sales pipeline. You might use a spreadsheet or a piece of paper to keep track of prospects, leads, and clients; maybe you even have an email marketing program set up. 
But if you're looking for something more comprehensive something that will help you organize all the information in one place a travel CRM could be just what you need.
What Features Does Travel CRM Have?
Different travel CRMs offer different features, but there are some common ones: lead generation tools, contact management, customer relationship management (CRM), email marketing automation tools, social media integration capabilities, reporting functions for analytics purposes…the list goes on!