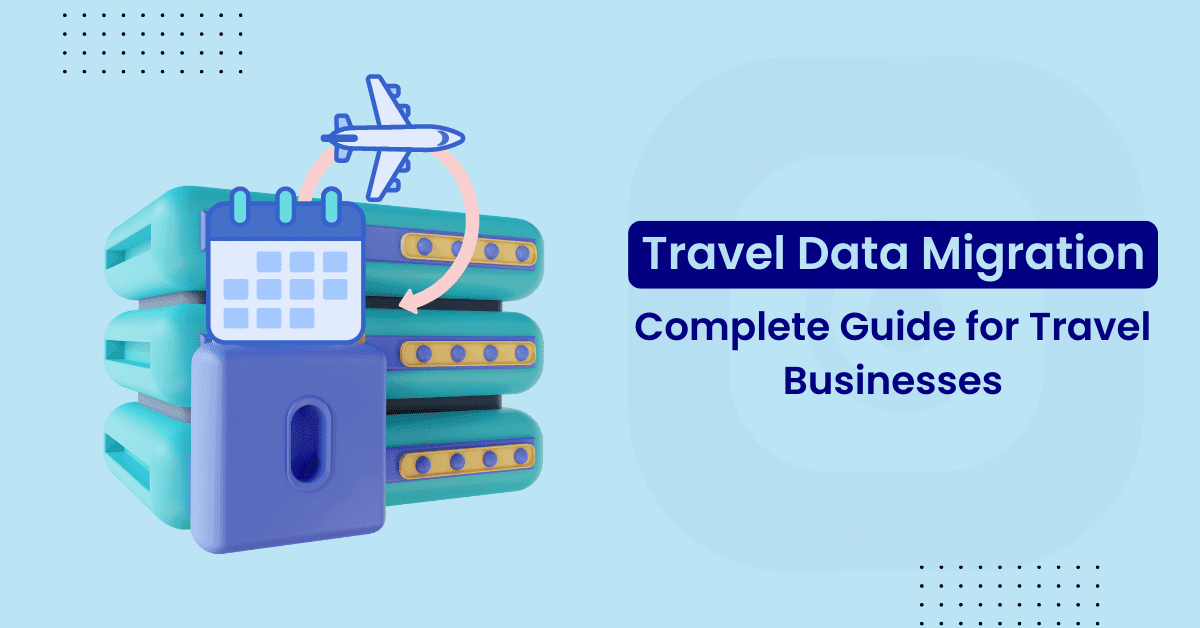 Introduction
When you have a travel business, it is very important that you be able to track all of your data. This guide will show you how to migrate data from one system to another. Travel data migration is one of the most important phases of a travel business.
It involves migrating your existing customer databases and other customer-related information from one platform to another. This process can be challenging, but it's also necessary for leveraging data analytics across channels, keeping up with changing customer behaviour, and improving the overall customer experience.
What is Travel Data Migration?
Travel data migration is a process that allows you to move your travel booking software from one company to another. It's also sometimes called "travel data import." When it comes to travel data migration, there are 2 types of companies: those that offer the service and those that want it.
If you're looking for help with travel data migration, you can find freelancers or companies who offer the service. On the other hand, if you want to provide this type of service, you'll need to be prepared for the demand.
Top Features of Travel Data Migration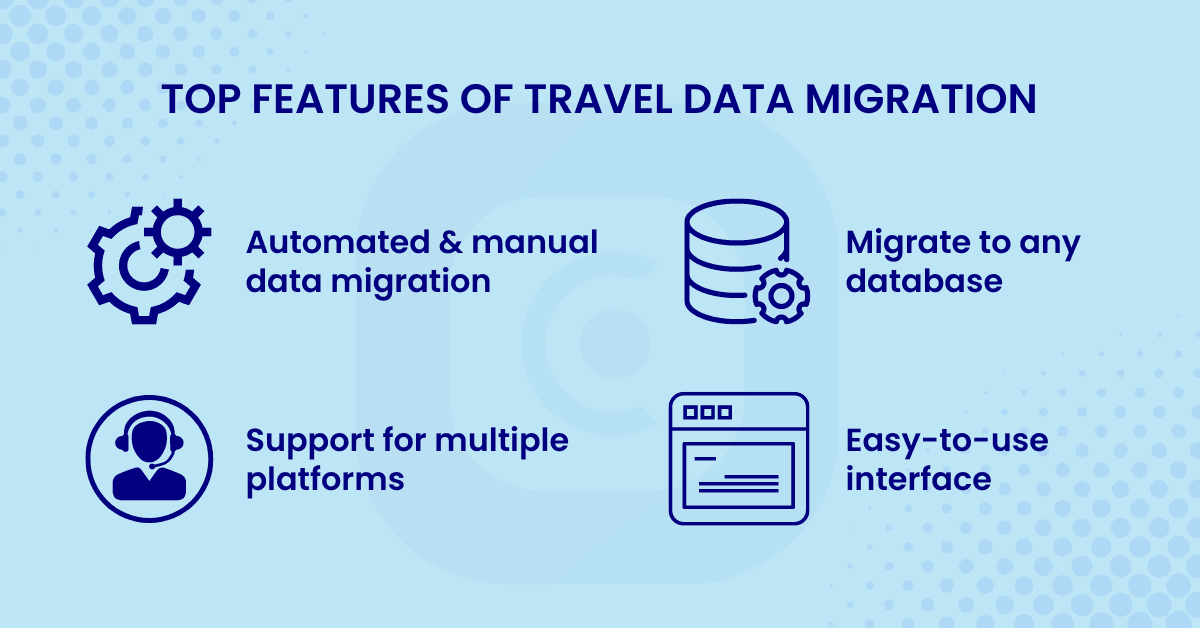 Data migration is a complicated process. It's important to be able to track your data as it moves from one system to another, and that's where Travel Data Migration comes in. Here are some of our favorite features:
1. Automated and manual data migration
With the help of automated tools, you can easily perform data migration from multiple sources to your new database. However, if you want to do it manually, you can also choose this option.
2. Migrate to any database
You can migrate from SQL Server to PostgreSQL or Oracle databases, as well as from MySQL to SQL Server.
3. Support for multiple platforms
The tool supports all major operating systems like Windows, Linux, and Mac OS X.
4. Easy-to-use interface
The user-friendly interface allows you to use it without any prior knowledge about how to use it effectively.

Top Benefits of Travel Data Migration
Travel Data Migration is an essential part of any business that relies on a strong and reliable travel system. Here are the top benefits of travel migrating data:
1. Save Time and Money
By moving your data from one system to another, you can cut down on the time it takes you to get your employees back up and running. You can also avoid paying for additional IT support while you recover from issues with your current system.
2. Avoid Data Loss
You don't want to lose important information about your customers or employees and neither do they! With proper data migration, you can ensure that all of their information is safely moved over to the new system without any loss or corruption.
3. Ensure Accuracy
The last thing anyone wants is a buggy database that leads to lost orders, incorrect billing, or other mistakes when it comes time for invoicing or payment processing. By ensuring accuracy during migration, you can avoid these types of issues before they happen so that everything runs smoothly once they're up and running again!
4. Improved Ease of Use
Moving your data from one place to another can make it easier for you to use by giving you more freedom over how you interact with the system in terms of speed and convenience.
5. Better organization
Migrating your data will allow you to organize it in a way that makes sense for your business. For instance, if you're selling travel packages then it makes sense to organize customers by their country of origin so that they can browse packages based on their own country's requirements; otherwise, they might not find anything suitable or interesting enough!
Types of Travel Data Migration

There are three types of travel data migration:
1. Data Migration
When you move your data from one system to another, you're doing data migration. For example, if you're moving from Google Sheets to Salesforce, that's data migration.
2. Data Transfer
When you move your data from one system to another and then back again, that's called a transfer. In other words, the data doesn't stay in either place it just travels through both systems. For example, if you're moving from Salesforce to Google Sheets and then back again, that's a transfer.
3. Data Exchange
If you're not transferring or migrating your data but instead just sharing it with someone else who uses a different program than yours does, that's an exchange! For example, if I send my client a CSV file with all their leads in it so they can use it in their own CRM while I keep using my CRM system to manage their leads… that would be an exchange!
Travel Data Migration Process
The travel data migration process can be a bit daunting, but it doesn't have to be. Here are the primary steps you'll need to follow.
1. Gather your data and make sure everything is formatted correctly
This includes names, addresses, phone numbers, and emails. If any of these are missing or incorrect, you'll want to fix them before you start importing them into the new platform.
2. Make sure that all of your files are in a CSV format
This is an easy-to-use file type that's compatible with most software programs. You'll also want to make sure that each file contains only one record, as well as that all inputs are formatted correctly for each record type.
3. Upload your files into the new platform
Use their uploader tool or email them directly to the support team for quicker processing time.
4. Wait for us to process your request
Let us know if there are any issues with the importation process so we can correct them before moving forward with any additional work required.
Travel Data Migration for Travel and Tourism Businesses
Travel and tourism is a booming industry, with an estimated $7.6 trillion in global travel spending in 2020. As the industry grows, so does the need for better ways to manage data. So what does this mean for you?
If you're a travel and tourism business, you know how important it is to have up-to-date information at your fingertips and you also know how much time it can take to manually enter all that data into your systems.
That's where the travel data migration solution comes in. We work with companies like yours to make sure every piece of information is accurate and accessible, so you can focus on doing what matters most: growing your business!

Conclusion
In the end, the most important thing is to keep an open mind and stay flexible. If you're not sure how your team will handle something, ask for help! There are many other travel businesses out there who have already gone through these steps and can offer advice based on their own experiences and that kind of advice is invaluable in helping you succeed with your own migration project.
What is travel data migration?
Travel data migration is the process of moving your existing customer data (like customer information, purchase history, and financial data) from one system to another. 
Why do I need to migrate my travel business data?
If your company uses outdated or unsupported technology, it can become increasingly difficult to access that information later on. Thus, it becomes necessary for you to migrate your travel business data so that it can be accessed at any time in the future when required.
How do I know if my company needs to migrate its customer data?
You can take a look at some of the common signs that indicate whether or not you need to migrate your customer data. 
Your current system is obsolete or unsupported by its manufacturer/vendor.  
Your current system does not support new technologies like mobile applications and websites.
How long does it take for me to complete a migration project?
The length of time needed for completing a migration project depends on several factors such as the number of users involved in the process, the size of the database being migrated, and the complexity level of the project among others.
Is the Travel Data Migration process complicated?
No! It's actually very simple and easy to do if you know how it works. All you need is the right guidance and information on how things work around here so that everything goes according to plan without any issues whatsoever!
What are the benefits of Travel Data Migration?
There are several benefits associated with travel data migration: it saves time and money by avoiding duplicating work and losing data; it ensures that your new system has all of your old information on it, and it ensures you don't lose any time or money because of mistakes made during the transfer process.