Ecommerce
Top 15 eCommerce Development Services On The Market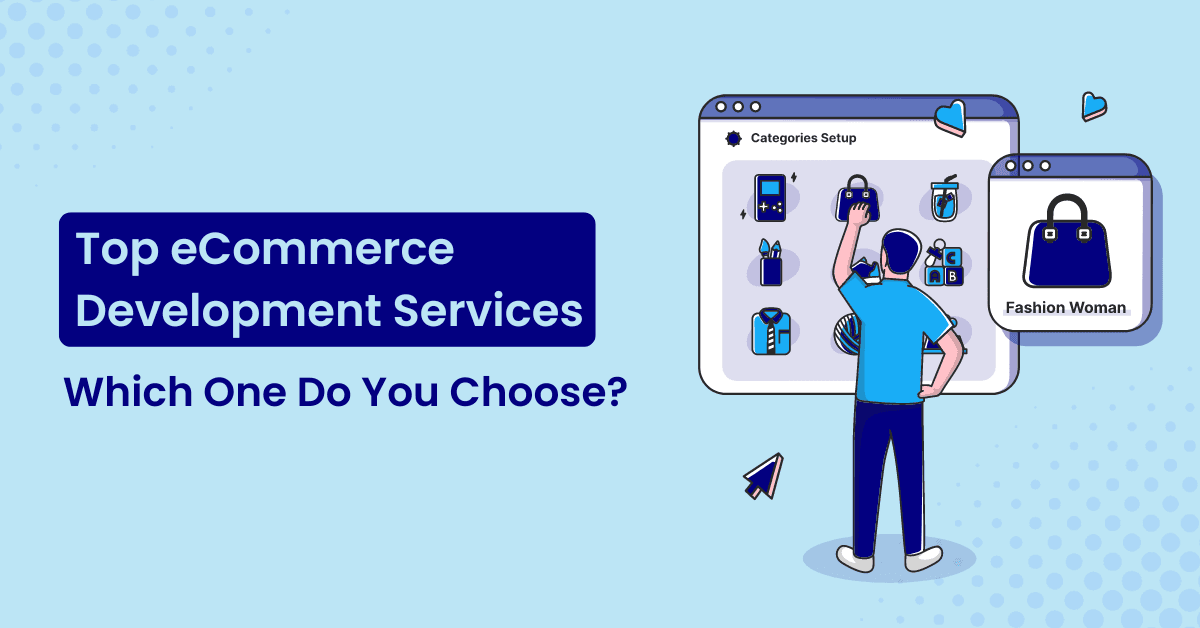 Introduction
eCommerce development is a huge market. There are so many different platforms, services, and tools that it can be hard to know where to start. That's why we've created this guide for you! In it, we'll go over some of the best eCommerce development services out there.
What is eCommerce Development?
eCommerce development is the process of building an online store, which is a website that allows customers to shop for products and services. The process begins with defining a set of requirements that describe how the site will look and how it will function, followed by determining what software will be used to build the eCommerce website. After this step, eCommerce website developer can start building the website using their chosen software.
Choose the Right eCommerce Development Service For Your Business
We know that it can be difficult to find the right eCommerce development service. With so many options out there, it's hard to know who to trust. We've compiled a list of our top picks for eCommerce development services. If you're looking to grow your eCommerce business, we can help. Here is a range of services that will help you get the most out of your online presence.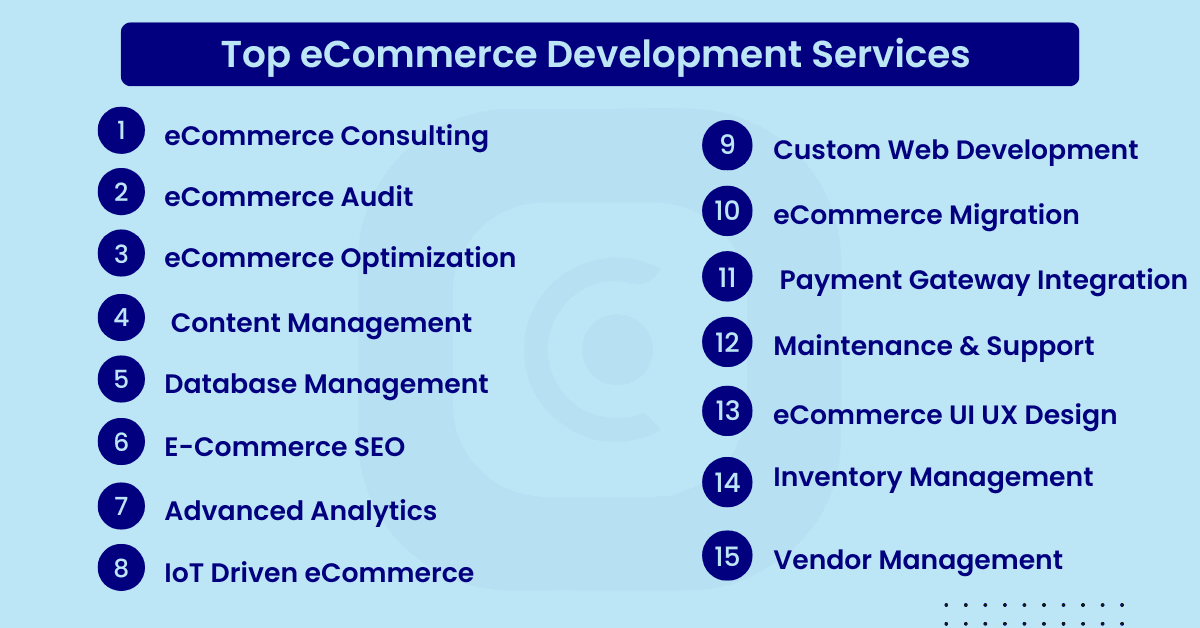 1. eCommerce Consulting
Whether you're a small business owner or a large corporation, it's never been more important to have an eCommerce presence. We can help you get started and keep your store running smoothly with our eCommerce IT Consulting services.
2. eCommerce Audit
It will help evaluate your current strategy and identify any areas where improvements can be made to increase sales and conversions. We'll also give you an overview of what we've found, so you know where to start when making changes.
3. eCommerce Optimization
It is designed to help you take advantage of new technologies and trends in the industry, so you can stay ahead of the curve. If there's something new happening in eCommerce that could help your business thrive, we'll find out about it and then make sure it works for you! Read more about optimizing eCommerce websites.
4. Content Management
We cater this service to brands who want to leverage their existing data and expertise, but don't have time (or budget) for setting up a full-time content team. Our goal is to help brands take control over their targeting efforts without having to hire an in-house editor or writer so they can focus on what they do best: sell stuff!
5. Database Management
Our database management services are designed to help you create a comprehensive, secure database that will allow you to store and manage all of your customer information. We have experience creating databases for businesses of all sizes, from small mom-and-pop shops to large corporations. Let us help you create a database that is easy to use and efficient, so you can get back to what matters most: running your business!
6. E-Commerce SEO
SEO is the best way to drive traffic to your online business or website. Our team of eCommerce development specialists will help you optimize your website for search engines so that you can get more visitors.
7. Advanced Analytics
This will help you understand how people interact with your website, which in turn helps you improve the experience and increase sales conversions. You can use advanced analytics tools such as Google Analytics and Adobe Analytics to track where people come from (search engines), where they go on your site (product pages), how much time they spend there, how many times they return etc. so that you can take action if necessary (e.g., add more content or optimize existing content).
8. IoT Driven eCommerce
The IoT is here to stay and it's changing everything from consumer behavior to supply chain logistics! We know how to utilize IoT technology to make your e-commerce business more efficient and profitable than ever before.
9. Custom Web Development
You need to ensure that the platform on which your business is going to be built is secure and reliable. This is where custom eCommerce web development services come into play. With these services, you can be sure that your website will be developed according to your requirements and specifications.
10. eCommerce Migration
Our eCommerce migration services are designed to help you get started with an online presence as quickly as possible. We'll work with you every step of the way, from determining what kind of website would best meet your needs to choosing the right programming languages for your project. We are experts at migrating your eCommerce website from one platform to another. We have the experience and knowledge to ensure that your migration is quick, efficient, and seamless.
11. Payment Gateway Integration
Payment gateway integration services are a crucial part of any e-commerce business. Not only do they help you accept credit card payments, but they also give you access to a variety of other payment methods that can boost your sales and make your customers happy. We have years of experience in this field and have worked with many clients to provide them with the best solutions to their needs. We are committed to providing you with the best service possible so that you can focus on your business and not worry about payment gateways.
12. Maintenance & Support
The eCommerce platform you chose to power your business is a critical part of the success of your company, and we understand that. We also know that it can be difficult to find a reliable partner who can provide you with the support you need while still being affordable. That's why we created our maintenance and support Services to give you access to high-quality service without breaking the bank.
You'll have access to our top-notch engineers who are ready to answer any question or fix any bug that arises with your website or software. To provide you with a smooth experience using our services while keeping costs low enough so that they don't take away from the success of your business.
13. eCommerce UI UX Design
If you want to improve your eCommerce website, you can hire our team of eCommerce UI UX designers. We have a team of experts who have years of experience in designing and developing great-looking websites. They can help you create a website that is easy to use and has a good user experience. They will create a plan for your website, which will include all the design elements that need to be included on your site. They will also work with you to make sure that it meets your business goals and objectives.
14. Inventory Management
We know that when you're running an eCommerce business, there are a lot of things to keep track of from inventory management to customer service and fulfillment. we'll take over the heavy lifting for you so you can focus on what matters most that's why our order management services are designed to make your life easier. We'll handle all aspects of processing orders from start to finish.
15. Vendor Management
Whether you're just starting and looking for help with your first vendor, or you have a huge list of vendors and need a little help staying organized, we can help! We take care of everything from finding the perfect vendors for your needs, to ordering and shipping the products, to processing payments and refunds. We'll even help you negotiate deals with vendors and manage the logistics of getting your products shipped to customers.

Best eCommerce Development Platforms
If you've ever shopped online, you know how important it is to have a smooth, user-friendly shopping experience. With so many options available in the eCommerce space, it's important to choose the right platform for your business. Here are some of our favorite eCommerce development platforms:
1. WooCommerce
WooCommerce is an open-source eCommerce plugin that can be used to power your own store. It's designed to be as flexible and user-friendly as possible so that you can easily set up an online shop, without having to deal with complex coding issues.
Rather than requiring developers and designers to create a fully functional eCommerce site from scratch, WooCommerce allows you to build on its functionality and customize it according to your needs.
2. Shopify
This is a great choice if you're just getting started and don't have a lot of technical know-how. It has an intuitive interface and offers tons of customization options. Plus, it's easy to use and set up!
3. Magento
Magento is another great option if you're looking for an eCommerce solution that offers more features than Shopify does. It's open source and has been around for quite some time, so there are plenty of resources available for learning how to use it effectively.
4. BigCommerce
BigCommerce is known for being easy to use and versatile, which makes it a great option for businesses at any stage of growth. The platform also offers 24/7 support from experts who can walk you through any issues that come up along the way!
5. PrestaShop
This platform is ideal for those who want to have more control over their store's design but don't want to spend hours learning how to use complicated coding languages in order to customize their site it has a drag-and-drop interface that only requires basic HTML knowledge in order to get started!
Why Choose One as Your eCommerce Development Company
OneClick is a trusted ecommerce development company that has been building websites for our clients since 2012. We understand how important it is to have your online store up and running as soon as possible, so we get started right away on your project.
Our team of experts will work with you to understand your unique needs and goals, helping you to create an ecommerce website that delivers results. We offer a wide range of services, including web development, travel booking engine, travel portal development, mobile app development, and customer support and more.
Conclusion
We hope that this blog has helped you to get a better understanding of the eCommerce development services available. If you are looking for more information on any of the top solutions, please feel free to contact us today.

FAQs on eCommerce Development Services
What is eCommerce?
eCommerce is a way of selling products or services over the internet. It's a big part of how we buy things these days you might have heard this called "online shopping." It's also known as E-commerce or Internet commerce.
What are some examples of eCommerce websites?
There are many, but two of our favorites are Amazon and Etsy. These sites allow you to buy products online from anywhere in the world. You can even sell your own products if you want! They're great examples of businesses that use eCommerce technology to reach customers all over the world.
Who needs an eCommerce site?
Anyone who sells products or services online! Whether it's someone selling their handmade crafts at home or a large company looking for ways to increase sales by allowing customers access from anywhere, having an eCommerce website is a great way to expand your business and reach new customers who may not have been able to find what they were looking for before (or who didn't even know they wanted it until they saw it).
What kind of features do your eCommerce Development Services include?
We offer a range of features such as responsive design, SEO optimization, social media integration, payment processing tools, and more. You can choose the features that best fulfill your needs and budget.
What is your process for developing eCommerce websites?
Our process is simple but effective. We start with a thorough discovery phase to get to know your business and your goals for the site. Then we create a design that's unique to your brand and develop a store that fits seamlessly into your existing business model. Finally, we build out the site in phases so that you can test each new feature before it goes live on your site and make sure everything works exactly how it needs to!
Why should you outsource eCommerce development to us?
We have a team of experts in eCommerce development, and we've been in business for more than 10 years. We have a proven track record of delivering high-quality projects on time and under budget. 
What are the benefits of eCommerce?
The benefits of eCommerce include:

Lower costs than traditional methods of selling your products or services
Increased exposure for your brand, which can lead to more customers and higher sales over time
Faster turnaround time on orders placed by customers who don't have to wait in line at your store
How much does an eCommerce website cost?
It depends on the complexity of the website, its features, and its functionality. To get an accurate quote please contact us today so we can discuss your requirements in detail.
Do I need a developer or a company?
It depends on what kind of project you're working on. For smaller projects like landing page design or small websites with limited functionality (like an informational site), an eCommerce development company might be more appropriate than hiring a freelancer or an individual developer.
What's the difference between eCommerce and regular business?
eCommerce is the buying and selling of products or services online. It can be done in person, but it's usually done through an internet-based system made up of websites, apps, and other technologies that allow you to connect with customers around the world. It's important to note that while eCommerce isn't necessarily new technology, there are many new ways of doing things that make eCommerce unique!