Ecommerce
4 Different Messaging App Solutions for Your eCommerce Business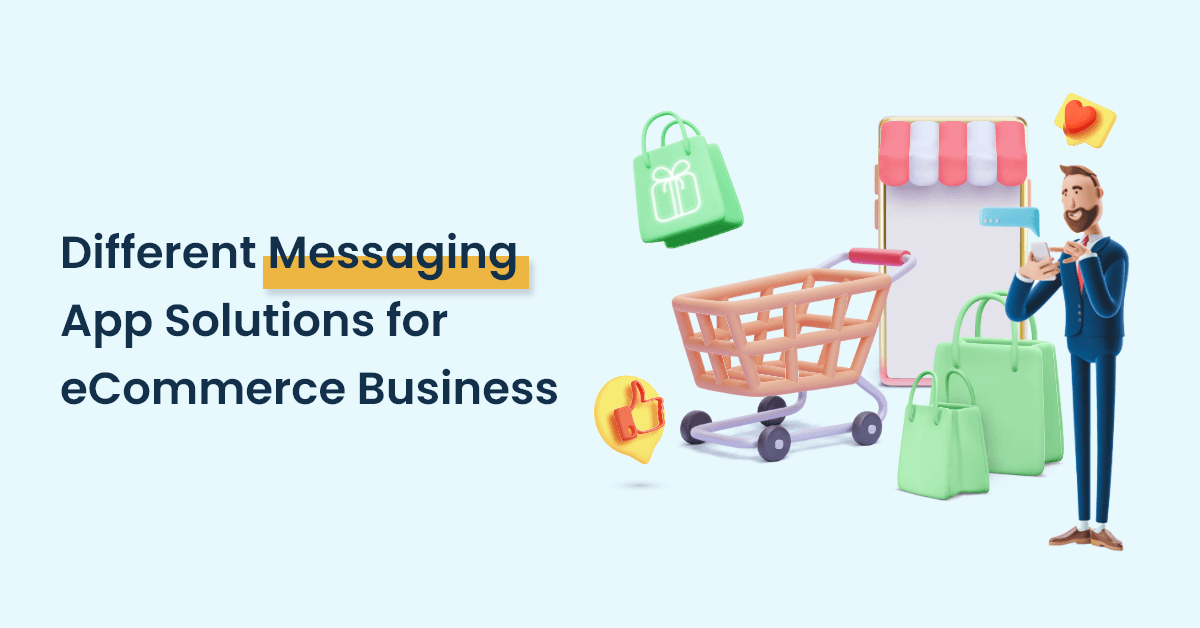 Overview of Messaging App for eCommerce
Rather than going through a website, customers can now shop through messaging apps such as Facebook Messenger or Apple Messages. The conversation, via a chatbot or an agent, makes it possible to obtain personalized recommendations, information on products, services and even to complete the payment. As more and more companies offer this type of conversational experience, customers have increasing expectations, which will become widespread for all their purchases.
What Messaging Apps should be Preferred for Businesses?
Messaging has changed the way we communicate in our daily lives and is also becoming an essential communication channel between companies and customers.
More than just a communication channel, messaging through chatbots now provides an interactive shopping experience.
By relying on these interfaces, retailers can set up a complete purchasing journey, from researching information to payment.
To adapt to this trend of using chatbots and messenger apps in business, 4 major messaging channels are popular globally – Facebook Messenger for Business, WhatsApp Business Solution, Apple Business Chat, and Messaging App.
What channel should you adopt for a company to be as close as possible to the expectations of its customers?
Should you opt for messaging app development for your business or use the existing ones? Let's find out:

1. Facebook Messenger
Facebook Messenger was the first messaging channel to open to businesses in 2016.
Before that, customers used to send their requests via public comments, which has limits when it comes to sharing confidential information.
Messenger for Business has made it possible to switch these conversations to the private, for faster resolutions.
This chatbot channel has greatly contributed to the adoption of messaging app in customer service.
Today, more than 20 billion messages are sent on the platform between people and businesses each month and more than 3,00,000 chatbots are active on the platform.
Thanks to the link with Facebook pages, retailers can encourage conversations and automate some of the basic responses such as store opening hours, order status, service booking process.
2. WhatsApp Business Solution
WhatsApp Business Solution is aimed at large companies managing a large volume of customer interactions (unlike WhatsApp Business App, the version dedicated to SMEs).
With 1.6 billion users worldwide, WhatsApp is one of the most popular messaging channels.
Although also developed by Facebook, WhatsApp Business Solution differs from Messenger with several characteristics.
Thanks to certified accounts and end-to-end encryption of messages, WhatsApp increases the security and confidentiality of exchanges.
Another special feature of WhatsApp is to encourage companies to respond within 24 hours, during which time the company sends messages free of charge.
If the latter responds more than 24 hours after the client's message, they must send a message template (such as "We have an update regarding your request, please reply to this message to receive it") to obtain the opt-in.
This rule prevents brands from contacting users for marketing operations several weeks or months after their request.
This also has the effect of reducing response times, approaching customer expectations for messaging apps.
3. Apple Business Chat
Apple Business Chat is suitable for iOS users who want to communicate with a company via Apple Messages.
Conversations can be initiated from many entry points in the Apple ecosystem such as Safari, Siri, Maps, Spotlight.
Thanks to the choice list, users can choose an option for a product (color, size) or set an appointment (for a delivery, a reservation) without leaving the application.
It is also possible to pay via Apple Pay. Have you heard of online reservation apps? They work similar to this and are a boon for the hospitality sector.
These features should be a part of a good chatbot messaging app solution for businesses.
Customers can interact via Apple Business Chat throughout the purchasing journey, from seeking information to confirming the transaction.
4. Messaging In-App
In addition to external channels, it is also possible for companies to develop messaging app solutions for their eCommerce business.
Directly integrated into the brand's mobile application, this function offers more control over the data and the experience offered and makes it possible to limit dependence on third-party channels.
These chatbot messaging apps are also a great way to support customers during their purchases.
Customers can easily contact customer service while they browse the products on the mobile app. Efficiently resolve IT issues with our instant messaging app solutions tailored for seamless communication and IT support services.
Rather than being redirected to an external channel, customers remain in the brand's ecosystem.
When they are identified with their customer account, agents also access information (customer profile, purchase history, loyalty status, etc.), helping them to know the context and personalize the responses.
Since the features are customizable, retailers can also set up a chatbot eCommerce experience. They can for example offer personalized suggestions or facilitate the search for local sales outlets.

Messaging App Development for Business – a Customer Engagement Tool
Messaging channels are already used daily by customers.
Thus, eCommerce messaging apps development is a great way for businesses to strengthen their customer engagement strategy.
To adapt to different uses and benefit from the advantages of each channel, brands can centralize the management of messaging channels within an Omni-digital platform.
In this way, customer relations agents will be able to process all messages from a single interface, and the integration of new channels will be facilitated.
OneClick IT Consultancy specializes in app and web development for eCommerce businesses.
We help develop chatbots for messaging apps for different types of businesses.
Organizations can save on manpower and subscription costs of chatbot services by investing in messaging app development.
Stay ahead in keeping your customers engaged and loyal with prompt customer service through these apps.
Contact us to learn more about the cost of chatbot development or creating an in-app messaging app service.