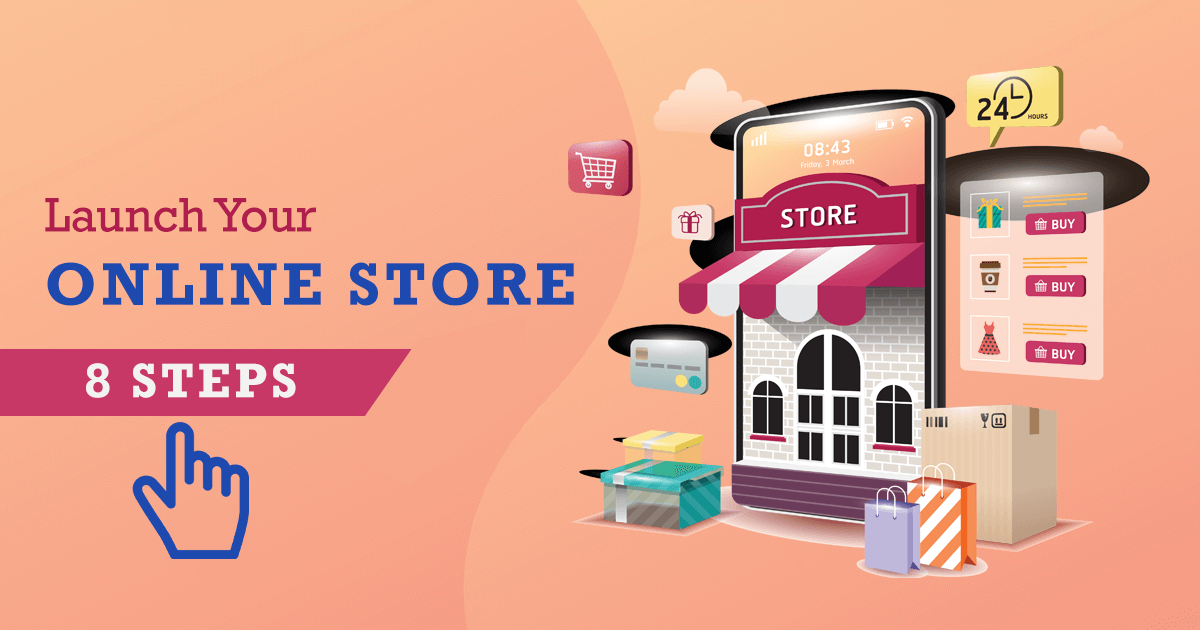 Ecommerce purchases are expected to rise from 14.1 in 2020 to 22% by 2023.
Online shopping is slowly and steadily taking over the major part of retail in the last few years.
It has gone from being a minority to becoming a multibillion-dollar industry.
Projections suggest that e-retail sales will spike up to $4.8 trillion by 2021, globally.
If you haven't gone digital yet, there is no better time than today.
Starting your own online store development is easier than it seems these days.
On the Internet, you will find a lot of information on what to do and what not to do.
But the amount of information is sometimes confusing.
Here's a short checklist for anyone wanting to start their own online store:
What should you watch out for?

What steps should you definitely not skip?
8 Simple Steps to Get Start your Online Delivery Store
Step 1: Choose a Product
An online store development almost always starts with an idea or a product.
Maybe you already have a shop and now you also want to sell your products online.
Or maybe a product comes from your hobby that you would like to sell online.
A third possibility is that you come across a product that interests you and that you would like to sell yourself.
Step 2: Study the Market
How unique is your product? When you are one of thousands of people selling a particular product, it can be difficult to distinguish yourself from your competitors.
Before launching your own online store, it is therefore important to find out about the opportunities available to you in the market.
An easy way to do this is to search Google for the product you want to sell.
Take a look at the best search results and ask yourself if you can distinguish yourself from these competitors.
Social media can also be a good source for finding out about emerging trends.
There may be a certain trend that is very popular abroad, but there is no one in your state or country who still sells this product.
Step 3: Find a Supplier
Without suppliers, you cannot know how much your products will cost, how much margin you can take, and how much profit you can make.
To start your online delivery store, you need to know exactly who your suppliers will be.
Make sure you sign clear agreements with them in advance.
Step 4: Choose Your Online Store Software
Due to the wide range of online shopping software, it is often difficult for entrepreneurs to choose the e-commerce platform that best meets their needs and wishes.
Nowadays, there are many electronic store software providers that can help you set up your own electronic store.
These can be classified as follows:
Software as a Service (SaaS): You pay a fixed monthly fee that gives you a full set of standard features, including free upgrades.
Open Source (OS): the source code of the online store is entirely created and managed by you or by a web developer. Updates are not automatic and are not normally free. You can outsource your project development in this case, to save on costs.
Tailor-Made: in this case, your online store is fully personalized according to your wishes. All you need is the best eCommerce development company

. This option makes you stand apart and offer added value to your customers.
When choosing a SaaS online store, it's important to consider both the monthly costs and the features you think you will need now and in the future.
If you compare closely, the cost to develop an eCommerce application vis-à-vis a SaaS store, the former seems more profitable in the long run.

Step 5: Make Your Online Store Findable
Once you have a domain name and are satisfied with your choice of online store software provider, you can link the domain name to your online store and start your online store.
Your store probably won't be found yet, although a good domain name can work wonders.
A good way to be better found is to create links.
This means that you are asking other websites to link to your own eCommerce store – this is called link-building.
In link-building, you have to take into account two things: the quality of the website that links you and the number of links (the more qualitative the links, the better).
Qualitative websites can be found by searching your most important keywords in Google.
Another important aspect of the visibility of your electronic store is SEO (Search Engine Optimization).
By applying certain tips, you can influence the visibility of your online store in the search results of search engines such as Google.
Find out in this ultimate SEO guide what you need to pay attention to when optimizing your online store.
When you are starting, you can also outsource your SEO to a digital marketing company to focus on business development and products.
Step 6: Register Your Online Store
All entrepreneurs need to register their stores with the legal authorities of the country.
The norms for this differ according to the nature and size of the business.
It is best to open a professional account with a recognized financial institution.
It's easier for your accounting and especially for your overview.
Once the legal formalities are taken care of, you can conduct your online business without any hassles.
Step 7: Inform Your Customers
The main characteristics of your products must be described, as well as the price.
Taxes and possible transport costs must also be indicated.
The customer should be able to know who you are: your business number, your address (not a PO Box), your phone number, and your email address.
Give a good idea of ​​payment and delivery options.
This information must be clearly described before ordering the product.
This helps in building trust in the minds of your customer.
Step 8: Remember Marketing
While this is the last step, it is certainly not trivial.
There are several methods to bring your online store to the fore.
For example, writing quality blog articles, responding to online forums, or generating backlinks.
You can also actively promote your products on Facebook and Instagram.
There are also paid methods such as advertising on Google via Google AdWords (you pay per click on an advertisement.
You can also use email marketing. Automating the process will help you generate more leads and thus increase revenue.

Introducing Chatbots is also an excellent idea to stay on top of the customer service game.
All these steps can seem like a breeze if you entrust your online store development to an experienced eCommerce development company.
Do you want to start enjoying the benefits of selling your products online? Contact us and chat with one of our online store development experts!