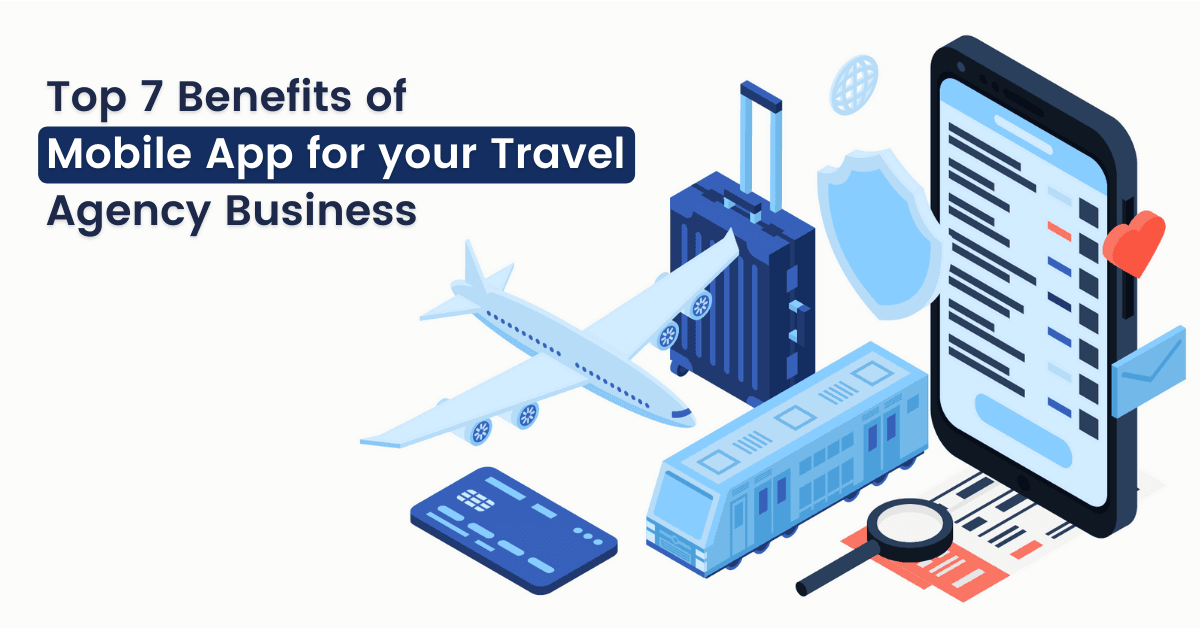 Introduction
The travel and tourism industry has undergone a complete overhaul in the last decade. Mobile phones have revolutionized the way people think. A mobile-friendly travel website is a thing of the car rentalspast. Travelers today are demanding and are loyal to brands that can offer them an impeccable mobile browsing experience. Towards this, online travel portal development companies are constantly innovating apps and websites to improve the services provided.
Travel industry mobile applications rank 7th amongst the most downloaded apps. Four-fifths of the travelers use mobile apps to plan a trip to an exotic location. From flight booking to hotel booking mobile apps, travel technology is helping travel businesses rake profits.
Mobile applications help customers search a plethora of options when planning a trip or making travel bookings. This may range from planning a road trip to booking hotels via custom mobile apps.

Here are the key statistics to note:
82% of all travel bookings in 2018 were made online via a mobile app or website, without human interaction.
72% of mobile bookings happen within 48 hours of last-minute Google searches.
70% of travelers research travel on their smartphone
57% of mobile users would never recommend a website having a poor interface
33% of consumers say they've used a virtual travel assistant to help organize and plan their next trip
The stats are alarming. This can be a wake-up call for those planning to start an application. Wondering how to take your travel business to the next level? Custom mobile app development for your travel portals is the answer.
Benefits of Mobile Apps for Online Travel Agency
1. Mobile Apps Ensure Real-Time Tracking
Mobile apps get constant upgrades due to innovations in technology. Real-time tracking is a striking feature to avoid hazards during travel. This has been introduced in private modes of transportations, especially bus bookings. The service renders essential as masses can track the motion of buses and cars. The amenity gets better with the passage of time. Hotel mobile apps are now implementing IoT devices and GPS services so they may provide live info about cars and buses.
2. Ease of Use
It is a no-brainer that the ease of usage offered by mobile apps is unmatched. Customers can book their trips with the click of a button. Moreover, mobile apps also offer virtual assistance all round the clock. Regular notifications and reminders are a value-added service that customers appreciate.
Travel businesses can integrate additional features like live weather updates, nearby gas stations, information on famous restaurants and more to enhance user experience.
3. Improved Services
Almost every online travel portal development engine adds smart features to stay ahead of competitors. The features include train and car rentals, activities booking, hotel and resort packages and more. This well-witted marketing tool helps attract a swarm of customers. The only objective behind this is to comfort potential clients. The users no longer need to wait in messy queues or haggle with traditional agents for discounts.
4. Inclusion of Geo-Location
A new place might not be too easy to gauge. There are paths unraveled and places undisclosed. One may always be in the apprehension of getting lost. Hence, there's the inclusion of the geo-location feature in mobile apps. Travelers can move with comfort leaving worries behind. You can stop by restaurants, shopping plazas and plan site-seeing sessions without much fuss.
5. Apps are a Powerful Marketing Tool
Custom mobile app development for the travel portal is a strategy that never fails. Seamless navigation and personalized experience through your travel mobile app can help build loyal customers. Thus, mobile apps are an effective tool to enhance the visibility and productivity of a travel business. Integrating social media buttons in your mobile app will help you gather user behavior data. This, in turn, can help you personalize the offers and services that you offer to the customers.
6. Cashless Transactions
Holding cash at hand is a hassle in itself. One may just be worrying about theft and have security concerns. One of the benefits of digital economies is cashless transactions. Several travel mobile apps are incorporating this feature to ensure a soothing travel experience. With this, every payment can be done with just a tap, across the world. Mobile apps also facilitate paperless transactions making travel convenient.
7. One-Stop Approach
Customers prefer mobile apps that can offer them an all-inclusive service. Travel apps offer the flexibility to add a comprehensive range of services. From hotel booking engines to transport, cruise experiences, car rentals, and even local activities at the destination. The idea is to give your customers everything they need and desire. This will ensure that they do not browse any other website or app for their travel requirement.

Final Thoughts
It is time travel businesses leverage on the increased dependency on smartphones. Developing both Android and iOS apps will help you reach a larger customer base. Security is another feature you need to consider when planning your travel mobile app. It will help increase the reliability of your application.
Most travel businesses understand the importance of a customized mobile app but are often worried about how much it will cost to build an app like Booking.com.
We, at OneClick, can help resolve your queries. With over a decade of experience, our team excels in custom travel portal development that improves your ROI and matches your budget. Connect with us to learn more about online travel portal development.