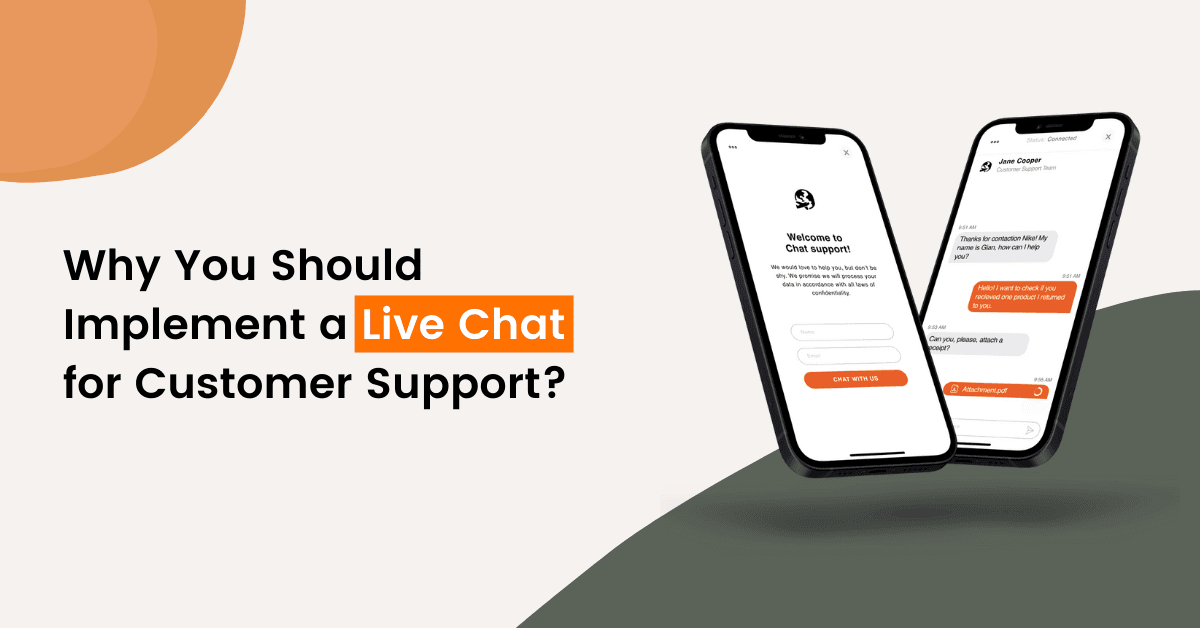 Introduction
Live chat seems like a relatively new concept, although it's not. In fact, live chat was first introduced in the 1980s. This came with its fair share of problems, though. The internet wasn't what it is today back then.
Today, the internet is far more sophisticated and visitors know that they are chatting with a human on the other side of their computer screen. What's more, there are multiple software available today which make implementing a live chat super simple! These platforms can be integrated into your website or an app easily and put your customers in direct contact with you.
How Live Chat Works?
When a customer decides to chat with a brand on the internet, they simply have to click on the chat icon, enter their contact details (if asked for) and start chatting!. Their information is sent to a live chat employee who's working in some corner of the world and usually is miles away from the person he is chatting with.
There are chat solutions available which enable your live chat employee to use audio-visual software which allows them to see and speak with the customer via their screens. The chat window will appear on the website or application, and customers can communicate via text, audio or video.
The live chat employee will also respond to any customer questions or comments via their keyboard if the audiovisual feature isn't available. This means you can have someone respond to your customer's query as soon as they type their question in the chatbox.

10 Reasons to Implement a Live Chat for Customer Support
More than 800 million people use chatbots on a daily basis. Chatbots can be integrated into all sorts of websites and software. But what about those websites who do not have a chat interface available, or websites which don't sell much to begin with? In such cases, Live Chat is a great solution to boost your sales.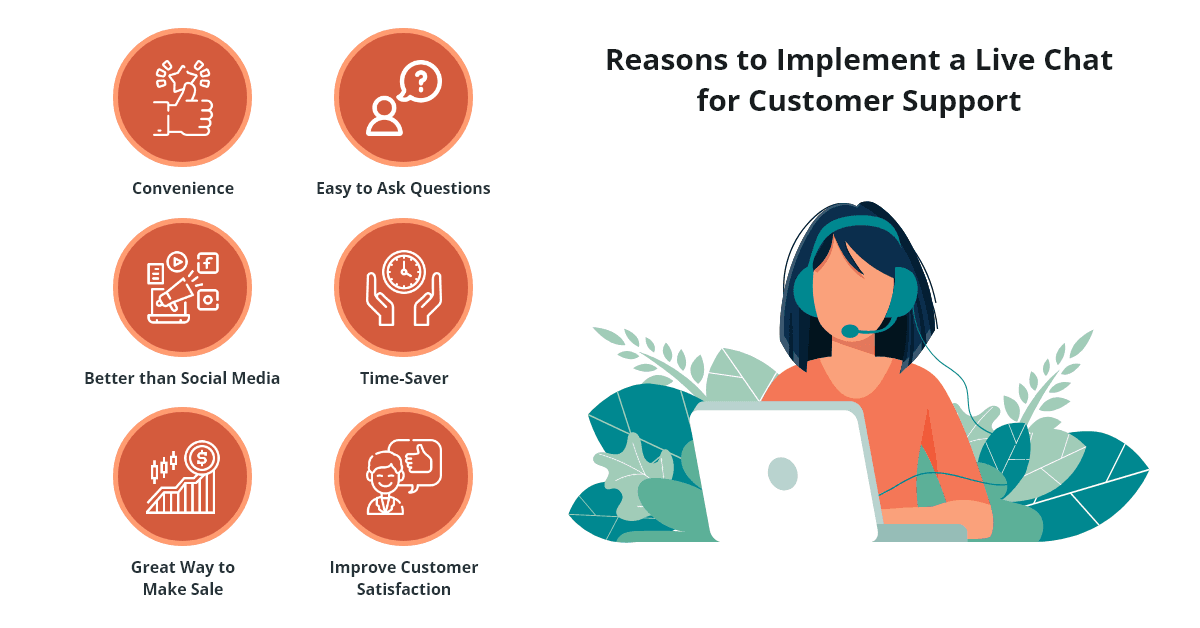 1. Convenience
Using live chat makes your customers feel more accessible. This provides an important sense of trust in your brand. Many brands fail to do this because it is not intuitive or easy for them. Many don't understand that there is a better way. They feel the need to put a sign that says "this site is a scam" to let their customers know that the site is actually legitimate. Instead, they should make it as easy as possible for their customers to do business with them.
2. Live Chat is a Much Better Option Than Social Media
For many companies, live chat is an excellent solution to add as a customer interaction tool. Many customers don't prefer communicating through their social media accounts. Social media is more about socializing with friends, family, colleagues and trying to win more friends. With live chat support, customers know that they're talking to a real person, and this makes it much more pleasant to have conversations.
3. Live Chat is a Great Way to Make a Sale
According to statistics, on average, a customer who chats with your customer support team will make a purchase every two minutes. So, of course, any business owner or entrepreneur would love to have a live chat or a chatbot integrated into their website to improve conversions and to increase their overall sales. Also in live chat, positive and encouraging responses from your customers can be used to showcase your services and help you boost your company's brand image.
4. Live Chat Makes it Easier for Customers to Ask Questions
When you set up live chat on your website, you can send a link to your customers and have them ask their questions right away. People do not like to wait for answers to their questions. According to an article from MailChimp, users surveyed said that they would choose a website with a Live Chat to ask questions over a website that did not have it.
5. Live Chat Speeds up your Customer Service
When a customer purchases from your site, he/she is likely to chat with the customer service team prior to ordering the product. Also when you have a live chat feature available on your website, it not only helps you to increase conversions by a considerable margin, it also increases customer satisfaction levels as you get to easily engage with your customers in real-time with help of live chat.
6. It's a Time-Saver
Businesses work on tight schedules, and it's not always easy to get someone over to your site to look at your products and wait for them to take the time to give you feedback. Live-chat makes your User experience with your website extremely convenient.
7. Build Rapport with your Customers
It's amazing how human interaction can build rapport between you and your visitors. If you're talking to someone face to face, you are already speaking to them. These are the people you're trying to sell to, after all. When you chat with them online, you are still speaking to them in the same manner that you would if you were in a face-to-face conversation.
8. Create Brand Ambiance
Companies that take customer service seriously use live chat software. For example, 7-Eleven, the international convenience store chain, has live chat software installed in every single store in the United States. The company found that more than 85% of the people who use the chat feature are first-time visitors and nearly 30% of them go on to become repeat customers!
In addition, 7-Eleven saves over 100,000 customer interactions every day. This number is pretty staggering. When compared with other forms of customer service, chat rates above the rest in getting customers to actually use the chat feature and therefore engaging with the company.
9. Live Chat Dramatically Improves Customer Satisfaction
This is an extremely important benefit for any business. A recent study discovered that one of the reasons customers use chat rooms or online chat software is because they don't trust a website or eCommerce app to make a good selection for them. Once they chat to you directly, they know that they are talking to a real person who can explain why they should choose a particular product or also chat executives can make better suggestions and help customers make an informed decision.

Customers who go through the extra steps to use live chat are likely to do so because they trust you as a business and that trust is a big win for companies and trust leads to brand loyalty.
10. It's Improved Over the Years
With the introduction of live chat software, online customer service has grown tremendously. We believe this is a result of businesses improving their customer service in recent years. The introduction of live chat software to a website was a game changer.
Prior to live chat, you'd get a queue of potential customers waiting for someone to answer their queries over the phone. These folks had to endure waiting on hold for a long time, but live-chat has considerably changed all that. Now, businesses have used live chat for customer support to reduce the wait time for customers to interact with their employees.
Get Started With Live Chat Now
You'll want to use live chat for all sorts of things, which could include, but are not limited to, social media, email marketing, appointment scheduling and more! The possibilities are endless, and using live chat will ultimately drive substantial results for your company.
If you have a live chat enabled the feature on your website, there are high chances that it will drive more and more customers to your website as customers will be able to simply click on the chat icon, start interacting with your employees and get their queries answered in the quickest way possible.
Also, when you're a company with live-chat enabled on your website, your customers will have a 24/7 window available to get their queries answered and seek support when needed. This is invaluable from the customer point of view, also makes the customer service experience much more effective.

Conclusion
We hope this article has given you a better understanding of live chat and the crucial benefits it can bring.
Live-chat has come a long way and is now being used by a plethora of businesses to enhance their customer experience. The simple fact that customers can type directly into a chat box makes them feel more comfortable and they are less likely to call or email the company for assistance. Our team of expert technicians is available 24/7 to provide you with reliable IT support services via live chat.
This, in turn, gives businesses the opportunity to quickly identify problems and offer solutions. A well-designed live chat feature can be integrated into your website or app and you can start employing it to the benefit of your company immediately.