Overview of Fitness App Development
Mobile applications have become an integral part of our daily life. On average, each person consults 30 apps per month and 10 per day, for daily use of 2 hours on average (+25% in one year). According to Yahoo's latest report, 14-to-29-year-olds are a growth engine for fitness training apps today. These digital enthusiasts imagine that everything is done on mobile and are today responsible for an 88% increase in applications related to physical form or health.
The Popularity of Fitness App Development
According to Grand View Research, The global fitness app market size was valued at $1.3 billion in 2022 and is expected to expand at a compound annual growth rate (CAGR) of 17.6% from 2023 to 2030.
Fitness and workout apps that allow users to use their smartphones to track and monitor fitness and sports activities have become a real social phenomenon in just a few years!
Do you want to take care of your body, but you are short of time and/or money? Thanks to digital technology, today there are fitness app solutions on Android and iOS allowing you to play or learn sports, engage in exercise, or track your fitness at any time. Create & build a fitness app to make your mobile a personalized coach and benefit from progressive monitoring of your physical condition.
The lifestyle monitoring segment has dominated the fitness apps market and is expected to continue to dominate it in the coming years. In recent years, the use of fitness training app solutions to support practice has exploded, one of the examples is the growth of applications like Runtastic which now has more than 80 million users.

Features for Fitness App Development like MyFitnessPal
Diet and nutrition apps like MyFitnessPal are gaining popularity over the years as more and more users become health conscious. These apps help users track and analyze their dietary patterns, nutrient and calorie intake and guide them on how to balance food intake for better health.
Here are Some Features to Create a Diet and Nutrition App
Tracking: These apps need to track and store data like water intake, calories consumed, etc. The tracking feature also ensures that you can integrate your fitness app with a third-party app and suggest suitable exercises based on it.
Easy Navigation: The fitness app development solution must offer a seamless experience through search bars or boxes, different filters, and categorization. This will help users to retrieve data or information faster.
Database Integration: Since calorie tracking is one of the biggest advantages of fitness app development, the diet and nutrition app must include information on different types of foods, cuisines from across the world, and variations of the same category of foods. Thus, external data integration must be made possible in the
Barcode Scanning: This is an advanced feature that helps users scan processed foods or store-bought packages and calculate their calorie count and nutritional value.
Features of Fitness App Development like Runtastic
Workout and exercise apps can be of various types. These include mobile applications that involve pay per session or plan, those that allow users to compete with others and set goals to the ones like Runtastic or Nike Training Club that offer customized plans as per user needs. A broad range of features of these apps are: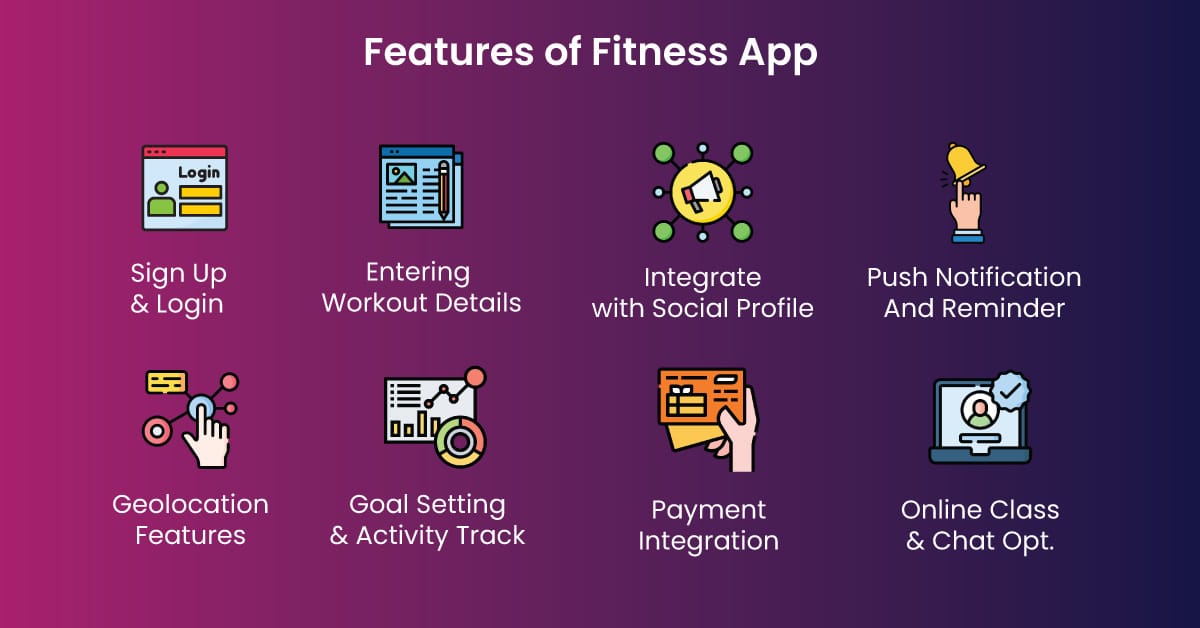 Vital Signs Tracking: One of the requirements of physical activity apps is heart rate monitoring, calculating pulse, and other vital signs to give real-time results to the user.
Video and Audio Tutorials: Since the training through these apps is virtual, video integration is one of the key features to create a workout app. Tutors are given an admin panel or a single admin control can handle uploading of videos on the app.
Social Media Integration: Users are often motivated when they can share their progress and routine on social media platforms. Hence, the app must offer community integration options on popular social media platforms through pictures, screenshots, or a dashboard of user activity.
Cost of Fitness App Development like MyFitnessPal or Runtastic
As a leading fitness app development company in USA and across the globe, we know that one of the biggest concerns is the cost of fitness app development. In a nutshell, the quote depends on the complexity of features that you incorporate in the app, third-party plugins installed, OS and platforms, number of hours, and resources dedicated to the project.
To Conclude
Fitness App Development Solutions make it possible to manage physical activity by using the data collected to understand one's performance and follow adapted training programs. The market, although emerging, is getting competitive. And hence this the right time to invest in Fitness Training App solutions to stay in the league.
While it is possible to Create & Build Fitness App Inhouse, it saves time and money to outsource it to the best fitness app development service provider. From planning and strategy to development, testing, and maintenance, OneClick IT Consultancy has nearly a decade of experience in building robust fitness apps for leading names in the industry. Contact us for a demo or no-obligation quote for your next app development project.