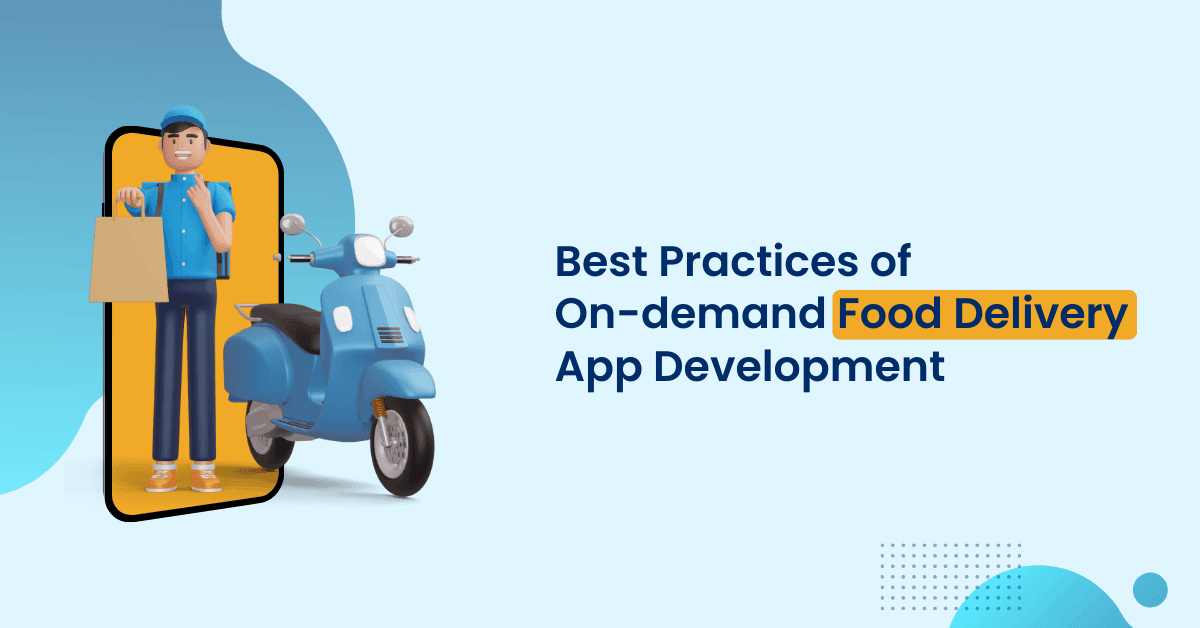 Nowadays, we see a plethora of food delivery apps being used in the market. They have become a major part of the restaurant industry. Big players like UberEats and Zomato can be seen everywhere. But what actually are they? What do they do? In this blog, we will be unfolding everything about them.
Why Is It Important to Build a Food Delivery App?
Food delivery apps are a major part of the restaurant industry. This is one of the reasons why many established restaurants have their own apps, but it is also true that some of them don't know how to make use of them properly.
A lot of people even prefer ordering food through an app rather than calling or visiting websites because it's convenient for them and saves time for everyone involved in this process. If you are looking to build a food delivery app in iOS and Android device, there are a few things that you need to consider before making a final decision.
The emergence of big brands like GrubHub, UberEats, and Zomato has also boosted this growth. The food delivery apps have advanced with time and now include features like tracking your orders and exclusive discounts and offers.
More than 90% of Americans use their smartphones daily according to Pew Research Center while almost half check their phones within 15 minutes of waking up!
With this kind of usage pattern at hand, it's no wonder that so many food businesses have jumped on board the bandwagon!
Success Stories of Availing Food Delivery App Development Services
Food delivery app development services are in demand, but you need to ask yourself whether or not your idea will make money.
Agile software development is key to building a successful and customer-focused food delivery app, with an emphasis on flexibility, collaboration, and continuous improvement.
To understand why delivery services like Swiggy and UberEats are growing more popular, let's first look at these facts.
The market is estimated at over $108 billion and accounts for around 1% of the global food market and 4% of the total food sold in restaurants and marketplaces globally.
According to industry experts, the market is expected to grow to a staggering $300 billion by 2030 thanks to improvements in smartphone technology and an increase in the number of apps available on the market.
However, with the idea and concept being straightforward, developing a food delivery app solution isn't going to be that easy. It is important to look at its different business models before making an app.

A single-vendor model: It allows users to order food directly from their specific on-demand food delivery apps.
A single-vendor with multiple stores: This model includes a multi-store online food delivery app development where users can easily order and pay through multiple integrated payment portals.
A multi-vendor model: It offers users a seamless online food ordering & delivery experience with multiple vendors on a single platform. For instance Zomato, UberEats, Swiggy and others.
Must-have Features of A Food Delivery Application
Consider the features you want to add to your food delivery app while researching how to make one. After deciding on these features, you can guarantee it stands out from the rest of the market.

Registration in an app: It is used to help users set up an account on the app. To maximize its features and functionality, users must choose the correct profile when creating an account with a restaurant delivery app builder.
A search feature: A search tool will help users discover the right eatery, saving them time and keeping them from getting hungry.
A simple checklist: It is for placing orders that will make your app stand out from the others. You can offer a list of restaurants based on various criteria, including reviews and food options. Customers will be more interested in using your app if their favorite restaurants and cuisines are prominently displayed on the home screen.
Secure payment gateway: A payment gateway can be integrated into an app in two ways. You may pay for your purchases using a credit or debit card in addition to cash on delivery (COD) or cash. This is the most efficient and safest way in terms of money collection.
Deals, discounts & offers: They can help attract customers to use your food delivery services as well as encourage them to return to your app.
When offering a food delivery app solution, it's important to consider the technology stack you will use. Figuring out the best market for your app one that will help you reach your goals is crucial. The truth is that every person has their own favorite food and will use your app; however, it is essential for restaurants and other businesses to think about user experience before making an app for them.
Tried & Tested Food Delivery Application Development Process
Step 1: Analyse industry-specific needs & market trends
Step 2: Determine your needs and target audience based on geolocations, budget, and features
Step 3: Prepare a features list of the basic, medium, and advanced, as per requirements and budget.
Step 4: Decide technology to use. Different tech stacks come with different features and benefits. Based on it, you can get your food app developed.
Step 5: Choose a food delivery business model that suits your business the best.
Step 6: Develop an app with the above-finalized steps.
What Is The Cost to Develop a Food Delivery App?
You may ask how much it would cost to build a food delivery app after knowing everything you need to know about it.
A regular restaurant may spend between $12,000 and $25,000 on its online ordering software, which is also part of an on-demand food service app. The app developer may charge around $40,000 and $70,000 for building a complex application that connects with an existing restaurant's online ordering system.

Conclusion
So, we are talking about food, right? It's a highly competitive industry and is a growing market. If you have an app idea and want to build a mobile app to make the business successful, then be it.
However, before you jump into building a custom food delivery mobile app, ask yourself why anyone would download your app? What's the USP that makes it stand apart from other offerings in the market?
Our expert app development team can help you with all the above solutions for your on-demand food delivery app. Building innovative software solutions tailored to your needs. We are a trusted software development company delivering excellence in coding, design, and functionality.