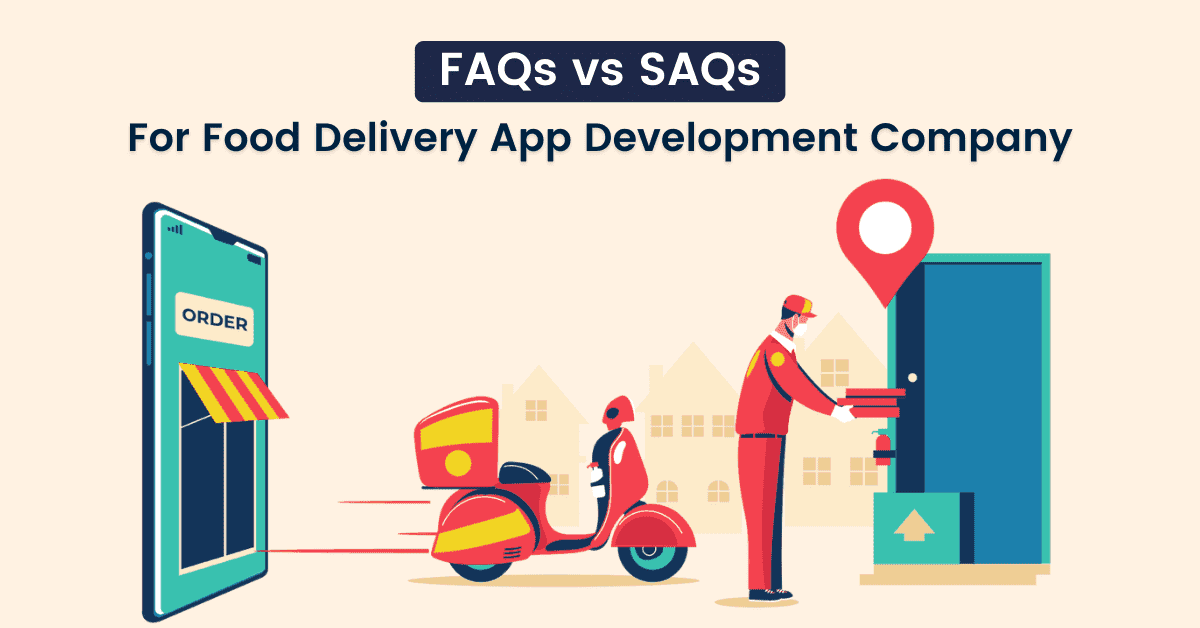 In the past few years, there has been tremendous growth in the online food delivery business. The growing trend toward eating packaged foods has led to the increasing demand for food delivery services. Moreover, the benefits it offers such as convenience and money-saving opportunities have also contributed to its popularity among consumers.
Food delivery apps are now becoming popular among customers looking for a tasty meal from their favorite restaurants. This has led to on-demand food delivery apps emerging in the market today but not all of them provide quality services to their customers.
Frequently Asked Questions
Should be Asked Questions
Q: Is my food app idea secure with you?
A: Yes, You can undoubtedly count on us to share your app idea. Once we agree on your project, we sign legal documents, NDA, that are safe with us. Moreover, you will get full authority over the source code for a transparent delivery.
Q: What are the key features provided to develop a food delivery app?
A: There have been diverse features of a food delivery app. However, the most essential features are,
– Push notifications
– Discounts or rewards, cashback, & loyalty programs.
– Real-Time GPS tracking of food delivery.
– Highly secure payment options
– Social Media integration
– Reviews & ratings
– Seamless order placement
– And many more.

Q: What is the cost of developing a food delivery app?
A: We understand the food business requirements and the features, custom solutions are needed, UI/UX, etc., and share the quote accordingly. Is it a restaurant to Consumer (R2C) model or the Platform to Consumer (P2C) model?
We believe in providing end-to-end services that are tailored to the unique requirements of your business. Because the one-size-fits-all approach doesn't work, and we don't believe in creating me-too apps.
Q: Are there any hidden charges for developing a food delivery app?
A: We offer AMC services after the development stage which covers maintenance and management costs. However, if anything requires an additional layer of development, then the charges are shared separately.
Q: Is it possible to develop a food delivery app on iOS & Android?
A: Yes it is possible. Most of the apps are built on iOS and Android frameworks.
Q: What technology stack will be used for the app development?
A: We provide backend access for your team to make small edits while still maintaining the admin access with ourselves for ensuring security, and also training them on how to use it.
Q: Can you deliver my app project quicker?
A: We strive to deliver every app development project within the timelines set. If you have a specific date then we can definitely do our best to meet them.
Q: Should we outsource the customer support team or hire an in-house resource for the same?
A: Outsourcing can be a time-saving practice to get your tasks done faster. However, if you are hiring an experienced in-house customer support executive or a specialist, then also it becomes convenient to get your job done.
It depends on your budget, timelines, and how complex your app development project is.
Q: Can you develop an affordable food delivery app for my business?
A: Be it a restaurant owner, or home-made food maker, we develop custom apps for all types of food delivery businesses. Let us know your budget, our app development team will revert you shortly.
Q: What will be the entire roadmap of conceptualizing the app that runs, sustains, and grows my business right from the development to launch to the marketing and finally the customer gratification phase.
A: We follow tried and tested approach to building a food delivery app.
– Get updated with the latest market trends. Study what competitors are doing.
– Research target audiences across the globe.
– Create food delivery business models based on specific needs.
– Analysing complex app features if there are any.
– Select the relevant technology stack for the development.
– Provide 24×7 support & maintenance
– Create a custom marketing plan to spread awareness about your product.
(if that is included in the app development project)
– Kick-start marketing activities and track them periodically to gain better outcomes.

We hope this article gave you an insight into the food delivery business. If you are looking to partner with a company that specializes in providing best-in-class food delivery app development services for your business, contact us today!