Introduction of Wearable App Development
In the USA, 1 out of 3 people uses wearable devices! Reports suggest that by 2025, 30% of the world population will be consumers of wearable technology. The market revenue of wearable app technology is projected to cross $70 billion.
This is proof that wearable app development has a future, like no other. Gone are the days when wearable technology meant only a fitness tracker. Now you have a range of stylish smartwatches that can help you answer phone calls, check messages and emails, and much more. Smart homes are another addition to the wearable app markets. The advent of home assistants like Echo and Google Home has also opened new avenues for different industries like Ecommerce, Entertainment, and Health to offer users an exclusive experience.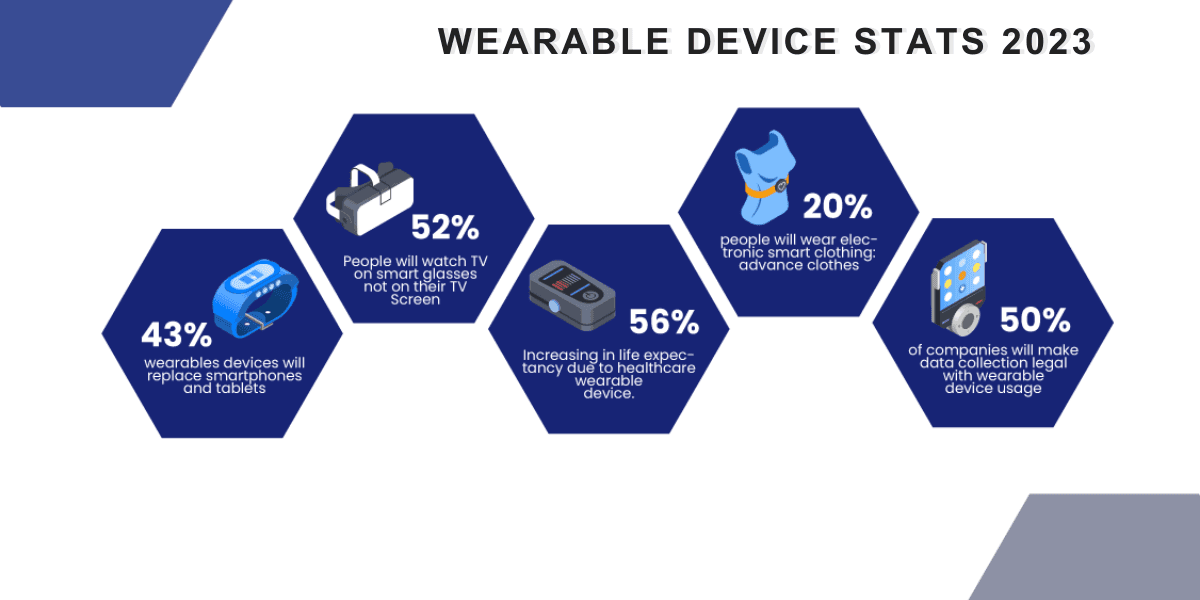 There are endless ideas for wearable app development that businesses can explore. But on the development front, it can also pose certain obstacles. This blog highlights how wearable apps work, their benefits, and the major challenges in wearable app development.
Internet of Things
Do you know how you use the Internet to do research and to chat with your friends? Smart devices use the Internet too! Appliances, cars, and yes, even thermostats, can use the Internet of Things (IoT) to receive and exchange information.
How Do Wearables Work?
Every device that is connected to the Internet is part of IoT. They share information through something called the cloud. This allows devices and computers that are far apart from each other to connect and share their information.
It is a network of different systems that stores or stores data, such as photos, videos, and other information (cloud storage), which allows you to update the data (cloud services), and which has very powerful computers that run apps and websites (cloud servers). Via the cloud, you can control your smart devices and access their data from anywhere just by opening an app on your tablet or cell phone.
What can Wearables Do?
Thanks to the Internet of Things and the cloud, one can now access plenty of new data from technology and devices, which have been around forever. Now we have…
Thermostats that know the current temperature in our homes

Watches that can measure a pulse and/or body temperature

Weather devices that measure wind speed and humidity level in the house. 'air

Tools used during surgeries to guide surgeons

Sensors on a car that can detect potential collisions

Benefits of Wearable App Development
Improved Productivity

: Task management is one forte of wearable apps. You can set a reminder for tasks like work calls or meetings, groceries, doctor's appointments, shopping lists, etc. These wearable devices can then inform multiple people about it and ensure the timely completion of tasks.

Safe

: Smart wearables like watches and earphones or home devices can be connected to multiple users. An alert regarding any problem can be sent just with a click. Similarly, fitness trackers can update family about the health of their elderly and ensure safety at all times.

Health-Friendly: Fitness trackers, smartwatches, Fitbits – all help in tracking and monitoring your daily physical activities. These devices also can keep a track of your pulse, BP, sugar, and heart-rate thus helping you lead a healthier life.
Save Time

: Wearable apps and devices make our daily lives easy. Whether it is time trackers, Google Home, Alexa, or smart gadgets, they make life simpler as everything is accessible at a click.

Improved Sales

: With chatbots and smart devices like Echo or Google Home, stores can now answer more queries of customers with a human approach. Improved customer service ensures improved sales.
Industries That Can Benefit from Wearable App Development

8 Challenges in Wearable Device App Development
1. Speed
As competition in the market increases, the efficiency of wearable apps is of utmost importance. Customers will not buy sluggish watches or smart devices that take even more than 5 seconds to follow their command. This is why wearable app developers need to ensure that the apps keep up with the speed demands of the end-user.
2. Platform and API
Choosing the right platform for wearable device app development is crucial. This will ensure a seamless process and SDLC. It will also save time and cost on your project. A wrongly chosen platform or technology can be the biggest challenge that even a Wearable App Development company faces during execution. 
3. Data Security and Privacy
App for the best wearable devices involves the exchange of information and data through the cloud. While there are many advantages of wearable app development and this data exchange, it can also pose a threat as data can be stolen by third-parties. This is one major challenge for most leading wearable app development companies.
4. UX/UI
Smart devices don't just need to be efficient but visually appealing too. For the UX/UI designer, this poses a challenge as it is important to make a non-cluttered UI while ensuring all elements are present. From choosing background colours that match the brand image, to display sizes, and identifying icons that convey the right message, wearable app development developers have to be careful of their choices. Above all, it is also important that the design is supported by multiple platforms.
5. Tethering
Most wearable apps are connected to larger devices for accessing all functions. Hence, they rely on these devices for tethering. If the supporting device has a low battery or stops working, it renders wearable apps useless too.
6. Fragmentation
Wearable apps do not involve cross-platform app development in most cases. Since they are designed for single apps, the issue of fragmentation arises when the device does not use the same OS. Hence, it is ideal that businesses invest in hybrid and cross-platform apps when designing for wearable or smart devices.
7. Battery Usage
The smaller the device, the smaller battery. Besides, with so many functions running in the background, the battery consumption is higher. Developers face this challenge in wearable app development to ensure that they design solutions that consume battery efficiently. You will also be surprised to know that most app stores reject wearable apps if their battery consumption is too high.
8. Constant Updates
Upgrades and updates are an integral part of wearable device app development. New features and the ability to fix every bug that arises also is a constant challenge for the development and support team. This means that you need to find a reliable Wearable Development Agency who provide regular support for the latest updates for your wearable apps.

To Conclude
Wearable apps are taking away all the limelight and the future just seems to be brighter. Businesses must take into consideration this factor when planning their mobile app development projects. Any idea can be turned into a game-changer for wearable apps. If you are looking for a partner to execute your next project, contact us.
OneClick is a leading Wearable App Development Company USA and India. To know more about our projects, request a demo or ask for a no-obligation quote.