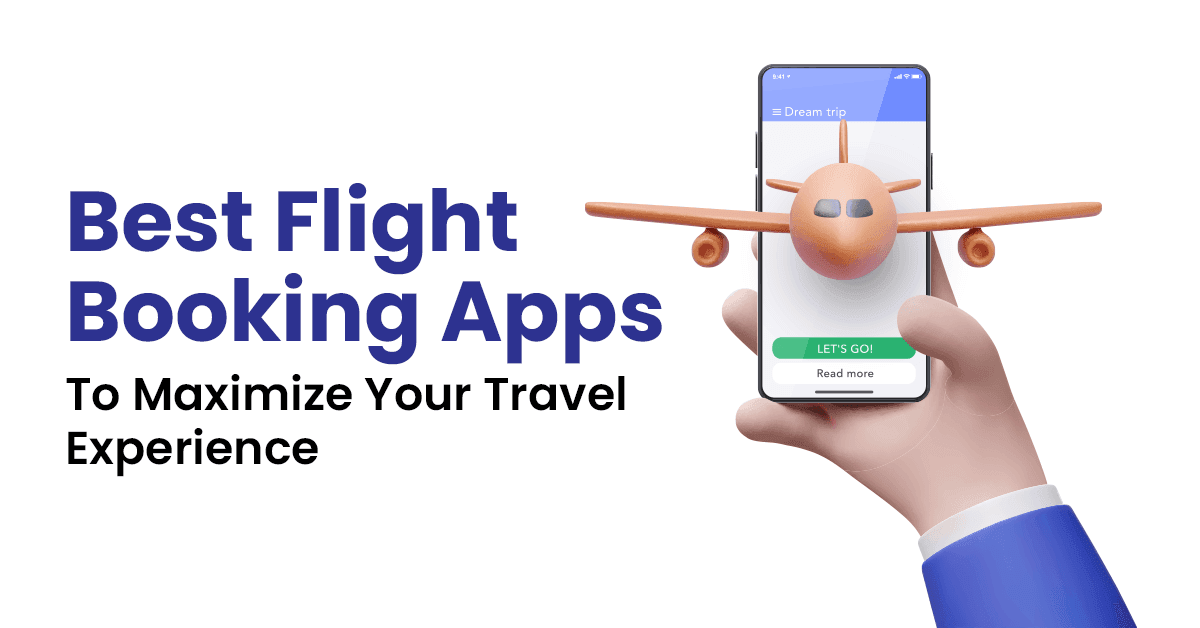 In today's fast-paced world, booking flights has become an integral part of travel planning and in many ways, an uncredited luxury. Gone are the days when the only possible way to book a flight was to physically visit a travel agent or airline counter. Thanks to the advancements in technology, we now have the best travel booking apps that have made the process rather hassle-free and efficient. These flight apps have become immensely popular among travelers and have revolutionized the way we book flights. These best apps for flights not only offer convenience but also provide a seamless booking experience that saves time and effort.
In this blog, we will discuss the 10 top flight booking engines and apps in the market in 2023, which can help businesses invest in flight ticket booking app development and provide their customers with an unparalleled booking experience.
Benefits of Investing in Flight Booking Apps
Best air ticket booking app offers numerous benefits to both customers and businesses. Undoubtedly, they have, to a large extent, revolutionized the way we book flights and have made air travel more accessible and convenient. Moving forward, we'll talk about 7 compelling incentives for why you should invest in flight booking app development right away.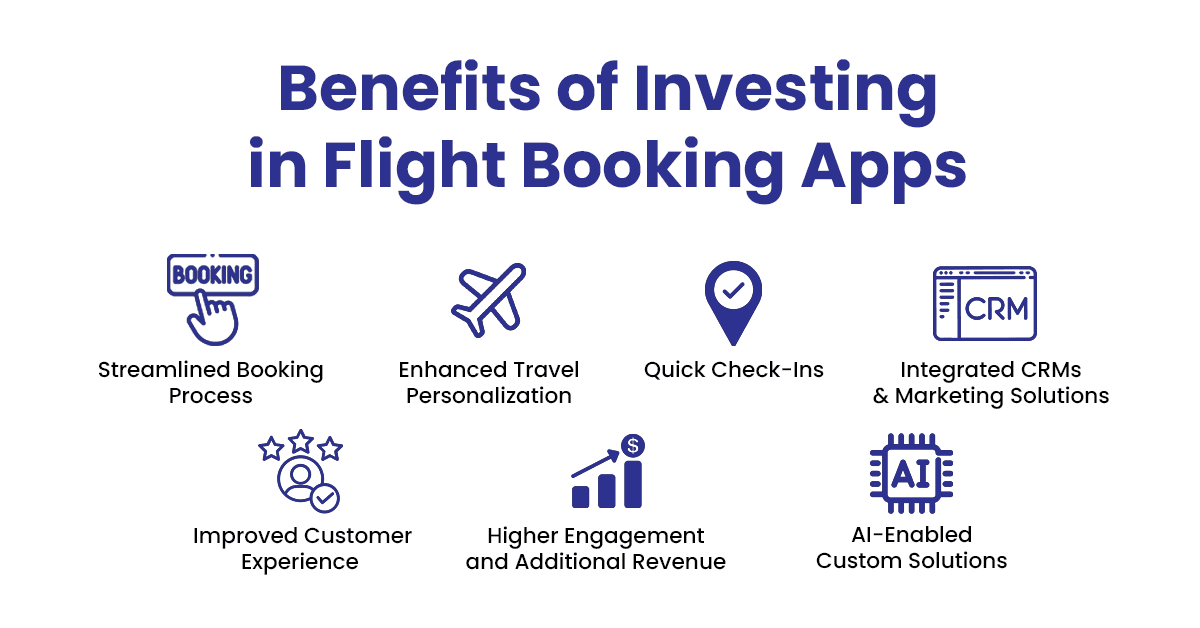 1. Streamlined Booking Process
Best app for flights automates the booking process, simplifying the work of staff and enabling them to offer better customer service. This not only saves time but also reduces slip-ups and mounts up the efficiency of the booking process.
2. Enhanced Travel Personalization
Flight apps offer greater flexibility and tools to select flights of one's preference. Customers can now personalize their travel experience, choose the seats they prefer, and even select in-flight meals and entertainment.
3. Quick Check-ins
Best flight booking app allows quick check-ins, saving both resources and time. Customers can check-in online and avoid long queues at the airport, making the whole travel experience more comfortable and less taxing.
4. Integrated CRMs and Marketing Solutions
Integrating CRMs and marketing solutions allow businesses to bring in additional customers based on their preferences. It enables businesses to offer personalized recommendations to potential customers and helps them to retain existing customers.
5. Improved Customer Experience
Flight apps have made the reservation process both easier and quicker, enhancing the customer experience. Customers can book flights without any hassles and receive real-time notifications and updates about their bookings.
6. Higher Engagement and Additional Revenue
Flight apps provide higher engagement and generate additional revenue for businesses by offering a wide range of services such as in-flight entertainment, meals, and accommodation. They can even offer loyalty programs to customers, ensuring that they keep coming back. When it comes to finding the best flight deals and booking options, using the Best ticket booking app is crucial.
7. AI-Enabled Custom Solutions
Best flight apps leverage AI tools to identify buying trends and offer custom solutions to the target audience accordingly. These tools help businesses to better understand customer behavior and offer personalized recommendations.

Key Features of a Flight Booking Application
With cut-throat competition to build a top-tier flight ticket app, many businesses, at times, fail to integrate a few of the basic expected features. Here are a few features that you must consider implementing into your flight booking app if you're seeking a product that actually makes it big into the market: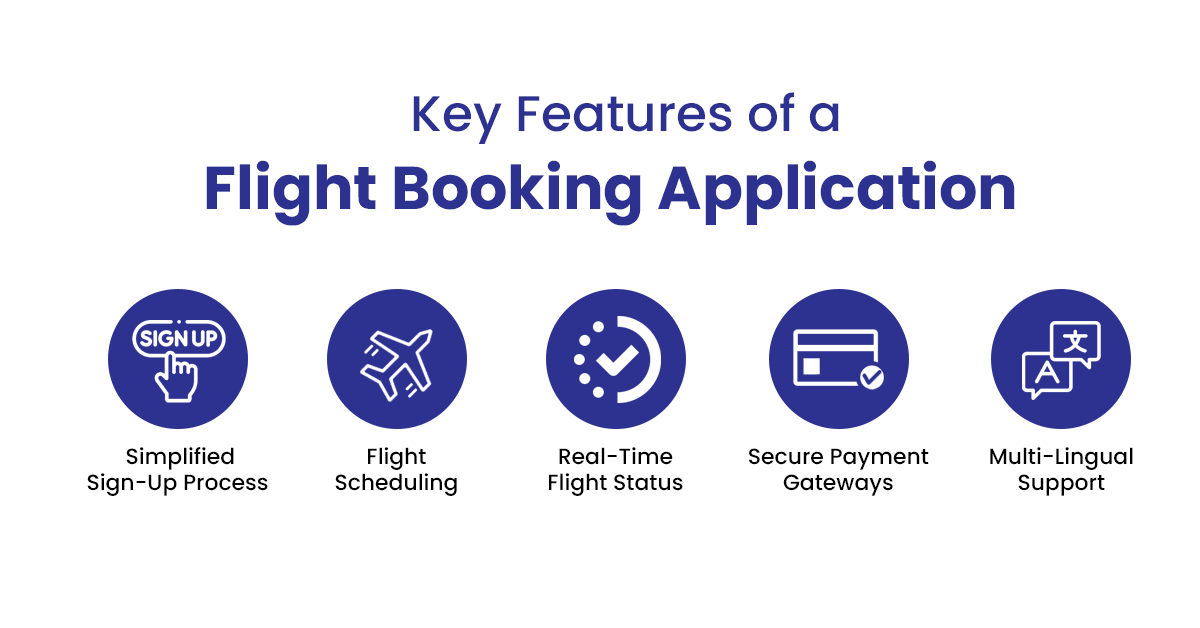 1.Simplified Sign-Up Process
The foremost step should be to create a seamless sign-up experience in your flight booking app. This necessitates the development of a flawless application that is both user-friendly and devoid of any complexities.
2. Flight Scheduling
This attribute provides customers with accurate flight schedules that are available for their intended destination on their chosen date and time. This is a critical feature for any flight booking app, as even a single missed flight can cause significant inconvenience to customers, particularly for important business or personal engagements.
3. Real-Time Flight Status
Once a flight has been successfully booked, it is imperative to have access to real-time flight status updates that allow customers to check whether their flight has been confirmed or not. Additionally, live-flight tracking is a necessary feature in any travel app that keeps customers informed about any changes in arrival times or unexpected delays.
4. Secure Payment Gateways
As flight ticket booking directly entails payment transactions, it is crucial that payment gateways integrated with the application are highly secure to protect customers' payment details. Payment options like Google Pay, PayPal, and other globally recognized platforms are widely accepted and preferred.
5. Multi-Lingual Support
The language used within the flight booking app is of utmost importance, and the sign-up language configuration is a primary requirement. It should be a hassle-free process, enabling end-users to set their preferred language effortlessly and switch between languages as desired.
With a user-friendly interface, a vast inventory of flight options, and features such as price alerts, the best online ticket booking app can save you time and money. Whether you're a frequent traveler or planning a vacation, make sure to download the best Flight booking app for a seamless booking experience.
For your travel business Invest with confidence and align your business with retailing excellence in the airline industry. Embrace Airline Retailing Maturity (ARM) index and unlock a world of informed decision-making. Together, let's drive success and maximize your investment potential.
10 Best Flight Apps for a Well-Organized Travel Experience
Since now you've got a basic idea of the necessary features that customers expect without question, let's explore a few of the top-picked apps for flight that are dominating the flight industry in 2023:
1. Skyscanner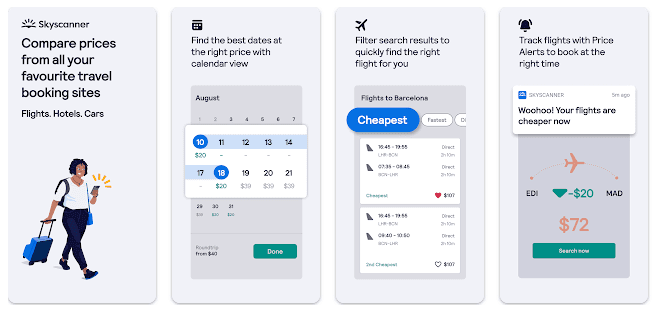 Skyscanner is well-known for being one of the best flight booking app and website for airline booking. You can trust them to scour the web for the lowest possible prices on airfare, lodging, and auto rentals from hundreds of different companies.
The easiest and the most affordable approach to saving money on airfare is to input your destination and click the "Cheapest month" option. Skyscanner would then tell you when it is the least expensive to fly. The flight ticket booking app not only finds cheap flights, but also hotels and rental vehicles that allow for free changes and cancellations.
Pros
They go through many flights to identify the best possible combo of price and convenience.
Set price notifications.
Travelers can visit the website to look for lodging and transportation options.
An excellent flight booking app for finding low-cost airline tickets
Cons
Prices may sometimes be off or often fluctuate.
Some low-cost airlines' partners aren't as reliable as others, so going with the cheapest choice isn't always the best approach
Download Skyscanner App: Google Play Store & App Store
2. Kayak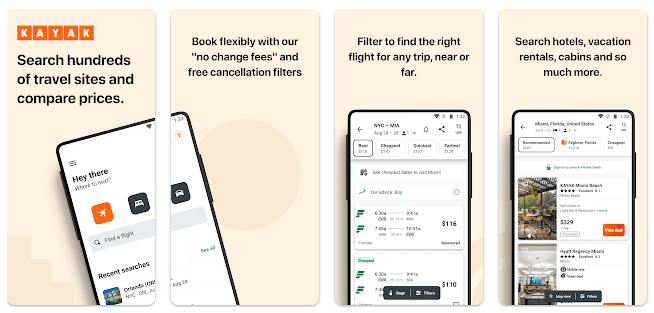 Explore for airfares, hotels, car rentals, and flight + hotel packages across multiple booking sites with Kayak flight booking app. By inputting a desired location, departure, and return date, you can quickly find the best value and quickest flights available within that time frame.
If you want to keep an eye on rates and be notified of any changes through email, Kayak flight booking app has you covered there, too. Additional features include the capability to create a trip plan as well as search for holidays that are within your price range.
Pros
Getting a price alert
When you use the Kayak flight booking app, you can easily compare prices and routes.
A comprehensive web portal for navigating transportation, lodging, and meal options
Cons
They do not guarantee the lowest pricing.
You can't use Kayak flight booking app to make reservations directly.
Download Kayak App: Google Play Store & App Store
3. TravelPerk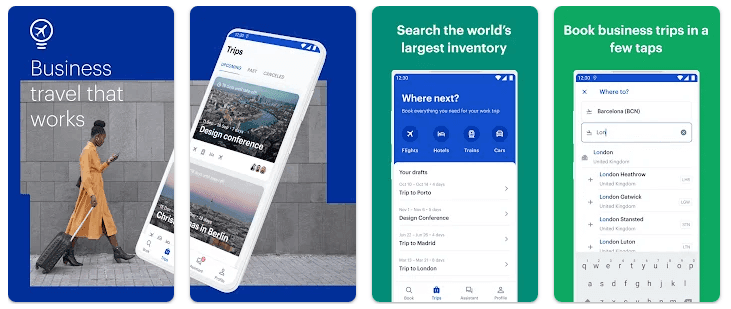 TravelPerk is a Spanish travel booking app that caters to the needs of business travelers. The platform offers an exceptional user experience and unique features that make it stand out from other travel booking sites. TravelPerk goes beyond flights by including train travel, making it an excellent choice for eco-conscious travelers who prefer greener transportation options. With its innovative features and commitment to customer satisfaction, TravelPerk is rapidly becoming the go-to platform for business travel arrangements.
Pros
Bundle different airline tickets from various carriers for a seamless travel experience.
Ideal for those who plan to tour Europe and need to book train tickets along with their flights.
Cons
TravelPerk's pricing plans may be too expensive for small businesses that don't require all of these features.
Limited coverage in certain areas.
Download TravelPerk App: Google Play Store & App Store
4. Kiwi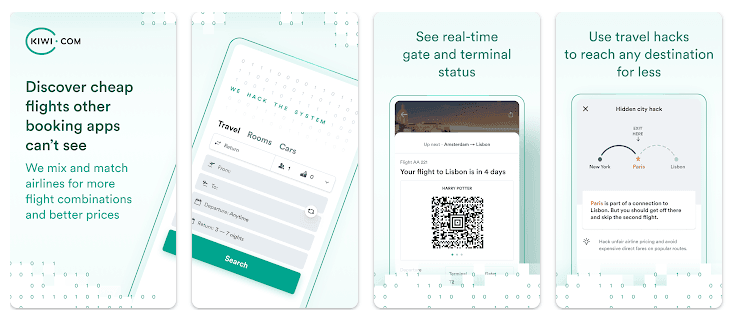 Kiwi is one of the best app to book flights that professes the potential to find low-cost flights that other travel portals often fail to discover. You may look for travel options, such as flights, rental cars, and hotels, at your destination. Just type in your desired departure city and arrival date to see which airlines provide the most affordable pricing.
There is a price table that is broken down by the month, and the days that provide the highest return on your investment are marked in green. Boarding cards can be downloaded directly from the Kiwi flight booking app, trip alerts can be sent with a single tap, and reservations can be made with only a few taps.
Pros
Kiwi flight booking app is an all-in-one travel booking service that offers flights, hotels, and car rentals at competitive prices.
More flight options and cheaper prices
Cons
It does not include all airlines.
Poor service has been cited as a complaint by several customers.
Download Kiwi App: Google Play Store & App Store
5. Momondo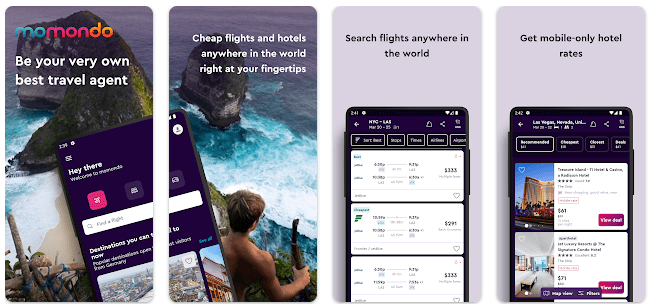 Momondo is a cheap flights booking app that compares hundreds of airlines and routes to find the most affordable and convenient deals for you. Just enter your desired location and departure/arrival times and Momondo flight booking app will provide the best and cheapest flight alternatives for your trip.
A monthly graph is available, which shows you exactly when flight rates will go up or down. While booking a round-trip flight on Momondo, you may make use of their Mix & Match tool to create a custom ticket with a different airline on the return leg, resulting in significant savings.
Pros
You can save a ton using the Mix & Match option.
An Effective Price Prediction Chart
Cons
No special discounts
Although it's convenient, it may not be the cheapest flight-booking app.
Download Momondo App: Google Play Store & App Store
6. Skiplagged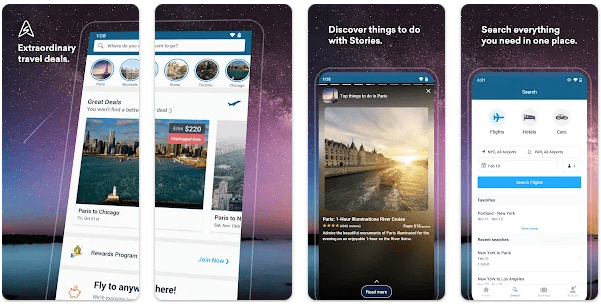 Skiplagged is a novel flight booking app for finding airfare deals. It identifies pricing loopholes and discrepancies in flights that no other tool does. It locates "hidden-city" flights, which are flights that include a stopover but you exit at a different place than your ultimate destination. As compared to the cost of a conventional airplane ticket, this flight booking app often provides significant savings.
Though legally permitted, the practice is generally frowned upon since it deprives other passengers of a seat. It is possible to purchase flights to unknown cities, but you should avoid booking with the same airline too frequently.
Pros
Much more affordable than many other flight apps mentioned in the list.
You can make direct bookings from the flight booking app.
Cons
Only relevant for one-way flights.
If you register too many hidden-city trips, you risk being detected and blacklisted by the airline.
The flights you book from this flight booking app may not qualify for airline loyalty programs.
Download Skiplagged App: Google Play Store & App Store
7. Priceline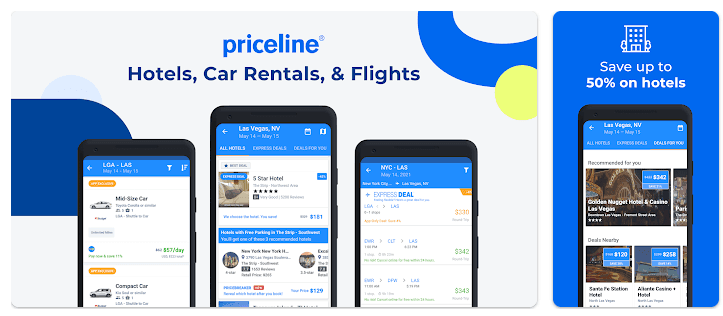 Priceline is a flight booking app that lets you access special rates at hotels, discounts on car rentals, and low-cost airline tickets. All the information you need to make a reservation is now in one convenient spot, and you're given specific suggestions based on your preferences and needs.
With a similar user experience to the majority of other flight apps, Priceline flight booking app allows you to input your vacation dates and destination to see the best and most affordable options for lodging, transportation, and flights. You might gain further discounts by booking your hotel stay and flight ticket together.
Pros
You can save up to 80% on certain bookings.
Direct booking via the Priceline website or flight booking app is available.
Cons
If you want the lowest fares, you have to book at the very last minute.
Several reservations are of the "no-cancel, no-refund" kind.
Download Priceline App: Google Play Store & App Store
8. Omio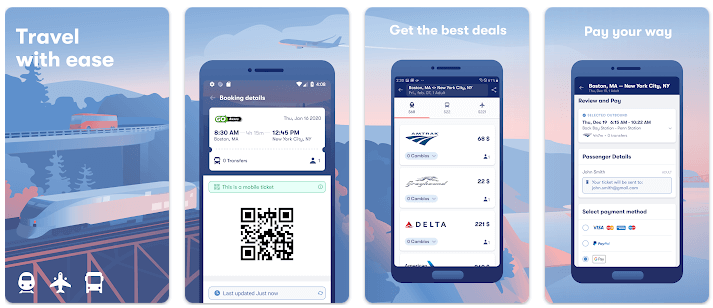 Omio is a travel booking app that allows you to reserve tickets for trains, buses, and flights throughout Europe, Canada, and the United States. This travel booking app aggregates data from numerous providers to determine which transportation solutions provide the best value for your money.
Based on the innumerable reviews, this travel booking app does an excellent job of finding reasonably priced train and flight tickets across Europe. When it comes to ferry routes, Omio is the only app on our list that includes around 700+ lines serving Greece, Italy, Spain, and the United Kingdom.
Pros
Direct booking through the app
Get all of your tickets into one convenient location.
Cons
When booking at the last minute, you may discover limited affordable choices available.
Omio travel booking app is currently only accessible in the United States, Canada, and Europe.
Download Omio App: Google Play Store & App Store
9. Expedia
It's safe to assume that everyone is familiar with Expedia, but in case you aren't: it's one of the best flight booking website where you can book flights, hotels, car rentals, and cruises. Its website serves as a one-stop shop for arranging travel arrangements such as flights, hotel stays, auto rentals, and vacation packages.
To get the best deals, you can use criteria like flight time, departure date, and more on Expedia, just as you would on any other travel booking app. The Expedia website lacks a price history graph, price notifications, and heavy discounts. Nonetheless, you can log in, redeem airline credits, and reserve your bookings directly via the app.
Pros
Expedia offers discount rates for late-minute bookings.
Expedia features a customer loyalty program.
Cons
Policies regarding cancellations often lack clarity.
Prices often witness unanticipated fluctuations.
Download Expedia App: Google Play Store & App Store
10. Booking.com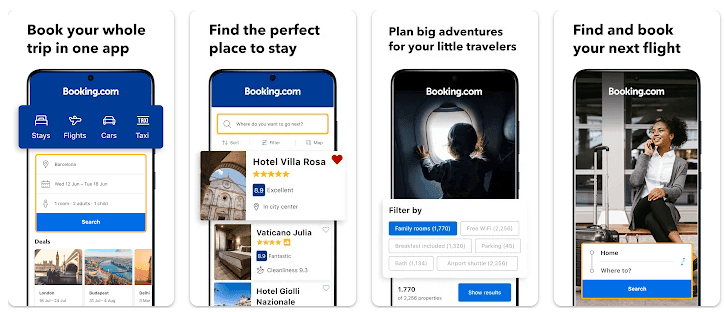 When it comes to business travel, Booking.com for Businesses is a free online booking service ideal for small organizations with no structured travel plans in place. The system keeps tabs on how much corporations spend on business travel and can be used to book tickets with over 150 different airlines, from discount carriers to those offering business class on long-haul flights.
Business travelers' tastes are taken into account when displaying flight results thanks to AI customization features, and the solution's reporting abilities assist companies in reducing expenses and administrative work.
Pros
This flight booking app is completely free to use.
With over 150 different airline options.
AI offers custom flight preferences.
Cons
Poor Customer Service
Frequent complaints concerning refund/cancellation
Download Booking.com App: Google Play Store & App Store

Simplify Flight Booking App Development with OneClick
For more than a decade, OneClick has been perfecting the art of developing user-friendly, efficient, and profitable cheap flight ticket apps for consumers all over the world. This means that if you seek to propel your company to greater horizons, our state-of-the-art flight booking app can help you achieve that. Our futuristic bespoke flight booking app provides a novel approach to facilitate seamless communication between you and your customers.
To better serve our clients across the US, UK, and worldwide, we incorporate features that are both relevant and straightforward to use. Furthermore, the blend of our glitch-free interface with our attention-grabbing UI/UX design makes our solutions impossible to resist. Whatever your flight booking app development needs are, from the most elementary to the most complex, our team of professional app developers is ready to assist. Connect with us today!