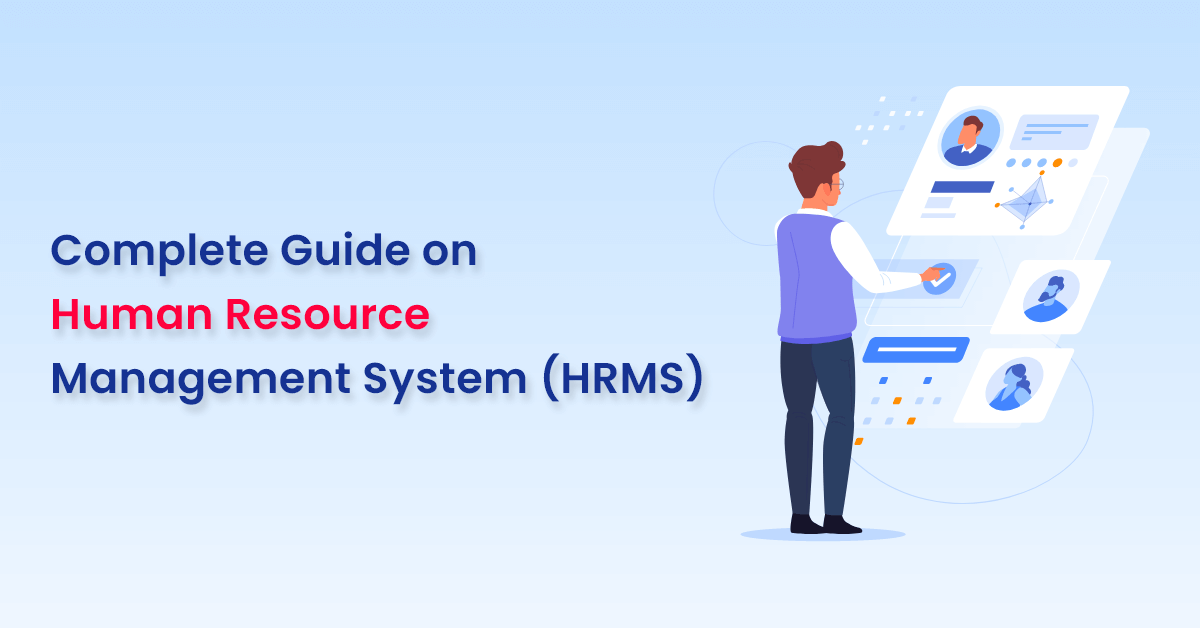 What is the Human Resource Management System (HRMS)?
HR is the backbone of every organization. It includes various functions like recruitment, payroll, health insurance, training, safety and more. HR tasks are not easy, it is complex and also time consuming when performed manually. However, to save time Human Resource Management System(HRMS) software is existing in the market. It is a cloud-based complete solution designed as per the requirement of HR. Employee management software eases the work of HR, they need not rely on pen and paper to increase the productivity of your business.
8 Reasons for Implementing HRMS software
There are a few common reasons for using HRMS software:
1. Revamp Data Management
Human Resource Management System can manage all the data systems with informative benefits like enrollment and status changes.
2. Employee's Data Management
HRMS updates personal data without involving HR for such a simple task. This automatically saves the time of HR professionals for strategic functions.
3. One folder for Numerous Data
With the help of HRMS, you can store numbers of data in one single folder. This means that reporting can be more efficient. This also shows the central location for documents of employees.

4. Less System to Manage
There are companies that choose to create HRMS integration with payrolls. And there are companies that plan to get companies financial software, accounting systems, ERP systems & other online programs.
5. Employee Development Program
Human Resource Software Management is used to implement & track employee development programs.
6. Reporting on the Same Day
In the past, HRMS reporting of each employee was done in a book, but now the scenario has completely changed. Nowadays, if the manager wants to check the employees location, desktime, etc. they don't need to contact HR managers to access the information from the software itself.
7. Measure the Effective Programs
Employees are the asset of the organization. Here HRMS measures the effectiveness of the turnover, new joinees, management, benefit cost, etc.
8. Tracking the Recruitment Data
Mostly all the HRMS system includes recruitment tracking data like applicants and resume management.
Process of HRMS Software: From Day One

1. Applicant Tracking System (ATS)
Applicant tracking system automates and enhances your recruitment process. Starting from receiving a candidate's database to hiring them. ATS provides you a streamline process to store the candidates details, job opening list and interview schedules. Through ATS you can create a Visual Pipeline that manages the recruitment workflow and send the auto email to each candidate.
2. Employee Onboarding
After recruiting the right candidate, HR needs to provide all the essential details of the company to the new joinee. Employee Onboarding is the process from which new employees get familiar with the company and about the work culture of the company. Employee onboarding is the golden opportunity for the company to make them feel like family.
3. Employees Engagement
It is the process to improve the method of employees nature for productive work. Here the role of HR is to fully fill every requirement of employees and seek out all the issues. Employees and organization goals should walk on the same path. It is the responsibility of HR to take effective measures like team-building, appraisal, performance management, etc. This is adapted to improve employee engagement.
4. Employees Time Management
The role of HR includes to track the employees time and attendance spent on a particular day on a particular project is mandatory for all round productivity and growth. Human Resource Management System provides you the biometric integration of storing data to the centralized server. Later it gives you an option of Timesheet wherein your employee can enter their daily task and project work.
5. Leave Management
Human Resource Management System helps you to formulate company's leave & travel management policy with employee benefits like leave, reimbursement, etc. with an approval workflow design. With this system your managers can directly approve from the application without any HR involvement.
6. Watch on Performance
Employees performance is the growth of a company's future. It needs more attention for achieving goals and missions. The software HRMS helps the organization to track the performance of employees by taking various measures like KPI,KRA,etc. This also maintains employees goals and tasks. With Human Resource Software HR can also track which employees need more training and who need promotion.
7. Training & Development
Continues watch on employees activity will help you to decide if your employees need any further training to upgrade his/her skill. With the Human Resource Management System it becomes easy for the HR to distribute & maintain schedules for training & development.
8. Payroll Management
This is the thing where HR gets an error if done manually. HRMS creates a platform that helps HR to do error free and efficient way of payment calculations. With a single click HR has to complete all the required data that generates your monthly salary. From all this Human Resource Management System calculates payroll that includes deductions, incentives, tax exemptions etc.
9. Management System Information (MIS) Reports
A MIS report is generated for the HR department to store all the strategic functions for further planning and reporting which is mandatory in any organization. HR can also mark schedule time before which you must generate a report without remembering its date.
10. Offboarding
The one who comes will leave one day. The same thing applies here when any employee is resigning, HR needs to perform a final settlement process. Human Resource Management Software helps you to generate a resignation letter. Before employees leave the office HR must inform the person to return the assets given to them from the company and also complete his/her payroll and earned incentives also inform them about the retirement benefit. Human Resource Management Software will automatically generate the new vacancy in the system with every exit of the employees.

Wrapping up
The goal of your business and the goal of the employee should sync together in the company process. The new tech Human Resource Management Software came in the market to fix goals and optimize both wheels productivity.
OneClick is here to integrate modern tech HRMS for your business growth & to excel in your employees performance to meet the need of time & technology. We have a vast experience team you can connect with directly.