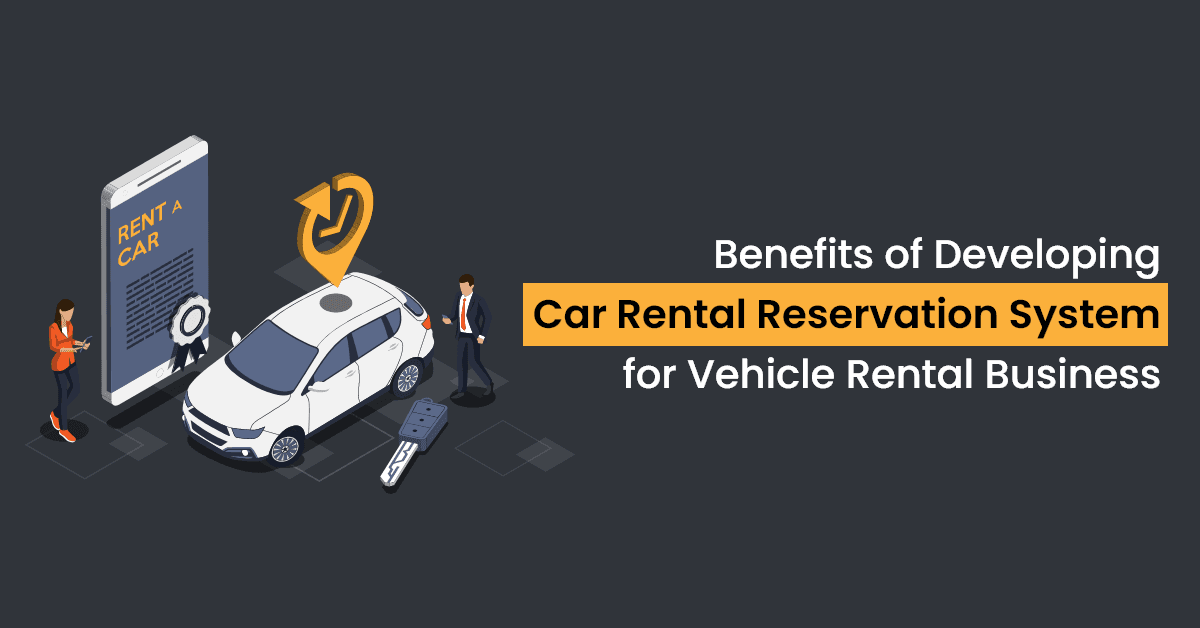 Overview of Car Rental Reservation System
Many people take for granted the convenience of renting a car, especially during a pandemic when isolation is a top goal.
Customers desire convenient and prompt service, yet automobile rentals might be slow at times.
Vehicle pick-ups are delayed around every third occasion.
Car rental businesses can't fail to satisfy their consumers, given the fierce competition in this industry.
Car Rental Reservation System is a web-based car reservation system for car rental companies.
This technology allows the company to make its services available to the general public via the internet while also keeping track of its performance.
The world has evolved into a place of rapid technological development, with everything done physically being converted into a computerized form.
People's activities are now being replaced by work done by computerized systems.
One of these is the primary goal of this project, which is the Car Rental Reservation System.
People used to rent cars for personal reasons through a system that existed in previous years.

Car rental is essential to many people's plans to travel or move from one location to another for the business, tour, and visit, or holidays; for these reasons, car rental is very useful.
A Car Rental Reservation System is required if you wish to take online reservations and manage your fleet efficiently.
In this blog, we'll go through the advantages of the car rental reservation system for your business.
Benefits of Car Rental Reservation System
Easy to Customization
The key features of the car rental booking software can be easily adapted to the requirements of your corporate website.
Our development team is constantly evaluating customer requirements in order to provide reservation software tailored to specific car rental companies.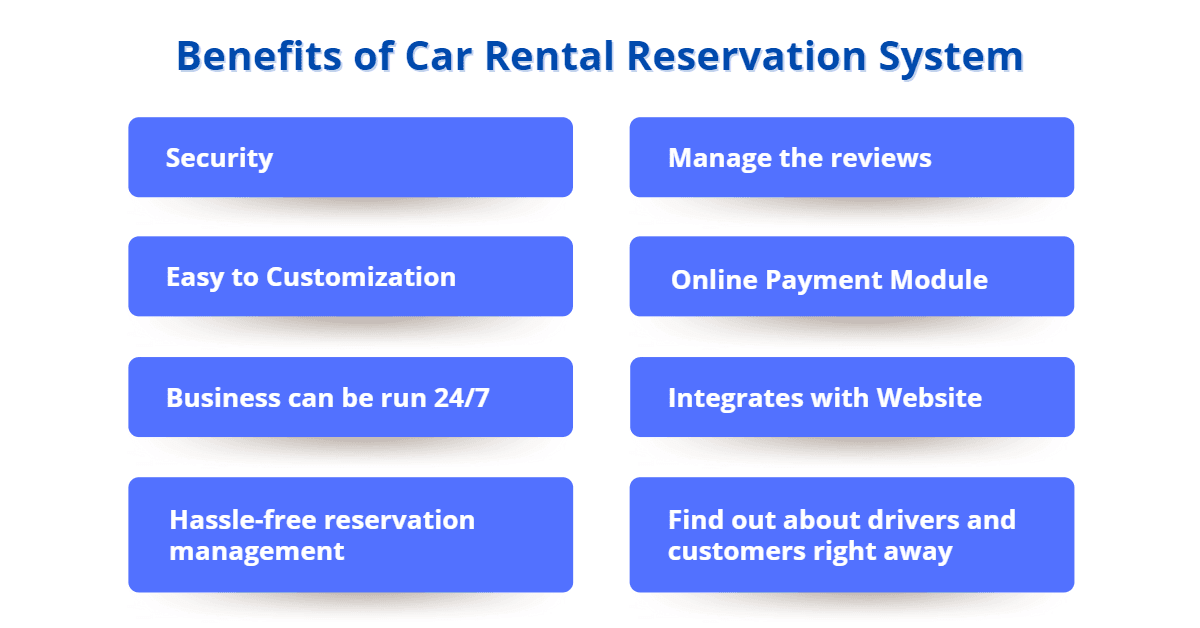 Security
While your car rental reservation system can be set up to take a number of different payment methods, security is paramount.
The last thing people want when booking a car on your website is to become a victim of online fraud.
This might have a major impact on the reputation of your organization.
Many automobile rental enterprises reduce this danger by providing security from start to finish for their online payment system.
Customer payments and online transactions are ensured through working with a recognized payment gateway service provider in a safe environment.
Security checks for various payment modes, such as credit or debit cards, online wallets, direct bank transfers, and so on, can be automated for your web-based car reservation system.
Manage the Reviews
Owners can view and manage all customer reviews given to the concerned car owners via the car rental reservation system, and vice versa.
A two-way review system encourages customers and drivers to trust the platform and each other to interact effectively.
Integrates with Your Website
"OneClick" is compatible with all major CMSs and web page editors, allowing it to seamlessly integrate into your company's website.
It can be set to advertise your services and allow customers to book them directly from your website, whether you offer vehicle rental or other rental services.
Why wait longer to give your business a competitive advantage?
Hassle-Free Reservation Management
If you have a large fleet of vehicles and a broad customer base, controlling them might be difficult.
An online car rental reservation system can help you manage multiple bookings, move between bookings, track different rental statuses, bill distinct bookings precisely, contact specific customers, and much more.
Flexibility, ease, and quick turnarounds are all advantages of using a web-based car reservation system. For your web-based car booking system, you can additionally include emergency workarounds for extreme cases.
Find out About Drivers and Customers Right Away
The car rental booking software allows business owners to quickly find a specific driver or customer information.
They also have the power to delete a user's account and remove them from the platform.
Online Payment Module
You may want to take your business a step further while using a car reservation system.
If you want to offer your customers the option of booking and paying for their car rental service in advance, you can do so by utilizing our online payment module.
With this module, customers can pay their rent with Google Pay, PayPal, and so on, and you are all set.
Business can be run 24/7
Being cutting-edge has the benefit of making your company available to customers 24 hours a day, seven days a week.
During non-working hours or high-traffic times on the web, you can have a Chatbot or digital assistant reply to consumer concerns.

Why OneClick is Top Car Rental Reservation System Development Company?
OneClick is a leading travel technology company that offers a customized car rental reservation system for global agents, drivers, car operators, car rental agencies, and car rental companies.
The software is a complete online car rental booking system that allows you to easily manage online car reservations and generate secure reports.
OneClick develops car rental reservation systems that serve clients all over the world with the best online car rental booking system through travel portals and the best car rental booking service.
OneClick has developed solutions for transportation firms before, and we'd be delighted to work on a project for your start-up or established company.
Just give us more information about your requirements and let's get something spectacular together!