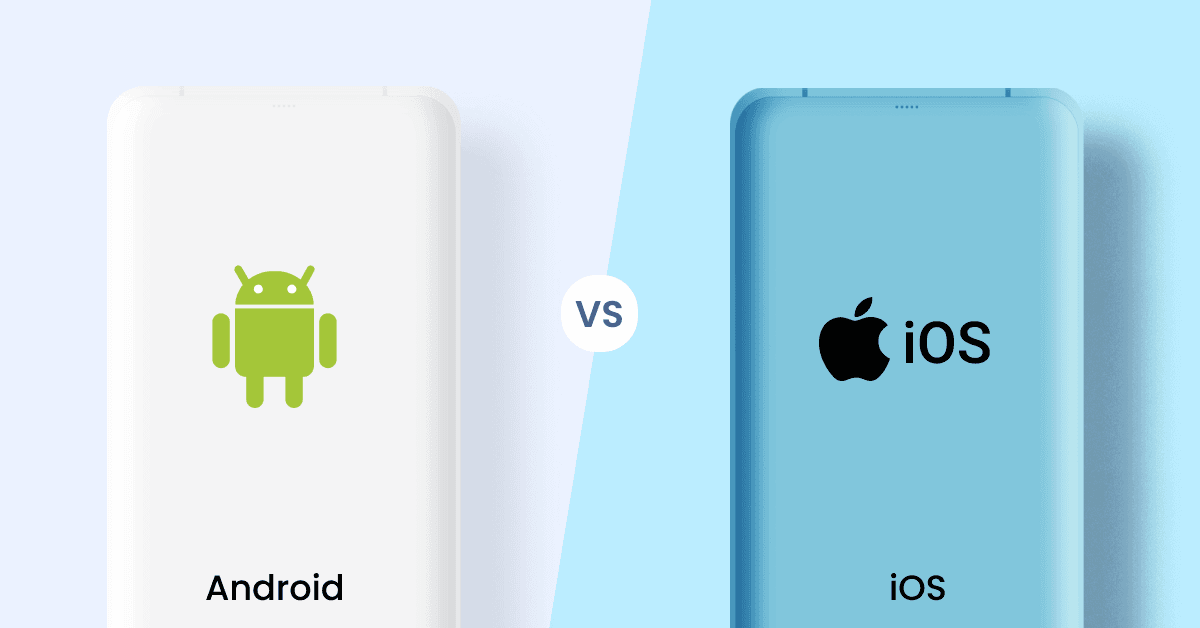 Overview of Android vs iOS
Android and iOS are the two technologies riding on the different boats. And to choose one of them is the toughest part for your startup business. Android vs iOS are the leading operating systems that connect software and hardware components of mobile devices.
"Every choice you make is creating your business. Choose Wisely"
The choice you will make from Android vs iOS will affect your project and ultimately your business. Choose carefully between the both switching from iOS to Android and vice versa will require you to buy apps in Google Play and Apple App Store. Android Operating System is the commonly used OS and it is used in many different phone manufacturers. iOS Operating System is used only in Apple devices.
Research shows that Android has maintained its position in the leading mobile OS globally in 2021. Android has covered 73% market share and iOS jointly possess over 99% of the global market share.
Before you dive into detail let us compare both Android vs iOS for better clarity.
Particulars
Android
iOS
Launched Date

23

rd

September, 2008

29

th

July, 2007

Developer's

Google and Open Handset Alliance

Apple Inc.

Latest Version

Android 11

iOS 14.1

Customization

Various things can change.

Limitation in changes unless jailbroken.

FTP –File Transfer Protocol

Much simpler and easier compared to iOS. With the help of USB port android files can be transferred to the desktop.

Tough as media files can be transferred using iTunes desktop app.

Mapping Service

Google Maps by default

Apple Maps by default. Google maps can be available via separate app downloads.

Languages

100+ languages

40 languages

Video Chat

Google Meet and any third-party app

FaceTime and any third-party app

Artificial Intelligence Assistant

Google Assistant

Siri

Availability

Smartphones and Tablets.

iPod, iPhone, iPad, Apple Watch, Apple TV

Open Source

Kernel (Based on Linux), UI, and other standard apps

The iOS kernel is not open source but is based on the open-source Darwin OS.

Security

Every month security updates are available.

Security threats are, reason iOS is locked and downloading apps out of the apple app store is complicated.
Here is the Unique Feature of Android and iOS
Features of Android

1. Customized Home Screen
Android and iOS provide you with a home screen which is fully customized. The Android operating system provides you a ton of flexibility in adding widgets. Both Android and iOS also support different apps for taking over the management of the home screen.
2. Near Field Communication
NFC is short-range wireless connectivity. It is also supported by several Android devices. The only aim of NFC is to target the payment option quickly rather than carrying cash and cards.
3. Specious Storage
Most android phones come with extra space. The android operating system gives you the internal space for storage and adds on to that you can also add a microSD card to expand the space up to 1TB.
4. More than 1 User with Multiple Guest Accounts
iOS is a single-user operating system whereas Android provides you a multiple-user operating system. This is designed especially for sharing phones with the kids or any of your family members.
Features of iOS

1. iMessage
This is the most important feature of iOS. Because iMessage handles both SMS messages as well as Apple-support chat. It is integrated with Apple Pay for sending and receiving money via iMessage which is extremely easy.
2. WiFi Passwords
iOS sharing Wifi is an easy task, both the iOS users just need to hold the screen while in Android one needs to share the password and on the hotspot otherwise you can not connect to another Android device.
3. Disappearing Apps
The iOS Operating System works very smart. iOS can easily track the app that you do not use and also removes those apps from your device. Data of the removed apps is stored so when you reinstalled it you can use those stored data.
4. AirDrop
AirDrop is similar to Bluetooth, iOS AirDrops helps you to share images, files, vidoes, and link from one iPhone device to another.
5. Designing
Android and iOS both have a major difference from the designing part. Android and iOS approach their design as historical design and app developers also mean that. Let us check some examples:
Buttons:

Android buttons have borders, it is also monochromatic. The standard iOS 7 is designed with a borderless button. It looks clean and beautiful at the same time and Apple doesn't change it even at the release of iOS 13.

Navigation Bar:

A navigation bar appears at the top of the screen in iOS. And in Android the navigation bar has various action buttons.

Intents:

Intents are there to check the availability of flexibility for integrating applications with each other.

Security and Privacy of Android and iOS
1. Security
If you are looking for the 100% security of your smartphone then there is only one choice i.e. iOS. Once Google's Android Developers also mentioned that "We cannot give guarantee that android security is designed with safety"
One of the studies reveals that 97% of all frauds, viruses, worms, etc. are from Android whereas the study added that 0% attacked the iPhone.
2. Privacy
Privacy is the priority of the personal and professional data, so if you are looking for the high tide of privacy then go for iOS. Developers have developed Android privacy for collecting user data and later on selling those data to advertisers. For advertising purposes Google needs that access to your data.
Apple doesn't believe in any advertising business and it doesn't need your personal data to sell your product and make money. Apple regularly updates its functionality that uses personal or private data for your iPhone or any of the Apple devices.
Battle of Speed of Android vs iOS
To know the actual speed of Android and iOS there are some parameters from which you will know the exact difference between the two. Here are those parameters:
1. Mobile Browser
As per the research, Android Chrome browser is faster than iPhone's iOS. It is faster than 52%. The optimized JavaScript does not make much difference in both Operating Systems.
2. iPhone 4.3 vs Android 2.3
Android 2.3 is faster than iPhone 4.3 where the median load time of Android is 2.144 seconds compared to iPhone's median time is 3.254 seconds.
3. Mobile sites vs Regular sites
Once there was a test conducted on some 1000 sites from which 175 sites were designed for mobile. A user always looks for the mobile sites and its browsing experience before heading to choose between Android and iOS.
While researching it is found that on iPhone mobile sites were 66% faster and on Android, the mobile sites were 8% faster.
4. Cloud-based Operating System
When we are talking about Cloud Services Apple is way behind from the cloud storage of Google. It is a fact that with iCloud you will not get much space compared to Google's cloud service.
iCloud provides 5GB additional space while Google Cloud provides 15GB additional space.
All in one, one in all for cloud integration, Android beats iOS.
Imagination with Images
Cameras might be not as important and maybe just as important. When it comes to photo processing apps operating systems are more focused. In any of the systems, you can find excellent camera options.
Both Operating Systems have impressive photo enhancement software to make your photo look even better. One similar feature in both the OSes are both add background blur to portrait, also slow motion, low light and time-lapse shooting.
Android offers some capabilities which you will not get in iOS i.e. It allows you to take a photosphere at a 360-degree angle and its Google Lens allows you to search nearby shopping areas, text and scan documents.
Video Chat
Here we can say Smartphone users speak "Video Chat" and iPhone users say "FaceTime". Both of the Operating System allows users to chat over 4G or Wi-Fi.
Voice Commands
Both Operating Systems have their own identity. Android offers you the Google Assistant, it allows you to track your calendar and also gives you verbal reminders you have set.
Whereas iOS uses Siri, a voice-based virtual assistant it understands both dictation and spoken commands. Siri includes various features like reading, sports, making reservations at the restaurants, searching for movie time at the theatre and so on.
Choosing Between iOS and Android
Every coin has two sides. Here also iOS and Android have two sides i.e. Pros and Cons.
Let us dive into iOS Pros and Cons:
Giant Application Ecosystem:

This is a different advantage for tablet apps because smartphones popular applications are usually available for both sides.

iOS has their own apps:

iOS applications are different from Android such as Passbook, FaceTime, Mobile Payments Applications all those applications are available on 3G, 4G and 5G.

Software Upgrades:

The iOS operating system has a facility of software upgrades to all the devices that are capable of handling new software. This means that devices get current features.
Android Pros and Cons:
Hardware Selection:

Numerous Android devices are available at a various price, different hardware capabilities, various types of colours, screen size and its features.

Customizable with user Experience:

The biggest advantage of Android is its home screen can be customized by the user itself. Like which icon or widgets you want to keep on your home screen it's totally up to you.

Wrapping Up
This is a very close race with various ties and wins. Both are on top but with a slight cut off iOS has the most selling ratio over the globe.
We provide you with both operating systems. But which operating system will work for you is tough to figure out by yourself. As we have experts in Android and iOS development you can connect with them directly and can figure out the best for your profitable business.