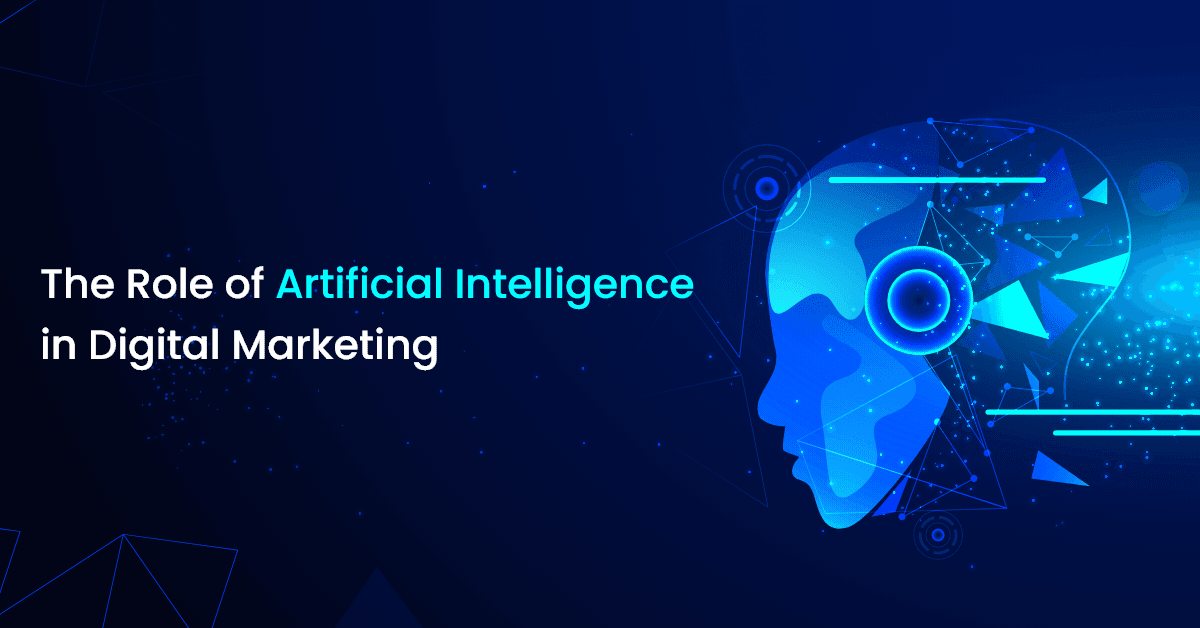 AI plays a significant role in every industry. According to the survey by Salesforce, nearly 51% of the marketers are already using AI in the Digital Marketing industry.
Nowadays, every small and large scale is incorporating their businesses with Digital Marketing strategies. This resulted in the gain in popularity of Artificial Intelligence. So we can say that AI and Digital Marketing walk-in hand-to-hand.
What is Artificial Intelligence?
Artificial Intelligence is a technology which has the ability to analyze data and perform technical tasks. AI works and thinks like a human, it takes relevant decisions in a fraction of time and makes the work time and planning execution quicker and simpler.
There are people who say that AI will replace humans. But that is not true. AI is just helping out humans and streamlining the process. Once you will set the requirements and give the necessary inputs AI will start working and the time-consuming will be less. And this also ensures that humans do not have much burden with any technical work.
Reasons Artificial Intelligence is Gaining Popularity
It is more work-oriented, more accurate accounts, less errors and resulting in work efficiency.

AI gives valuable insights and analysis deeper than humans.

AI has an advanced algorithm, with that it can easily enhance various gadgets in it i.e. GPS trackers, voice assistants, and much more.

AI can easily implement the new inputs with its advanced algorithms.

Artificial Intelligence is the future of digital marketing.

Benefits of AI in Digital Marketing Era
Artificial Intelligence increases the work efficiency of your business through its advanced automation techniques which results in more productive work. Here are a few benefits of using AI in Digital Marketing.
1. Increase in ROI
By adopting Artificial Intelligence in Digital Marketing raises the level of productivity in work. As the processes are automated and completely based on the given instructions. Artificial Intelligence is capable of understanding the content performed and helps with content creation too. With AI the right content reaches the right audience and ultimately it increases the ROI.
Marketing researchers showed the result in their survey, they started a survey for the businesses that have adopted AI in their marketing strategies and they found:
Closing Rate 59%

Increased Revenue 58%

Conversions 52%

Traffic and Engagement 54%
These numbers show the importance of Artificial Intelligence in Digital Marketing Strategies in 2023.
2. Add to User Experience
Artificial Intelligence is the concept of Machine Learning. With its advanced algorithms AI is capable of studying the content pattern, FAQs pattern, and so on to keep the audience integrated and engaged. Humans have a tendency where they will get the best user experience they will go for that product or service.
Let us take some examples:
On YouTube panel – Suggestion Tab.

eCommerce Platforms

– Recommendation of "People also buy".

Google Search Engine – Recommendation of "People also ask".
How Artificial Intelligence is Transforming Digital Marketing?
AI has transformed the digital world, from Google's Rank Engine to Voice Search in Amazon, Audio clips in Website. Artificial Intelligence has taken over the identity of human work in marketing trends as it has a greater knowledge of prediction and data analysis. Here are a few ways AI has changed Digital Marketing.
1. Recognize and Analyze AI
AI technology & huge data technology are combined when they increase the collection of user experience from various platforms, also gain insights for targeted audiences and identify user's needs so that companies can justify the appropriate marketing strategy.
The key to analyze and recognize is the behavioural source of Artificial Intelligence. Example: the kind of product someone purchases, pages they browse, tools they use and so on.
Marketers can easily analyze the potential customer's needs to collect all the informative data and adapt the AI used in order to boost the sales.
2. Combination of AR/VR
Combinations of technologies are booming the market. When Artificial Intelligence meets AR and VR it brings a new consumption experience.
There are various companies which have implemented both the technologies in the same product or services and they have had immense success.
Let us take one example of Coca-Cola, once the company has decided to combine Artificial Intelligence and Augmented Reality with the computer graphics over a user's real-world by using glasses or headset with a number of bottling plants.
Ways to Implement AI in Digital Marketing

1. AI Chatbots
AI Chatbots respond to multiple customer queries at once. The whole automated process is personalized; it replies to customers with their name and their queries.
It enables businesses to go beyond the traditional method and follow a one-to-one form of customer service. Chatbots never look for rest, it works 24*7 and that too in real-time. Humans work in office hours and they prioritize their time whereas Chatbot prioritizes customer service and experience.
AI Chatbots are developed in all the languages customers can choose their own language for further communication.
2. Email Marketing
With the power of AI brands are communicating through emails to reach their targeted audience. Emails can be customized on customer based and also on customer preferences.
AI helps marketers to analyze their email marketing campaigns and if needed suggest them the better-personalized content. Ultimately AI assists marketers to reach up to their targeted audience at the right time.
3. AI-Powered Digital Advertising
Digital advertising is the modern way of marketing. It is used in all the digital platforms like Facebook, Instagram, LinkedIn and Twitter in order to provide the best experience. Before approving your advertisement the channels analyze your gender, age, interest, demographics and other related aspects to approve your digital ads.
EMarketer has conducted one research that shows, worldwide around $237.29 was spent on digital advertising in the year 2018 and this will increase in the future.
4. Content Overruled
All thanks to Artificial Intelligence. AI helps you to discover which content is more effective, according to the behaviour of the targeted audience. This helps marketers to analyze what type of content works best and allow them to create or share the right form of content.
Nowadays, audio web content features are developed so there is no need of developing expensive videos and any other form of content. AI is used in curating content and in creating the content too.

Wrapping up
AI is not here to take a job, but it is there to streamline the process and it helps advertisers and creators to maximize their creative and strategic potential. Whether you are a start-up company or MNC, adopt the current trend of Artificial Intelligence in your Marketing strategies.
If you are already looking for Artificial Intelligence Developers then we are here to guide and give you the best digital marketing service. You can connect with our experts or else you can quote us. We will connect with you directly.