Ecommerce
Why Shopify is the Best eCommerce Platform for your Business?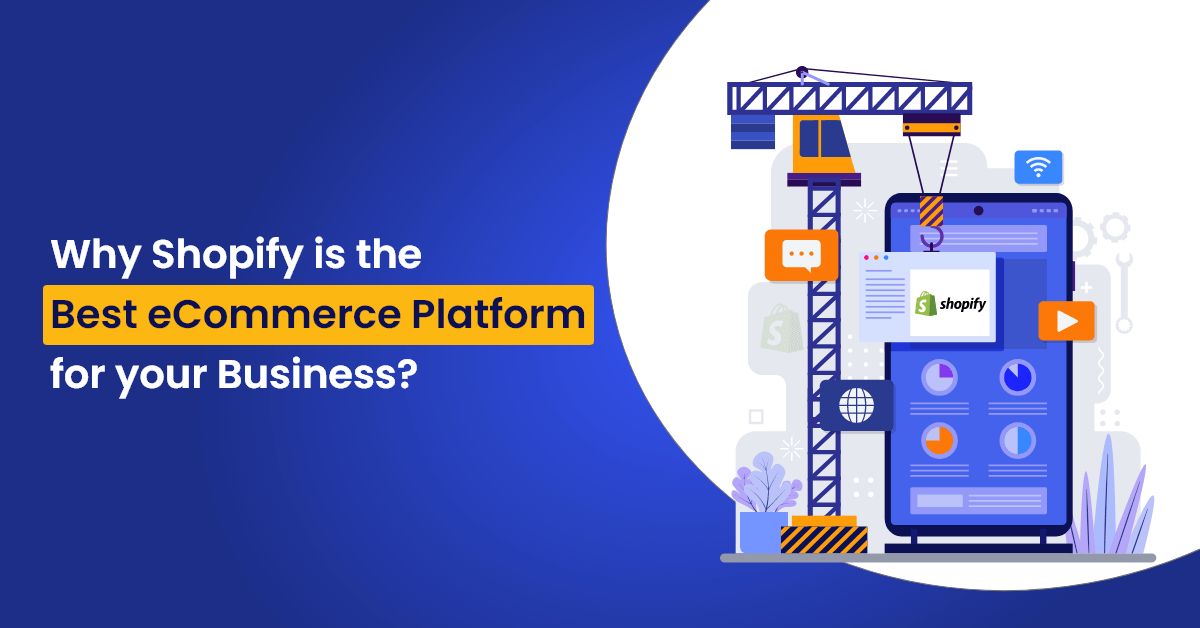 What is a Shopify eCommerce Platform?
Shopify is a cloud-based SaaS (software as a service) shopping cart eCommerce platform which has various tools, features, Payment Gateway, SEO Features, and APIs that are used to design and develop online stores. It gives you access to a pre-built admin panel where you can store data, add products, and sell your products.
Pros & Cons of Shopify eCommerce Platform
Pros
This tool has received the highest amount of features and customer satisfaction as millions of people are using the Shopify tool.

An Excellent inventory system to help you manage your own store efficiently and effectively.

You can sell your products across multiple channels, like Instagram, eBay, Amazon, and Facebook.
Cons
This is the platform to enforce you for its own transaction fee unless you use Shopify Payments.

Content doesn't automatically reformat when you switch themes.

Mobile Applications can fastly add up as you add extra features to your store.

Advantages of Shopify eCommerce Platform for Your Business
1. Easy To Setup And Use
Shopify is a very easy platform, it is easy to set it up and use. It is the best alternative for those who want a complete solution, with no dependency related to the development and hosting of the online store. The platform itself offers the software development features and hosting that are needed for launching the website. The admin interface is efficient and user-friendly while the user interface is compelling too.
2. Visually Appealing Online Store
The platform bundles up a variety of unique and fancy templates that facilitate the creation of unique and visually appealing online stores. It comes with a bare minimum theme but designers and developers can work on it to create a store with outstanding UI and exceptional UX.
3. App Integrations
The platform boasts very good customization abilities as it can be easily integrated with apps. This means that the seller can easily enhance some of the extra features and add new functionalities to his store and enhance its value.
4. Security and Reliability
Another benefit of Shopify is the high security and reliability it offers. Security is essential for online business because it deals with some secret personal and financial information of the consumers. Similarly, it must always be available online.
5. Excellent Loading Speed
Being a globally hosted solution provider, Shopify has a reliable infrastructure along with optimized hardware and software. This gives the platform a fast loading speed and the e-commerce made on it loads in a minimum of seconds.
6. Powerful Marketing Tools
As a complete platform, Shopify has marketing functionality too. The basic version offers SEO features along with advanced marketplace analytics. In addition to these, it allows us to do more marketing tools such as custom gift cards, discount coupons, store statistics, targeted email broadcasting, etc.
7. Mobile Responsiveness
Mobile responsiveness is the key to the success of an online store because the number of mobile buyers is increasing by the day. The Shopify themes are mobile responsive, which means that it can be used to be available in mobile-optimized platforms and stores. There are even some free iOS and Android applications that can be used to manage the store. Transform your Shopify store into a powerful cross-platform app with our expert eCommerce development services
8. Outstanding Customer Support
By choosing this online eCommerce platform, online sellers can avail of reliable, 24X7 customer support via email, and on live chat, or phone call to resolve any queries and keep the store running flawlessly at all times.
9. Easy Payment
A big and time-consuming challenge for online retailers is to integrate a secure and reliable payment gateway. The payment service we can have should allow buyers to pay using different payment options. Shopify makes it very simple for store owners to set up the payment gateway. The platform supports the Stripe payment option, giving buyers the right to make transactions without paying any extra transaction fees.
10. SEO Friendly
Once your store is set up and it is live, it is important to make it search engine friendly. SEO is important for ensuring the store is easily approachable by buyers searching for your products. Shopify improves the ability to design and modify landing pages for the campaigns, which is a big distinguishing factor from other eCommerce stores & platforms. It also supports SEO parameters like custom title tags and meta tags.
How to Build an eCommerce Website with Shopify?
Shopify eCommerce development is indeed very easy to set up. Here we mentioned some of the steps you can build your store by following them-
Signup with Shopify

Choose your theme

Add essential features that are crucial and you want for your store.

Add your products to your store

Setup Payment Gateway

And start selling your products.
Note:– Shopify offers 14 days free trial. Thus, you can use the free trial and explore & know more about Shopify. If you want to build your eCommerce store and want to sell your product online, then Shopify is the best option to fulfill all your online business needs with less effort. 

Conclusion
Shopify has emerged as one of the best eCommerce website & store builder tools which sellers can have to build their online store. If you are planning to build your eCommerce online store, it is the right time to invest in Shopify eCommerce Platform.
Shopify Development involves designing, developing and maintaining e-commerce websites using Shopify's platform.
Share your requirements and features with us and get the perfect solution for business. Shopify's most powerful business creator helps businesses to have their own online store. Contact us today to bring your business online.