Ecommerce
6 Quick Ways to Optimize eCommerce Website or Apps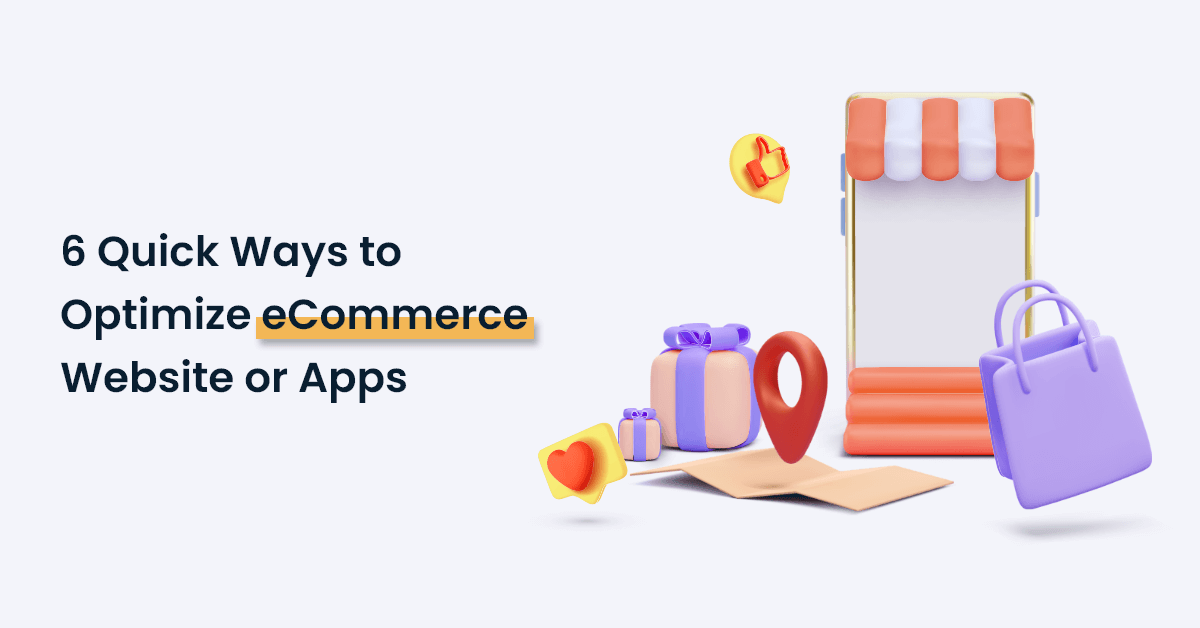 Introduction of eCommerce Website
eCommerce has undoubtedly become a must for any business selling goods and services, whether physical or online. And also, for web entrepreneurs who have an interest in the trade. It is an avenue that offers incredible business opportunities, is very flexible, and whose development potential is enormous.
The click-and-mortar industry has replaced brick-and-mortar to offer customers a more personalized shopping experience from the comfort of their homes. A Clutch survey indicated that 68% of customers prefer eCommerce websites for their exclusive offers. Another 64% prefer the flexibility of buying products at any time of the day.
It is also obvious that mobile browsing is at an all-time high and hence if you are online, but not mobile-friendly, you are losing out on a lot of business. Just having a website and app will not suffice.
You need a robust and updated online presence. In this blog, we have highlighted ways to Optimize eCommerce Website and apps help you stay ahead of the competition.

Top 6 Ways to Optimize eCommerce Website or Apps
1. The Importance of Responsive Design
You may have heard of Google's ranking algorithms, which are intended to improve the relevance of search results to users. The latest algorithms implemented tend to favor sites whose design is responsive.
In other words, sites whose display adapts to different screens such as mobiles and tablets will be better ranked compared to sites that adapt only to computer screens.
In addition to search engines, adaptability is important for users who want an ergonomic and efficient site to make their purchases. According to a study, 40% of customers went to a competitive site after a bad experience on a mobile site.
This is all the more true for eCommerce websites because the user must be able to view the products, fill out forms and make purchases without encountering any pitfalls.
2. Optimization of Images and Description of Products
On an eCommerce website, customers must have access to quality images and a detailed description of the products. It is advisable to provide high-resolution photos to allow the user to zoom in on the products offered. Be sure to provide a complete description for each product, as this will reassure the buyer and support him in his choice.
The importance of the description does not only concern the customer, but also the search engines. By optimizing your texts for SEO (Search Engine Optimization), the pages of your site will be more accessible and readable for search engines. As a result, you will improve your natural referencing as well as the visibility of your website.
3. The Performance of Search Functions
Users must be able to easily find the products that interest them. For this, it is necessary to integrate categories and sub-categories, in addition to allowing different searches (by increasing/decreasing price, by brand, or by genre).
A word of advice is to invest in a tolerant search engine that accepts misspelled words, as there is nothing more frustrating than a search that ends with "no results matching your search".
The success of an eCommerce website is strongly linked to its browsing speed. Studies have shown that 57% of Internet users leave a site if it takes more than 3 seconds to appear. Among them, 80% say that they will not return to the site after this first failed experience. Hence the importance of the display speed is intimately linked to the user experience.
4. The Sharing Function on Social Media
With the advent of social networks, it happens that Internet users advertise you for free and this is very beneficial for your business.
For this reason, sharing buttons for different social media must be integrated in front of each product.
Thanks to this function, it will be all the easier for you to share your products via your corporate Facebook page or Instagram for example.
Social media is a simple and effective way to give visibility to your products and increase traffic to your eCommerce website.
5. Recovery of Abandoned Shopping Carts
67.45% of online shopping carts are abandoned before the customer finalizes their order.
How to reduce this percentage? Statistics show that you should not hesitate to send a reminder email regarding these pending baskets.
In fact, 24% of customers who abandoned a purchase reveal that the "website has crashed" and 15% of them indicate that the "timeout has expired", that is as many customers as you can recover.
6. Implementation of a Live Chat Function
Who has never encountered a doubt about a product online, without having the time to call customer service?
Fast and discreet, the Live Chat function solves this problem, by providing immediate answers to users' questions.
This also makes it possible to unclog the telephone lines to reserve them for much more complex questions.

Are You Looking for a Specialist for an eCommerce Website?
eCommerce website and mobile app development are only the tip of the iceberg when you start your business. There are the above points to be considered too. This is why you don't just need a software development company.
You need a team with expertise in eCommerce website development. With OneClick IT Consultancy, we offer full-stack solutions for all eCommerce businesses. If you have just started your online journey, we will help you reach marketplaces like Amazon, Flipkart, and others with your products.
Our team has helped several small businesses to progress from marketplace sellers to attracting loyal customers to their own websites. For existing eCommerce businesses, we help you boost lead generation, manage the entire support function, Optimize eCommerce Website, and offer end-to-end digital marketing services along with website and app development.
No matter what stage you are at, of your online retailer journey. OneClick is the ladder for your success. Connect with us today to learn more about how you can scale your online eCommerce business.