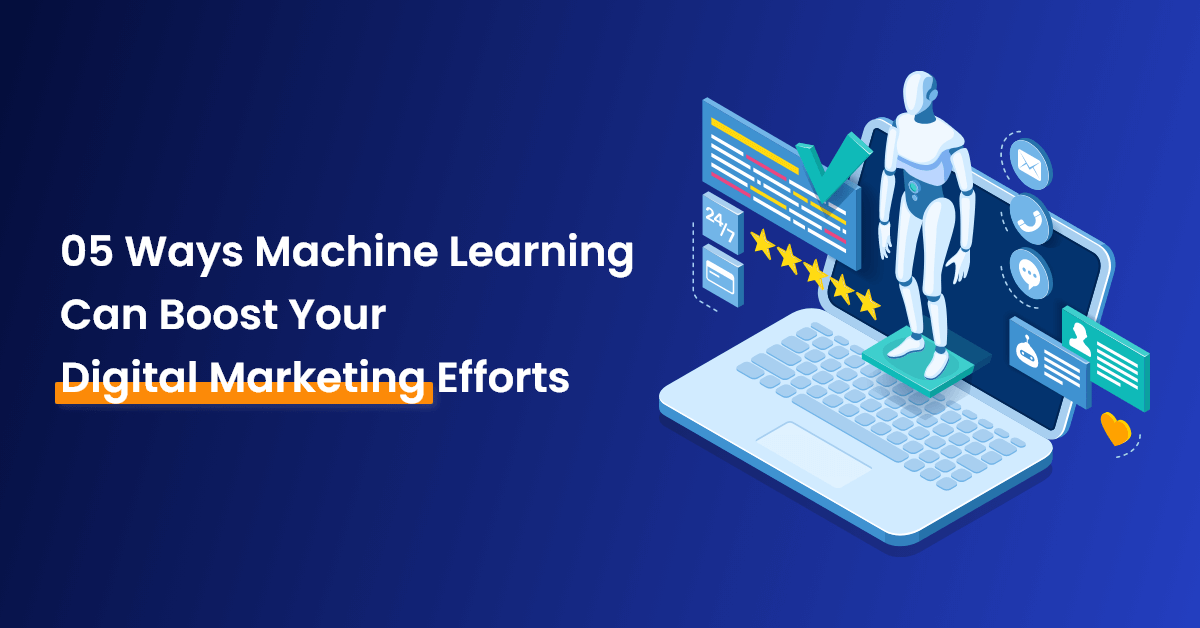 What is Machine Learning
Machine learning is the study of algorithms that can learn from data. Machine learning tools are typically used to predict outcomes, and they use statistical techniques and models to make their predictions.
Machine learning can be used in a variety of applications, including software development, robotics, natural language processing, and data analysis. In general, machine learning is used to make predictions based on data sets that have been previously collected. A machine learning algorithm analyzes these data sets to identify patterns and relationships between variables in order to make inferences about future events or behaviors. The goal of machine learning is often to develop systems that can learn from previous experiences so they can improve their performance over time.
Overview of Machine Learning in Digital Marketing
Digital marketing is the modern era is first and foremost about data. With the huge amount of data available, it is increasingly common to see marketing become the top priority for many businesses because it is directly linked to increasing revenue. Businesses these days need to understand consumer behavior to optimize marketing campaigns. In this article, we'll look at how machine learning can help businesses improve and strengthen their marketing efforts.
Machine Learning Under the Microscope
Also called statistical learning, machine learning is part of the race for useful information, which leads to rationalized decision-making. Companies that can leverage Big Data can collect and store an impressive amount of information on their customers and, more broadly, on the behavior of their target.
However, this information remains raw and not very usable, providing only vague information on trends. The solution then consists in capitalizing on software and applications that mobilize artificial intelligence to synthesize millions of stored data and then "make them speak" by machine learning. Thanks to more or less complex and more or less personalized algorithms.

Here's How Machine Learning Boosts Your Digital Marketing Efforts
1. Improve Customer Experience
Studies show that 57% of top executives believe this is the area where machine learning can be most beneficial. Machine learning can improve the customer's buying journey in a number of ways, such as:
Guide the buying process by making personalized product recommendations to help the customer find what they want.
Make sure your online store never runs out of stock or provides alternatives if stock is low
Provide customers with 24-hour support service
The growing popularity of drop shipping over the past decade has given way to several companies to optimize the customer experience. This optimization is essentially done through artificial intelligence technologies.
2. Chatbot, The Machine Learning That Maintains Customer Relationships
Chatbots are present almost everywhere today: Messenger, Slack, Apple Siri, website. A chatbot is a virtual robot present in a messaging application. Because they are able to hold a conversation, companies have integrated them into their interface. One can communicate with them by text message, voice, or both.
The interest of companies in chatbots is their autonomy and their instant reaction. In fact, they do not need to be guided by a human being and are available at all times. Thus, they can answer questions from potential customers 24 hours a day, 7 days a week.
Plus, with their natural language processing ability, it's hard to realize that you're not talking to a human. Besides, if the need arises, a human can always resume the conversation.
Individual entrepreneurs also had the opportunity to take advantage of machine learning to create a better customer experience.
Kate Somerville, for example, has paired the Magento e-commerce platform very well with nChannel. They used machine learning to create a personalized shopping experience that responds to real-time data. It boosted traffic, conversion rates, and of course, revenue.
E-commerce giant Amazon is harnessing the power of Machine Learning in Digital Marketing at a pace like no other: 35% of its annual revenue is generated from personalized product recommendations. Amazon Web Services (AWS) gives other companies the power to take advantage of artificial intelligence by leveraging relevant information to tailor their services to their customers' needs. This will allow the company to generate additional income in new innovative markets.
3. Develop More Products and More Services
In the digital age, people have quickly become accustomed to shopping in innovative and rational ways. As a result, their expectations are higher. This gives companies more opportunities to tailor their marketing to niche groups in their industry, or even to their own customer base.
Many companies have already made good progress in this area, developing new products and services based on the findings of machine learning software.
Baidu is developing a service called Deep Voice, which could generate fully synthetic human voices. This software learns from human speakers, altering tone, pitch, and pronunciation to create precise – and weird-imitations.
In terms of marketing, this project may well change the landscape for voice search applications, which are expected to experience tremendous growth in the near future.
4. Content Management
Artificial intelligence and machine learning are often mentioned in the same breath, but there is a significant difference. Machine learning does not try to outsmart and usurp the human intellect. Instead, it focuses on analyzing problems and processes and finding a way to optimize them.
Many marketers usually practice it through A/B testing.
Whether it's email objects, Facebook ad graphics, or an article title, A/B testing allows marketing departments to test various options and collect the results to determine which one connects best with the audience.
This method of using machine learning in marketing is very useful for segmented marketing campaigns. Businesses can use comments to deliver more targeted content, collaborating with machines to optimize content and services.
Probably the best example of this is Google Rank Brain. Its ability to leverage the searcher's intent has made the search engine giant an incredibly efficient service. These search engines are constantly improving the accuracy of their results based on the context of each query.
5. Improve Personalization
People want brands to take care of them. 52% of customers are likely to switch brands if they don't feel that a company is putting enough effort into personalizing its messaging and services.
Amazon's aforementioned success in e-commerce personalization is based on machine learning. They collect a huge amount of data on their customers' behaviors, interests, and shopping habits in order to personalize the online shopping experience.
From emails to product offers, everything is personalized. As well as all the stages of the customer journey. Machine learning indeed helps to create a more human experience. E-commerce personalization is about making customers feel more important, with an experience carefully crafted to meet their specific needs.
This absolutely contributes to loyalty. In fact, customers will trust a brand that gives them the feeling of being heard. Studies indicate that 44% of customers will come back for future purchases after a personalized shopping experience.
Other benefits of Machine Learning in Digital Marketing involve:
More precise segmentation and therefore an even more personalized offer;
A better understanding of the real needs of the client;
An ability to identify significant changes in customer behavior as part of the external diagnosis in strategic marketing;
Optimized use of marketing resources at the start of the new prospect's purchasing journey for better-adapted campaigns;
Better responsiveness to recurring customer searches thanks to visual recognition and correlation enabled by deep learning.

Wrapping Up
Are you interested in the tech adventures of digital marketing services? Is your technical project part of digital business? Discover how you can integrate Machine Learning with it and boosts your business. Connect with our experts who can integrate both Artificial Intelligence and Machine Learning into your project to help you offer a more personalized experience to your clients.