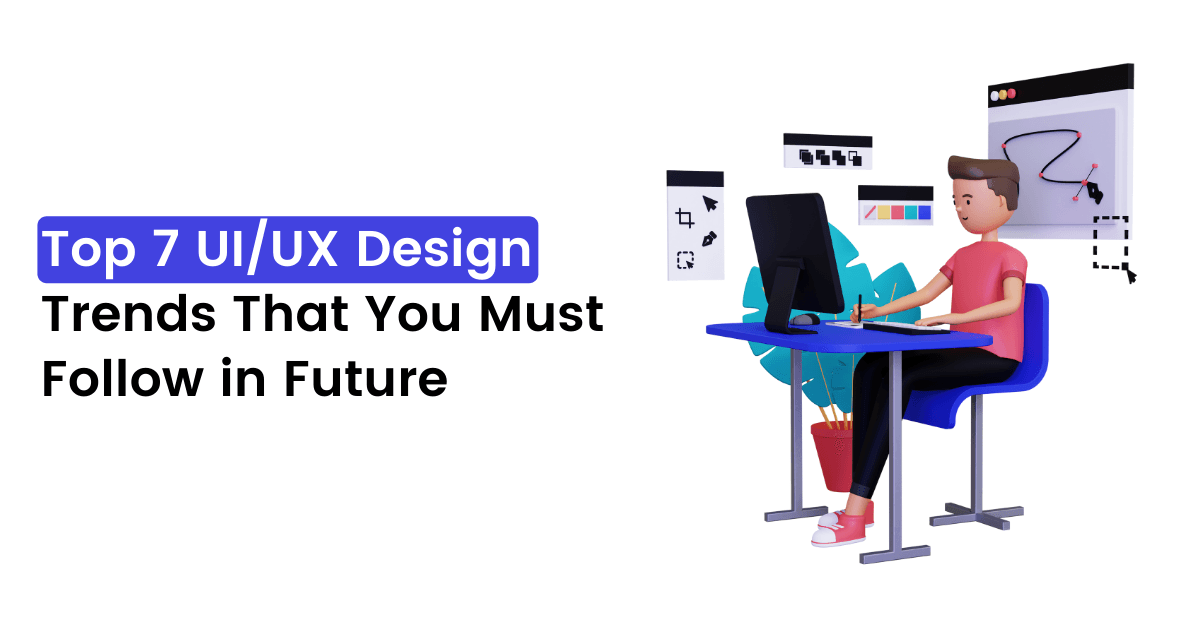 With a mobile-first approach, UI/UX design trends focus on personalization and the use of innovation to enhance user experience. Over the past 10 years, many innovations have become essential parts of our daily mindset. The mobile-first approach to application development has become vital, native features have appeared in web applications, HTML5 has become widespread, not to mention endless new design tools. The importance of UI / UX is unquestionable for a unique user experience that stands the test of time.
First of all, a brief review of our 2023 UI/UX design trends – immersive UX, more detailed assessment of emotions, better collaboration between designers and operational staff, the rise of the Design System, development of the use of tools, or even more. ethical design. These are User Experience Design Trends that have been confirmed and have been lasting for some.

When it comes to UI/UX design trends, could be an exciting year. Keywords are the priority of speed, simple page designs, design mobile-first, and most importantly, artificial intelligence. Promising improvements are expected. Here are the 7 UI/UX trends that we have chosen to share with you!
1. Dynamic Illustrations and Animations
Animation is perhaps the most important feature of mobile app development. It creates an organic experience and guides users through the app, making it a unique and effortless journey. It gives the word navigate its true meaning, as it provides seamless transitions that appear natural to the naked eye.
It's also a great way to implement storytelling. Fortunately for this new decade, we have some powerful devices, and soon with 5G capability, the animated 3D UI will no longer be painful to load.
2. The Tactile Experience
Whether for tablets or smartphones, it will increasingly be necessary to think of content for tactile use. The appearance on iOS of gestural navigation, allows us to glimpse more fluid and interesting navigation possibilities.
This type of navigation makes it possible to offer different layouts, eliminating the idea of ​​a Thumb Zone, an area accessible only for shoots when holding their smartphone. This UI/UX trend will rule in the current year and for many years to come.
3. Personalization
Personalization has been one of the most studied topics in digital marketing for several years. Today, no one wants to be lost in the crowd. Big data and data analysis will guide you to offer tailor-made experiences to your users.
This means going beyond the automatic integration of the first name, birthday wishes, or the weather for the day when connecting to your page. Your web design may also differ according to the choices of Internet users, depending on the time of day.
Think of anything that can make someone feel right at home, even on your page or app!
4. Augmented / Virtual Reality
In the current year, UI/UX design trends will involve thinking outside the box where the user interface is not tethered to screens. We already have the AR development platforms from Google and Apple ARCore and ARKit to create great AR solutions.
The cool thing about AR is that it doesn't require a headset. This means that it can only be used with telephones, for example. Additionally, AR should not be limited to mobile apps on a device, but can also be used on the web.
Virtual reality experts predict that since the launch of Oculus Quest, many opportunities have opened up for other industries. For example, there are great new opportunities for application solutions for healthcare, education, team collaboration, etc.
5. Voice Search
According to a report from ComScore, 50% of searches will be done by voice by the end of this year. In fact, 72% of owners of voice assistants say they are now part of their lives. It is therefore difficult to miss this major UI/UX design trend. Voice search, together with the adoption of voice assistants (Google Assistant, Amazon Alexa, Siri, etc.) is or is already part of our daily lives.
The voice interface offers new perspectives and appeals to companies who see an interest linked to the facilitation of certain tasks or in the possibility of doing several tasks at the same time, but also for users with disabilities such as visual or motor impairment.
Speech offers immediate access to information without having to browse the tree structure of a menu. Today, creating exclusively voice interfaces remains difficult to design, even if this alternative remains very useful for carrying out simple commands such as switching off or varying the lighting, controlling the heating, changing the color, etc. On the other hand, the voice interface remains less suitable for many actions such as incremental commands for example (moving an object on a screen).
So before deciding to design a voice interface, it is important to consider its usefulness for the end-user. We must be well aware of the inevitable technical constraints but also of the issues on privacy and security.
6. Artificial Intelligence
It's no surprise that in the future, Artificial Intelligence will be integrated into almost every product possible. Previously, the analysis offered a more responsive methodology: save the information and then use it for your next release. From 2023, app usage information is used to improve the customer experience. While encouraging the site to change and adapt on its own.
Thanks to AI's ability to collect huge amounts of data, we will notice more and more personalized products. They are 100% tailored to the needs of each individual. Products will learn more and more about users based on their behavior, which will help create a better user experience.
7. Full-screen Smartphones
Most phones have lost their edges or have rounded ones. This changes their interface so that designers must do. Faced with the challenge of using gesture-based navigation solutions instead of old-fashioned navigation elements.
Swiping has become the primary gesture of choice for most app development features. But more recently, it also took over the functionality of the home button. Instead of standard buttons, we instead have a stream of swipe transitions. This is much more engaging for the human eye.
These are the most popular UI/UX design trends. If you are looking to enhance the customer experience for your mobile apps or websites, incorporating these trends can offer an added advantage.

At OneClick, we understand your needs and practices to create intuitive and ergonomic applications for your business. Our know-how and experience in software design and development ensure the success of your project. Connect with our UI/UX design experts for an exclusive demo or request a quote to hire our UI/UX designers.