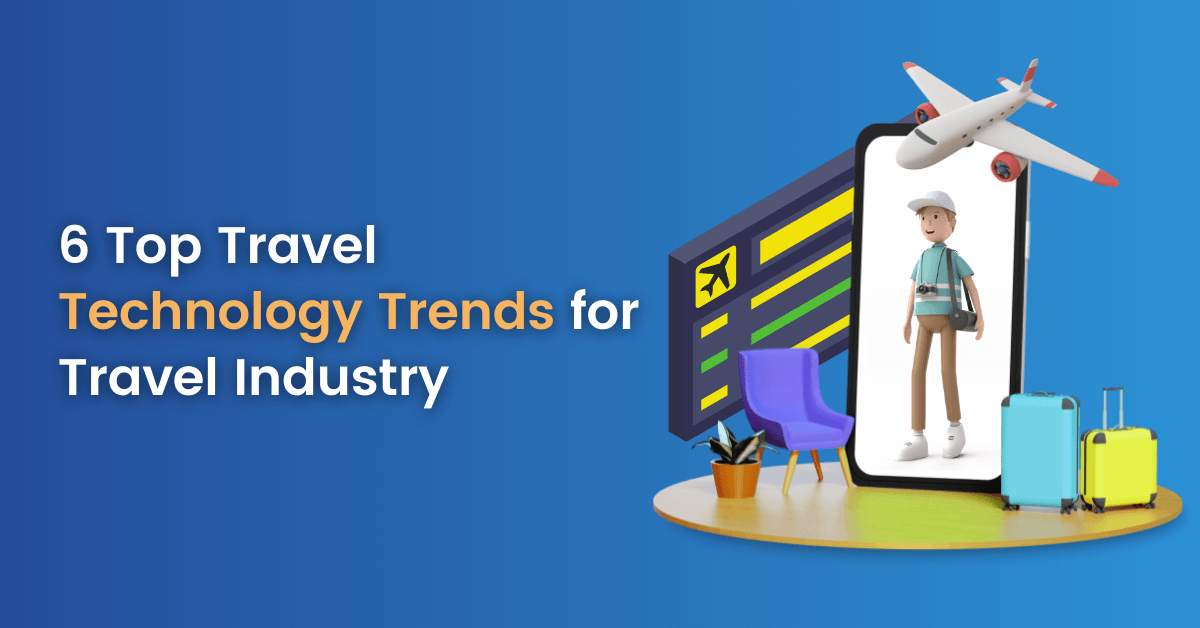 Introduction
Overall, it is clear that the travel industry is currently in one of its most dynamic periods. Thanks to the technology-driven innovations that are overturning standard practices and replacing them with high-tech solutions. The winners will be those who will be able to take advantage of future travel tech trends to provide practical answers to the problems of travelers around the world. Let's take a look at how future travel technology trends are all set to disrupt the industry in 2023.

1. Voice is the Next Frontier
There is a major change between human interaction and computer interaction, especially with voice technology. As tour operators continue to invest in voice technology, businesses will have faster access to the traveler profile, real-time alerts, and flight convenience checks in one natural sentence. This means that travel counselors and travelers will not have to go through multiple screens; they can achieve the same goal by using voice.
2. Internet of Things (IoT)
According to Gartner forecasts, there will be nearly 30 billion connected objects by 2020. Connected objects through IoT will thus reshape the user experience in the travel industry. For instance, by harnessing the power of IoT, hotels are able to make their rooms "smart". Customers can adjust temperature, lighting, and even entertainment to suit their personal preferences before they even arrive.
The Internet of Things does not only allow tourism businesses to offer a transparent experience to their customers but all partners in the supply chain can also participate. Imagine an integrated travel package, involving airlines, ground transportation, hotels, insurance companies, all linked to provide a seamless experience for the end customer. IoT eliminates manual intervention to make the experience more fluid.
Applications connected with the Beacon system should also develop. The Beacon is a device, placed in different types of places, which will be able to communicate with a smartphone. For instance, a tourist checks into a hotel or museum at a destination. Local businesses from the area will be able to connect with the tourists to promote their products, offers, or services with the help of an app.
Deploying IoT as part of a travel tech strategy can optimize productivity, maximize efficiency and improve the customer experience. This is a journey worth taking.
3. Recognition Technology
According to a 2018 study, 77% of airports and 71% of airlines plan to invest in biometric identification technologies within three years. And 59% of airports and 63% of airlines plan to use facial recognition gates in particular. According to Amadeus, the average boarding time is reduced by around 75% with facial recognition. Boarding takes only two seconds per passenger, against five to ten seconds with an optical reader control of the barcode on the boarding pass and verification of the identity document.
While the number of passengers continues to evolve from year to year, airport infrastructures are pushed to the limit of their capacity with the risk, if no solution is found, of seeing more and more passengers The airport industry recognizes the immense potential of biometric technology as a solution to these problems because it makes it possible to speed up and streamline the various processes implemented within airports," said Amadeus.
4. Artificial Intelligence (AI)
Artificial Intelligence is set to profoundly revolutionize the hotel industry across the value chain to capture interest, personalize and improve the customer experience. It also changes pricing policy, predicts seasonal activity, and tracks the customer during and after the stay.
As humans, we are deeply unpredictable. Some people want to go back to the same cottage for the holidays every year. Others want nothing more than to go to a very different and trying place. Understanding the complexity of the travel technology trends is the kind of work that AI was designed for. It even invades the room which becomes intelligent, adapts to customer needs, and allows remote control. AI was also used to create a better experience during the trip.
Chatbots and virtual assistants provide solutions based on natural language processing (NLP), a sub-scope of AI. This can provide context for the questions customers ask, so they can make relevant suggestions. Chatbots and concierge robots such as the digital concierge of AccorHotels, are helping to speed up check-in, offer real-time pricing or to advise and book local activities.
5. Big Data
The travel industry is moving towards a degree of personalization of preferences and services that gives the customer the impression of exclusive treatment. Big data applications on the travel market are legion. Personalization of offers is crucial to retain or attract customers. With Big Data, it becomes easier to offer them personalized services taking into account their geographic position, their search history, traffic, travel expenses, and more.
For instance, travel operators can plan resources and services available by collecting data on how customers move. Whether they visit duty-free shops, whether they rent a car or not. Smart bracelets that replace room keys or store credit card information for convenient shopping are also an interesting way to blend Big Data in future Travel Technology Trends.
6. Virtual Reality (VR)
What if you could offer a potential client located in another country a virtual tour of your hotel or resort or popular tourist destination where your business operates? Well, it's possible today thanks to advances in immersive visual technologies such as augmented reality (AR), virtual reality (VR), and mixed reality (MR). It can be used for virtual simulations of travel destinations and accommodation facilities. Each year, with hardware costs going south, more and more users would buy peripherals that facilitate such experiences.

Conclusion
Businesses can offer interactive opportunities for other service providers. They can market their services on their properties. For instance, a hotel chain allows agents to run promotional campaigns on nearby attractions that customers can explore virtually before setting out. Embrace New Distribution Capability (NDC) today to revolutionize your travel business and position yourself at the forefront of innovation in the travel industry. Stay relevant, differentiate your offerings, and build strong customer relationships by leveraging the power of NDC. The possibilities are endless.
The choices are many and it is necessary that travel businesses take full advantage of their technology investments by integrating the latest and future Travel Technology Trends. This is where, we at OneClick, can be your differentiator. Chat with us today to find out how our travel portal development services can help you survive and succeed in the era of digital disruption by smartly investing in the technology that matters most to your business.
Also, create a stunning travel website that captivates users with seamless navigation, enticing visuals, and comprehensive travel information.
Our expert team specializes in travel website development, delivering an engaging platform that inspires wanderlust and simplifies the booking process. Elevate your online presence and attract more travelers today