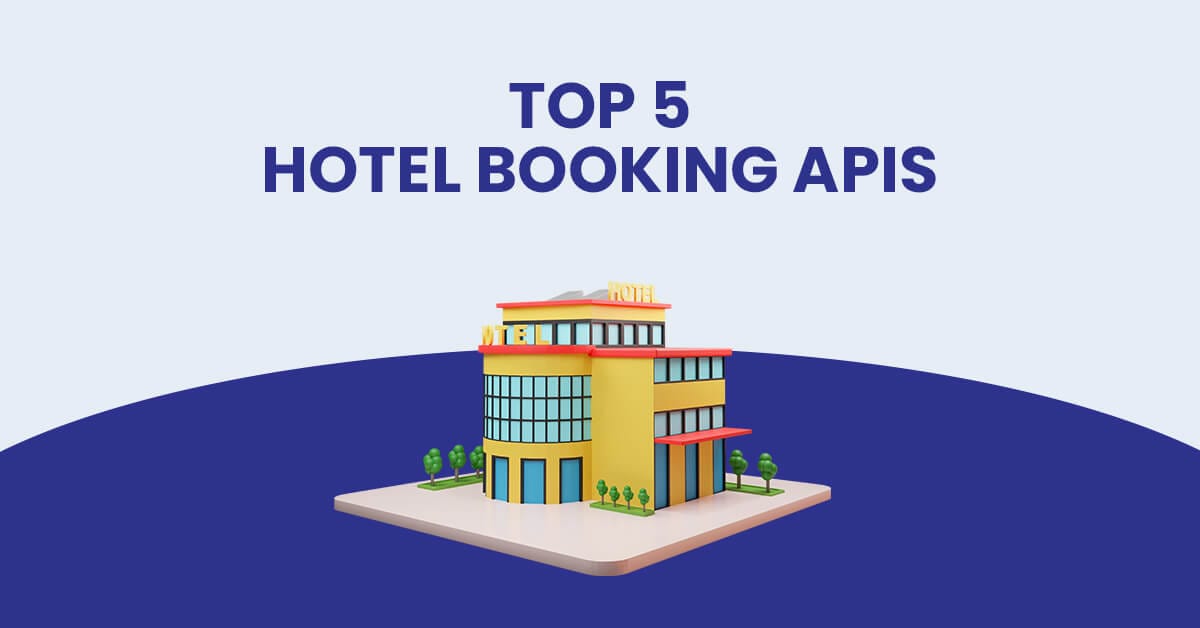 Hotel Booking Industry has witnessed a dramatic revolution in its conventional ways of functioning since the emergence of Hotel APIs. The overwhelming task of comparing prices, ratings, and room availability of different hotels, which in those days would have given nightmares to any hotelier, feels like a cakewalk now, all thanks to Hotel Booking APIs Provider.
Hotel Booking APIs have indeed acted as a slingshot for many booking portals in recent years and many businesses have seen their revenues going over the roof after implementing them. So, if you're looking for something similar, we'll urge you to read this article till the end as we've covered the top 5 Hotel Booking APIs Provider you can try and see your business growing faster than ever.
What is the Hotel Booking API?
A hotel booking API is a web-based application that searches through a variety of hotels' key details, including rates, availability, and locations, and then provides a comparison of the results. To be successful in the hotel and travel market, one requires access to the hotel's application programming interface (API) in order to offer reduced hotel rates from several suppliers. The work is made simpler by the Hotel Booking APIs Provider, which, based on the query, search across many providers for a hotel room. They provide one result from all hotels rather than many outcomes from each hotel.
With only a few clicks of the mouse, the API hotel booking tool will do a number of activities and make selling hotel reservations easier for anybody operating as a salesperson, travel agency, or another type of online retail business. By streamlining your activities, you will quickly get a competitive edge in your industry while also increasing your income. Look through our comprehensive report on the best hotel booking API providers available today.
TripAdvisor Content API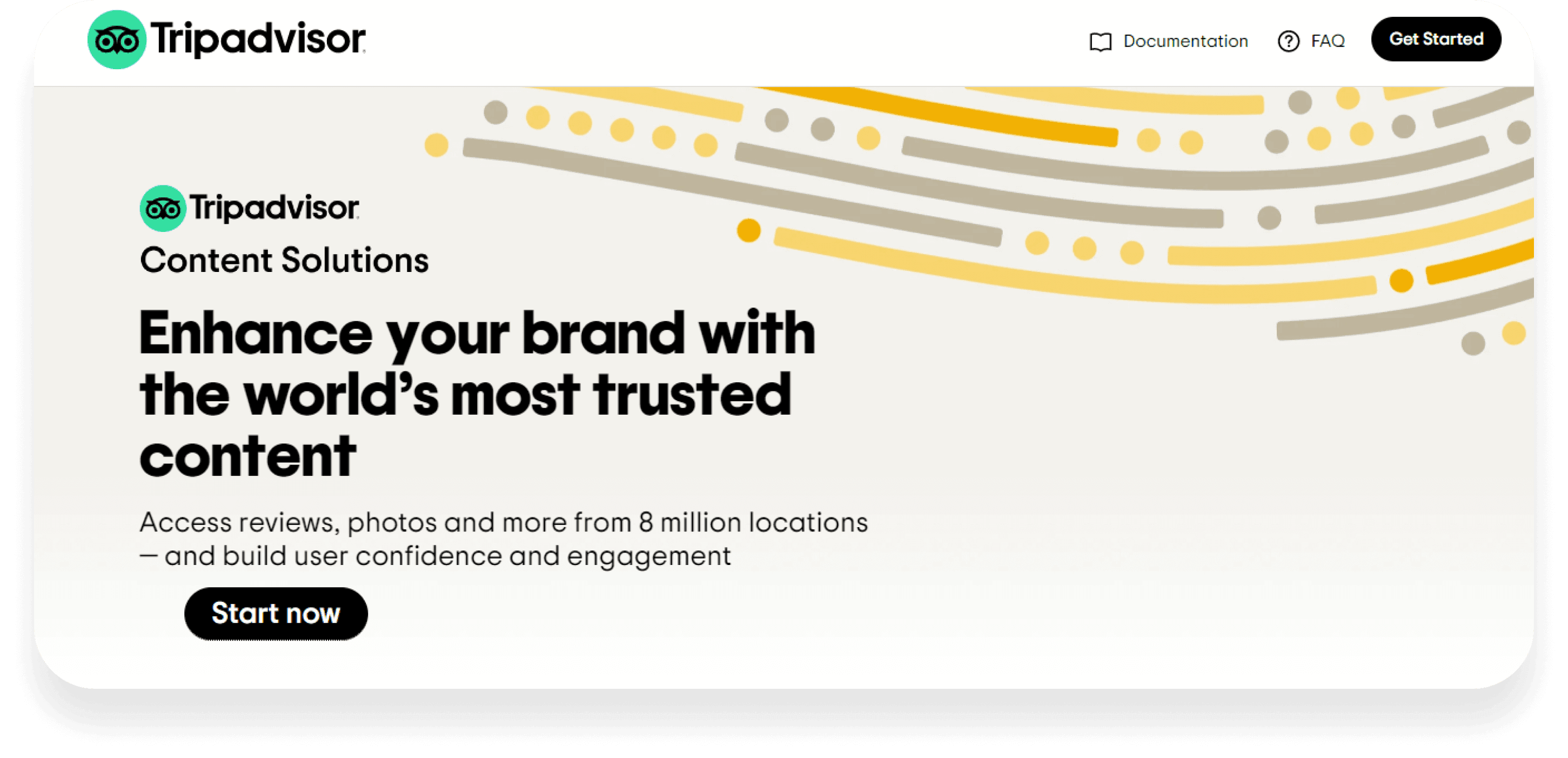 TripAdvisor is one of the most comprehensive online travel sites, with material that includes information on hotels, resorts, airlines, holiday packages, and a great deal more all of which are essential to the travel business. Millions of reviews and comments from visitors' experiences can be found on TripAdvisor-affiliated sites, where you can also examine ratings for hotels, restaurants, and other attractions in the area. TripAdvisor Review API should be among your first-to-go choices when you're on the lookout for the most well-founded hotel information.
TripAdvisor Content API provides you with highly reliable and comprehensive statistics of over 7.5 million venues, which also includes 1+ billion ratings and comments in 29 languages.
To let you have a fair trial of their meritorious service, you will be provided with complimentary 5000 API calls on a monthly basis as you sign up.
Google Hotel API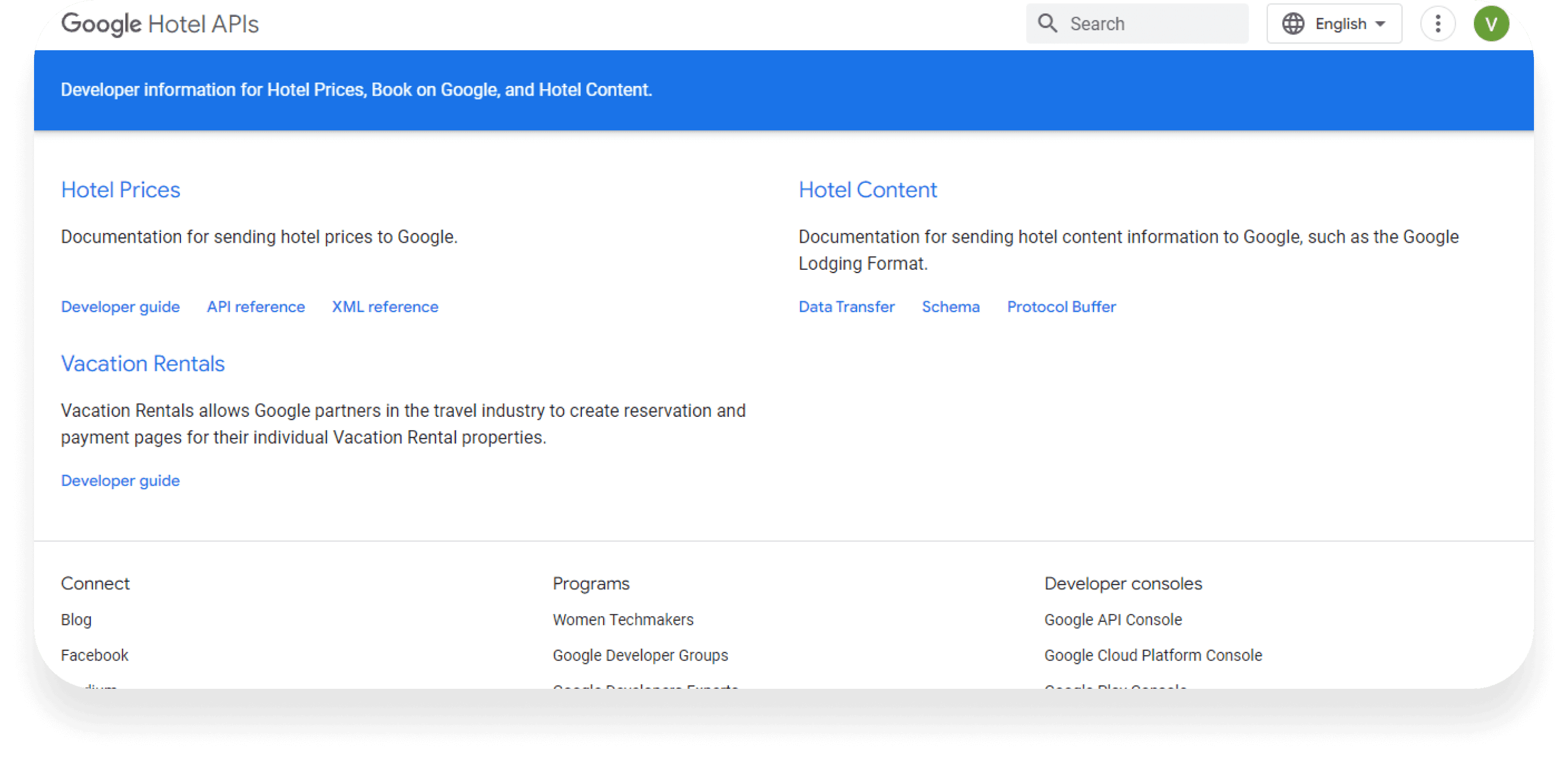 How can we ignore Google, the search engine mammoth, which also happens to offer its specialized services in the travel domain? To find and reserve a room at a hotel, go no further than Google Hotel APIs, an online service provided by Google. It offers real-time data on price, stock levels, and reservation oversight. By giving users of the application extensive insight and expertise about the subject, developers may assist their clients in selecting a suitable hotel facility that meets their needs. They may also read a variety of consumer reviews that have been written, and make judgments appropriately.
The API is a user-friendly collection of development tools that can be used in mobile applications.
Connecting to Google's cloud platform is easy using the Hotel API, allowing you to make use of Google's numerous cloud-based services including BigQuery, Cloud Storage, and several others.
Using Google Hotel API, you can leisurely establish a seamless real-time communication channel between your software and your visitors.
Expedia API
The Expedia Affiliate Network API enables online hotel searches and reservations. It supports its clients by providing high-quality lodging with comprehensive materials and affordable rates. The whole booking process, from reservation to payment, can be customized. It offers active and extensive real estate information. Furthermore, it offers a variety of property types to better meet the demands of everyone.
Your customers will gain access to over 700,000 lodging options that offer guests both high-quality amenities and affordable prices.
The modular structure of EPS Rapid, a quick and lightweight API, offers flexibility to meet your particular business demands.
Around 13 million rich property photographs and over 7.5 million accommodation pictures with informative descriptions will significantly improve the reservation experience and boost profitability.
Amadeus Hotel Search API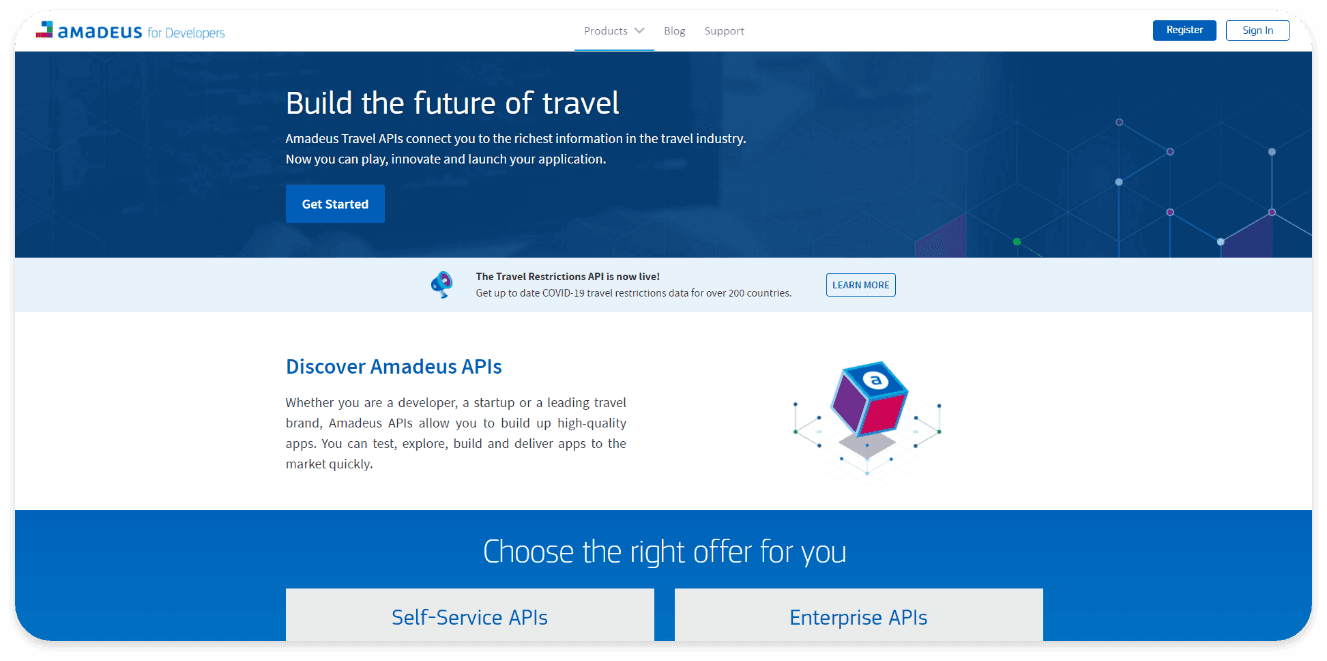 The Amadeus Hotel Search API is one of the most popular and effective mapping APIs available, and it offers a speedy answer to challenges that arise in the travel sector. It enables users to quickly browse a selection of hotel deals for a certain location and time. Learn more about the location, features, cost, and other aspects of hotels so that you can choose the best offers.
Amadeus Hotel API enables users to get an overview of other properties as well as an easy way to map their own properties.
It can provide you with the necessary insights into the most important facts to optimize your company's operations.
Moreover, to better understand the tactics used by your rivals, you can also look for information on various hotels, which will help you craft your own strategy effectively.
Priceline Hotel API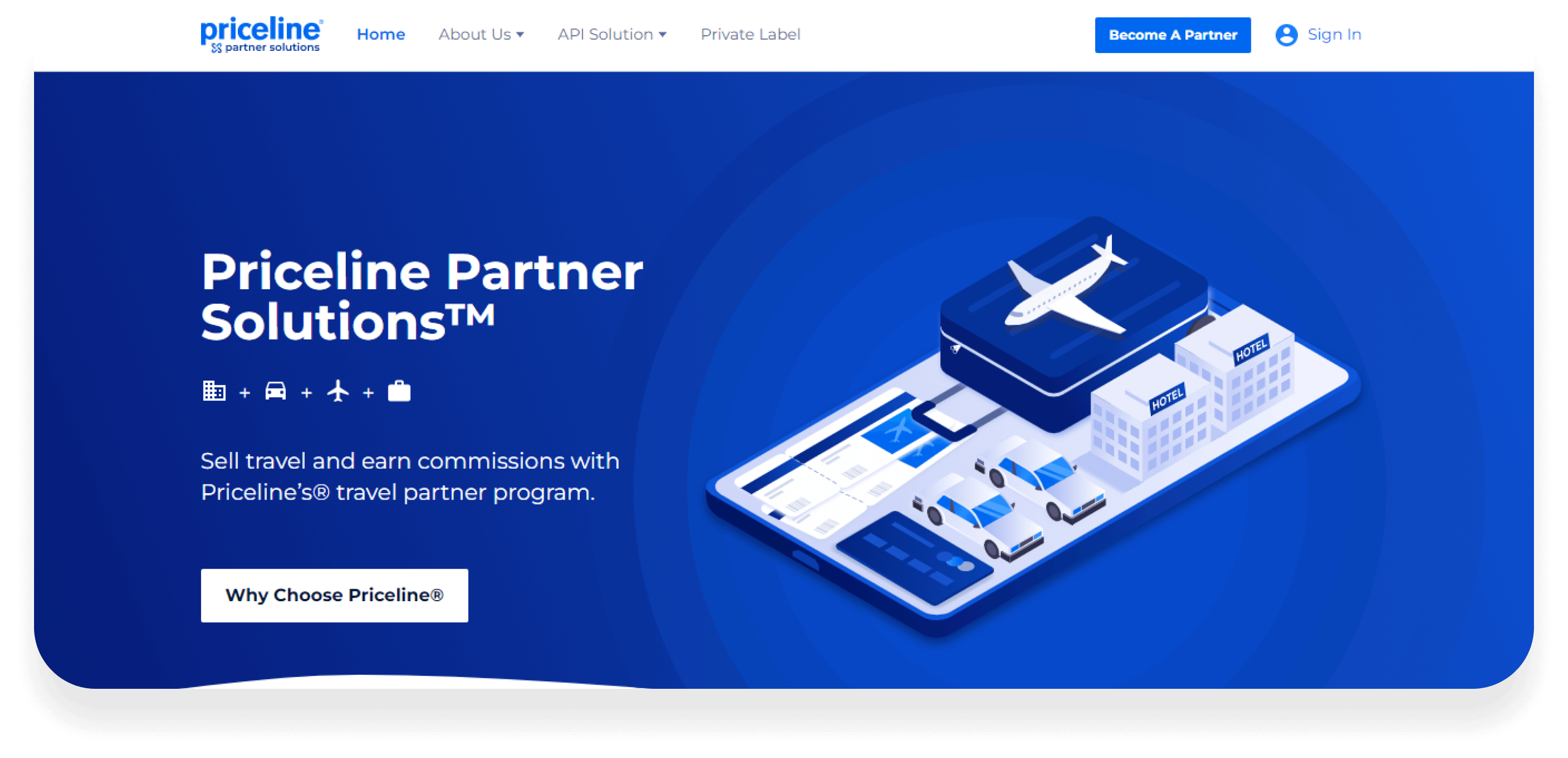 In 1998, Priceline entered the market by facilitating the reservation of vacant airplane tickets. Ever since, the site's scope has expanded to include auto rentals, cruises, and accommodations, and it now receives millions of unique users every month. The Priceline API provides a convenient way to quickly access a variety of accommodations based on a particular keyword.
Your customer can find the perfect inventory in seconds thanks to their extensive database covering more than 20,000 locations worldwide. This provides your users with immediate access to the greatest homes at the best pricing.
The service also provides a completely personalized hotel booking engine according to the requirements of company owners.
Additionally, it offers information about hotel pricing that aids in developing a great price plan for hotel rooms for your clients. Your users as well as your business can equally benefit from this setup, making it a win-win for everyone involved.
Final Words
Travel agencies place increasing emphasis on API-based booking solutions since they have been effective in streamlining their operations. It is crucial for both the hotel and travel industries to have cutting-edge tools like API in order to fulfill the constantly shifting preferences and expectations of their customers. Service quality is increased as a result, allowing you to increase your company's profitability as a result.

Moreover, the automated process enhances the efficiency of your company operations while saving you money and time. Maintaining a proactive stance in your company will ultimately assist in the growth of your brand as a whole. Now then, why the delay? Go Ahead! Choose the hotel API that works best for you right now.