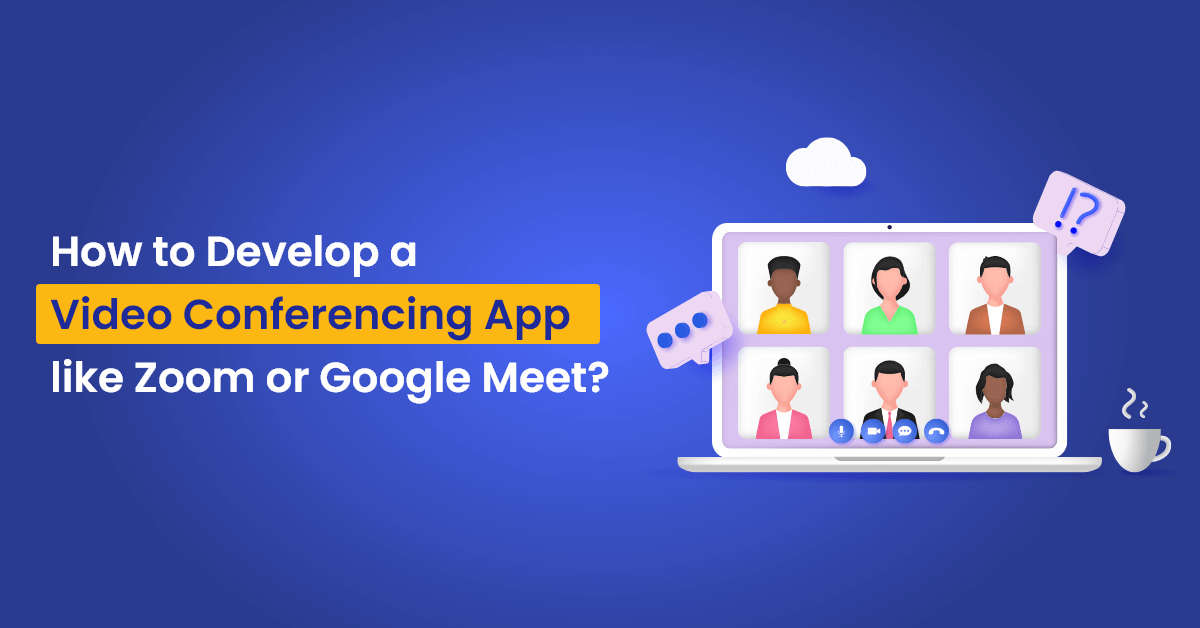 Introduction of Video Conferencing App
Zoom became a synonym for Video Conferencing App during COVID-19.
But with popularity comes responsibility. There was news of data breaches and security concerns related to the app.
During such times, Google decided to offer Meet as a video conferencing app for free.
With Google's reputation, Meet started capturing the attention of different industries.
Zoom saw a massive 1330% increase in its downloads during the pandemic while Google Meet grew by 2746%.
There's obviously room for debate over whether Zoom features are better than Google Meet, but we have covered that in another blog post.
This blog post is focused on how enterprises, start-ups, and SMEs can reduce their dependence on third-party apps.
This only means investing in an in-house video conferencing solution.
Now, you might think about whether it is worth investing in creating another app like Zoom or Google Meet, given that these are already so popular.
You have a point and we'll help clarify it.
In this blog, we aim to share insights on how to develop an app like Zoom or Google Meet, why you need to develop it, what determines the cost of these applications, and how they can benefit you.
Why Should You Invest in a Video Conferencing App?
"It's extremely crowded, but the potential is huge. If our product is better than any others, we can survive", Eric Yuan, CEO, of Zoom.
The market may be saturated but this applies to any application or solution and product that entrepreneurs can think of.
For instance, there are several travel portal solutions and enough businesses that need them.
Similarly, video conferencing solutions are useful for every industry – from education to healthcare, travel & hospitality to tech.
If your solution has the power to survive, you might replace the existing video conferencing competitors.
And the answer to your question on why and how to develop an app like Zoom lies in the answer of its Founder.

Advantages of Having Your Own Video Conferencing App:
Data Security

: Your employee, as well as project data, is always at risk with a third-party app. An in-house video conferencing solution can prevent a data breach and create additional trust in the minds of your clients.

Saves on travel time and costs

: Organizations spend millions on employee travel to connect with teams across the globe. An in-house feature-rich video conferencing solution will ensure regular virtual meetings and thus save on the time and budget spent on travel.

Employee retention

: Virtual meetings also promote better work-life balance as employees do not need to stay late hours or travel for work meetings. Video conferencing can also offer the ease of work-from-home giving employees flexibility. This fosters loyalty among employees.

Increased participation

: Most employees or attendees can be a part of virtual meetings as these can be attended from any place. An in-house app can also secure meeting recordings and data shared during meetings so that there is no threat even if employees access the data from remote systems.

Ease of communication: Emails and texts may lead to misunderstandings or delays in procuring information. A daily video call or virtual meeting can help project managers or team members to stay updated with the project status. Video conferencing apps facilitate quicker and easier communication.
Different Types of Conferencing or Virtual Meeting Apps
1. Video Conferencing
To collaborate, share and create with your remote teams
By computer, smartphone and tablet
Content sharing
2. Audio
To communicate more in any circumstance
For fixed and mobile phone
Works even with low-speed Internet
3. Webinar
To introduce, develop and broadcast live or recorded sessions
Up to 10,000 participants
Private chat, quiz and survey
Steps to Develop a Video Conferencing App
Requirement gathering

:  The business requirements to develop a video conferencing app are taken from the client for a complete understanding of the project, share queries and get all the doubts cleared before finalizing the timeline for the project.

Planning

: Architecture development, database creation, project planning & resource allocation for the project & collection

of all the prerequisite items required. This is the stage when a detailed break-up of the stages of the project along with resource alignment is taken care of. We will share complete details of the man-hours required in the video conferencing app development process.
UI/UX Designing: Design is one of the most important steps to develop an app like Google Meet or Zoom. It must be intuitive and interactive. Users should be able to navigate easily through your video conferencing app. The features and functionalities must be easy to use and understand. At this stage, we arrange for Mockups & wireframe designing for the project and take

approval for the flow of the users. We also create use cases document to get the complete clarity of the project.

Development

: For developing your own video conferencing app, you need to select the right server. Since this application can be quite complex, building a server is recommended. A BaaS solution can be used if you are not opting for a feature-rich application.

Testing and Delivery

: Thorough

testing of the solution with test cases created for the project is carried out. Once approved, the handover of the platform along with all the project assets and code is done.
Support and Maintenance: Post-development of the video conferencing app, our team offers complete support to guide you through

technical queries. We also offer maintenance and upgrade as required for the application.
At OneClick, we believe in agile methodology.
Hence, the client is involved in every stage of decision-making.
Weekly update to the client with Video recording for a couple of weeks, as well as sharing of updates regarding working web applications, and mobile applications for the project is provided.
What Resources Will You Need to Develop an App Like Zoom or Google Meet?
When you plan to develop a video conferencing app like Zoom, you need an experienced team that has the expertise to handle relevant projects.
This scalable and robust application will require a dedicated Project Manager with a Tech Lead.
Based on the type of application to be made, the team will comprise iOS and Android developers, backend developers, QA specialists,s and UI/UX designers.
Features to Develop Best Video Conferencing Solution like Google Meet or Zoom
Defining the features is a crucial step in developing your video conferencing app.
Everything from the duration of the project to the cost depends on the features you plan to offer.
It is important to note at this stage that a feature-rich app with a scalable approach can help you stay ahead of the competition.
Here's a list of Features Offered by Popular Video Conferencing Apps: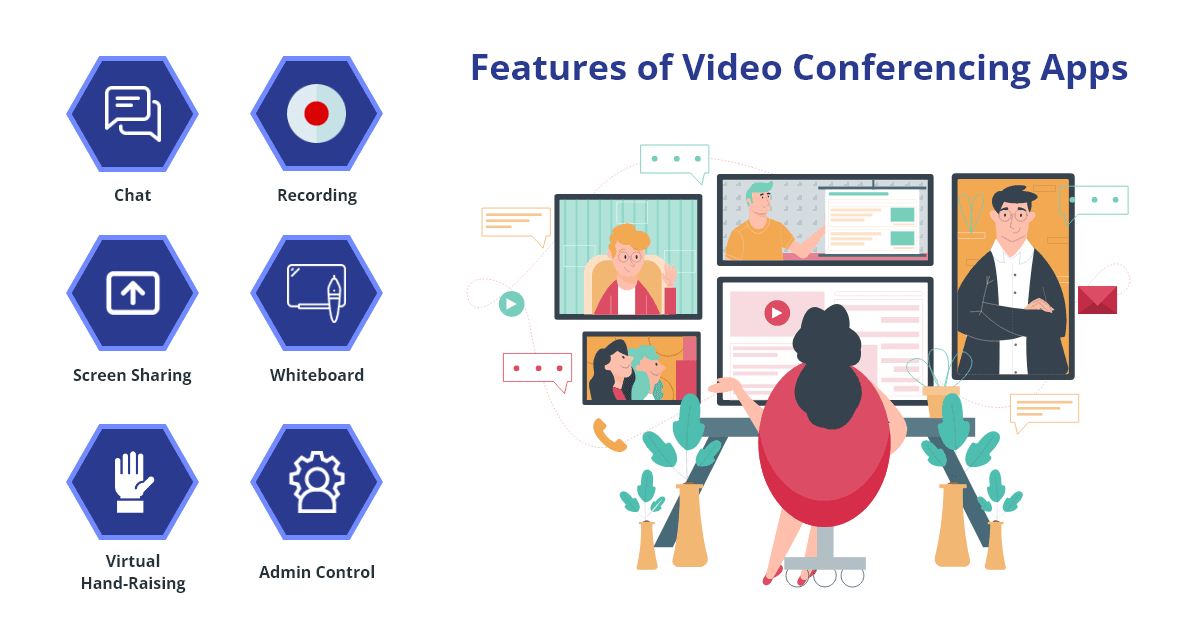 Chat: For those who wish to add an additional channel of communication during video calls
Screen sharing: For project meetings and to enable sharing of screens for technical support or guidance on a task
Virtual hand-raising: In case of multiple participant sessions involving QnA or other discussions
Pre-call video: To test the video quality before the call and to disable the feature in case the user does not want to appear on the screen
Recording: For allowing the manager to record demo meetings for clients or for other users who are not part of the meeting.
Whiteboard: This is a good feature to add graphics to the discussion. Ideal for training and eLearning industry.
Admin control: For added security, where admin or host has the authority to add, remove or mute and unmute participants.
This is not an exhaustive list. There are several other advanced features that can be a part of video conferencing app development.
Cost to Develop Video Conferencing App Like Google Meet or Zoom
Another question that arises when you decide to develop a video conferencing app, is the exact cost of developing an app like Zoom or Google Meet.
While WebRTC simplifies the process of developing video conferencing solutions, it is important to assess the target audience too.
Depending on the business requirements, the number of users, and the features to be added to the platform, the final cost to develop an app is determined.
If you are on a budget, but still want an in-house virtual meeting app, white-label solutions are a lucrative option.

To Conclude
While Google Meet and Zoom can be considered as a benchmark in the video conferencing market, there are several Free alternatives to these apps too.
Also, there is definitely scope for individual players to introduce a breakthrough app as a competition.
Moreover, video conferencing is going to be a new tool once remote working becomes the norm.
Developing an in-house app will give an added advantage to organizations that have their teams scattered across different locations.
Also, there is a likelihood of these apps coming up with paid versions or offering additional benefits only to paid members once the pandemic is over.
That is when an in-house video conferencing app will prove to save costs and protect privacy in the best possible way.
What are you waiting for? Let's bring your idea to action.
Connect with our experienced team if you want to develop an app like Google Meet or Zoom.