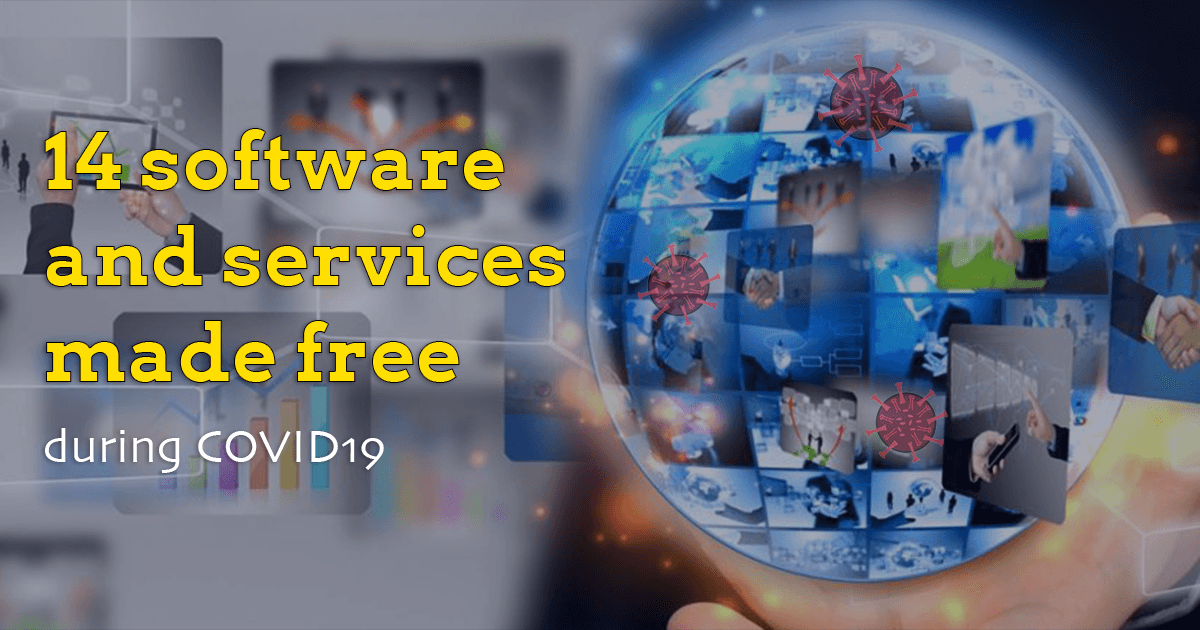 The Coronavirus pandemic introduced a full-fledged remote working culture for all organizations. Most businesses were not prepared for this change. However, it was important for organizations to align all the resources so that employees could work virtually with ease.
With an aim to extend their services during these tough times, many software companies started offering their products and services for free to enterprises. This was also an opportunity for these businesses to present their product to prospective clients for sample testing. A win-win situation for both, let's take a look at few of the popular software and services that were made free during this pandemic:
1. Password
On a page of his blog, the password manager 1Password announces that it will allow companies to use the 1Password Business version for free for 6 months so that their teams can have their passwords easily. To take advantage of this, simply register on the page dedicated to the offer, which will skip the usual limit of 14 days of software testing.
2. Adobe
In an official press release published on its site on March 12, Adobe announced that it offers free access to its applications at home if organizations request it. This offer will be maintained until May 31, 2020.
3. Affinity
Affinity, which offers Affinity Publisher, Affinity Designer and Affinity Photo software, extends trial versions to 90 days. In addition, users who wish to acquire the software during this period will benefit from a generous reduction of 50% on the usual prices on products for Windows, macOS and iPad.
4. Cisco Webex
Cisco has decided to improve Webex, its free solution dedicated to virtual meetings. In its free version, Webex now supports up to 100 participants per meeting. Companies that are not yet customers can use the free version for 90 days.
5. Discord
Discord also increased its free offer. On its official blog, Discord announces that its free streaming service "Go Live" now supports up to 50 simultaneous users instead of 10 in normal times.
6. Google
The Mountain View company was one of the first to take action on the epidemic. In addition to setting up systems to combat the spread of false information, Google offers G Suite and G Suite For Education customers free access to Hangouts Meet video conferencing features:
Live broadcast (up to 100,000 spectators)

The possibility of mounting up to 250 participants per call

Saving sessions and saving them in Google Drive
7. LogMeIn
LogMeIn offers businesses a remote work kit that gives them access to free 3-month licenses for all of the GoToMeeting site services. This emergency kit includes solutions for meetings and videoconferences, IT support, webinars, etc.
8. Lifesize
Lifesize, one of the global players in video collaboration, offers free and unlimited access to its cloud video conferencing platform for 6 months. Professionals can add an unlimited number of participants to their meetings.
9. Kaspersky
Kaspersky, offered Healthcare facilities that are struggling with the pandemic with cyber protection. Check here https://odonate.com/. They declared six-month free licenses for core solutions.
10. Luminar
Luminar 3, from Skylum, is available for a short time. This photo editing software will allow you to sort the thousands of photos lying around on your hard drive, and above all to improve them.
11. Microsoft
Like Google, Microsoft reacted fairly early to the coronavirus. The Redmond company offers free 6-month licenses for its Teams collaboration tool, replacing Skype Business.
12. Zoho
Aware that collaborative software is one that allows users to be productive even while working from home, Zoho has decided to make all of its programs free until July 1, 2020. This offer includes more a dozen tools including a program to organize conferences, an office suite or a remote-control program.
13. Klaxoon
The company Klaxoon, which offers several collaborative services allowing to make meetings, manage projects and collaborate on different supports has put online a web page allowing to benefit from 3 months of trial and a support program.
14. TechSmith
Finally, note that TechSmith, the publisher behind the Snagit and Video Review solutions offers free licenses for its software until June 30, 2020.
If you are looking to develop any similar apps for video conferencing, eLearning or any other services that have seen growth during this period, it's the right step. Let's discuss your idea and our experts can suggest to you how you can scale it up to a million-dollar business.
Wrapping Up
Thanks to the free software and services being made available during COVID-19, everyone from students to teachers and administrators have plenty of resources to choose from. These programs will help you get even more out of your time at university, allowing you to focus on what matters most building the knowledge base that will empower you for the rest of your life.