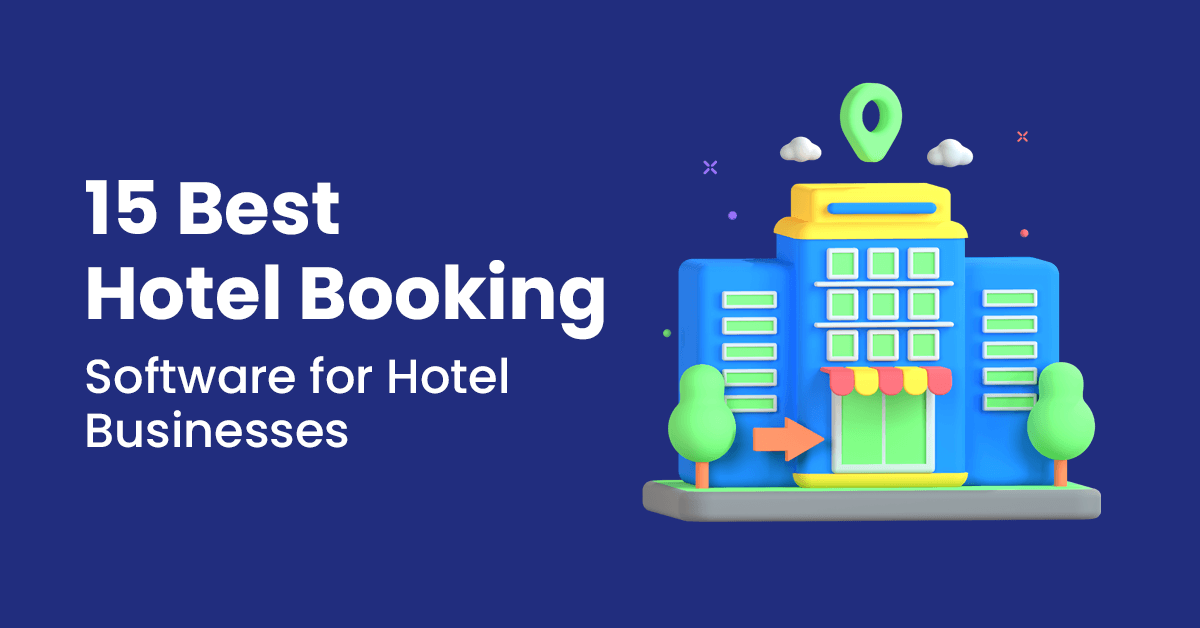 Hotels are bracing themselves for a travel boom after the pandemic, but they're not the only ones. The competition is expected to be cutthroat, like a pack of wolves fighting over a juicy steak. To come out on top, hotels need to make their services increasingly accessible and user-centric, which is where online hotel booking software solutions come into play.
Luckily, today's best hotel reservation software is more than just a pretty face. They offer advanced features such as marketing integrations, web chat, and even property management. These software can also be embedded in other business touch points, making it easy to convert leads into booking engine for hotels.
In this article, we'll give you the lowdown on the best hotel booking software so you can be ahead of the pack. Remember, the early bird catches the worm, so don't wait too long to check them out!
Key Features to Consider When Choosing the Best Hotel Booking Software
Efficiently managing online reservations is crucial for a hotel, and a streamlined hotel booking engine system provides a more intuitive booking experience for guests. Using the best hotel reservation software can systematize your reservation process and help you increase bookings. There are several factors to consider when choosing the best hotel reservation software.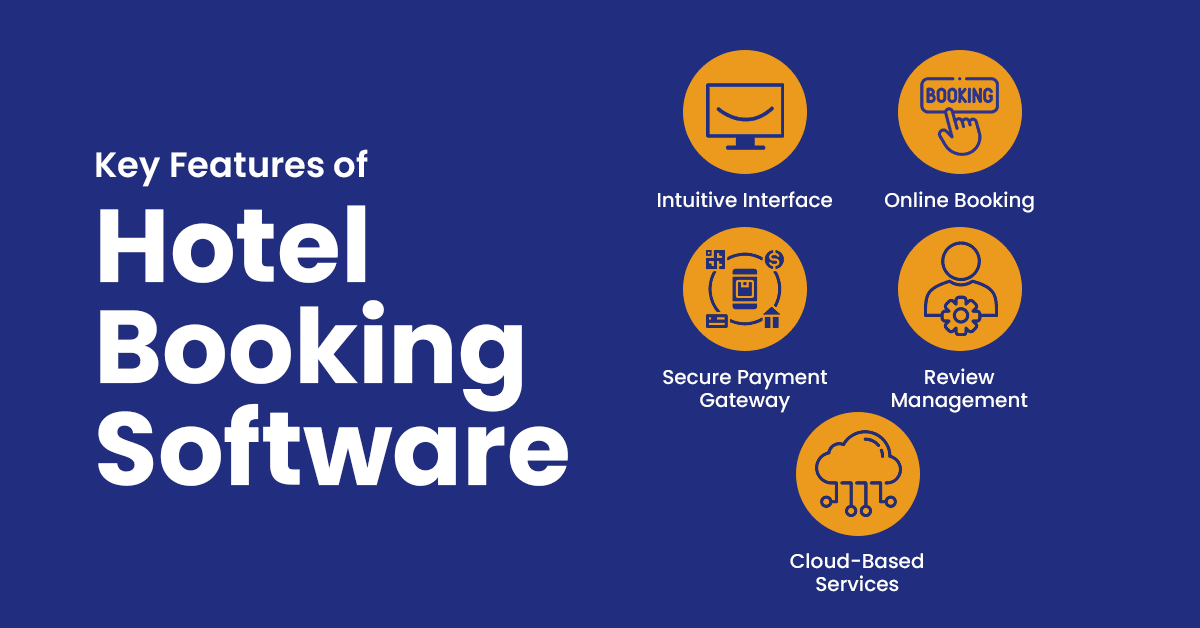 1. Intuitive Interface
A user-friendly interface is essential to allow customers to navigate your website with ease. The website should load quickly on all devices, enabling customers to plan and book on-the-go, increasing the chances of booking.
2. Online Booking
A good hotel booking software should allow you to handle on-desk and online bookings. You must also be able to monitor online bookings made through your website, this will give you greater flexibility to cater to all customers
3. Secure Payment Gateway
An integrated payment gateway is vital to provide a secure payment process, It ensures that customers place their faith in your brand and complete their hotel booking engine. When choosing the best hotel booking software, a secure payment gateway is critical in building trust with customers.
4. Review Management
Encourage guests to leave online reviews for your hotel booking engine. Reviews are crucial to a hotel's reputation and business, and a proficient business hotel booking software enables you to record and promptly reply to individualized guest feedback, which significantly enhances the odds of their conversions from occasional guests to loyal customers.
5. Cloud-Based Services
Cloud-based services have been a game-changer for the hospitality industry, as they allow hotel staff to access data remotely, enabling them to work more productively while promoting social distancing and keeping guests safe. Hence, cloud-based services are a necessity for the best room booking software in today's digital age.

15 Best Hotel Booking Software in 2023
1. Preno
Preno, an automated software for hotel booking, simplifies the daunting task of overseeing hospitality operations. It's a cloud-based solution that provides real-time updates on new hotel booking engine or changes to existing reservations, making it easy to track your hotel business. With Preno, you can collect direct bookings and avoid OTA fees ranging from 10% to 30% per booked room. It also features an embedded payment processing hotel booking system that enables you to accept payments through your website's hotel booking engine.
Furthermore, this hotel booking software offers comprehensive reports that allow you to check your hotel's performance quickly. These reports highlight the most popular room types, the busiest dates, and which sources generate the most bookings. Preno enables you to take control of your hotel operations and improve your business's efficiency.
2. Cloudbeds
Cloudbeds is a comprehensive software for hotel booking system that can automate operations and deliver seamless guest experiences. This integrated software enhances staff productivity and saves valuable time every day.
Furthermore, Cloudbeds' intuitive calendar simplifies workflows, displaying room availability and current bookings. Staff can also update rates and upgrade guests as required. Additionally, the calendar displays rooms that are vacant across all online travel agencies (OTAs).
The user-friendly & small hotel booking software ensures smooth daily operations with up-to-the-minute information. With instant access to arrival and departure data, reservations, and more, Cloudbeds provides real-time visibility, which in many ways, is a hallmark feature of any top-notch hotel booking engine software.
3. HoneyBook
HoneyBook is an unexampled hotel booking software that aims to bridge the gap between you and your potential customers. By facilitating centralized access to all the reservations, it not just delivers a buttery-smooth experience to your customers, but also infiltrates a credible brand image of your business in their minds. This multi-utilitarian hotel booking software features everything you would ever need to give your customers a sound experience, from room and hotel booking system to Conference hall reservations all at once.
Furthemore, this hotel booking software also lets you generate an invoice then and there. Thanks to its intuitive user-end portal, it lets your customers make convenient booking engine for hotels from its personalized interface all by themselves without having to resort to the customer desks. Managing Booking has never been easier.
4. RMS Hospitality Cloud
RMS Hospitality Cloud is a fully-integrated cloud-based hotel booking software that grants you panoramic access to various aspects of your business, regardless of your current location. RMS features what they call as smart workflows and navigable interfaces. These features help steamroll any unforeseeable challenge and make the overall process of hotel management rather lucid. This hotel booking software can certainly assure streamlined workflows, boosted staff productivity, and enhanced visitors' experiences.
Furthermore, the easy scalability and deployability potential of RMS, makes it a quintessential option for expanding businesses with branched-out networks. Thanks to its user-friendly and hitch-free interface, business owners can effortlessly access the relevant data from a centralized dashboard.
5. RezOvation
RezOvation is an online hotel booking software that is befitting for the Bed-and-Breakfast business models. With its integrated booking engine, customers can easily check room availability and make reservations at any time. This not only saves them time, but also helps businesses circumvent no-shows and revenue losses. To ensure customers never miss their reservations, the software sends them email reminders as the booking date approaches.
Additionally, RezOvation offers a streamlined payment process through its integrated credit card processor, which makes it easy for customers to pay for their bookings. With this hotel booking software , business operators can optimize their booking processes and offer a hassle-free experience for their guests.
6. Little Hotelier
Little Hotelier is an advanced cloud-based hotel booking software designed to assist small hotels, guest houses, and B&Bs in streamlining their front desk and reservation operations. This hotel booking software provides businesses with the ability to take complete control over their expenses, resources, and time, resulting in enhanced efficiency and increased profits.
Little Hotelier offers a powerful channel manager, a commission-free booking engine, and an intuitive front desk system that manages all workflows. With this, businesses can easily manage their bookings, availability, pricing, and reservations across different channels and take advantage of the software's smart, user-friendly features to grow their businesses. Overall, Little Hotelier is an ideal hotel booking software for small accommodation providers looking to enhance their operations and profitability.
7. ResNexus
ResNexus is the whole package when it comes to best hotel booking software. From front desk management tools to red carpet service functionalities, it's a comprehensive solution suitable for businesses of all sizes. This hotel booking software can significantly reduce your administrative workload, allowing you to focus on what really matters. In addition, ResNexus comes equipped with a guest history feature that can help you build strong relationships with customers and keep them coming back.
With ResNexus, your business can go the extra mile and "roll out the red carpet" for your guests, providing them with top-notch service and unforgettable experiences. Whether you're trying to make a big impression on foreign guests or simply improve your hotel services, ResNexus has you covered.
8. OneClick IT Consultancy
If you're tired of managing your hotel staff schedules manually and want to streamline your operations and provide a smooth booking experience for your guests, then OneClick, the ultimate employee-driven, best hotel booking software India & USA, can be your get-to-go buddy.
With OneClick, you can easily delegate roles and shifts that match your staff's skills, saving you time and effort. It also offers online checklists that your hospitality workers can follow to ensure that everything is taken care of, from room inspections to morning preparations. OneClick provides a popular booking engine for hotels software.
This online hotel booking software and booking features tools for effortless staff scheduling and task automation, freeing up time for management. Additionally, hospitality workers can complete their jobs efficiently with OneClick's online checklists for room inspections and morning preparation lists.
9. Propertyware
Propertyware is the cream of the crop when it comes to comprehensive and scalable hotel booking software. This all-in-one, cloud-based software is specifically designed for single-family, low-density, and small residential accommodations. It combines top-notch online property marketing, management, and accounting software to boost your revenues and dramatically cut your expenses.
This hotel booking software streamlines rental management, leasing renewals, tenant communication, and other management tasks. It also features a robust information workflow that enables property managers to communicate with owners and tenants discreetly. Additionally, Propertyware is capable of automation, which can greatly reduce administrative stress on managers.
10. Guesty
Guesty is a hotel booking software that's a real game-changer for Airbnb and vacation rental operators. Its user-friendly solutions for workflow automation, channel management, and reporting have made it the go-to software for multi-location management that supports various types of accommodations, from urban rentals to glamping.
With this hotel booking engine software, you can manage multiple properties and easily handle extended stays, all while keeping an eye on performance through its analytics and revenue management module. Guesty also boasts a multi-calendar view, an owner's portal, and a booking website. What's more, you can access all of these features through its mobile app, making managing your rental properties a piece of the cake.
11. Eviivo
Eviivo is a popular reservation and hotel booking software solution among various hospitality businesses. It's not just limited to hotels; vacation rentals and B&Bs also use it. The software includes check-in/out management, guest communication tools, price management, and a website builder. Additionally, its smart booking engine ensures users steer clear of overbookings, making it a feather in the cap of hoteliers.
Eviivo offers all the standard features such as payments, channel management, promo management, owner management, and guest management. Plus, it integrates with other travel software like Expedia and Agoda, which means it is undoubtedly the one-stop shop that you need for your hospitality business.
12. Acuity Scheduling
Acuity Scheduling is an exceptional online hotel booking software. The software is built to manage different types of operations, including accommodation-based businesses. It comes with a variety of powerful features, such as team calendars, appointment scheduling, employee management, auto-time zone adjustment, and auto reminders. Acuity Scheduling also offers multiple-location support, making it an ideal solution for businesses with various locations.
One of the best things about this hotel booking software is its high level of customization. You can easily embed it on your website for self-service bookings, and it offers integrations with a range of third-party solutions, including Freshbooks, Xero, QuickBooks, Salesforce, and Zoho, among many others. Additionally, Acuity Scheduling offers mobile applications for both Android and iOS devices, enabling users to manage their bookings on-the-go.

13. Bookeo
Bookeo is a versatile hotel booking software free designed to streamline all variety of bookings. Its powerful features allow users to manage bookings for various events, such as conferences, weddings, and music functions. Bookeo also includes marketing tools and performance analysis solutions, helping users improve their business's bookings and assess its success.
In addition to a client database, online payment support, and advanced scheduling, Bookeo offers seamless website integration and syncs with third-party solutions like QuickBooks and MailChimp. The hotel booking software also includes native social media integrations, such as Twitter and Facebook.
Bookeo's appointment calendar feature and calendar sync capabilities make it easier for businesses to manage bookings and avoid double-bookings. With Bookeo, hotel management can be effortless, efficient, and cost-effective.
14. Checkfront
Checkfront is a hotel booking software solution that goes above and beyond with its customer management tools. This software doesn't just connect with other online travel services for bookings and reservations; it also simplifies online payments for stress-free transactions. Checkfront also includes a site builder, waivers, and customization options, making it flexible enough to support different types of hospitality operations, including tours and other vacation activities.
The icing on the cake is that Checkfront is fully compatible with other hotel booking software solutions, such as Stripe, QuickBooks, and MailChimp, as well as popular travel services like Expedia Local Expert and GetYourGuide. With Checkfront's ability to seamlessly integrate with other software and services, you can easily manage your bookings, reservations, and transactions without added stress. As the saying goes, "Time is money," and Checkfront saves you both.
15. Rent Manager
Rent Manager is a widely-used hotel booking software that is versatile enough to suit various businesses. It comes with both basic and advanced features that cover marketing and leasing, reporting, accounting, maintenance, and other operational aspects. Furthermore, the software has an owner management module, work order management, accounts receivable, and communication tools, among other features. As an added bonus, it has a metered utility management feature that sets it apart from other software.
Rent Manager integrates with various other software like Rently, CondoWorks, and AvidXchange, making it a flexible solution for different needs. With its open API, users can seamlessly connect it with other software. To top it off, this hotel booking software is available via quote-based subscription plans.
Leverage OneClick's expertise to scale your hotel business!
At OneClick, we're all about making travel easier and more efficient for everyone. For over a decade, we've developed cutting-edge software solutions for the travel industry that automate business processes and enhance customer service. Our cloud-based hotel booking software is one of our best products, providing seamless integration with various hotel management tools for greater efficiency.
What's more, our hotel booking software has a range of features that make it stand out. It's extremely user-friendly, which means your staff won't need a Ph.D. in tech to use it. Plus, with Dynamic Pricing & RMS, it can even boost your business by up to 30%. You can also create multiple users with permissions and privileges, and enjoy fully integrated accounting, stores, purchases, expenses, and cash book systems. And that's not all – our software can also generate analytics, reports, and profit and loss statements automatically, while our HR & Employee Management Module takes care of all your staffing needs.
With this best hotel booking software in the market, you'll be able to automate night audits and mark no-shows in OTAs, all while keeping track of your guests through our guest CRM system. And that's not just a win for you – it's a win for your guests, too. Because at the end of the day, our common goal is to serve guests better.
Final Thoughts
In conclusion, choosing the best room booking software is crucial for efficient management and enhancing the customer experience. As you saw in today's blog, there is a myriad of hotel reservation software solutions to choose from! Some are easy to use and flexible, while others have specialized features and cater to more targeted businesses. 
By prioritizing a user-friendly interface, offline booking, an integrated payment gateway, review management, and cloud-based services, you can provide a streamlined and secure booking experience, beef up your brand reputation, and drive whopping business growth. As the saying goes, "The devil is in the details," it's important to consider all aspects before making a decision. Now, it's up to you to single out the best hotel booking software that will work ideally for you.
FAQs
What is Hotel Booking Software?
Hotel Booking Software is a digital software that helps hotels and other accommodation providers manage reservations and bookings, as well as other operational tasks such as room inventory management, payment processing, and reporting.
What are the benefits of using the best hotel booking software for hotel management?
The benefits of using the best hotel booking software include improved efficiency and accuracy in managing reservations and bookings, increased revenue opportunities through more effective pricing and up selling strategies, and better customer service through streamlined communication and personalized experiences.
Who can benefit from using the best hotel booking software?
Hotel booking software streamlines operations in various hotel departments, making it vital for multi-departmental entities like the front desk, housekeeping, back office, kitchen, and finance teams. Professionals like hotel managers, general managers, guest relationship managers, and reservation/front office managers, among others, are the primary users of these software. The best hotel booking software helps these professionals manage daily operations, improve guest experiences, and increase revenue.
What features should I look for in a hotel booking software?
When choosing the best hotel booking software, it's important to look for features such as a user-friendly interface, real-time booking, and reservation management, mobile optimization, integration with third-party booking software, payment processing, inventory management, and reporting and analytics. Additionally, some hotel booking software may offer additional features such as channel management, revenue management, and customer relationship management (CRM) capabilities. Ultimately, the best hotel booking software for your hotel will depend on your specific needs and budget.
How do I choose the best Hotel Booking Software for my property?
To choose the best Hotel Booking Software for your property, consider your specific needs and budget, as well as the features and functionality offered by different providers. Look for software that offers easy integration with other systems and channels, as well as robust reporting and analytics capabilities to help you make informed business decisions.