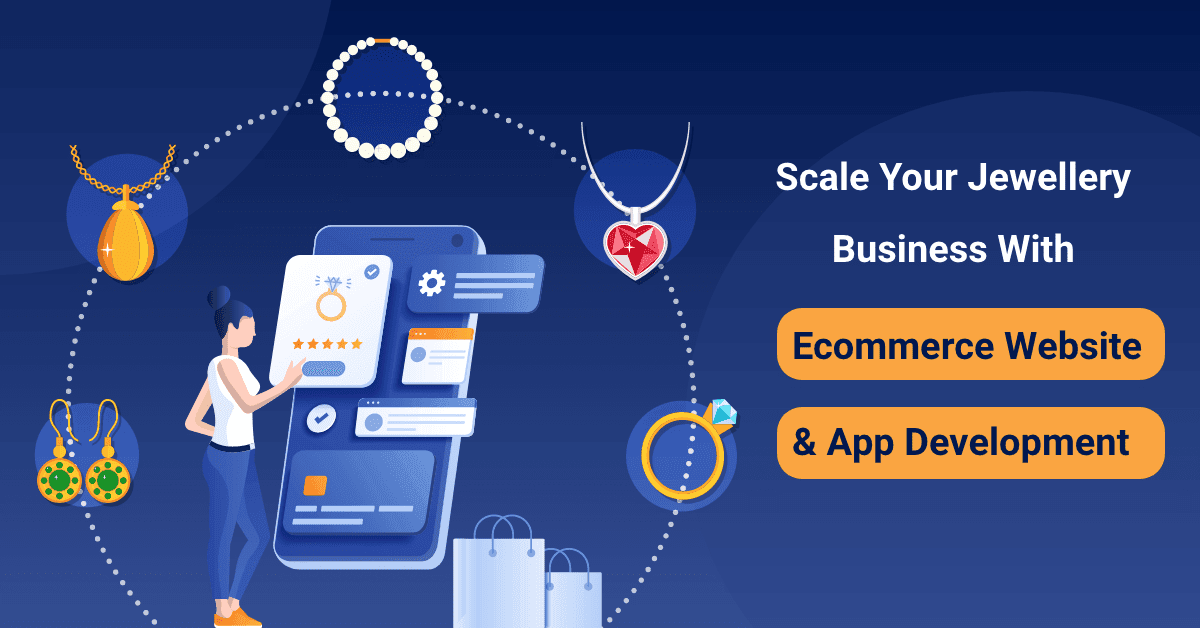 Introduction of Jewellery Business
Already selling your beautiful designs on sites like Etsy and can't see the point of having an online jewellery business app of your own? Maybe you even think that jewellery website design and development services will be an additional and superfluous expense Yet it's the opposite, there are several advantages of your own eCommerce store development for your jewelry business.
What if you knew that 29 million people buy jewelry online, daily? And being in the business, you are also aware that unlike so many other products which have low margins, jewelry yields around 25-75% profit margins. Obviously, this is based on the perceived value of the jewelry as in most cases, customers don't have the exact way of determining prices. If they think it's pretty, all kinds of possibilities open up.
Whether you are a designer who wants to sell their own handmade jewelry, a reseller who is looking to resell branded products, you can create your custom jewellery online store. This store is the perfect way to access the target market and showcase your creations.
Own eCommerce Store Development or Collaborative Marketplaces?
You may be tempted to sell your jewellery on sites like Etsy, eBay, Vestiaire Collective, or other such marketplaces. However, here, you are being totally dependent on these platforms which are already saturated. Not to mention the competition for a variety of jewelry and prices.
By investing in your own jewellery eCommerce development platform, you can create your brand and rule the market. You can target a niche audience and even stand out from the competition. With your own online jewellery business app, you can even highlight the season's specials, new arrivals, and custom creations. These features are obviously not available at marketplaces.

Also, once you own your eCommerce jewellery store, you can still continue selling at these marketplaces for additional visibility and sales.
The bottom line is, that your own jewellery eCommerce website development offers your more autonomy and control to run your business like a boss.
Other Factors Include:
Get access to real-time shipping quotes, inventory tracking, and user behavior.
Avoid shelling out registration fees to marketplaces.
These are a few reasons, jewelry business owners, on the long run, prefer owning their online jewellery business app to selling through a marketplace.
You can choose CMS like Shopify, WooCommerce, or Magento for your custom jewellery online store development project.
Advantages of Having an Online Jewellery Business App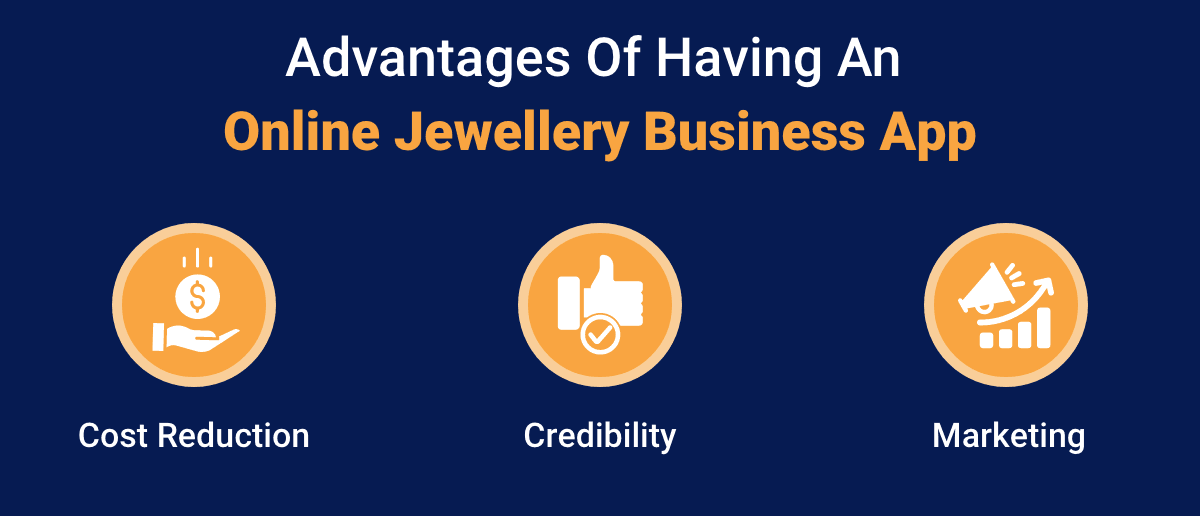 1. Cost Reduction
Having your own eCommerce jewellery store keeps all the profits. Indeed, once the initial fees (not so high!) have been paid, your store is yours! You only have to pay the applicable transaction fees through your payment server.
2. Credibility
Having your own site with your branding, your logo, your story, all of your highlighted creations gives you credibility. This is how you establish yourself as a business.
3. Marketing
You can choose the customer experience from start to finish – from their arrival on-site to shopping to payment, to delivery. This can ensure that everything the customer sees on your site is strategic and thought out in a way that improves the shopping experience. You also have the possibility of setting up sales funnels by putting calls-to-actions at strategic places thanks to the flexibility that the backend offers you.
What are the Other Benefits of Selling Jewellery Online?
Customization – you can have a niche clientele or add a section on your website to cater to personalized jewelry. This can offer you an edge over your competitors too.
Shipping jewelry is easier than most consumer products. The shipping costs are also lower and hence you can hold better profit margins on your own website.
You can either cater to a particular range of jewelry (pearls, diamonds, gold, or sterling silver) or showcase a large range of gems, shells, anklets, rings, earrings, necklaces, and other pieces of jewelry.
When you scale up, you can add a marketplace on your website for other local or small sellers too.
Why Do Jewellery eCommerce Development Platforms Fail?
Online jewelry stores are popping up more and more on the Internet, but many are disappearing as quickly as they appeared. Why?
There are several reasons.
First, a series of causes from the product sold. Sale of jewellery that is too expensive (or jewellery that is not expensive enough), that does not please, of poor quality, too similar to offers of similar jewellery, etc.
The other causes are linked to the jewellery website design and development services itself, and to the marketing activities that followed the construction of the jewellery site.
Many online jewellery business app closures are caused by a series of causes that seem easy to avoid:
Amateur looking site
Poor presentation of jewellery
Poorly structured online store
Store difficult to use
Few means of payment
Little or no commercial advertising for the store
Site is poorly optimized for referencing

To Conclude
Increasing your visibility is essential for the development of your jewellery business. Give yourself the tools you need to have an effective presence, and thus enhance your art of jewelry. The Internet is today an essential tool, it is your jeweler's business card.
Trust us. Because we know your profession as a jeweler and your constraints, we developed simple and ergonomic tools with a clean design. At OneClick, our jewellery eCommerce development platform offers everything you need to create a unique, attractive, and modern designer website that will help you stand out from the crowd and achieve your goals.
Designed in a desire to optimize website creation, our management interface offers you a multitude of possibilities and allows you to modify your site with ease. If you are looking for jewellery website design and development services, connect with our experts for a no-obligation demo and cost to develop a jewellery business app.