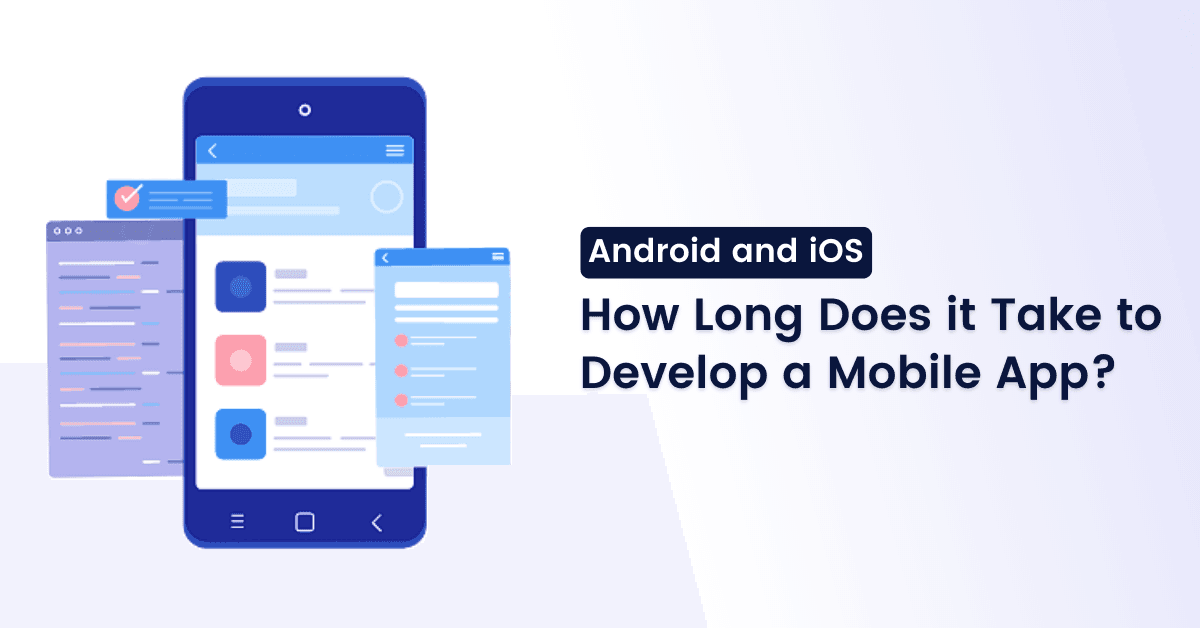 Introduction
This is one of the first questions most businesses ask themselves; how long will it take to develop a mobile app?
It goes without saying that the app development timeline and process involve much more than a financial investment. In fact, it requires an investment of time – in other words, a lot of time. As with money, the approximate mobile app development timeline really depends on your app and the team that builds it.
However, it is possible to give you an idea of ​​ the average time to create mobile apps through a few estimates shared below!

General Mobile App Development Timeline
Let's start with a generality of estimates to give you an idea. The key stages of the app development process typically take around two to three months.
Two to three months which are divided into three phases:
The first phase lasts two weeks, this stage is devoted to the initial phase of design and mock-up.
The development phase generally lasts five weeks depending on the complexity of the app. Of course, this phase also includes the phases of A/B Testing and other tests.
Finally, once the application is developed, it takes one to two weeks to prepare the application and submit it to the appropriate application market.
However, keep in mind that this last step rarely represents the real end of the app development timeline and process. It is very common for new iterations of apps to be released after their creators have been able to gather user feedback and monitor their app's performance. It is obvious that a perfect application results from multiple changes and updates in order to satisfy all users!
How Can an Application Type Affect the Lead Time to Develop an App?
Again, the approximate mobile app development timeline outlined above is just a generality of the process.
Remember that each application is different and above all each development team works differently. Therefore, the time it takes to build your app depends on the type of app you are planning and the Mobile app development agency you choose.
However, it is possible to give you an average cost of mobile app development from our experience in the field.
A graphics-intensive application (such as a game) can take between 6 to 12 months of development.
If an application requires a main server, app development time can be between 3 to 4 months.
Finally, a stand-alone and relatively basic application that does not require internet support often takes only 2 to 3 months to develop.
3 Types of Mobile Applications Exist in Market
The Native Applications represent the high end. They mobilize the internal functionalities of smartphones (camera, GPS, accelerometer, etc.). They do not use the same mobile technologies depending on the OS. A specific version must be developed for each OS.
For the Hybrid Applications, only one version is sufficient for several OS. This is an economically advantageous solution and can shorten the app development timeline.
The Progressive Web Applications have real advantages. Its natural referencing by Google is the first asset. Its possible use on several types of screens is the second. Its proximity to native applications and its installation on mobiles is the third. To achieve this, you need to know what software is available to create a mobile application.
Now, a shorter App development timeline and process does not mean less efficient work. Similarly, a longer mobile app development timeline does not mean an advanced application. Be sure that the timeframe proposed by your mobile app development team correlates with the type of application desired!
Work with an Experienced Team for Faster Development That Never Sacrifices Quality!
As you can see, the time required to develop mobile applications varies greatly depending on the project and the type of application. There is no one-size-fits-all approach, but hopefully, the information above will help give you an idea of ​​what to expect.
Also, keep in mind that the average time to create mobile apps can depend a lot on the team you work with. Yes, the level of experience and expertise of your team can vary the development time of your application from simple to triple!
That's why hiring experienced application developers with a good understanding of the best techniques and processes to accelerate development without sacrificing quality is a must.
If you are still wondering what the approximate mobile app development timeline for your project is, contact our team for an overall estimate and quote for your idea.
To Conclude
It is obvious that certain other factors will naturally influence the App development timeline and process. For example, the addition of social media integration features but also connection and sharing which requires an additional one to two weeks.
The addition of functionalities is also often a source of disagreement. Being able to make in-app purchases, send tweets, the number of features you want to implement in your application will vary the time required and the average cost of mobile app development.
For the first version of your mobile application, at OneClick we recommend that you stick to your MVP ( Minimum Viable Product ). By creating a simple first version of your application, you will quickly get feedback from users. This will let you know which features to prioritize and add in future updates.
Another important point, to not to neglect the design process! By partnering with developers who take a sprint design approach, you can shorten the app development timeline. Developing an application with a custom interface will obviously take more time than developing an application with a so-called more basic user interface.
Remember that the quality of your mobile app's design is going to have a big impact on its download rate, so you can't afford to neglect this step.

Last important point, keep in mind that the platform you choose for your application also plays a role in the App development timeline and process.
If you want to create your application as quickly as possible, you will have to choose between iOS and Android. The design, development, and testing work is specific to each platform, which considerably lengthens the development time of an application for several platforms. Thus, except in the case where you are targeting priority emerging countries (Africa, Asia) that are mainly on Android, we recommend that you first invest in iOS application development.
In fact, the development of an application for Android generally takes 30% more time than the development of an application for iOS due to the diversity of Android smartphones.