Ecommerce
Top 7 eCommerce App Development Trends To Boost Your Sales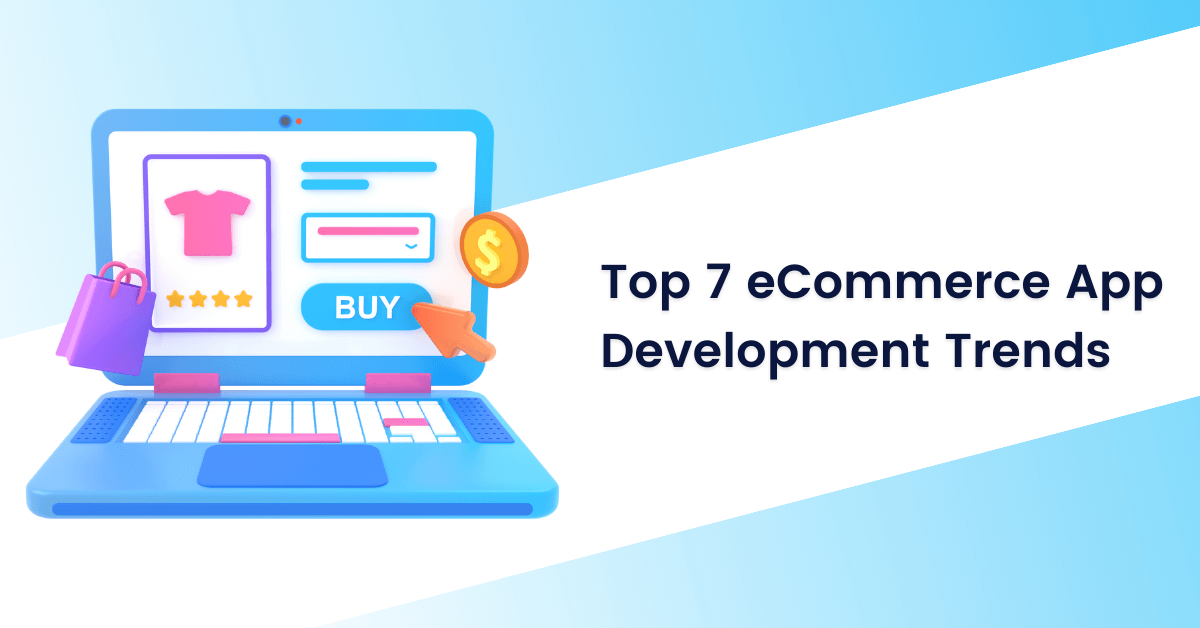 Introduction of eCommerce
Our screens are getting smaller, our mobile devices are getting smarter, and the e-commerce industry is only progressing. Here we are discussing top eCommerce app development trends in the future for improving the shopping experience and boosting your sales.
According to eMarketer's estimates, more than a third of purchases will come from mobile devices by the end of the year in the United States.
ComScore data also shows that m-commerce dwarfs any other form of e-commerce in the United States, growing three times faster than desktop commerce.
In terms of discretionary spending, mobile Commerce growth is still far outpacing eCommerce and bricks & mortar. E-commerce is becoming mobile-first.
Therefore, marketers, developers, and online marketers must be on permanent standby to meet consumer needs and facilitate the mobile shopping process.
It is also important for them to be abreast with the latest eCommerce trends in mobile app development.
Mobile commerce applications are becoming more and more popular.
For this reason, the development of e-commerce applications has grown exponentially, especially in recent years.
The demand for comfortable shopping has increased considerably with the new generation of users.
However, it is imperative for every organization to stay up to date with eCommerce mobile app development trends and special features as competition increases.
This article will explore new ways to improve the development of e-commerce applications in a more responsive and user-friendly way.
While providing users with a unique online shopping experience.

Top eCommerce App Development Trends
1. Videos
The use of video is a great feature to add to the development of an eCommerce application as it will undoubtedly increase sales.
A nice grid of photos of the products sold will not be enough to compete with videos of real people wearing the products themselves, especially when we talk about real clothes or accessories or the use of a gadget.
Users tend to rely on video content to make a final purchase decision.
Another video feature that has joined the eCommerce trends in mobile app development is shoppable videos.
These are basically videos that a company promotes on social media pages where users can point to items and click on links that will direct them to that specific item.
It is a completely revolutionary type of shopping that is practical, visual, and direct, as in real life.
2. Augmented Reality
If we talk about eCommerce mobile app development trends, we cannot ignore an exciting new feature.
This has completely changed the user experience in online shopping applications, which is augmented reality.
This new 3D functionality allows users to really see themselves in the elements they want without leaving their comfortable environment.
For example, Nike used this feature to have customers try on their shoes without physically going to the store.
This is a massive game-changer for the e-commerce application development industry.
VR and AR technologies can provide the reality as an experience allowing users to view products from all angles, thereby improving the presentation of product sales.
Unfortunately, these technologies are not yet in full swing.
Many researchers like Google, Sony, and Samsung are already working to make them accessible and applicable to real-world scenarios.
In addition, so far there are only a few phones supporting these features.
Hopefully, with the current pace of development, it can be said that mobile e-commerce applications will soon be found with VR and AR features.
With technology being available in the future, it is expected that more and more of your customers will have devices that support VR and AR.
However, Lenskart did apply a light concept of AR in its mobile application.
Here, users just need to put their faces in the specified area practically on the screen using the front camera.
Based on the virtual measurements the application can practically show how the particular frame will look at them.
3. Voice Search
One thing that users don't like about mobile is typing on this tiny screen.
Hence, voice search has become quite an impressive source of convenience in this regard.
With voice search on apps, users can browse your store and find their favorite products with really less effort.
This is the primary reason why this feature has made it to our list of eCommerce mobile app development trends.
Shopping becomes so easy when customers can just talk on their mobile phones rather than typing things up.
This m-commerce trend is already expanding and is expected to integrate into all kinds of e-commerce applications in the future.
Voice search is the new winner for the typical lazy user in developing eCommerce applications.
By integrating voice search into mobile applications, users can easily buy and place orders on the go.
Companies like Starbucks, Amazon, and Google Home have implemented this feature.
By this, they can provide users with another fast and mobile option for making online purchases via a mobile application.
4. Chatbots
Since customer support is crucial in developing m-commerce applications, we couldn't avoid talking about the importance of chatbots.
Everyone knows that online shopping can be risky to understand with refund and return policies, as well as to get answers in the sometimes outdated FAQ section.
M-commerce applications need to make users feel secure.
It is also important to have some form of online presence for them.
Otherwise, they may not feel like they are shopping in a completely deserted environment.
Chatbots are useful because they will greet your customer and direct users to specific places based on the keywords they type or questions they might ask.
Adapting this eCommerce trend in mobile app development will make your customer more welcoming and safer.
Names like Starbucks, H&M, and Nordstrom say a lot about the number of industry leaders who bet on chatbots.
And, according to eMarketer, the majority of social media users prefer the Messenger app (54.4%) to emails, phone calls, or traditional online chat to get in touch with brands.
Today, chatbots from artificial intelligence are able to:
Reach customers and respond to their requests in real-time,
Learn more about customers to personalize their shopping experience based on their responses,
Chat with customers without requiring that they install any application since chatbots integrate with Messenger, Skype, and Telegram for example.
The popularity of artificial intelligence products like Amazon Echo (personal assistant with voice control) shows how consumers have become very comfortable with these new technological concepts that accompany them in their purchases.
5. Cloud Integration in the Development of eCommerce Mobile Applications
Finally, the cloud integration system is more important than ever, as lack of storage is becoming a global problem.
This feature is not only a popular trend in the development of mobile e-commerce applications but also in any other application on the market.
This is because the performance of the application itself will increase considerably while reducing the costs associated with hosting.
This will create a wonderful customer experience and attract your user to become a loyal customer.
6. Mobile Wallet Integration
E-commerce applications are becoming easier and simpler to use day after day.
In order to ensure the best user experience for customers, the apps try to make the payment process and payment as quickly as possible.
With mobile wallets, users do not have to enter card details or any other details to make a payment.
Mobile wallets are the one-step solutions to make the payment process very short.
Users just need to choose their wallet as the payment option and provide authentication when prompted that it is; the payment has been done.
In fact, in most native mobile wallets integrated into the mobile app, users do not have to provide authentication.
Just one click and payment is made. Amazon Pay is one such native payment option on the Amazon app that makes real purchases quick.
7. Development of Marketing and Sales Automation Solutions
Marketing automation and e-commerce have always gone hand in hand.
Hence, it is not surprising that automation is one of the eCommerce mobile app development trends of 2021.
Today, there are many automation tools, specially designed for e-commerce and capable of handling the essential aspects of marketing and sales in an automated manner.
Email marketing and social media are great opportunities for M-commerce.
Given that each individual spends an average of five hours a day on their smartphones and that email has become an increasingly mobile channel, marketers must absolutely take advantage of this opportunity if they want to optimize their marketing expenses.

Conclusion
Mobile commerce is the next big thing, and it is expected to grow steadily in the future.
Mobile e-commerce applications play a pioneering role in providing the best user experience for users.
If you don't have a mobile app for your eCommerce store, you are losing a large part of the business that the mobile app can give.
It is time for you to have a mobile app for your store and start selling in style and convenience to your customers.
Along with it, integrating the eCommerce mobile app development trends is also crucial to stay ahead of your competition.
If you own a PrestaShop, Magento, or OpenCart based eCommerce store, it is very easy for you to get a mobile app.
Connect with us to find out the cost to develop mobile eCommerce apps.