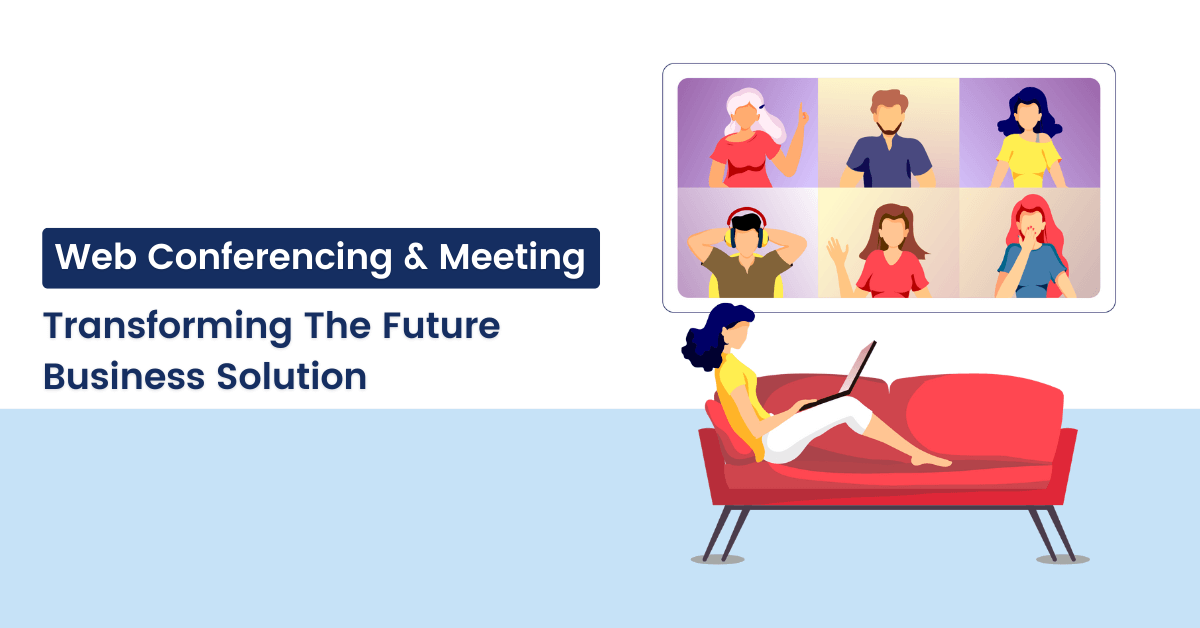 Video conferencing, or web conferencing, is gaining ground in the world of work and business every day. The technological development of this communication virtual business meeting tool makes it possible to link together and make the employees of a company collaborate, wherever they are located.
The only condition for setting up a web conferencing solution is to have adequate material equipment and a reliable and fast communication network. This goes beyond the simple organization of creative team meetings with many participants gathered in the same room equipped with a screen.
A source of reduced travel and accommodation costs, web conferencing is also a symbol of modernity, acclaimed by new generations. Today, 87% of managers under the age of 35 would prefer to work in a company that uses video conferencing.

Web Conferencing: A Flexible Working Tool
Depending on their needs, objectives, or constraints, a company equipped with a complete and efficient video conferencing solution may consider using it to organize many aspects of the daily work of its employees.
These most frequent uses of web conferencing, or group video chat, are the following:
1. The Information Meeting
The management or the president of a company wishes to distribute an important communication to the participants of this virtual business meeting. Video conferencing, therefore, makes it possible to avoid numerous trips for a meeting which may ultimately prove to be short-lived. The possibility of being able to react and ask questions in real-time makes it possible to respond to any questions. It also helps to clarify all doubts hanging over certain aspects of the information delivered, unlike a service sheet, which can be subject to wrong interpretation.
2. A Project Launch Meeting
A group video chat can also help to decide elements such as dates, roadmaps or team composition to be defined with the employees concerned, prior to the launch of a project. In this case, web conferencing stands out by allowing real collaborative work between participants. It is indeed possible to use all the levels of exchanges provided by a professional solution – video and audio, presentation of documents to participants with the possibility of interaction, or even instant messaging to ensure secondary communication between the participants.
3. The Creative Meeting, or Brainstorming
Web conferencing makes it possible to bring together virtually all creative brains, to try to produce as many ideas as possible, and keep the best. Some participants may be in the meeting room located on the premises of the company, while distant collaborators can join and participate in the meeting from their work station. The technical quality (screen, camera, video signal, sound without echo) of modern video conferencing solutions allows a perfect fluidity of exchanges and communication between all stakeholders.
In addition, you can also initiate external meetings with clients, partners, middlemen, subcontractors, or even for recruitment. It also surpasses the geographical constraints for larger enterprises with offices across the globe.
Video Conferencing for Remote Team
More and more employees exercise their professional activity in teleworking or working at a distance. Web conferencing, thus, has many cost-related advantages. However, it can also generate concerns, especially on aspects concerning management and the quality of sharing important information.
A web conferencing system makes it possible to respond in large part to the specificities and questions linked to nomadic work, which nevertheless has the wind in its sails in today's corporate world.
First, virtual business meetings are a great way to maintain social contact with employees who work remotely. The conviviality and collaboration tools of meetings by video conference can offset the feeling of isolation that can affect employees working remotely.
If modern technology allows you to work without being present on the premises of a company, video conferencing allows you to manage it efficiently from a remote location. The face-to-face mode, which still characterizes the world of work, is thus replaced by group video chat. This is useful for maintaining a communication link with and between employees physically absent from the heart of the company's decision-making.
On the other hand, an employee practicing telework can legitimately miss all the daily information, disseminated informally, at the corner of a corridor, or during the coffee break. Again, web conferencing can be used to set up a casual meeting between employees. This type of meeting, relaxed and friendly, helps to maintain exchanges and communication conducive to team spirit and the sharing of important information.
Several web conferencing tools or apps are easily available online. Their use is simple – the organizer creates a virtual room, then distributes the link to this room to the people invited to this meeting. The quality of communication is affected by that of each participant's equipment (screen, camera, microphone) and by the speed of their connection to the internet.
In use, these free solutions are a good introduction to the use of web conferencing but often prove to be unreliable at the technical level. They impose numerous adjustments and other untimely interruptions, detrimental to the quality of the exchanges and communication necessary for the success of online collaborative work.

In addition, the habit of using the Internet in your private life easily makes you forget the lack of security. However, all exchanges (video, audio, shared documents) made are recorded and stored without going through an encryption system. These are, therefore, potentially accessible to malicious people, which can pose a threat to the company.
Compared to these third-party applications, customized web conferencing software solutions are completely secure. These in-house apps use standards and protocols ensuring encryption and confidentiality of exchanges and documents that may be disseminated during a meeting by web conference. This is one important criterion that often makes all the difference when deciding what type of web conferencing system to use.
At OneClick IT Consultancy, we receive several requests to improve the security of apps. The demand and costs of paid and secure video conferencing apps are on a rise. Hence, SMEs, as well as large enterprises, are ready to invest in web conferencing apps of their own.  If you have a similar idea, connect with us and speak to one of our experts.