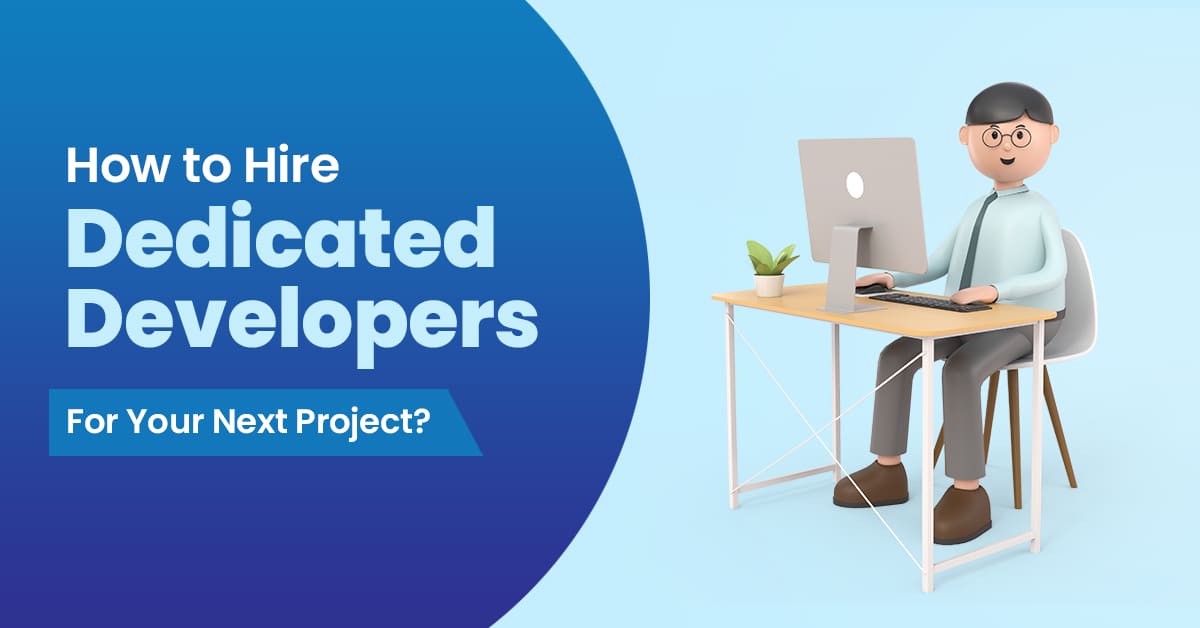 In the modern world, technology is highly important for any business. For a company to be successful and achieve its goals, it must have efficient software applications that are easy to use and accessible from anywhere. However, creating such software solutions is complex and requires time and effort from development teams who know what they're doing. There are certain steps that you can follow before hiring a dedicated developer.
Why Hire Dedicated Developers?
You may be wondering, "What is the purpose of hiring remote dedicated developers or teams?" Dedicated teams have a specific focus and can work on a single project for an extended period. They also can switch projects when necessary, as long as they don't lose sight of their goal. Hiring a dedicated development team can be beneficial for your projects in many ways, such as saving money and working more efficiently. 
Generally, when two or more developers are working on the same project, each developer will have to spend time learning about what others have done. This can be especially annoying if one of those people has worked on something, in particular, that was not up to standards with your company's standard practices.
Additionally, there may be bugs or defects that other team members missed due to their lack of familiarity with the project as a whole. Hiring dedicated developers means that they will be working solely on your projects which allows them to be familiarized with everything related to the said project(s).
Hiring remote dedicated developers also help you achieve your goals faster. Everyone knows exactly how much work needs to be done so no one gets left behind!

Outsourcing the Dedicated Development Team
There are several benefits of outsourcing a dedicated team such as, you can focus on marketing and sales. The cost is lower because you pay for what you use, not for a fixed number of developers in your company. Your company does not need to recruit and manage employees; instead, it only needs to sign an agreement with an external provider and train them when necessary (e.g., if there are new technologies that need to be mastered).
Fron-end developers: Those who build client-side apps and software.
Back-end developers: Those who build server-side apps and software.
DevOps engineers: Those who closely work with the development team and other IT professionals to predict the code releases and deployments
Data analysts & engineers: They provide clean data to end-users, structuring data in a simple way to make it easy for people to understand.
Mobile developers: They develop custom mobile apps as per the business requirements.
UI/UX designers: Those who design a simple yet interactive user interface and experience.
QA team: Those who are testing the products and ensuring it meets the desired requirements.
Project managers: They are responsible for planning and execution, observing all development processes, deploying tasks among the software developers in a team, and updating the clients.
How to Hire Dedicated Developers?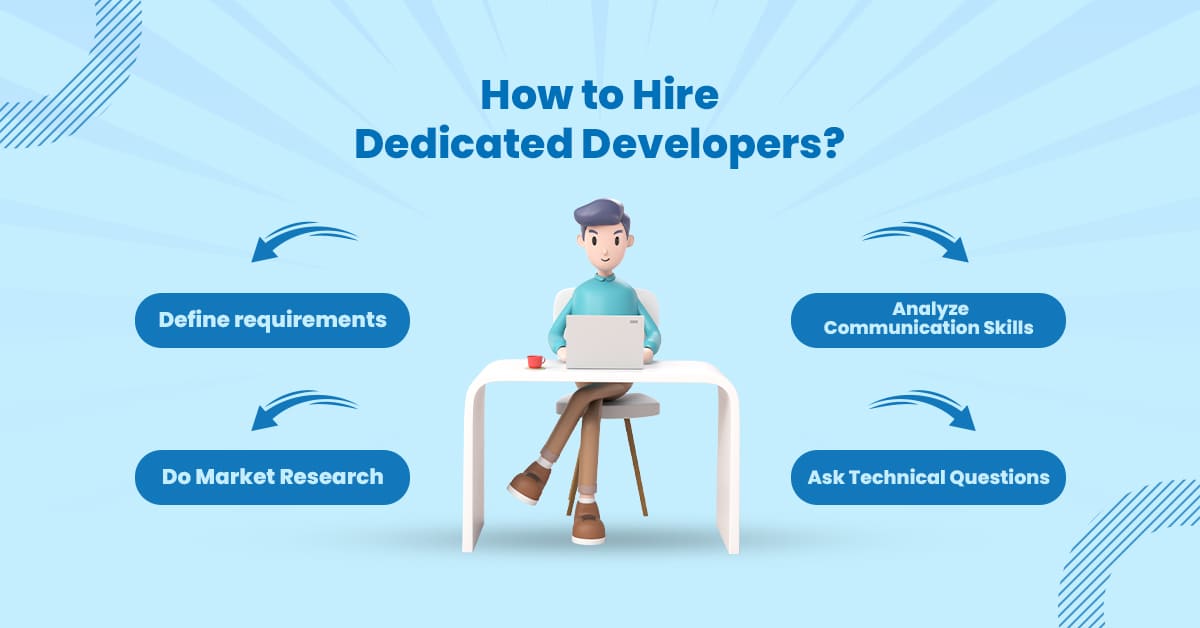 Hiring dedicated developers is a challenging task. To hire dedicated developers, you need to know your requirements. You will have to define the job role, list down the required skills, and ask questions based on technical aspects. In this article, we will discuss how to hire dedicated developers by defining requirements and identifying suitable candidates. 
1. Define Requirements
Define the problem before starting on a solution, Set goals before you start. Don't worry about other competitors' goals, and who they are, and be ambitious, but stay realistic about your business goals and ideas.
2. Do Market Research
Before you hire a developer or keep one on your team, it's important to set goals. Goals provide an objective way of measuring success and help define what the project should look like when done. They also force you to think about what kind of product you want to build and how long it will take before starting development.
The best way we've found for defining goals is to start by asking yourself these three questions:
What is my business goal? (e.g., acquire new customers or increase engagement)
What are my marketing goals? (e.g., generate more leads or boost conversions)
Which specific metrics need improving?
3. Analyze Communication Skills
Communication is a vital part of any job. As a developer, you want to be able to keep in touch with your team and work efficiently with them. Communication skills are also important for managers to delegate tasks effectively. To assess whether someone has good communication skills, you need to look at some key aspects:
How well do they communicate? Do they use written or verbal methods? Are their emails clear and concise? Do they communicate often enough?
Can they listen well? Are they open to other people's ideas or do they only have their own opinions on things?
Do they respond quickly in an email thread if there's an issue or question that needs resolving immediately (for example, if something goes wrong with production)?
How much time has passed since the last correspondence between team members – are there any gaps here that could indicate poor communication channels between co-workers?
4. Ask Technical Questions
The first step before hiring a developer is to ask them technical questions. It's important to ask these questions because they demonstrate your ability to recognize talent, and helps you determine whether or not this person will be able to do the job well. Here are some examples:
Ask them about their experience with technologies
Know what language/languages they prefer working with. Why?
What's their favorite development environment? Why?
How does their code style work for yourself and others?
What tools do they use for this purpose?
Things To Take Care of While Hiring Developers
When you hire a dedicated team of developers from India, they can make on-the-fly adjustments as your business grows. For example, if you realize that you need a mobile app, there's no need to look for another project manager or designer. The team will grow naturally as needed.
1. Restricted Budget & Timeline
A dedicated team can grow as your business grows, which means you may need to hire more developers or a project manager. When your business needs change, you can adapt your team, but a fixed or restricted budget can make this difficult.
2. Short-term Projects
If you have a small or short-term project, it's easy to connect with an app development company to help you guide and build it. If your project is big then you may need a dedicated team of expert graphic designers, programmers, technical writers, marketers, quality analysts, and of course highly skilled developers.
3. Fixed Project Requirements
When details are finalized and requirements are set, you can be sure of what technologies you want to use. When a dedicated team is not the best choice for your project, fixed-price contracts can help you avoid overspending.
4. Not Believing A Dedicated Developer
The importance of trust in a business relationship cannot be overstated. When it comes to hiring a dedicated team, you may have to rely on more than just your instincts. You may have to trust the development team even more than you would with a fixed-price model. However, there are situations when it is better to end a relationship with your team rather than suffer through continued strife and discord.
5. Geological Limitations
When hiring a dedicated team, don't be limited to candidates around your locations. After all, your team will be remote; they must be dedicatedly committed to your goals and understand your project requirements. When you make hiring mistakes, learn from them.

Conclusion
If you are looking to outsource your development team, a dedicated team might be the solution for you. However, before you sign up for one, make sure that there is sufficient communication between the outsourcer and yourself. It is also important that there is enough transparency in terms of how the process will be controlled and managed. The last thing you want is to end up working with an underperforming or unreliable provider who doesn't deliver according to expectations.
FAQs for Hire Dedicated Developers
1. Should I hire dedicated developers or freelancers?
You can always opt for hiring dedicated resources, the reasons being,
– One project at a time
– 100% resource dedication
– One-to-one transparent communication
– Quick turn-around
– Instant resolution of challenges
– 100% result satisfaction
2. What should I look for before hiring a dedicated developer?
It is important to consider below mentioned factors before choosing the right developer for your project.
– Their technical & communication skills are good. 
– They are adept at learning new technologies.
– Their research is appropriate for your business needs.
– They are good at time management.
3. What are the benefits of hiring a dedicated developer from you?
Here are the key benefits of hiring dedicated resources from us.
– Certified developers for web and mobile
– Flexible hiring models – best suited to your budget
– Effective yet cost-effective solutions
– Fast turn around
– Transparency & accuracy
– Client-first approach
4. What is the cost to hire a dedicated developer from India?
Generally, the prices start from $15500 to $30000 per month. However, it may vary on your project requirements, app idea, the developer you are hiring, and many other factors.