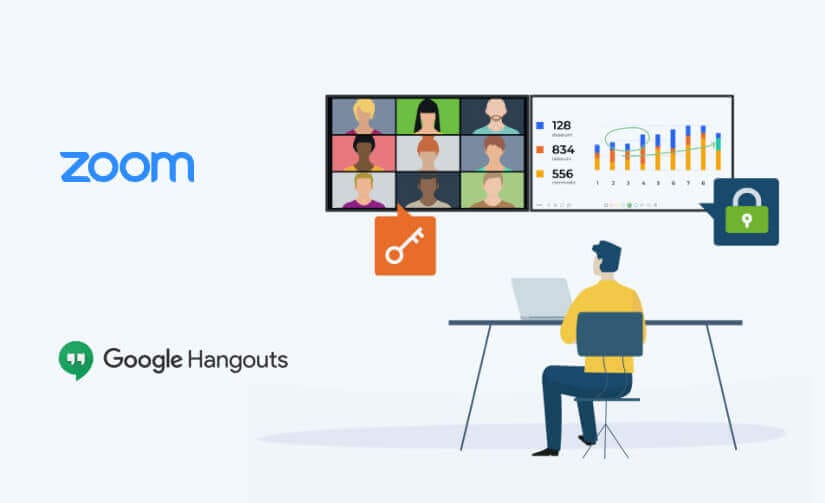 In 2020, the Coronavirus pushed many people to completely rethink their activity. With more than 2.6 billion people worldwide confined to their homes, telework and digital technology have taken a new place in many businesses. Meetings that previously took place around a table are held remotely using webcams and video conferencing software. Even get-togethers with friends have become virtual and now take place across a screen.
Google's video conferencing application, Meet, integrates a little better with Gmail and promises to improve on many points, both technical and aesthetic.
Google Meet Wants to Win
Thus, multiple services that were previously marginal have been brought to the fore and many are those who have discovered for the first time the interface of Microsoft Teams, Zoom, or Google Meet (formerly Hangouts Meet). The second is particularly media with some fun news related to the functionality of filters, or the sharp criticisms concerning the respect of the private data of its users.
Google for its part intends to take advantage of this situation to put forward its arguments. A few days ago, Google explained how Meet protected the privacy of its users, and today, we learn that the service offers new features.
Faster Access and Better Display
In a blog post, Google has just announced that it is possible to start a Meet conference or join one directly from Gmail to facilitate its use. To do this, click on the Hangouts bubble at the bottom left of the screen and choose one of the two options, "Start a meeting" or "Join a meeting". These are exclusively visible from a G Suite account.
Reuters reports, however, that other notable improvements are coming. Improvements in video quality in low light are also to be expected, as well as filters for extraneous noise, such as the clicking of a keyboard or the deafening din of a slamming door. However, no date has been announced for the rollout of these improvements.
Note that the suppression of ambient noise is starting to be more usual. Discord, the famous messaging system designed for gamers, has just integrated it into beta on its desktop software.
Other Video Conferencing Features That Have the Users Hooked
Google announced the rollout of four of the most requested features for the Google Meet video chat app, including an expanded tiled view that allows up to 16 participants to be on screen at one time.
The previous limit was 4, and this is one of the many reasons why Zoom, which requires a paid subscription for full access, was able to outperform the competition despite the fact that the Google app is completely free to download and use.
Zoom's flagship feature may be the ability to have hundreds of participants in front of the camera at the same time, making it ideal for meetings with colleagues and clients as well as for meetings with a group of friends. The Google Meet Features limit of four was a major drawback, but it is an important step in the right direction. Google indicates that even larger meetings will be supported in future updates and that better presentation layouts will also be available.
In addition to expanding the tiled layout, Google has also added the ability to present an individual Chrome tab instead of a window or the entire screen. Google says it's the best way to share high-quality videos with remote viewers.
Meet also has a low light mode which adjusts your video to make you more visible.
The fourth and final feature added to Meet is noise cancellation. Google says that Meet can intelligently filter out all background noises, such as barking dogs or keystrokes or cries from the other room. This functionality will begin to be rolled out to G Suite Enterprise and G Suite Enterprise for Education customers in the coming weeks.
These improvements might not be enough for Google Meet to spoof Zoom, but if you're looking for an app to use instead of Zoom for some reason, you won't lose much in terms of functionality if you decide to sync with your friends or colleagues on Meet instead of Zoom.