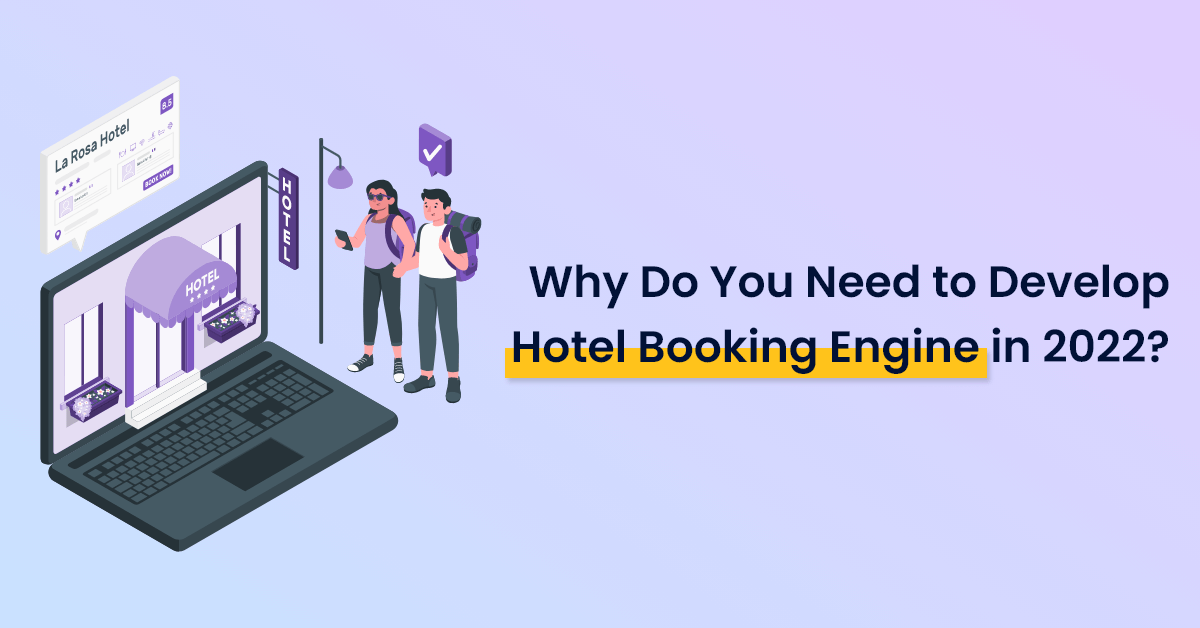 Travelers are looking for a simple, smooth, and secure experience that encourages them to book. It is, therefore, essential to have an optimized and intuitive online hotel booking engine, if you want to generate direct bookings via your website. Whether a travel business or an agent, how do you choose the best online booking engine?
In this blog, we highlight why you need to develop a hotel booking engine in 2023.
What is a Hotel Booking Engine?
An online hotel booking engine is a set of technical solutions that will allow a user to book their stay on the website of a hotel.
This Hotel Booking software suite will act as an intermediary between the hotelier and the client. It will help in the automation of tasks such as management of availability of rooms, online payment, recovery of client data (and therefore the creation of a client file), confirmation with the client and more.
As a hotelier or an agent, this type of tool will facilitate the direct marketing of your rooms easier. Hotel booking software streamlines reservation management and online booking engine for hotels.
Why Do You Need a Hotel Booking Engine?
To Detach from Middlemen and OTAs
The pressure from online travel agencies (OTA) has increased in recent years on independent hotels. Even if you are forced to do with these behemoths, it is necessary to regain your commercial independence.
Choosing an online booking system to develop direct sales is the first step to get rid of the middlemen. It is then up to you to be imaginative with your means and tools whether you choose a customized or white label booking engine.
For example, do not offer some special value-added services to your travelers on large platforms. Make them understand that it is by hotel booking software directly that they can avail of these additional facilities.
Better Customer Relationship Management (CRM)
OTAs make every effort to ensure that you cannot establish a link with travelers, in other words…YOUR customers. Using a tool on your own website will allow you to re-establish this link. You collect information about your visitors and you build up a real customer file. Creating tailored CRM software to meet specific business requirements and industry needs. This can be utilized to build loyalty and brand through promotions.
Ease for Traveler
If you do not have a hotel booking engine on your website, this may create a point of friction for the traveler during his booking journey. He will want to know the availability of your rooms for his dates, know the prices or any promotions. But if for this he must make a request via a contact form, you risk losing the customer to OTAs.
Choose a simple, intuitive module to make life easier for travelers who visit your site. If you don't know how to do it, we can help you.

Finding the Best Booking Engine for Your Business
The market for online booking engines for hotels is very competitive. Each hotel booking engine has its specificity, its advantages and also its disadvantages.
So how do you find your way around? How can you be sure you are making the right choice?
Here is a list of criteria to study carefully before making your decision.
The Price: Even if you don't have to rely on that alone, this criterion is important. Monthly subscription, annual subscription, it will be up to you to choose. But opt ​​instead for a commission-free online hotel booking system. After all, if you want to detach yourself from OTAs and their commissions, it is not to replace them with an equivalent system but rather to preserve your margin. You can also learn more about how much it costs to build an app.
Functionalities: If you want to tackle online travel agencies, you're going to need the right tools. But depending on the size and type of your establishment (hotel, hotel restaurant, boutique hotel, guesthouse, bed and breakfast, tourist residences), not all booking hotel booking engine software can suit you. To start, it would be interesting to identify what your needs are.
It may not be useful to opt for a Rolls Royce if your needs are "basic". You can always develop your website better.
Scalability: Remember to ask service providers what are the development tasks for their tool. You can, for example, ask what are the upcoming features or the development roadmap. You won't get it every time, but it's worth a try.
Top 6 Hotel Booking Engines for 2023
Hotel booking software enables hotels to manage reservations, booking engine for hotels, availability, rates, and guest profiles efficiently.
Bookassist: This hotel booking engine for hotels with both technology and strategic plan to lower costs and increase direct business. They also help build the brand online and drive direct hotel booking system and hotel booking engine software seamlessly.
Net Affinity: A perfect blend of cutting-edge conversion optimization technology and a user-friendly booking engine. Net Affinity is our second choice in this category of best hotel booking engines for 2023.
TravelClick: This booking engine offers you complete control on cost and budget with its Managing tool. Their affordable solution provides insights to attract the right kind of customers.
D-Edge: This one is the World's 3rd best hotel distribution technology provider. Technical excellence ensures you drive maximum sales to spike your revenues and gain a competitive edge.
Guest Centric: As the name suggests, they offer groundbreaking customer journey management through their online booking engines.
Siteminder: One of the commission-free online hotel booking system, Siteminder provides secure payment gateway integration and also the possibility of taking the hotel booking system from your Facebook page.

Are you still confused about which option will work best for you? We, at OneClick, have that covered. With almost a decade of experience in travel portal software development, we know exactly how to develop the best hotel booking engine for your business.
Get in touch with our expert or request a call back to find cost-effective and productive solutions.